Loving your body during your weight loss journey is key to success. Here is how to dress when losing weight.
How to dress when losing weight
Too often, women run away from stylish outfits because they are waiting to reach their weight goal.
I've had so many women tell me that they'll only do my style course when they've lost some weight and I always tell them that the right time to start it is right now.
You should NEVER wait learning how to style yourself and feel better in your clothes.
Here is why
You will just feel so much better!
As you lose weight, clothing does not fit the same anymore and a resistance to either buying new pieces or tweaking your current wardrobe develops.
You want to wait until you've lost the weight.
The problem is that, as you get fewer and fewer options from your wardrobe, you start to feel worse about your appearance, which will lead to more emotional eating, which can jeopardise your weight loss journey
It's even more important to dress well when losing weight
By spending time dressing your current body and looking great with what you choose to wear, you develop a healthier body image and are more likely to reach your goal.
Throughout your weight loss journey, try to love your body wholeheartedly.
Highlight the things you love about your body and downplay the parts you don't. You can start by figuring out your body type and then read our tips to dress your body type.
Confidence in yourself is always the best style accessory and you can have that no matter what your body size or shape is.
In this article, we share tips to remain looking chic during your weight loss journey and share a few hacks to create a leaner and longer silhouette.
For more tips take a look at how to look taller and slimmer.
How to dress when losing weight when nothing fits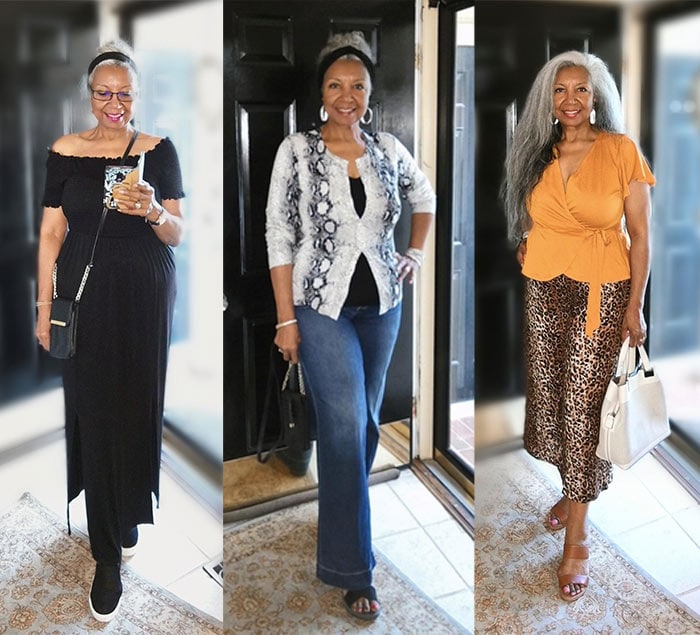 Photos from the 40+style community and shared with permission: Carolyn
Anyone who has ever embarked on a diet and had some success has been in the same position.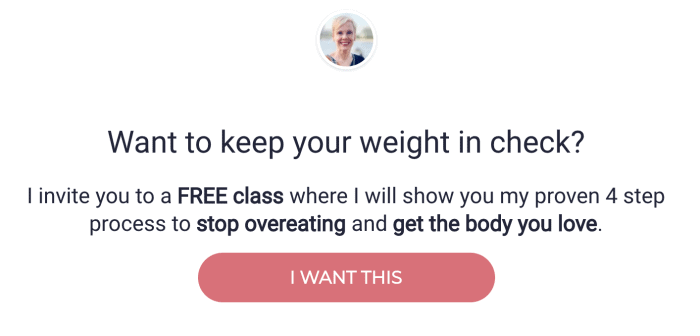 While you're thrilled that you've managed to lose a few pounds, it does mean that nothing in your closet fits properly anymore.
Carolyn (above) says her successful weight-loss journey encouraged her to thrift.
Check out these similar pieces to recreate her outfits above:
Outfit 1: off shoulder maxi dress – slip-on sneakers – crossbody bag – head wrap
Outfit 2: snake print outerwear – tank top – wide leg jeans – sandals – head wrap – hoop earrings
Outfit 3: wrap blouse – leopard print skirt – handbag – sandals
Also, if you haven't reached the weight-loss goal you have set, it's natural not to want to spend on a whole new wardrobe just yet.
But, don't just reach for the baggy clothes you've always worn. If you do, then you won't see a new person when you look in the mirror.
Dressing to look your best, no matter where you are in your weight loss journey can make you feel more confident not only about the way you look right now, but about reaching your goals.
27 tips on how to dress when losing weight
Below you'll find 14 ideas for staying stylish while your reach your ideal weight, as well as a further 13 ideas for using clothes, shoes, and accessories in a way that can create the illusion that you are already slimmer.
So what should you do when your wardrobe is at the "in-between" stage?
13 ways to stay stylish during your weight loss journey
1. Organize (and shop) your closet
It may sound like a constant mantra, but there is truth to shopping your closet, particularly if you are trying to figure out how to dress when losing weight.
Take the time to inventory every single item in your closet.
Chances are, you'll find some lovely gems that fit you or, with a few tweaks, will look great on your new size at each milestone.
Take a look at our article on shopping your own closet for a few tips and tricks to get started.
You may find that you are able to take in the waistband on a pair of pants yourself, for example.
Or, you can completely transform the look of an outfit by putting a belt over a tunic dress.
Have a think about how you can still wear what you have, but in different, more flattering ways.
2. Celebrate the milestones
If you hold off on buying anything until you reach your desired weight, you could actually be doing more harm than good.
You know how you have milestones on the weight loss journey that you celebrate? Get yourself a few new pieces to add to that celebration.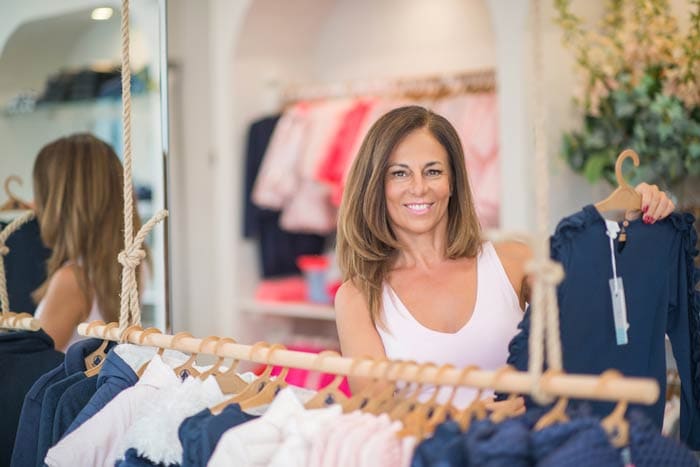 It will make you feel great to see yourself in new clothing that is a smaller size than your previous milestone.
There's no greater motivation as you try to lose weight than seeing yourself looking fantastic in new clothing.
Extra points to you for getting items you can get tailored when you reach your goal.
You could even use treating yourself to a new item of clothing, or two, as a motivational goal.
For instance, if you drop one dress size, you could decide that is the time you will buy something new (it doesn't have to be expensive).
3. Use a few simple tricks to create a slimmer silhouette
Having fun with style during your weight loss journey should never take a back seat.
There are a number of hacks (we discuss 13 below) that can create an instantly slimming effect and allow you to play around with clothes you already own.
By focusing on how you can create chic new looks, you learn to love the body you're in, as opposed to just focusing on the body you want.
4. Get "smart" material
Purchasing items that can provide a "customizable" fit is always a great option.
Material, such as jersey, is great for dresses, tops, pants, and skirts that can adjust to various sizes.
There are a number of great looking jersey options that can adjust to your shrinking size over time, and still allow you to look your absolute best during your journey.
5. Start wearing new colors
Many women who are overweight and lacking in confidence shy away from brighter colors, thinking that if they wear something that is baggy and black, it will be more flattering.
Nothing could be further from the truth. Color can be very effective in highlighting and enhancing your best assets.
It can also have beneficial psychological effects.
Learn more in the psychology of color.
Did you know that blue is meant to be a color to aid weight loss as you don't feel like eating so much if you can see lots of the color blue?
Or that red could give you a confidence boost.
You could still wear black pants or jeans, but wear a bright top.
6. How to dress when losing weight – Look for knitted pieces
Your task is a little easier as we're heading into fall and winter and more knitted pieces are in favor.
A knit piece will stretch a little to accommodate you, while you are a little larger, but will still look good while you are on your diet and exercise program.
Eileen Fisher asymmetrical tunic
7. Opt for pieces that don't fasten
An open-front cardigan, for example, will be pretty flexible in terms of the size it will fit. That makes it a great option when thinking about how to dress when losing weight.
8. One-size fits all
If you want to treat yourself but really balk at the thought of spending anything on clothes that you won't be able to wear, then look out for clothes that are designed to fit any size.
9. Or buy a pair of shoes
There's no need to miss out just because you are losing weight. You can treat yourself to a new pair of shoes.
After all, your shoe size will still be the same.
10. Treat yourself to new nail varnish
Another way you can boost your confidence is when you have a feeling of being more groomed.
You can buy a new nail varnish color without worrying about whether you will still wear it when you reach a size 14, a size 12, or whatever your personal goal is.
Also check: how to care for your nails.
Deborah Lippmann Bed of Roses set
11. Look for wrap styles
A garment that is adjustable is perfect as you lose weight. A wrap style is the perfect option.
Look for a top or dress that you tie yourself, rather than being a faux wrap, and you should be able to adjust the sizing between two or three dress sizes.
12. Don't focus on sizing
We all know that a size 12 in one store is not the same as a size 12 in another store.
Please don't get despondent if you feel you have to buy a bigger size than you really are. Just concentrate on how you look rather than what the label says.
13. You could try shrinking ill-fitting clothes
If you are now slimmer than many of your clothes, you could try shrinking them.
You could try popping it on a hot wash and then in a hot dryer to see if you can shrink it a little.
14. Donate your old clothes
When your jeans or coat definitely doesn't fit anymore, please donate it.
That way, you don't have the fallback in your closet so you can't tell yourself that if you put on weight, you can always wear your old clothes.
Plus, the clothes that no longer fit you may just help someone else on their own weight loss journey.
Signs you are losing weight
For anyone embarking on a weight-loss journey, it's a great feeling when you find that clothes that once fit you are now too big.
Not only does it give you a great reason to treat yourself to something new, but it's a clear indication that you are losing weight and are on your way to realizing your goal.
13 hacks to instantly create a slimmer look
Even if you aren't yet at your goal weight, there are still plenty of tips and tricks you can use to look instantly slimmer.
As we discussed above, a few tricks and tips can guide you to creating lengthening and slimmer looks. Most of these use clothing you already have in your closet and push you to get excited about looking your best today.
1. Embrace monochromatic looks
Wearing one color from top to bottom can make you look instantly slimmer.
When you select quality fabric and well fitting pieces, not only is the look chic, but it also creates a long line of a solid color (with no breaks) that lengthens your look.
Step outside the comfort of just black and try this look with other colors like all white or a softer pink.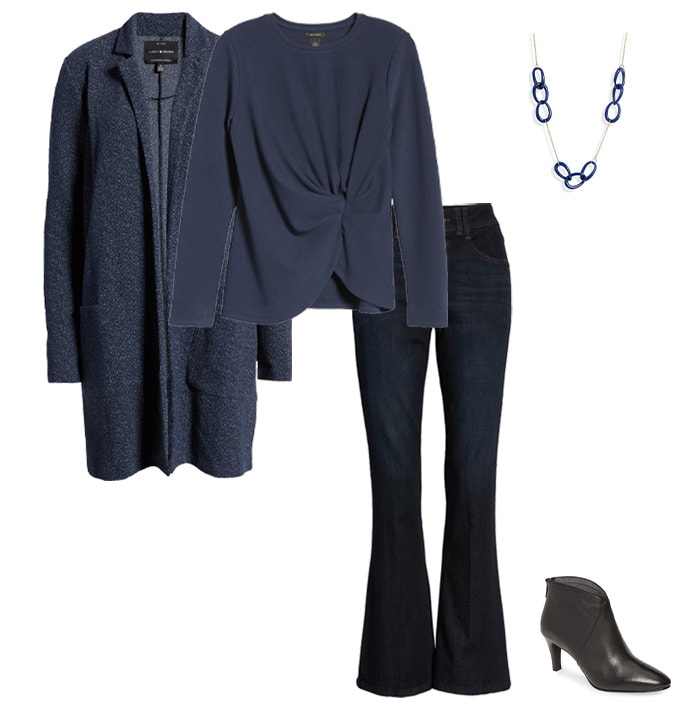 Halogen twist detail top – Lucky Brand coat – Wit & Wisdom bootcut jeans – Lele Sadoughi necklace – Seychelles bootie
2. Go for the bronze
This isn't advice to go slather a ton of bronze products all over your face.
Instead, when used strategically bronzers can sculpt and highlight the right areas on your face and body to create a slimming effect.
By applying a bronzer and highlighter duo, you can create sharper lines and slimming depths. For more info check our articles on how to illuminate your face and how to contour your face.
Trish McEvoy Light & Lift Face color duo
3. Select shoes in your skin tone
An age old fashion rule, wearing shoes in your skin shade keep the length going and make your legs look instantly taller.
Don't just think you can achieve this look with heels. Flats and boots in your skin tone can also create a lengthening look.
4. Get straight to the point
Pointed toe shoes with a bit of a heel can also go a long way in making your legs look longer and leaner, which in turn elongates your silhouette.
Even a small heel can achieve the effect.
5. Keep it open
The structure of a blazer can actually work wonders to sharpen a bit of the more round features you might not be such a fan of.
Wearing an open long cardigan over a flattering top creates a play on proportions that can actually have a slimming effect.
6. V-necks are your friend
V-necks have a powerful skill of guiding eyes to your most flattering features.
A v-neck brings eyes up to the exposed skin and collarbone. The v-neck shape also helps to elongate your torso, which is a definite win for a leaner look.
7. Get vertical
Whether they are flattering or not all depends on the type of stripe you have selected.
If you are going for an elongated look, a vertical stripe is your best bet. It creates a trompe l'oeil like effect that actually works to make you look longer and leaner.
8. Keep it under wraps
Wrap style dresses, tops, and skirts are an amazing investment (especially while you are on the weight loss journey).
Not only are they super flattering (they highlight what you love and conceal areas you don't love as much), true wrap pieces can also provide a customizable fit that adjusts to your changing shape.
9. Go for the dark side
Dark pants in a flattering shade are such an instant approach to making yourself leaner.
Much like a monochromatic look, when you combine a solid darker hue with a flattering cut, you are actually able to create a solid vertical line of coloring that elongates the silhouette.
Wear with a printed or colorful top to bring the attention to your face.
7 For All Mankind bootcut jeans
10. Accessorize, Accessorize, Accessorize
Accessories are your best friend and such an easy hack.
If you're struggling with how to dress when losing weight, investing in accessories is a great way to instantly update your look.
Earrings, necklaces, and scarves all magically draw the eye upward and provide an endless amount of opportunities to experiment.
If finding the best accessories for your body type and any type of event is something you are passionate about, I recommend my accessories course.
Nakamol Design layered pendant necklace
11. Belt it out
A strategically placed belt can actually work wonders when it comes to creating a flattering silhouette.
A belt is also your best bet when your tops and dresses get loose as you lose weight.
Create a more defined waist and a new style by belting your looser items. For more on wearing belts, take a look at this article.
12. Colorblock it
Through the simple technique of color blocking, you can literally force the eye to take in the type of shape you create.
Contrasting colors that are strategically placed can create a covetable hourglass shape that also makes you look longer and leaner.
This is especially powerful when you go for color blocking looks such as panels on dresses or sharp contrasts at the waist with a belt that breaks up a solid color or pattern.
Know my secrets on how you can color block your outfits effortlessly.
13. Walk the A-line
Considered to be one of the most universally flattering looks, an a-line shape on a dress or skirt is a golden opportunity to create the perfect silhouette.
When they hit right above the knee, they create a great hourglass shape and also work wonders to conceal any trouble spots you might not be a big fan of.
Read our article on the best dresses to hide your tummy.
When you reach your weight loss goals
When you do reach the healthy weight you would like to be, you can then really start to be mindful about what your new closet will look like.
You can think about your style and build yourself a capsule wardrobe of essentials that will be perfect for your new size.
Take a look at the 28 essentials every woman over 40 needs in her closet, which should give you a great starting point.
Shelley (below) advises anyone who has lost weight to donate their old clothes straight away.
Photos from the 40+style community and shared with permission: Shelley
Weight-loss style advice from the 40+ community
Many women in the 40+ Facebook group have, like Shelley and Carolyn, been on weight-loss journeys of their own.
Nywrka said she replaced her pants regularly but continued to wear her old tops. When she finally replaced her too-big tops with new ones, everyone thought she'd lost more weight.
Carolyn and Nadine both said they thrifted while losing weight, while Arlene relied on skimming dresses and stretchy knits and Laurel says elastic waistbands are essential.
Louise said: "I lost over 50 pounds a few years ago. I bought cheaper stretch pants and wore long tops I already owned."
Get rid of old clothes straight away
Shelley, who lost 100lbs, advises: "Get rid of big clothes. It's too easy to slip back into them. If you can't wear your new smaller clothes, it's time to take a look at whether you might be slipping. Wrap dresses are great for changing waistlines."
Mary, who slimmed down by 64lbs, said: "I have purged clothes that can't be altered, have had plenty of pants, shorts, and blouses altered. Pants are the hardest to continue to wear when they don't fit."
Laura also tried thrift shopping, but had this advice too: "Take selfies along the way. It really helps assess what looks good more than just looking in the mirror. (I say this from experience!)
Janne said: "I have lost and put on so many times I have quite a range of sizes in my closet, so just switch the piles around from back to front and vice versa. One day I'll get it right!"
How do you keep a stylish closet while losing weight? What are your secrets for creating a slimmer look?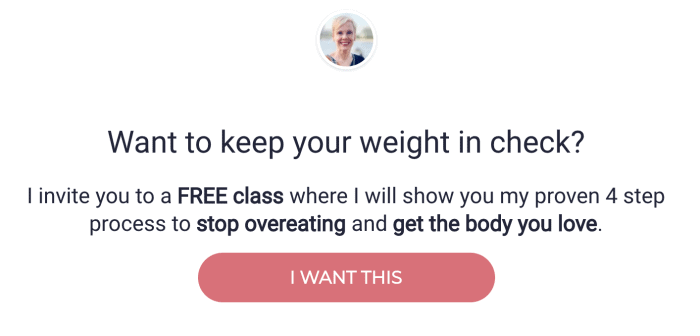 Continue reading:
Like this post on how to dress when losing weight? Share it on Pinterest!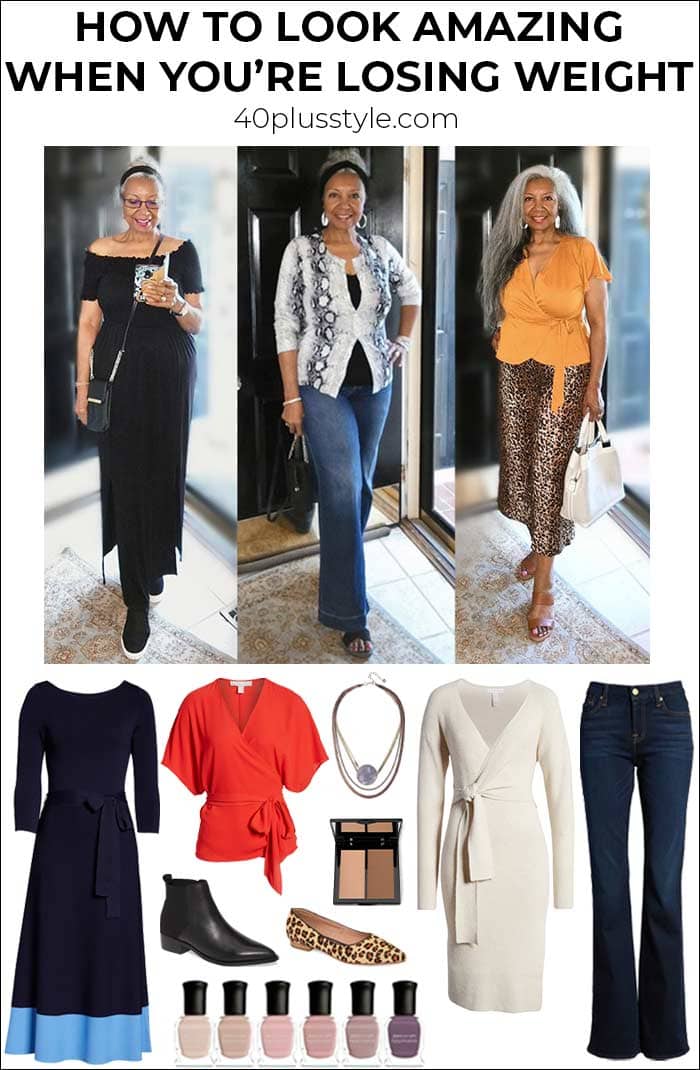 Want to get more articles from 40+style in your inbox, subscribe here.
You can also connect with 40+style on Facebook, Instagram or Pinterest.
Support 40+style by using the links in our articles to shop. As an associate for Amazon and many other brands, we receive a small commission (at no cost to you) on qualifying purchases which enables us to keep creating amazing free content for you. Thanks!