Colours, prints, great silhouettes and lots of beautiful clothes for women over 40 is coming your way in Fall and Winter of 2012. While looking at the collections I was wondering what the new trends for Fall 2012 are going to be. Here are some of my first impressions and my predictions of what we will see more of next season.
Prints and Colours galore
If you thought we had seen the most of prints already, think again. Prints were everywhere in the collections. I did not pin a lot of them on my pinboard as favorites because I believe that some of these would not look good on women over  40. However, I do expect to see many prints and colours in the collections for next season. Still, I would to wear the prints I pictured above.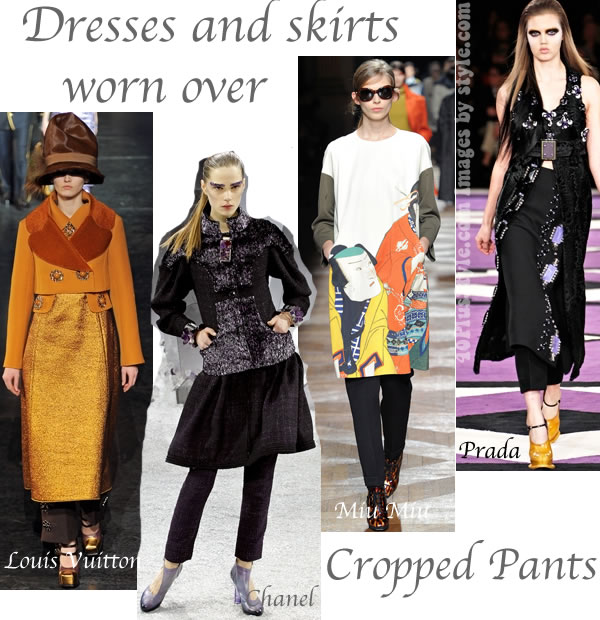 Everyone that has been reading my articles for a while already knows that I love to wear tunics and dresses over pants. And it looks like this is becoming a huge trend in Fall 2012. Anything goes: short dresses, skirts, dresses with accent on waist, empire waist, dresses prints and colours. Pick a nice cropped pair of pants and combine the 2. Comfortable and warm for winter. This is a trend I'm sure going to embrace!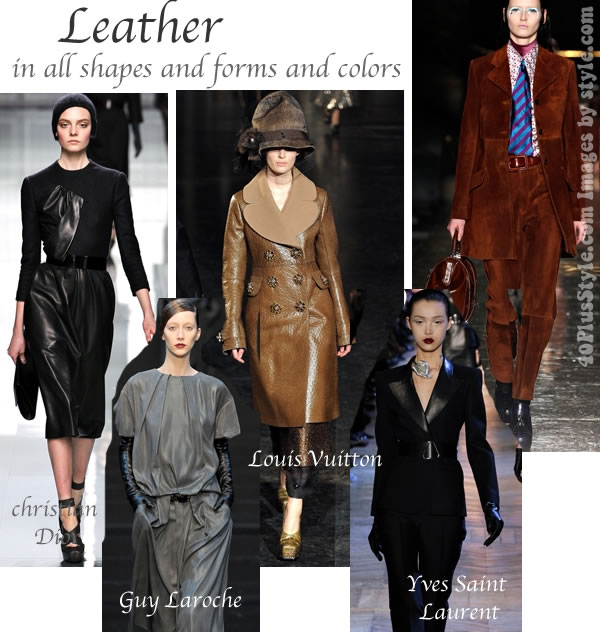 Leather seemed to be everywhere. It was worn in all kinds of ways. Skirts, dresses, in combination with velvet, coats and suits. Velvet was also quite prominent and I expect to see that coming back next season as well. I especially loved it when leather was combined with other fabrics .
If you were hoping that the cropped pants trend was going to go away, then you are out of luck. They were everywhere on the runways for Fall 2012. The good news it that often these pants were worn under dresses and tunics which elongate your silhouette. Therefore minimising the effect of shortening the legs through the cropped pants. The other extreme for tight cropped pants, were large wide oversized pants which were worn with tighter tops and blouses.
The nautical trend is still in favour with a number of designers. I loved the nautical feel of Dries van Noten's collection, and the jackets at Burberry Prossum.
Although there were all kinds of dresses, I felt the accent on the waist was the most prominent. This was seen especially true at Dior's collection. The belt was seen a lot to accentuate the waist even further. Sometimes the waist was a bit higher as seen in Prada's and Louis Vuitton collections.
Other themes
Other than the themes mentioned above I also saw a lot of oversized tops. Not a big of that for us women over 40, as a fitted top or jacket just seems so much nicer. I did like the oversized pants though. There is quite a lot of black as well, but as you all know I think you should stay away from black as much as possible, or make sure to wear it in combination with a bright or contrasting colour. The ladylike dresses were out in full force as well, so be sure to check out all my favorites on my Fall / Winter 2012 fashion trends board. And be sure to follow me there as well 🙂 If you want to know what I would like to buy right now, you can check out all my favorites here.
Have you been following the Fall / Winter 2012 fashion shows? What were your favorites?
Related posts: