This is a problem I face myself. And, I definitely still haven't completely cracked it. So, how do you wear earrings with glasses?
It's not easy. Whenever I wear glasses and earrings together, I worry the look is too heavy.
Also check out the best trendy glasses for women and what glasses to choose for your face shape.
Anything too large or too busy will naturally compete with your frames, making your look feel over-accessorized. It could also leave you feeling frumpy.
I wear both glasses and contact lenses. So, I will often make a choice between earrings or glasses, and simply pop my contact lenses in if there's a pair of earrings I want to wear which doesn't go with my glasses.
But, I know not everyone is in that position. So, if you only wear spectacles. And, if like me, your eyes need so much help that you probably wouldn't recognize your own family members if you saw them on the street without your glasses on, then do you have to give up earrings?
Definitely not. Here are some tips which may help you to get the balance right.
Remember that your glasses are an accessory
If you wear them all the time, then you may just forget about your glasses. They become, in effect, just part of you.
But, you have to remember that they are an accessory in their own right.
Only you can be the judge of how busy you want to get. But, adding earrings obviously adds another visual element to your face.
Your glasses and earrings shouldn't be fighting each other for attention. Unless, of course, you opt for a look which is definitely more is more like the models on the Gucci SS19 runways (below).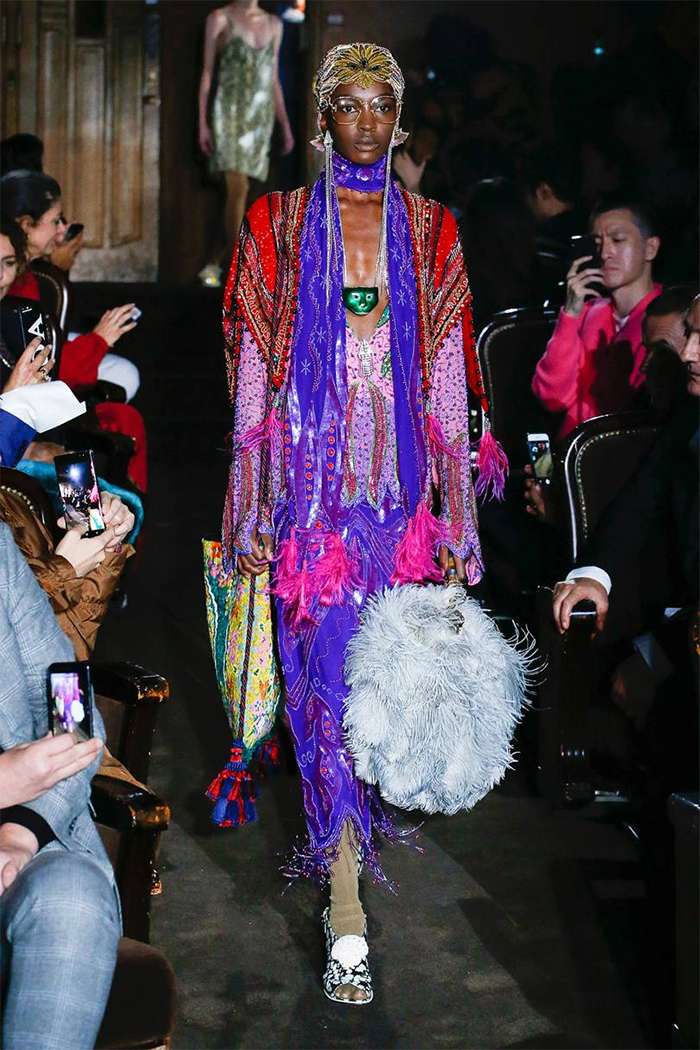 Studs will always work
But, if you do want a more subtle approach, then studs are a safe AND stylish option.
While it can be tricky to combine other shapes of earrings with glasses, such as hoops or drop earrings, I find studs always work. They add a polished feel without taking the focus away from your earrings.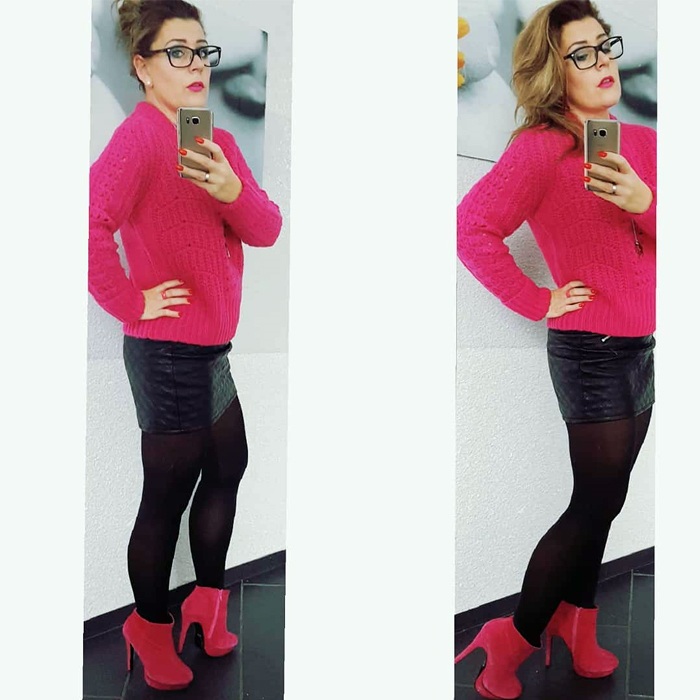 But you should try dangly earrings too
While it may seem counter-intuitive to wear dangly earrings with glasses, it can work well. Longer earrings, where the focus is on the bottom of the drop can help to create space between your spectacles and your earrings, allowing both to have their own moment.
This takes the focus down to your neck.
If you opt for large earrings which sit fairly close to your glasses, it can make your face look crowded.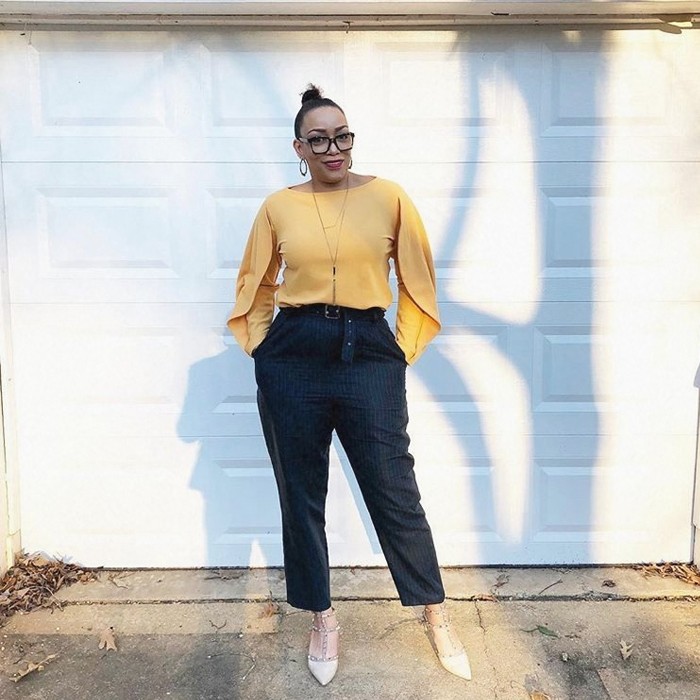 ---
Read more about Erica in her style interview.

---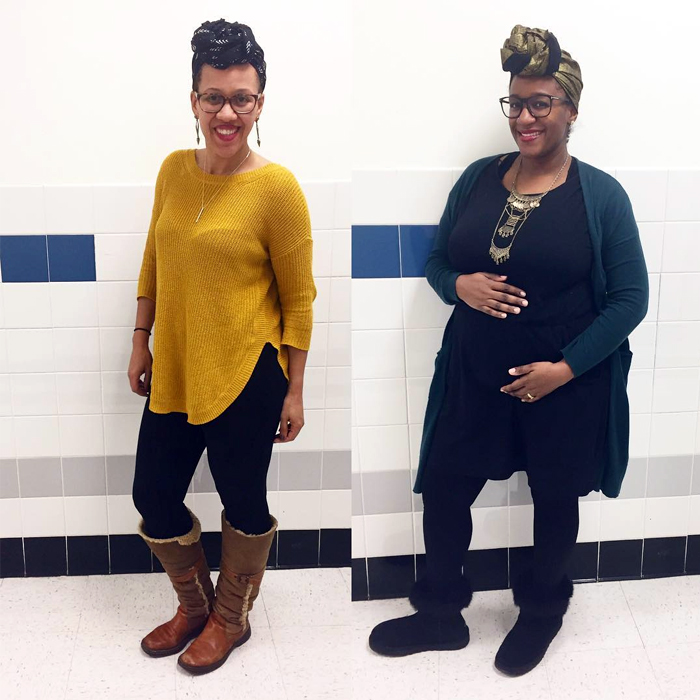 Think about earrings and glasses like make-up
The key, as with any outfit choice, is to find some balance. Think about wearing your glasses and earrings in the same way you think about your make-up, or the parts of your body you decide to show.
You may also like: the best statement earrings to add pizazzz to any outfit
You wouldn't, for example, wear a very heavy eye and a red lipstick. Nor would you want to show off both legs and cleavage.
So, you don't want to make a statement with both your glasses and your earrings.
You will have to choose one to concentrate on.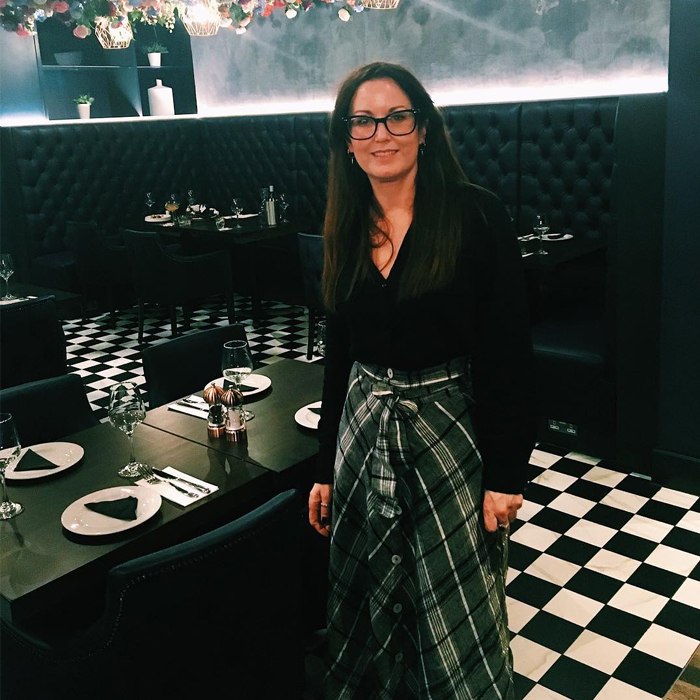 Think about the style of your frames and earrings
Just as your outfit could look unbalanced if you opted to combine two totally different styles, so too could your choice of frames and earrings look unbalanced if you have two contrasting styles.
If you tend to wear classic frames, then think about building an earring collection which is also classic; based around studs, pearls and diamonds.
If your frames are more contemporary, you could look at earrings with a more geometric shape.
---

You may also like: the best types of earrings for your face shape
---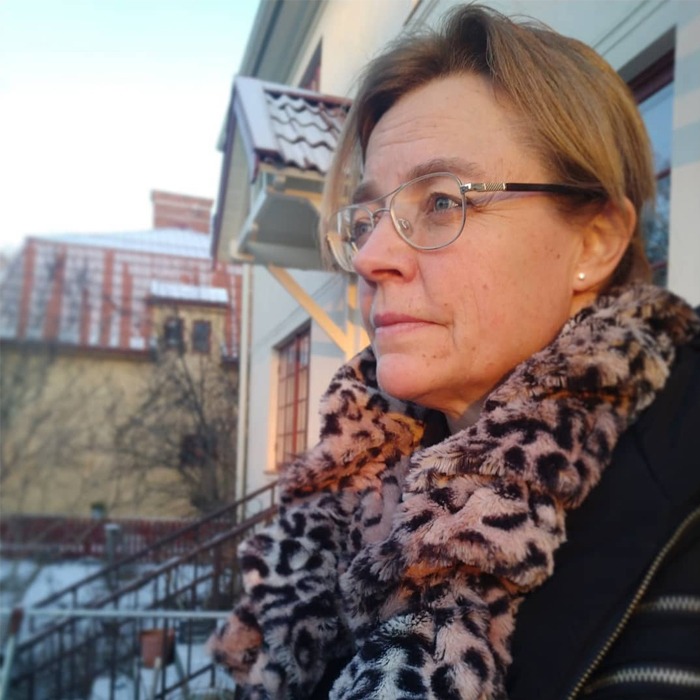 Would it make sense to invest in more glasses?
Perhaps you dress in a totally classic style for work and the style of your glasses reflects that.
Would it make sense, as you do wear glasses every day, to invest in a different pair for weekends and a different pair for evenings out. Similar to the way you might wear different watch styles for day and evening?
That way, you can choose a pair for evenings which will allow you to wear your earrings.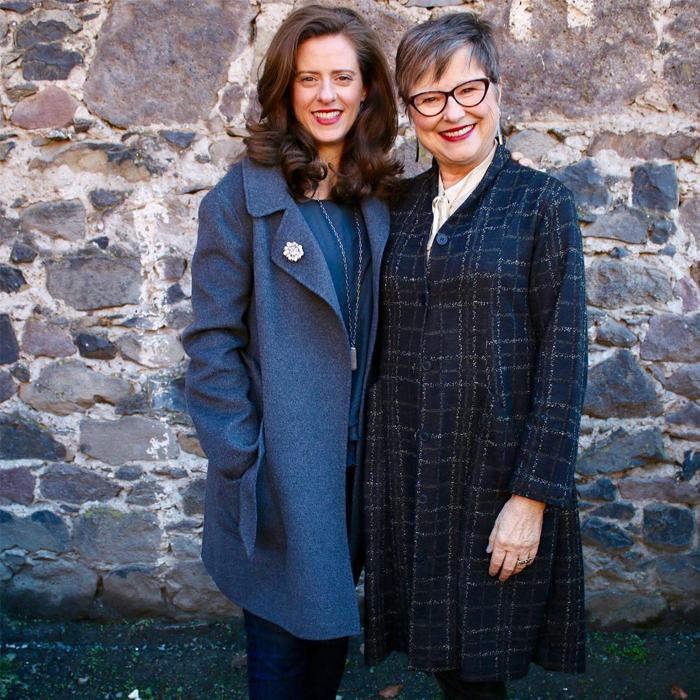 What color are your glasses?
I find that while color clashing works when it comes to clothes, it feels too much to me when it comes to glasses and earrings.
So, if your glasses are a brown, warm tone like tortoiseshell or burgundy, you will likely find that sticking to warm jewelry such as yellow and rose gold will work best.
However, if your frames are silver, clear, or a cool tone like blue, then silver jewelry will work better for you.
If you have black glasses, then you can opt for either silver or gold. Oprah and Julia have shown that it works!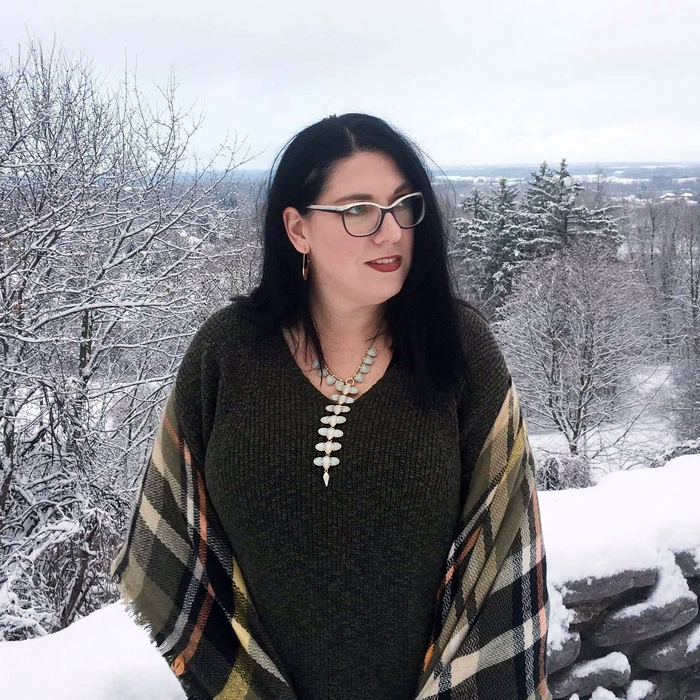 Look to celebrity spectacles wearers
Julia Roberts often wears black or tortoiseshell spectacles with earrings. I've seen her wear very heavy dark frames with large silver earrings. Somehow it works because of the contrast in colors. She also wears small round tortoiseshell frames with smaller earrings, which is a better option for day-to-day wear.
Oprah Winfrey also often uses the same tactic as Julia Roberts for red carpet events and wears her black glasses with crystal or silver earrings.
I've seen Jennifer Aniston opt for gold drop earrings with thick frames, and for more delicate earrings with smaller oval frames. Cate Blanchett, on the other hand, tends to stick to stud earrings when she is wearing her glasses.
None of these rules apply to sunglasses
Somehow, these rules just don't seem to apply when it comes to wearing sunglasses. I find that hoop earrings and larger earrings work with sunglasses. I think it's because as you can't see your eyes, your look is naturally not as busy.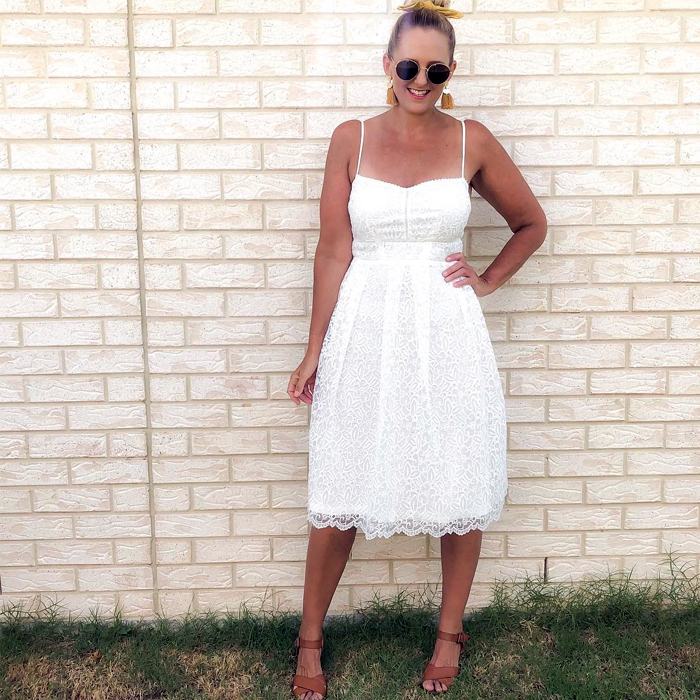 How about you? Do you have the same problem? How do you wear your glasses with earrings? Let me know in the comments.
Like this article? Save it on Pinterest!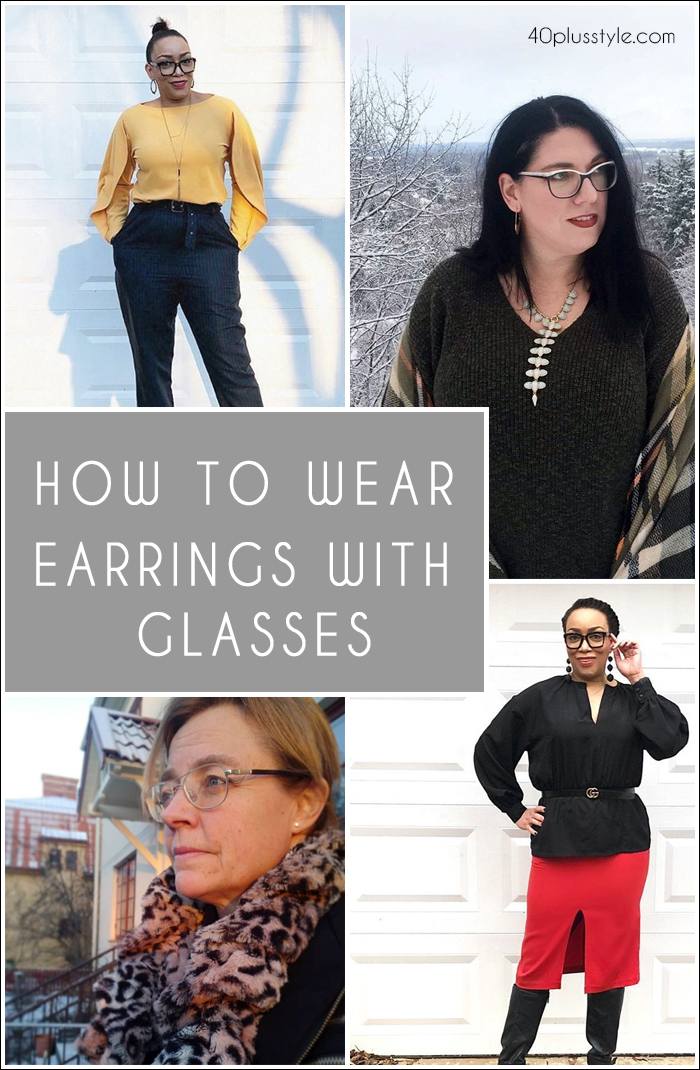 Cover Photo by: @ericabunker
Want to get more articles from 40+style in your inbox, subscribe here.
You can also connect with 40+style on Facebook, Instagram or Pinterest.
Support 40+style by using the links in our articles to shop. As an associate for Amazon and many other brands, we receive a small commission (at no cost to you) on qualifying purchases which enables us to keep creating amazing free content for you. Thanks!