Who doesn't love a great Before and After image?
I know I do!
It's wonderful to see a transformation right in front of our eyes!
I'm always encouraging my style students to share them and if they do, I beg  ask them if I can share them with the whole 40+Style community.
Most of our style members want to keep them private even though they may share lots of images in our private member community. I totally understand this of course.
It takes courage to show your before and afters to the world.
So that's why I'm super grateful that these women have agreed to share their pictures and some of their take-aways of the 21 Steps to a More Stylish You course and the 40+Style club.
Staci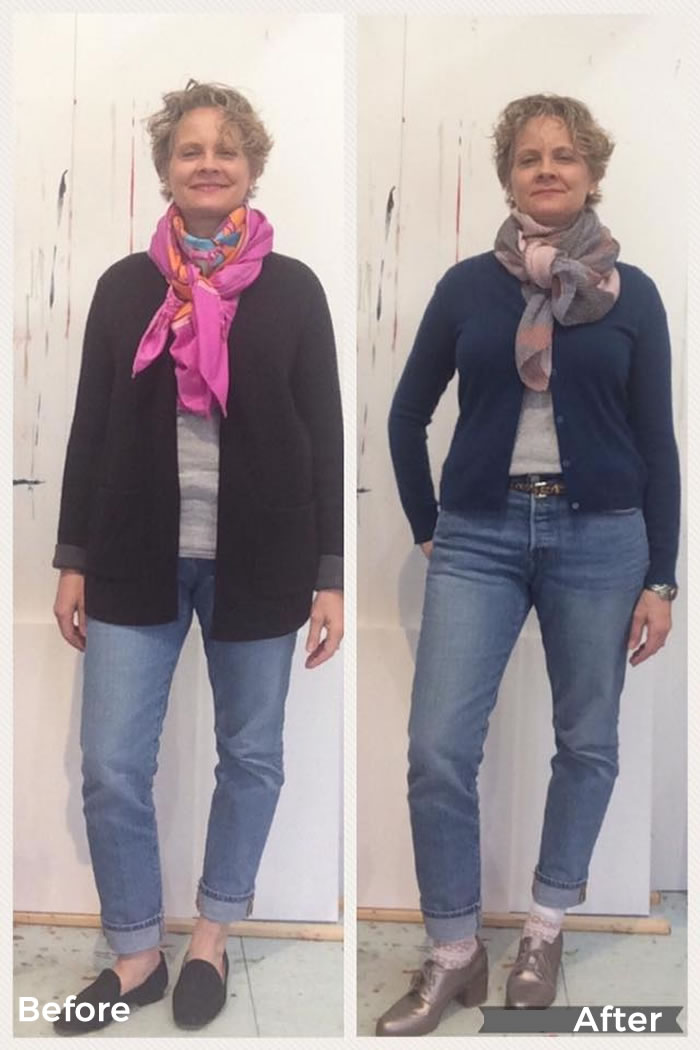 This is Stacie who posted a before and after look that is quite similar, yet very different. Using some of the taught techniques, she learned how to create a more flattering look following our training on proportions, balance and color.
Here is what Stacie says about this photo:
"I can see some shifts happening. Primarily in a more positive body awareness sort of way. My lifestyle is very casual on most days. This is a typical "sweater and t-shirt running out the door on quick notice" kind of outfit for me. On the left is the before. Not hideous but makes me look very blocky and the dark sweater, shoes, and bright scarf overwhelm my soft coloring. I have very little contrast or color in my features and as much as I like black and brights they just don't suit me without some makeup or accessory changes.
On the right are the same jeans and grey t-shirt but this time with a slightly lighter peacock blue cardigan. It is more fitted and a smaller size than I normally buy which highlights my upper half. While this shorter sweater exposes my hips I think the overall effect is more feminine and flattering. I changed out the black loafer to a metallic brogue to echo my light hair color and also to add a little height. Polka dot socks for some pattern and because they make me feel a little sassy. I tucked in my t-shirt to help with the rule of thirds ratio and buttoning my sweater at the bust creates a visual triangle which further brings the focus up to my face rather than down low at the hem of my sweater as in the first photo. For a final touch I swapped out the bright pink scarf for one with softer pattern and color so as not to overwhelm me."
Ellen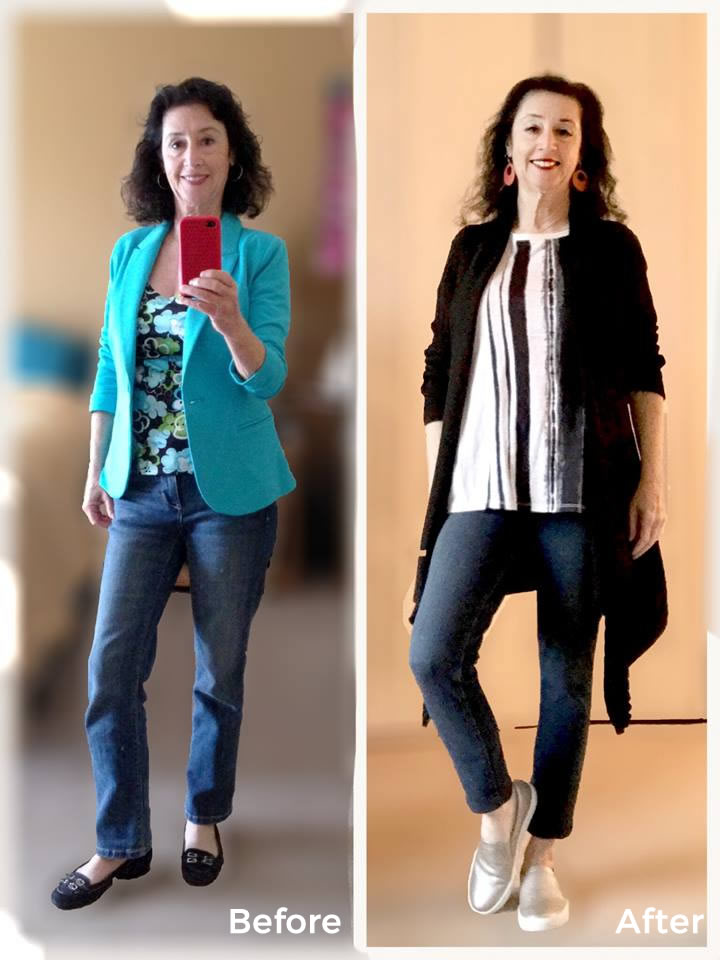 Although there is structurally nothing wrong with Ellen's 'before' look, the look just doesn't feel like HER and doesn't represent who she is. Now that we know her a lot better. the look on the left just feels very wrong for her.
This is what Ellen says about her look:
"Here is my before and after photo of how my style acumen has changed through the challenges, style club, and of course, Sylvia's inspiration. I'm finally learning to embrace my personal style, and know what looks good and doesn't, and then make educated decisions on what I wear. I still need tons of feedback and to continue learning, so I'm so glad the style club is here!"
Jamie
I'm loving this transformation from Jamie. Proportions in the left outfit are all wrong and the rather dull clothes (despite the orange bag) do nothing to enhance her natural beauty. In her 'after' image Jamie wears better colors and contrast levels for her, uses interesting layers, texture and print, accessories and some fabulous (yet still comfortable) shoes!
Here is what Jamie says about this look:
"Style metamorphosis! My picture on the left was my idea of adding color to my wardrobe. A big Oops on the warm brown capris, the white t-shirt which cut me in half and the warm orange bag and scarf. I could not have explained to you at the time why this outfit did not work. I feel like Sylvia and Ruth have taught us the "why" of style, not just what to wear. I'm excited for the next phase."
Miki
Miki lets the photo speak for itself. It's quite obvious how Miki blossoms in the second 'after' photo.
Her 'after' outfit is just so more interesting using color, texture, asymmetry, accessories, layering and interesting shoes!
Gina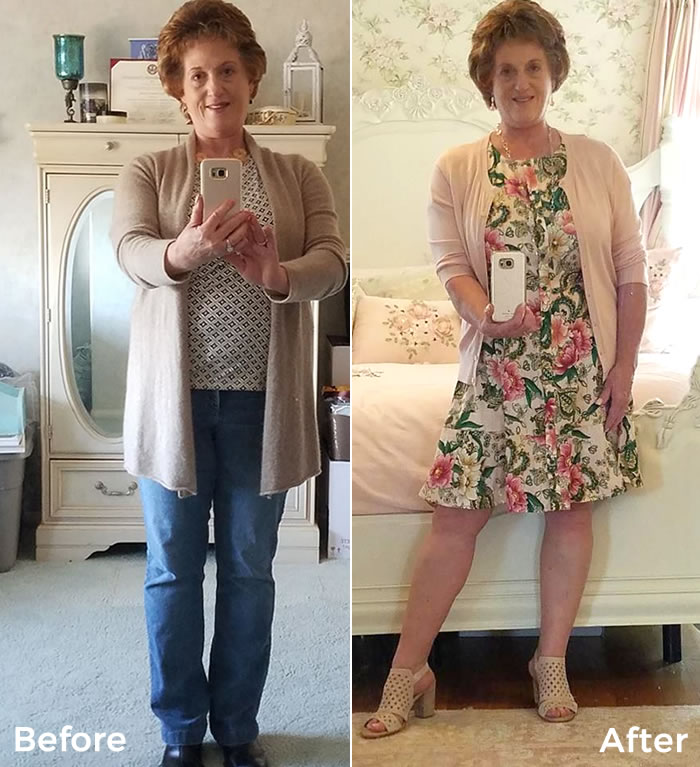 I actually don't think Gina's 'before' image is all that bad, but her true romantic personality comes out in the outfit on the right. Her outfit reflects her feminine style personality and she shines in these warmer colors. It also enhances her body type and gives her a lot more shape.
Here is what Gina says about this photo:
"Here are my before and after pictures. I always thought I dressed fairly well before I joined the club but what a difference a year makes."
Fiona
Fiona was very attached to her black clothes and wanted to add more color to her style. She discovered that she looks better in clothes with more contrast and the red makes her feel more emboldened and more confident.
This is what Fiona says about this photo:
"I feel I have more style, more confidence, more fun playing with my wardrobe. I'm a lit less afraid to try new ideas and mix and match outside my previous comfort zone, all thanks to Sylvia, Ruth and this great group of ladies who are so supportive and creative."
If you like to experience a style transformation too, why not treat yourself to the 21 Steps to a More Stylish You course! You can take this either as a self-study course or take the advanced option and get our support in the 40+Style Club. Who knows. Maybe some day I will be featuring your transformation here!
Is there anything you would like to change about your style?
Sylvia is the creator of 40+style and the 40+style Club.
Her courses and free training have already helped millions of women ignite their style.
She considers herself a world citizen and travels frequently between Singapore, The Netherlands and the US.