Style is very personal.
Still, many women seem to be motivated by choosing clothes so they will be acceptable to others. Something I also discussed in my recent article: why do we all want to blend in so much.
I know that when I was growing up, the opinion of others of what I wore was very important to me. Which clothes you wore also determined in which 'group' you belonged.
However as I have grown older, I care less about what other people think and rather go with my own instinct and style preferences. My confidence has grown a lot.
But still, when I'm in a shop, I sometimes find myself wondering if I really should go for a particular purchase.
This usually concerns the more riskier items, like this colorful tunic. You realize when you buy an item like that, that it will not appeal to everyone.
So how important is it to buy wardrobe items that are deemed stylish by a lot of people?
I suppose that is what celebrities often ponder as well when going to special events. Many play it safe and go for elegant black dresses. They will never make it to the best-dressed list, but at least they will not be on the worst dressed list either.
But some celebrities take risks. They will sometimes pay off and they become the style star of the event, while at other times, they may end up on the worst dressed list since their choice proved to be too fashion forward.
This happened to the most amazing style icons like Cate Blanchett and Gwyneth Paltrow.
But let's face it, most of us are not celebrities, so we don't need to fear that we are being outed as worst dressed.
Yet, I know that many of you (including me) love to get compliments for your outfit and like to be seen as a woman with style who 'never gets it wrong'.
So what to do?
Here is how to play it safe:
Don't choose too much bold color
When in doubt go for the trusted black and white combination
Don't go for shapes that are a bit outside the norm
Go for clothes that perfectly match your body type and choose an outfit that flatters
Keep it simple
And here is what the risk takers do:
Go for unusual shapes
Go for styles that are not always the most flattering but are certainly the most interesting
Pick bold colours and pattern combinations
Mix a super trendy item with something old
Go out in something completely unique
Which camp are you in?
As for me, I feel I'm part of both.
There are certain situations where I like to play it safe. In business meetings for example, I usually opt for something neutral, that I know will not upset anyone.
I will do the same if I'm in a bad mood or feel less confident and don't want to get noticed too much.
But I also really like to take risks.
I like to wear outfits that are different or come up with combinations that others haven't thought of.
Or wear a hat when I know that noone else will.
I need to be in the right state of mind, but when I'm confident and in love with my outfit, I don't really care what anyone else thinks.
And I'm definitely more confident more often.
As long as I feel good about myself in the outfit, then that is all that matters. In those situations I delight in wearing something that noone else has and the clothes, jewelry or hat may even become a topic of conversation.
I'd love to show you what I've learned over the years and how I got confident in me and my style. I'd like to show you how to feel confident in YOU and your style.
My course 21 Steps to a More Stylish You is now open for enrollment (for a limited only) You can get more information and sign up here.
I would love to hear your view on this. Do you care what others think about your clothes? And in which camp are you?

21 Steps to a More Stylish You is now open for enrollment
(for a limited time)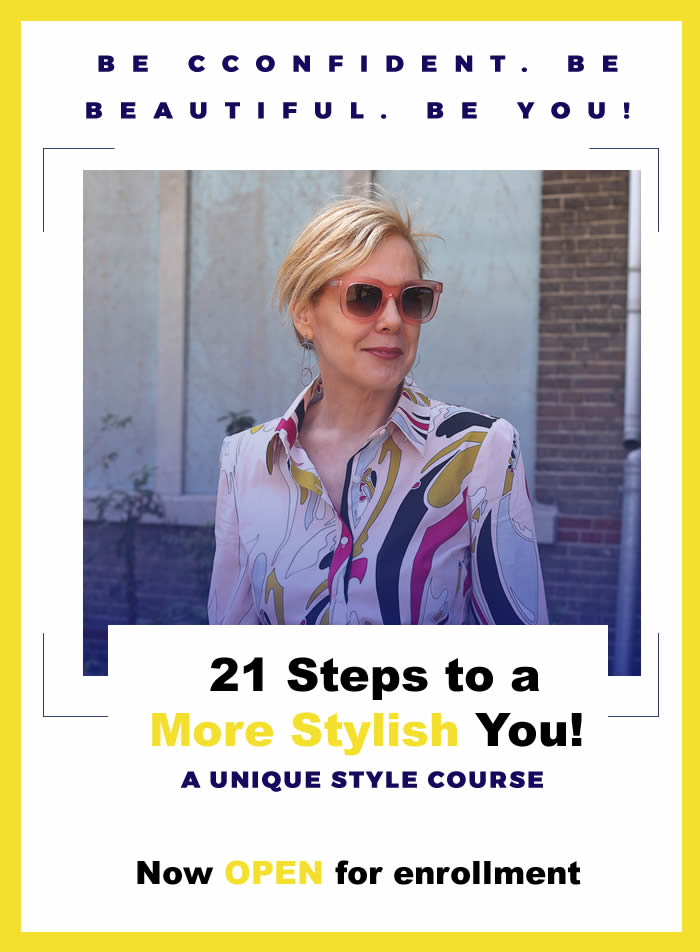 Want to get more articles from 40+style in your inbox, subscribe here.
You can also connect with 40+style on Facebook, Instagram or Pinterest.
Support 40+style by using the links in our articles to shop. As an associate for Amazon and many other brands, we receive a small commission (at no cost to you) on qualifying purchases which enables us to keep creating amazing free content for you. Thanks!