Good news for the lovers of tracksuits, pajamas, cashmere, and anything else that's comfy! Loungewear, as it's now known, is now just as acceptable outdoors as it is indoors.
So, if you fancy wearing lounge clothes to run your errands, or even for a night out, that's perfectly acceptable. Just as long as you choose the right loungewear that is!
What is loungewear and how you can wear it
Tracksuits, sweatshirts, leggings, pajamas, lounge pants, tees – loungewear is really a catch-all term for anything which is comfortable enough to lounge around in.
While in the days of Hollywood sirens, "slipping into something more comfortable" typically meant some sort of seductive slip of silk or satin, now the trend is to change into comfy lounge pants and sweaters when you come home.
Finally, comfort has become fashionable. Even Victoria Beckham, who was once so loath to wear flats that she wore heeled sneakers to play baseball, has recently embraced the loungewear trend and has been wearing cozy knits and sneakers rather than her usual heels and dresses.
Luxe loungewear
But, baggy tees and washed out leggings just won't cut it anymore! Loungewear is now all about luxury – that feeling that you're treating yourself well while you're at home.
As our lives get busier, many of us are spending more time at home. And, when we are at home, we still want to feel as if we are taking care of ourselves and that we are both comfortable AND stylish. After all, you never know when you might have to answer the door, pop out to walk the dog, or run a few errands.
In short, loungewear sits somewhere between pajamas and going out attire. If you wouldn't be happy to answer the doorbell, then you're probably in pajamas. If you're happy to go to the door, or pop to the shop for milk and bread, then it's loungewear!
Choosing a capsule loungewear wardrobe
Halogen bralette – Barefoot Dreams cozy socks – Patricia Green embroidered slipper
Maaji blue leggings – Barefoot dreams lounge pants  – Nordstrom breathe lounge pants – Eberjay loungewear crop pants

Nordstrom cashmere cardigan – J.Crew pleated top – Halogen striped knit sweater – Halogen long sleeve top
Just as you would put together a capsule collection in your regular wardrobe, it's worth investing in key loungewear pieces. When you're looking for loungewear, choose pieces which are easy to pull on and which allow you to relax while still feeling stylish.
Many store buyers now refer to loungewear as your "third wardrobe". It's not for going to bed in, and it's not for going out in. It's for those evenings when you want to relax with a glass of wine or a cup of hot chocolate while reading a book or watching a movie.
So, what should you have in your loungewear capsule?
I'd suggest leggings, lounge pants, long sleeve tees and tank tops, a cozy cardigan and socks or slippers. I'd also add some bralettes to your loungewear draw if you still need support, but feel more comfortable in something other than an underwired bra!
By keeping to a color scheme in the same way as any other capsule in your wardrobe, you can ensure you always look put together, even if you do have to answer the door!
Fabrics
Cashmere and wool cardigan – Cashmere hooded sweater – Rosemund lace trim tank top – Equipment silk tank

Masion silk pants – Morgan lane striped silk pants – Michael stars wide lounge pants – Florra Nikrooz gray lounge pants
To be truly comfortable, you need to like the feel of the fabric you choose against your skin as well as make sure you're not too hot and not too cold. Look out for pieces in natural fabrics such as cashmere, silk and cotton. Semi-natural fabrics like modal can also be soft, crease resistant and wash well, without such a high price tag.
While it may feel alien to spend more on your indoor look than your outdoor outfits, it can make perfect sense as you are likely to keep your loungewear longer, given that lounge clothing is more comfort-led than trend-led!
Pajamas
Outfit 1: Topshop camisole – Topshop pajama pants – Ugg socks
Outfit 2: Nordstrom lounge pants – Ugg slippers – Halogen long cardigan – Morgan lane striped camisole
Outfit 3: Jonquil floral lounge pants – Jonquil camisole – Eileen Fisher belted cardigan –Vionic navy slipper
Although loungewear is something for lounging in, rather than sleeping in, it goes without saying that sometimes after lounging, you move straight to sleeping. So, it makes sense for pajamas to be part of your loungewear wardrobe!
There's more advice from Yvonne in her piece on choosing the best types of women's pajamas.
Tracksuits
One of the most tricky things to wear while still looking stylish! I find the key is to wear tracksuits as separates, rather than wearing a tracksuit top and pants together. Pairing tracksuit pants with a cashmere sweater gives a luxe look.
Outfit 1: Puma leggings – Barefoot dreams gray cardigan – Eileen Fisher shell top – M4D3 Platform sneaker
Outfit 2: Pam and Gella yellow track pants – Nordstrom heather cashmere sweater – Dr Scholl's loafers – Blank NYC moto jacket
Outfit 3: Vince Camuto yellow cashmere sweater – Badgley trench coat – Gentle Monster gray loafers – Topshop black track pants
You can then add outerwear like leather jackets, trench coats and sneakers if you're heading out. Or, if you want to combine a fashion track pant with heels and a blazer, well, why not? Fashion is, after all, all about having fun and trying new things.
Pajamas as outerwear
Who says pajamas have to be reserved for bed? The pajamas as outerwear trend has been big for a few seasons now, and only seems to be gaining in popularity. The key is to keep the rest of your look more formal, so that you don't really look as if you've just wandered out of the house in your PJs!
Outfit 1: McGuire pajama blouse – Sam Edelman green pump – Tory burch tote bag – Good American blue jeans – Halogen tassel earrings
Outfit 2: Equipment green silk pants – Vince Camuto white blazer – Eileen Fisher white silk tank – Frye orange crossbody bag – Alexis Bittar necklace – Patricia Green espadrille
Outfit 3: White wide leg jeans – Topshop green pajama style blouse – J.Crew black mules – Street Level black suede bag – Argento hoop earrings
Do you change into lounge clothes as soon as you get home? What is your favorite loungewear trend?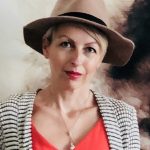 Author bio: Liz Hands is a fashion journalist and stylist from the UK who has styled fashion shoots for newspapers, magazines and high-end clients including 5* hotels and BMW. She's now happiest either blogging about style, or donning her favorite Barbour jacket and Brogini boots for a hack out on her crazy ex-racehorse.
Like this article? Save it on Pinterest!