When you consider that one-third of our life is spent sleeping it makes sense that we should put some thought into what we wear during that time. That's why I'm bringing you all the best pajamas for women that will definitely keep you looking stylish as you sleep, when you go down for breakfast, and whenever else you want to wear your pajamas.
In fact, you'll find the most comfortable pajamas below, from cozy flannel and cotton pjs to silky, glamorous nightwear, so you may just want to wear your pjs all day.
Does it matter what your pajamas look like?
When it comes to pajamas everyone has an opinion. On one hand, there are those that think; "I'm just sleeping, no one will care or notice."
On the other hand, there are those that think; "This is a fairly good chunk of my life, I need to look put together."
I fall into the latter category. Pajamas should not be an afterthought, they should be an acknowledged part of your wardrobe.
When it comes to pajamas for women there are so many choices. There are also quite a few things to consider when you're looking for a good night's sleep.
What to consider when choosing women's pajamas
Below are some factors to think about before you choose your next pair of pajamas…
Style and fit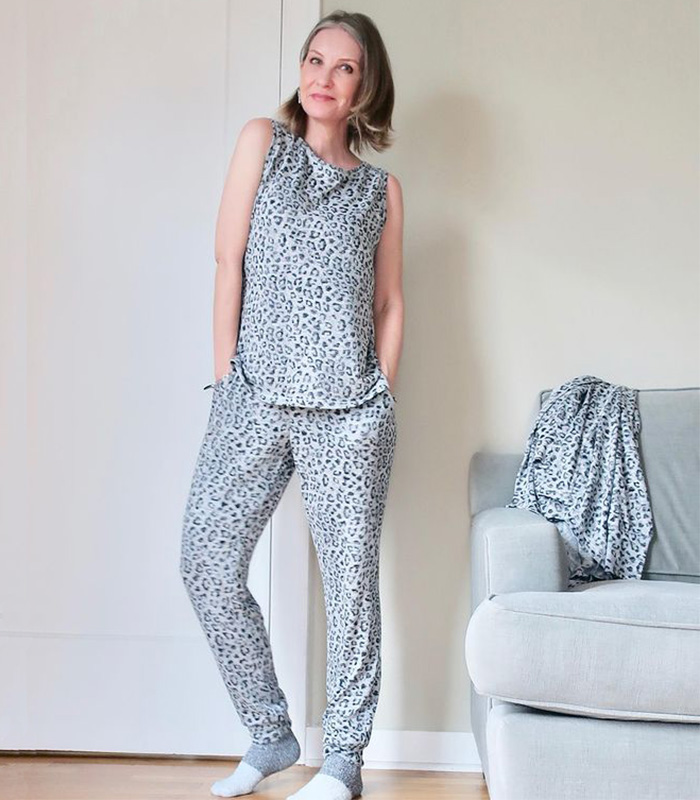 Our style evolves over our lifetime. As we get older, we tend to be a little more on the conservative side. We opt for pajamas that offer more coverage and perhaps more practicality.
The fit and style of pajamas are important. If these two elements are off, you will be uncomfortable. Discomfort will most likely cause you to wake in the middle of the night to adjust…something.
The bottom line is pajamas should fit you well. There should not be any tightness or pulling, and the only thing you should feel is comfort.
Pajamas for women are available in all size categories so it should not be difficult to find the right fit.
Remember to think of your pajamas as an extension of your wardrobe, don't be afraid to have them tailored for the right fit.
Nothing detracts from an elegant look like ill fitting clothes, pajamas included.
Dawn Lucy @fashionshouldbefun (read her style interview here) above got her matching pajama sets from Chico's (tunic, tank, cardigan, jogger pants).
Pajamas for women: Fabric choice
When choosing pajamas fabric is probably the most important factor.
The fabric you choose directly affects your body temperature, your comfort level, and subsequently your quality of sleep.
Understanding the properties and benefits of the fabrics most often used for sleepwear is important.
This will help you make the best choice for your needs.
Are you choosing pajamas for a gift?
I always think pajamas make such a good gift idea for women. If you are choosing pajamas as a gift, make sure you choose an extra-special pair.
The Escalier pajama set (below) for example feature a striking pattern and print.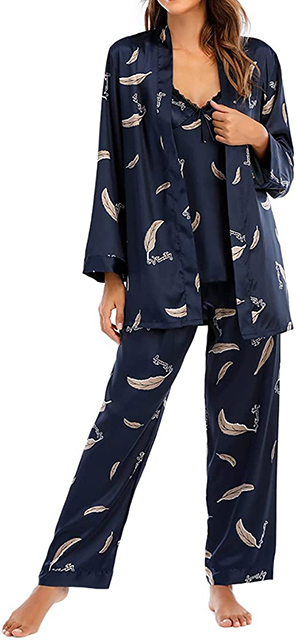 Escalier Silk Satin Pajama Set
Or,if your recipient leans towards minimalist style, you could choose a pajamas set like the one from the White Company (below).
The White Company Ribbed Jersey Lounge Pajama Set
Are you just sleeping in your pajamas or will they be seen at breakfast
If you tend to wear your pajamas as loungewear and at breakfast time rather than just in bed, you are likely to want a beautiful pair.
Are you looking for winter pajamas or summer pajamas?
Of course, you may feel the cold more than others, or perhaps you regularly get too hot during the night. In which case you will want to choose pajamas for your own body temperature.
But you will also want to consider the seasons. You are likely to want a thicker, cozier pair of pajamas for the cooler months than if you are on summer vacation, for example.
If you get really cold, you could choose a pair of thermal pajamas like the ones from Just Love (below) which are designed to keep you warm in cooler months.
Just Love Women's thermal underwear pajama set
The best pajamas to choose, no matter what the season
Now, let's take a look at more of the best women's pajamas to choose in stores now…
Softest women's pajamas
When you go to bed, the last thing you want is to feel itchy or uncomfortable because of your fabric choice.
Catherine @notlamb above (read her style interview here) wears a pair of soft gray pajamas with animal print slippers while having her morning (or evening) tea.
Check out this similar grey short sleeve pajama set from Amazon. The pajamas from Ekouaer (below) are another good choice if you want a pair of soft, casual pajamas.
Most comfortable pajamas
More so than any other item of clothing, your pajamas need to be comfortable. Othewise, you simply won't get a quality sleep. The long sleeve pajama set (below) comes in a good choice of colors, patterns and prints, and reviewers say the outside feels like a cozy soft t-shirt while the inside feels like brushed cotton.
Christmas pajamas for women
As the festive season is coming up, many of you may be looking for a pair of pajamas that would be perfect for Christmas morning. The pajamas from Anthropologie (below) feature a print which has elephants pulling a sleigh, and is playful without being garish.
Anthropologie Roller Rabbit Holly Jolly Pajama Set
Or how about a very traditional print for Christmas morning, like the reindeer pattern on the Just Love pajamas (below).
Cotton pajamas for women
Cotton fabrics are probably one of the best options for pajamas no matter what time of year it is as they are soft, lightweight and easy to care for.
Additionally, cotton allows for air circulation due to its breathability. It is important to note that cotton absorbs moisture, so if night sweats are a concern, however, this may not be the best option for you.
PajamaGram Cotton Jersey Pajama Set
Best silk pajamas for women
For those that want to sleep in luxury, silk is a great option, as it is a natural thermo regulator.
It keeps you warm when it's cold and keeps you cool when it's warm.
The primary concerns with silk pajamas are that they may be slippery. Although it's often recommended to dry clean silk pajamas I personally just wash them by hand. If that's too much work for you the the dry cleaning bills can add up.
You could still save these for special occasions though! Silk pajamas also make a beautiful gift option.
Nordstrom Washable Silk Pajamas
Comfy pjs: Lounge pajamas
Loungewear is a popular option right now, and no wonder given that so many of you are at home more than usual. Opt for a pair of lounge pajamas and you can wear during the night, or to relax during the day.
The White Company Tie-Hem Jersey Pajama Set
For for more style inspiration, check out the best loungewear for women over 40.
Best sleepwear for women: Moisture-wicking sleepwear
Moisture-wicking sleepwear is great for anyone who deals with night sweats.
Just like activewear, these fabrics draw moisture to the surface and allow it to evaporate, allowing the wearer to remain dry.
Winter pajamas – flannel pajamas for women
During the cold winter months, flannel is a great option as it is breathable and provides warmth. To feel really cozy, flannel would be a good choice if you're looking for the warmest pajamas for chilly weather.
Just Love Long Sleeve Flannel Pajama Set
Warmest women's pajamas: Fleece pajamas
Fleece traps a layer of air around your body so is a great option if you really feel the cold in the winter months.
Best pjs: Satin pajamas
These satin pajamas from LONXU look just like silk and have classic styling. They come in neutrals or bright shades. Reviews say these run a little short, so they are ideal if you are petite (5'4" and below).
Glamorous pajamas
If you are on vacation, you want to look amazing while staying as a guest with friends, or you just want to feel glamorous while sleeping, these pajamas from The White Company could be the ones for you.
The White Company Contrast Lace-Shoulder Pajama Set
Floral pajamas
Flowers are always a popular print for pajamas. Even if you don't usually wear prints day-to-day, pajamas can be a good way to bring some patterns into your wardrobe.
Anthropologie Floral Pajama Set
Women's pajama sets
A classic pajama set choice is to choose a pair with piping like the button-down set (below) which comes with a sleep mask and has great reviews from wearers who say they fit and wash nicely.
Alexander Del Rossa button down satin pajama set
Matching pajamas
While you can opt for pajama separates, just as you can choose separates, rather than a suit for work, I always think matching pajamas help you to feel particularly put together.
Anthropologie Pomegranate Pajama Set
Summer pajamas
While long flannel pajamas are a great idea to stay cozy during colder months, you also need to ensure your wardrobe has sleepwear to keep you comfortable during warmer weather.
Shortie pajamas or cropped pajamas are a great option for this, providing comfort and coverage while keeping you cool.
Anthropologie Siren Song Pajama Set
Women's pajama pants
Perhaps you prefer to wear separates, or you like to wear a t-shirt, vest or camisole with your pajamas rather than choosing a matching set. In that case, you could opt for a pair of pajama bottoms and wear whatever you want to on top.
Amazon Essentials Lightweight Lounge Terry Pajama Pants
Robes to go with your pajamas
What will you wear over your pajamas when you pop down to breakfast? You could opt for cozy robe to wear as you have your coffee.
NY Threads Womens Fleece Bathrobe
Slippers to go with your pajamas
You'll also want to keep your feet cozy with a pair of stylish slippers or socks in the colder months.
What do you like to wear at night? What helps you to feel comfortable and to sleep better? I'd love to hear about your own recommendations for the best pajamas for women.
shop the items above here:

Continue reading:
Enjoyed this article on the best pajamas for women over 40? Share it on Pinterest!
Feature image by Dawn Lucy @fashionshouldbefun
Want to get more articles from 40+style in your inbox, subscribe here.
You can also connect with 40+style on Facebook, Instagram or Pinterest.
Support 40+style by using the links in our articles to shop. As an associate for Amazon and many other brands, we receive a small commission (at no cost to you) on qualifying purchases which enables us to keep creating amazing free content for you. Thanks!