Most of us would not want to wear a body shaper every day (although I know women that happily do!).
But, for a special event, or when you just want to look great in a particular dress or outfit which can show up every lump and bump, the right body shaper can smooth out your figure and make you feel much more confident.
A good body shaper should enhance your figure, smoothing out your silhouette and adding a lift where you need it. It should give you a slimmer, smoother look without being uncomfortable.
So, while it should fit in a way which is snug, your body shaper should not dig in and make you uncomfortable.
What is a body shaper?
A body shaper pretty much does what it says on the tin!
It is designed to shape your body and usually comes as a one-piece to shape your tummy, bottom and thighs, although you can get body shapers which simply hone in on the areas you aren't so happy about.
You may, for example, just choose a piece which slims your tummy, but you may not want it to go down to your thighs.
How to choose a body shaper?
Before I look at some of the top recommendations for body shapers, here are a few tips for choosing one which is right for you.
1. Which parts of your body do you want to concentrate on?
Think about what is a priority for you. Where do you need a little helping hand? Do you want to smooth out your tummy and get rid of the dreaded muffin top? Do you also want to slim and smooth your hips and thighs?
2. What will you wear it under?
Will you use your body shaper for every day wear or just for special occasions?
If it's the former, your shaper needs to be more comfortable and multi functional.
If you plan to wear your body shaper to an event or special night out, think about the dress or outfit you are wearing and how your body shaper will fit under that.
Does it need a low back, for example, or do you need to make sure you don't have a visible panty line?
3. Do you want to wear your own bra?
You can buy body shapers which have a built in bra, but if you have a larger bust you may feel more comfortable if you can wear your own bra. If that's the case, look for body shapers which dip in front of the bust so you can wear the bra of your choice.
For some tips on different options, you may also wish to read this article on shapewear and whether women over 40 need it.
Here are some of the most recommended body shapers for you to try.
waist shaper
If you want to tuck in your tummy and create the illusion of a smaller waist, then you may wish to concentrate on this area alone rather than choosing a body shaper which also stretches down to your thighs.
This waist cincher is designed so that you can wear your own bra with it. It is made from breathable fabric so you should be able to wear it even in warm weather, and comes with thick straps so you can pop your bra straps underneath them.
Waist cincher or girdle
Another similarly good option could be this open-bust bodysuit.
If you are looking for a body shaper, the area you wish to focus on is likely to be your tummy. This is designed to flatten your midriff and reduce your waistline along with reducing your back bulge and correcting your posture.
tummy shaper
Your tummy area is likely to be one you wish to smooth and slim if you are looking for a body shaper.
When you think about shapewear, Spanx is probably the brand which springs to mind first.
This bodysuit looks pretty because of the lace, but it also has a graduated mesh panel to target and smooth your belly area. This could be a good option if you don't need a lot of bust support and don't want a very constrictive shaper.
shapewear bodysuit
One of the reasons you may be looking for a bodysuit is because you actually prefer to wear it under your outfits rather than a bra and panties.
This one is designed to slim as well as offering support for your bust with underwire cups. The lace makes it more attractive to look at than many other body shapers. It has also been praised by reviewers who said it improved their posture.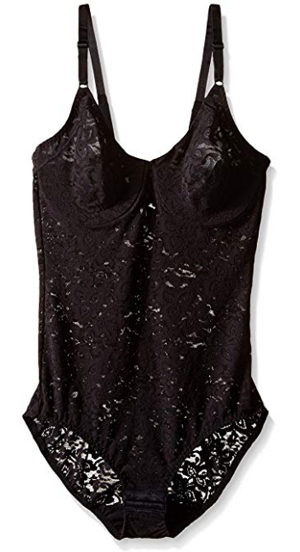 Bali lace 'n' smooth firm control bodysuit
Best body shaper for tummy and thighs
If you want a body shaper to slim both your tummy and thigh area, then these control knickers could be a good option to try. They're made from nylon and spandex so are comfortable to wear.
Ningmi high-waisted tummy control pants
Body slimmer
Another all-round option to slim and smooth could be this seamless open-bust bodyshaper.
It is designed to reduce your waistline and any back bulge, as well as lifting your rear and toning your tummy.
Slimming body suit
The Triumph body shaper is a good option for smooth lines under clothes. It has a classic design that may be an undergarment which could be great for day-to-day wear.
Triumph bodysuit
Body Magic
While Spanx may be the brand most people think of when shapewear is mentioned, Body Magic is another recommendation designed to flatter your appearance.
This bodysuit is also designed to support posture, as it supports your shoulder position.
Ardyss bodyshaper
Body shaper undergarments
When you choose a body shaper, you have to consider how it will look under your outfit. If you need a nude option to make sure that you can't see your body shaper, you could consider this Gorsenia body shaper.
It has a pretty lace bra and lace panels, along with a tummy panel for control.
Gorsenia bodyshaper
Slimming body shaper
A classic style, it comes in black, white and nude so you can choose depending on what you want to wear over it. While not all bodyshapers are attractive in appearance, this one is actually something which looks pretty because of the lace detailing.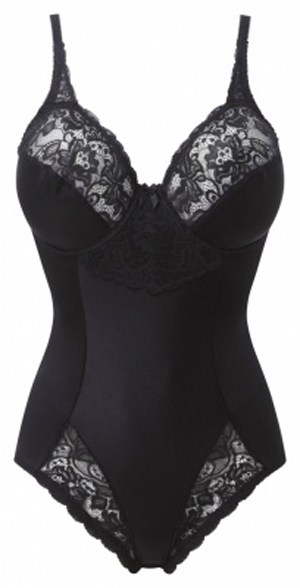 Charnos bodyshaper
Belly shaper
The Camile body shaper is another piece which looks good because of the lace paneling. It has very good reviews from women who praise it for its comfortable and affordable price.
Camille bodyshaper
Full body shaper
This bodysuit is designed to slim your midsection, hips, thighs and rear to create a more streamlined silhouette. If you want a piece to slim both your tummy and your thighs, you will want to look for an all-in-one which covers both.
Supplim bodyshaper
Strapless body shaper
If you are looking for the best body shaper to wear under a dress, you may wish to opt for a fully bodysuit which also comes with a slip.
This can also be useful if your dress is a little sheer as it will not only tuck in your tummy, but also provide some extra coverage.
It has firm control to tuck in your tummy. It has removable straps so that you can take them off if you want to wear with a strapless dress for an event or while you are on vacation.
Flexees convertible bodyshaper
Backless body shaper
One of the frustrating things about shapewear can be trying to find a suitable undergarment if you have a dress which dips low at the back.
After all, the idea of a bodyshaper is that it makes your body look better, without announcing to the world that you are wearing it. You will need to be careful about your choice so that the bra part of the bodyshaper does not show above the dress.
Flexees low back bodyshaper
Plus size body shaper
Many body shapers come in a whole range of different sizes because no matter what size or shape you are, you are likely to have parts of your body you are not so keen on, and parts that you are happy with.
A well-recommended plus size option is this one from the Bali brand.
Bali bodysuit
More recommendations from the 40+ Style Community
Most popular among members of the 40+ Style Community was the Spanx brand.
Mary wears Spanx a couple of times a year when she has a fancy event, and usually sizes up for comfort. Kathleen also has Spanx which she says do a better job than a purchase she made on ebay.
This bodysuit can be worn with your own bra. It's made of ultra-thin material for a non-bulky look.
Spanx bodysuit
Marks and Spencer has long been a go-to option for women in the UK for quality underwear, and is now available in most parts of the world.
Ros has two bodies from Marks and Spencer and says she loves them.
M&S shapewear
You may also want to check out our list of the best strapless bras for women over 40.
Do you wear a body shaper? What is the best body shaper you have ever found?
Like this article on the best body shaper for women over 40? Share it on Pinterest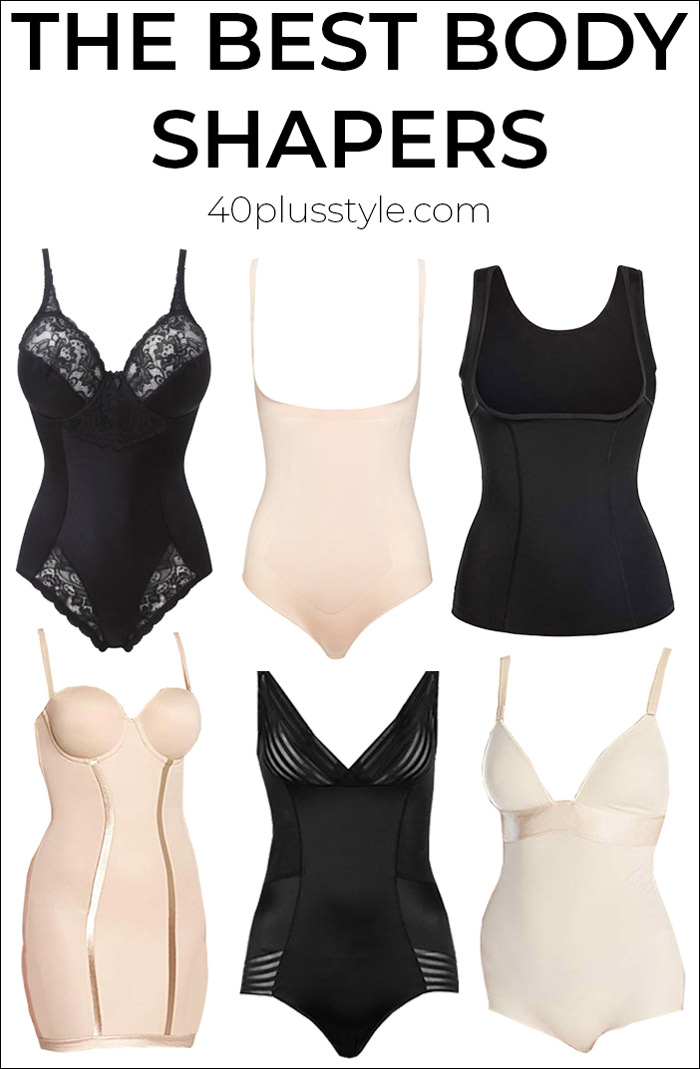 Feature image by spanx
Want to get more articles from 40+style in your inbox, subscribe here.
You can also connect with 40+style on Facebook, Instagram or Pinterest.
Support 40+style by using the links in our articles to shop. As an associate for Amazon and many other brands, we receive a small commission (at no cost to you) on qualifying purchases which enables us to keep creating amazing free content for you. Thanks!