Okay, so it's unlikely that you'll be on one of those gargantuan billion-dollar super yachts that sail the seas of the world's glitziest resorts each summer (unless you happen to be mega rich). However, you may be lucky enough to have a boat trip coming up this year – whether you're staying onboard or taking a day trip. In which case, you'll definitely need to think about what to wear on a boat.
It's becoming increasingly popular to hire boats for parties and events. Or, of course, you might just be doing a spot of sightseeing and relaxing. So, how can you make sure your outfit is practical enough to cope with a trip out to sea or down river while still looking stylish?
What to wear on a boat: What to think about?
I'm going to talk about everything from a casual day on the water to a party. But first, let's look generally at what you need to think about when considering what to wear on a boat.
The weather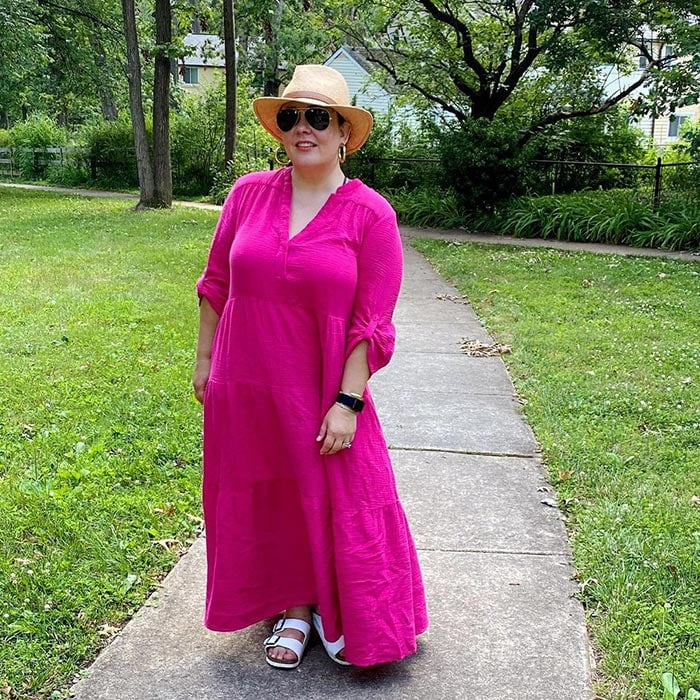 While you tend to think about boat trips as summer happenings, you may be out in colder weather and it does tend to get windy out at sea. So, make sure you have a warm cover-up.
Practical shoes
I've seen plenty of celebrities tottering around in high heels on yachts, but you'll definitely want some practical, yet stylish, non-slip footwear for your boat trip.
Alison @wardrobe_oxygen above (read her stye interview here) opts for a pair of Birkenstock-style sandals which would be ideal for a day on the water.
Recreate her look with this exact dress from Chico's (another option here) and wear it with this similar pair of sandals, sunglasses, earrings and hat.
Let's take a look at what to wear on a boat – and what to take with you.
I'm going to assume this is a warm weather trip. And that you are relaxing rather thank getting too involved in actually sailing the boat.
Your swimsuit
If you're likely to be sitting on the deck or swimming, you probably want to arrive with your swimsuit on as changing facilities in most boats are limited.
Miraclesuit Sanibel One-Piece Swimsuit
Also, take a look at the most flattering swimsuits for women over 40.
A rashguard
Perhaps you'll be snorkelling on your trip. If you'll be spending a long-time in the sea, you may want a rashguard or a long-sleeved swimsuit to ensure you stay warmer and don't get sunburnt.
Sea Level Long Sleeve Rashguard Swimsuit
A cover-up
You may want a cover-up to ensure you don't get surnburnt, or for when you finish swimming and want to sit down for lunch.
There are more beach cover-up ideas in this article.
A casual t-shirt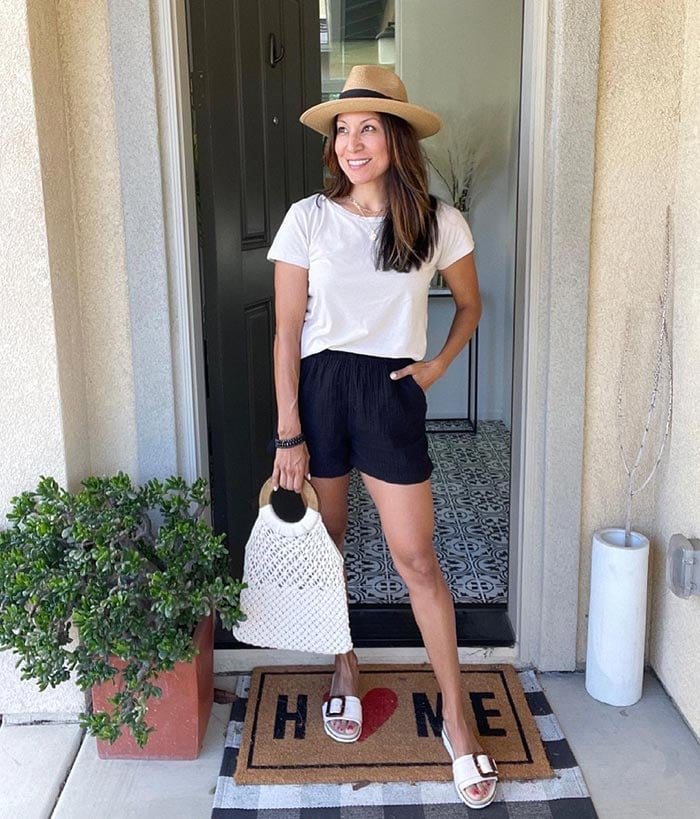 A stretchy t-shirt is one of the most comfortable tops you could opt for on a boat. Wear with your shorts or cropped pants.
Adaline @sdmomstyles above shows off a outfit that could be ideal for at home or onboard.
Get her look with this similar tee, shorts, handbag, sandals and straw hat.
FRAME Easy Stripe Scoop Neck Linen Top
linen shirt
A shirt is also a good option. You can wear buttoned up and tucked into your shorts or pants. Or, you could wear unbuttoned over your swimsuit as a cover-up.
Frank & Eileen Stripe Linen Button-Up Shirt
A warmer sweater or cardigan
It tends to be windier out at sea than on the shore, so you may feel cold even on a warm day. It's best to pack a warm layer even if you don't think it's very cold.
Polo Ralph Lauren Beaded Logo Sweatshirt
or a windbreaker
If you don't want to add a very warm layer, but you do want to keep off the chill of the wind, a windbreaker could be a good option.
Blanc Noir Tulum Hooded Windbreaker Jacket
Shorts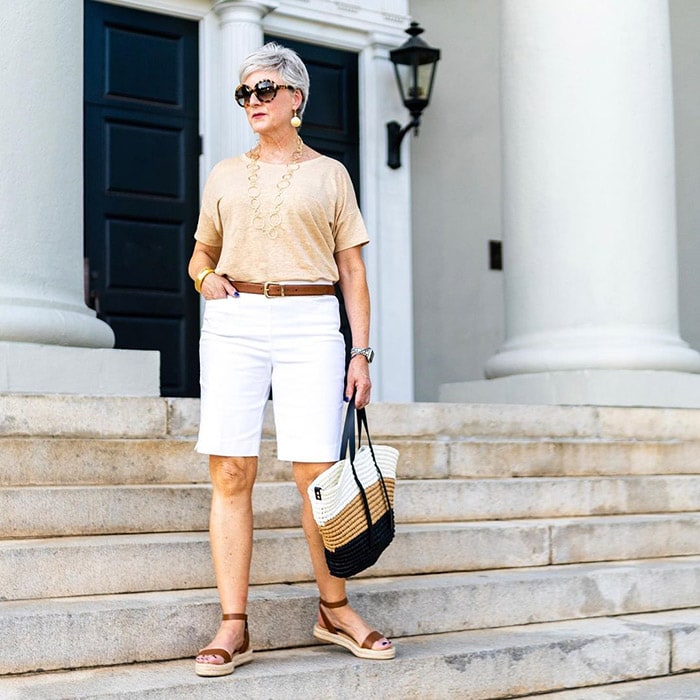 Now, let's turn to what to wear on your bottom half.
Beth @styleatacertainage above (read her style interview here) opts for a pair of mid-length shorts and flat shoes.
You can get her tee, bermuda shorts, belt, necklace, earrings and beltCruise Clothing Essentials: What To Pack For A Cruise from Chico's and tote from Nordstrom. Check out this similar pair of sandals and sunglasses to finish off the look.
Want more tips on wearing shorts? Check out this article on how to wear shorts.
Or chinos or crop pants
If it's a bit too chilly for shorts, or you don't like to show off your legs, a pair of cropped pants could be perfect. Take a look below at a casual pair and a dressier option.
Tommy Bahama Ella Twill High Waist Crop White Jeans
More tips on wearing capris or cropped pants? Check our article on how to wear capris.
Flat non-slip shoes
It goes without saying that boat decks can be slippery so it's best to choose a pair of sandals or slip-ons that you can easily walk in and that have a good grip.
Sperry Crest Vibe Slip-On Sneaker
A hat (that won't blow off)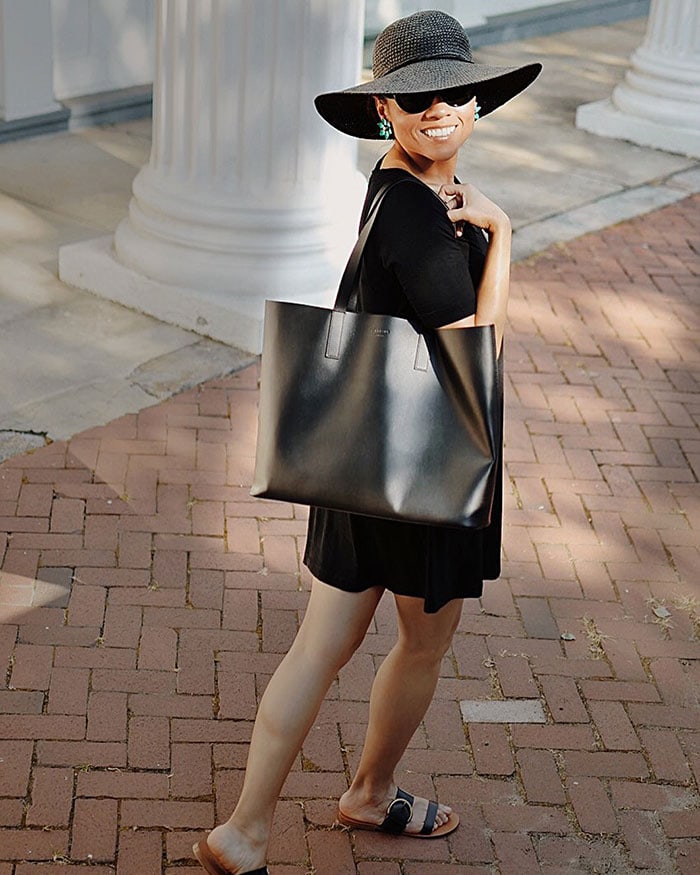 It's easy to get sunburnt when you're boating so take a hat to keep the rays off your face. Just be sure to hold on to your hat if it's windy, or choose a well-fitting hat that is unlikely to blow off.
Carelia @myevolvingstyle (read her style interview here) opts for a wide brimmed style.
Steal her look with this similar shift dress, sandals, tote, hat, sunglasses and earrings.
Treasure & Bond Women's Open Weave Panama Hat
Sunglasses
The glare from the sun reflecting on the sea can often make it brighter than on land. Make sure you take a pair of sunglasses to protect your eyes and the skin around them.
Smith Cheetah 54mm Polarized Round Sunglasses
What to wear to a boat party?
Of course, it may be that your boat trip is more than a casual affair. If you've been invited to a boat party, below are some ideas on what you could wear.
A dress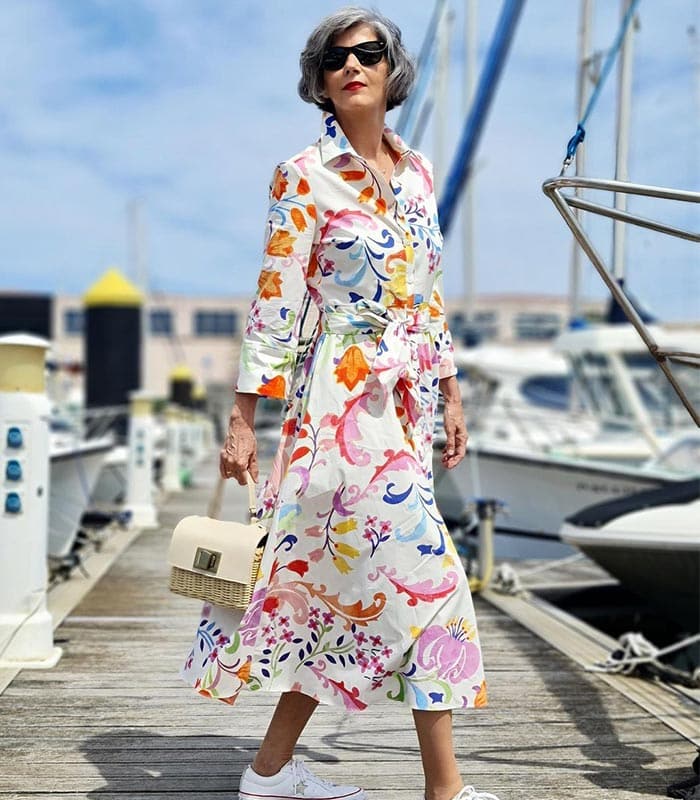 While a dress can blow around on a boat, if you choose the right length, you shouldn't have a problem.
Carmen @carmen_gimeno above looks incredibly stylish in her print dress.
Check out this printed belted dress that you can pair with this similar handbag, sunglasses and Converse sneakers.
Julia Jordan Geometric Stripe Print Midi Dress
A jumpsuit
If you are worried about the hemline of your dress blowing around at sea, you could choose a jumpsuit instead.
Amazon Essentials Sleeveless Linen Jumpsuit
A caftan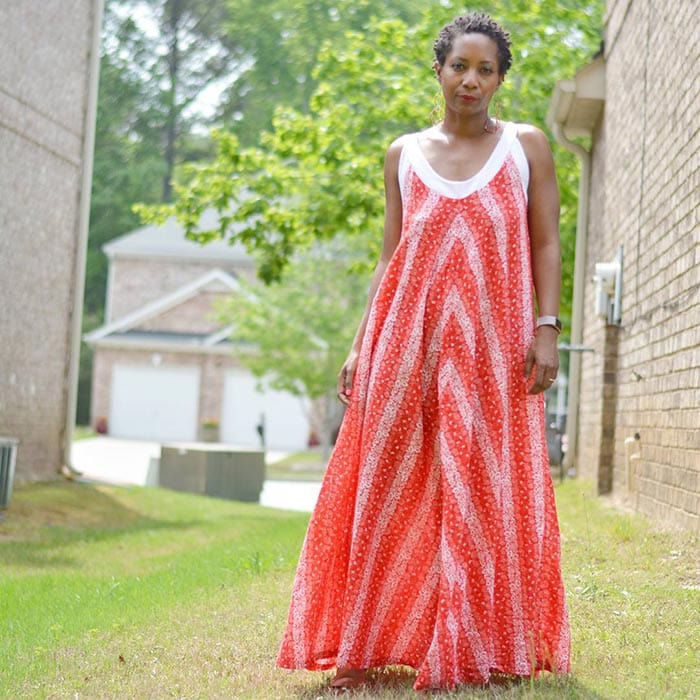 A caftan can be a fabulous option either as a bathing suit cover-up or a party dress.
Troy @thethriftanista above (read her style interview here) opts for a beautiful, flowy, caftan-style dress.
Check out this printed maxi dress and statement earrings for a similar look.
Black Tie Dye Kaftan from Etsy
Should you wear heels?
I don't recommend wearing heels on a boat because of the undulating waves and the slippery surfaces. Plus, most yacht owners don't like heels to be worn as they damage the deck.
Try sneakers, a boat shoe or sneakers with non-slip soles instead.
accessories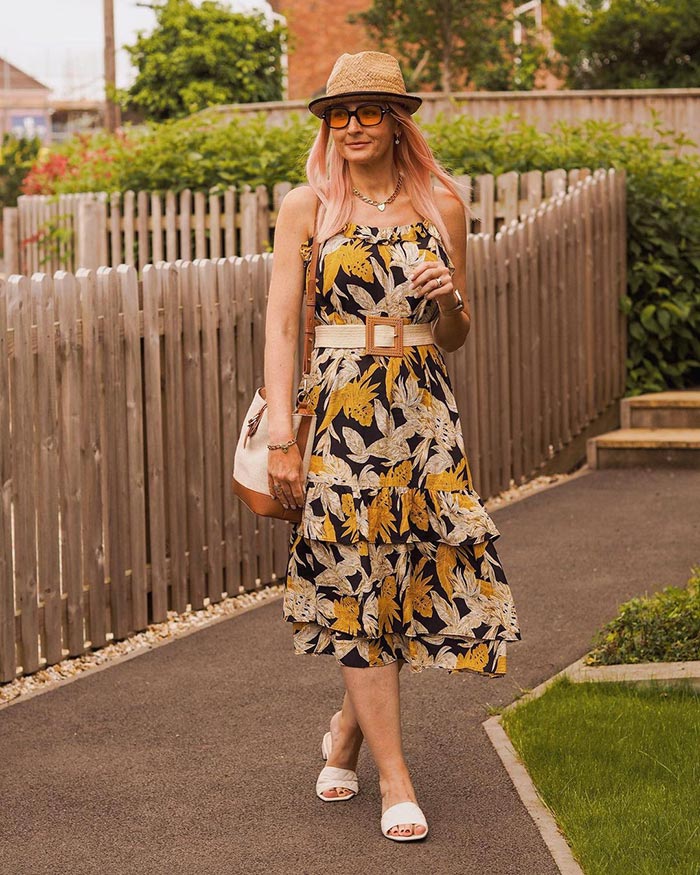 Just because you're on a boat, you don't have to forgo your accessories. Opt for boat appropriate accessories in rattan or synthetic material.
Catherine @notlamb above (read her style interview here) wears a rattan bag and matching belt that would work on a boat.
Get her look with this exact dress from JD Williams, and wear it with these similar sandals, bag, hat, belt and necklace.

Gets Straw Bag – TUMI Voyageur Tula Nylon Crossbody Bag – Bausweety Crossbody Bag – Raina 'Lillian' Belt – Tess + Tricia Estelle Shell Drop Huggie Hoop Earrings – Scaleer Tassel Hoop Earrings
Your boat outfits together in one capsule
Below you an see how you could put together some of the clothes, shoes and accessories featured above.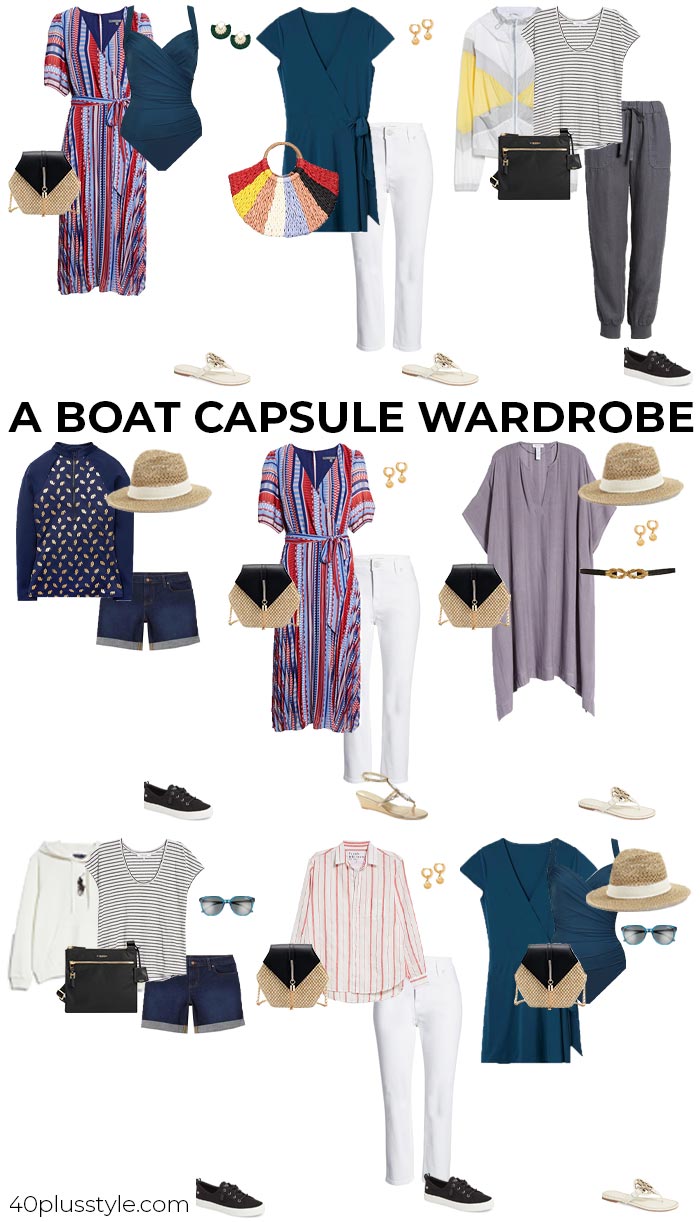 shop all items above here:
Brands that lend themselves to boating
Don't forget
Your sunscreen
The light reflecting on the water can make it more likely that you will get sunburnt. So, don't forget to take high-factor sunscreen with you.
Your underwear
If you arrived with your swimsuit on, took a dip in the sea and you want to change into a dry outfit, don't forget to pack your underwear in a bag.
And there you have it, your best boat outfits. Happy sailing!
Continue reading:
Like this article on what to wear on a boat? Share it on Pinterest!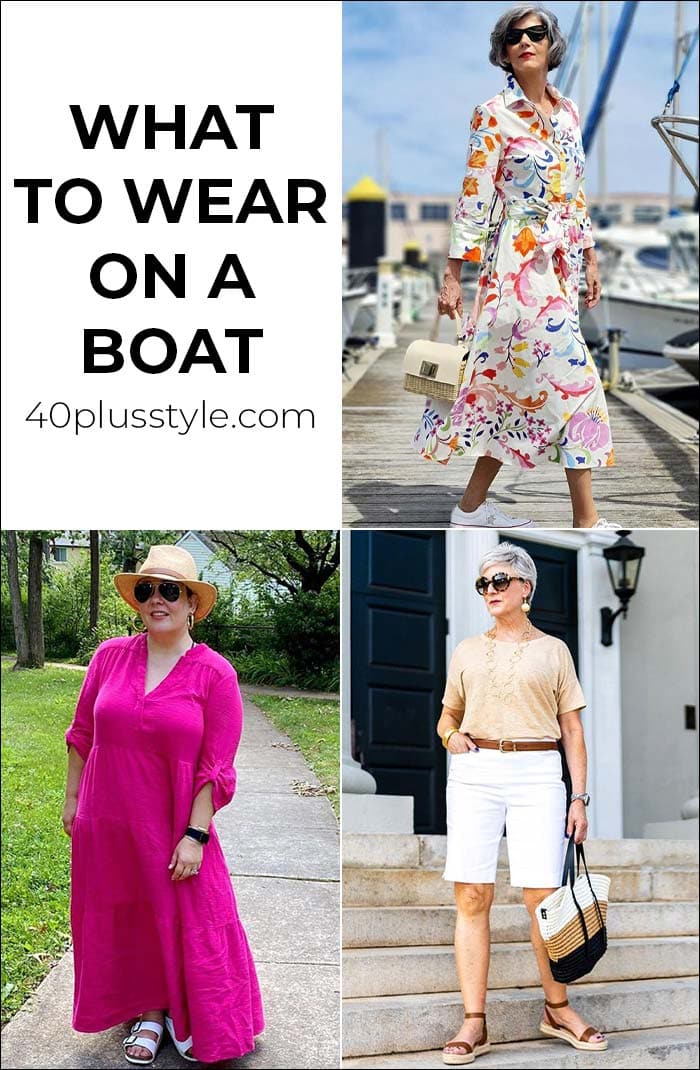 Feature image by Carmen @carmen_gimeno
Want to get more articles from 40+style in your inbox, subscribe here.
You can also connect with 40+style on Facebook, Instagram or Pinterest.
Support 40+style by using the links in our articles to shop. As an associate for Amazon and many other brands, we receive a small commission (at no cost to you) on qualifying purchases which enables us to keep creating amazing free content for you. Thanks!