One of the best things about seeing new season fashion on the runways and in stores is looking at all the colors that are on trend. Among the fall 2021 color trends you'll find a lot of different shades of green, maybe because designers are looking to the Great Outdoors. There are also bright pops of colors, pastels and plenty of neutrals to wear with them.
Color trends
Let's take a look at the major color trends for winter and fall. See if you already have some of these in your closet – or whether there's anything you want to add.
kelly green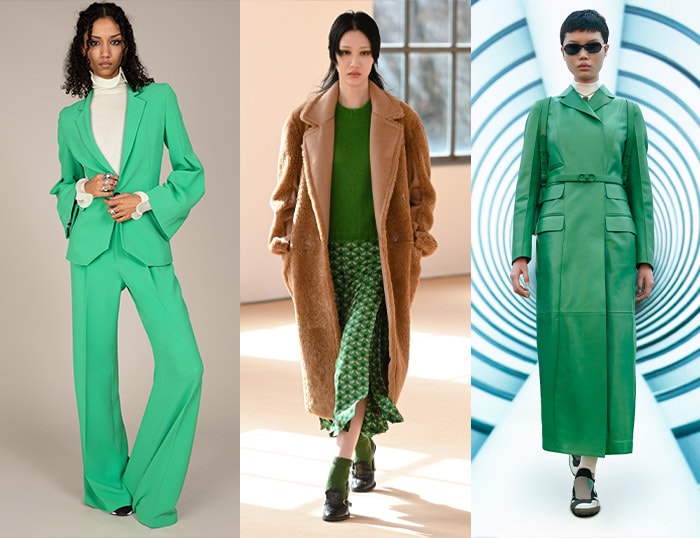 Roland Mouret – Max Mara – Salvatore Ferragamo
I'm going to start with greens because there are so many to choose from. One of the big trends for the upcoming season is the bright primary shade of kelly green shown above.
I love the wide pants shown at Roland Mouret – you could team with a different top if you don't want a full-on top-to-toe green look.

army greens and khakis
Alberto Ferretti – Balmain – Sportmax
Many designers took military inspiration for their looks. You can see that from the olive greens and khakis above which would traditionally be used in military uniforms. You could definitely wear these as a neutral with pops of brighter color, such as orange.

lime green
Elie Saab – Proenza Schouler – Angel Chan
Lime green is particularly on trend right now. A great way to add some modernity to one of your existing black or navy looks could be to add a little of this acid shade of lime green.

mint
Zimmermann – Roksanda – Marques'Almeida
Although pastels may traditionally be seen as a spring and summer trend, there were many designers who opted for a subtle minty shade of green.
If it's still summer where you are, or you're on vacation, you could wear mint green with your white jeans and metallic shoes and accessories. For winter and fall, you could wear with navy – as shown at Roksanda.

blush pink
Zimmermann – Marques'Almeida – Salvatore Ferragamo
Another shade more traditionally associated with warmer weather is pink. But there was lots of it on the catwalks for winter. If you want more advice on how to wear pink in a sophisticated way, then take a look at this article on the colors that go best with pink.

bright pink and fuchsia
Chanel – Roland Mouret – Balmain
If you don't fancy a soft shade of pink, you could opt for a very bright shade of fuschia. This looks beautiful worn with black, as shown on the designer runways above.

classic red
Michael Kors – Balmain – Isabel Marant
Red never goes out of style. It's one of my favorite shades to wear. I love the beautiful tailored jumpsuit look from Michael Kors as well as the way Balmain choose to mix red with gold.
Also, take a look at how to wear red.

yellow
Versace – 3.1 Phillip Lim – Balmain
If you want to add a little sunshine to your outfits, then how about yellow? You could opt for a yellow coat, a yellow cozy sweater or maybe a pair of yellow shoes.
There are more ideas in this article on how to wear yellow.

orange
Off-White – Roland Mouret – Roksanda
Another bright shade for you to choose from! Orange can go with so many of your more traditional winter and fall colors. Try pairing with black or navy or wear with autumnal colors such as burgundy, greens and browns.
Also, look at how to wear orange.

cobalt blue
Isabel Marant – Sacai – Off-White
As well as greens, there were also lots of beautiful blues among the fall 2021 color trends. Cobalt blue could be lovely to wear for a party – if you're lucky enough to have events coming up.

powder blues and periwinkle
Emilia Wickstead – Roksanda – Off-White
Just as there were soft pinks and greens among the catwalk color trends, there were also paler shades of blue to choose from. Wear with whites, black, navy, metallics or a pop of color such as orange or lime green.

lilac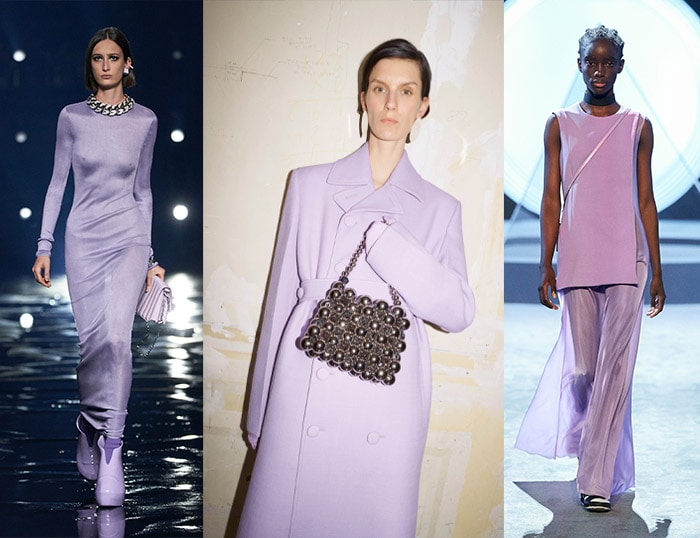 Givenchy – Jil Sander – Salvatore Ferragamo
You can see above that there were many pastel shades to choose from among the fall color trends. A soft purple could be a good option for your winter knitwear, or as unexpected, yet stylish, coat choice.
There are more outfit ideas in this article on how to wear purple.

neutrals
Now that you've chosen your favorite colors, you could, of course, wear them with other colors. But, you're likely to want to team them with neutrals.
Let's see the neutrals that are particularly on trend for the winter and fall season…
brown
Sportmax – Roland Mouret – Michael Kors
Brown may not traditionally be seen as the most glamorous of shades. But I think the designers above have definitely shown that it can be.
You could add bright colors to your look or wear with other neutrals.

clay/ochre
Roksanda – Zimmermann – Victor Glemaud
Is it brown? Is it orange? It's kind of a mix of both. I like the way Roksanda has mixed this shade of clay with bright pink.

winter white
Elie Saab – Gabriela Hearst – Jason Wu
You may be worried about looking too summery, but white can also be a great choice for winter. You could opt for a winter white coat, or pair a white dress with darker boots and accessories.
I also really love the way Jason Wu has combined a number of color trends in his look.

black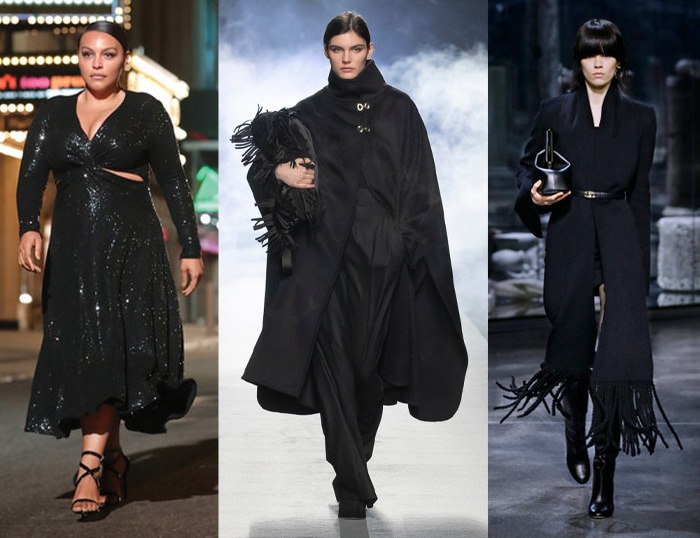 Michael Kors – Alberta Ferretti – Fendi
Of course, black is a classic shade to wear no matter what the season. Top-to-toe black can be a tricky look to wear as it can potentially make you look more washed out than other shades. But you could always wear a pop of bright lipstick.

silver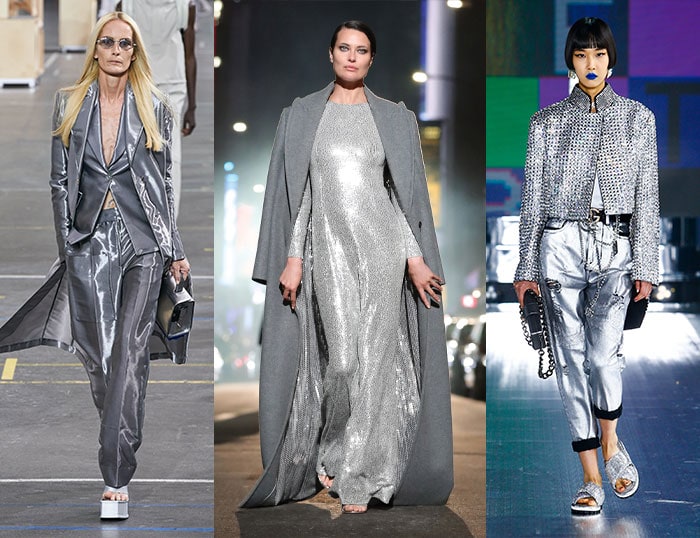 Off-White – Michael Kors – Dolce & Gabbana
There were a lot of metallics on the catwalks. You could choose either silver or gold as they were featured in equal measure. Above, you can see some of the stunning silver looks you could emulate.
I like the way some designers chose to pair silver with gray.

indigo
Tod's – PH5 – Roksanda
There were dark shades of denim on the runways, but indigo or navy was also used on plenty of other looks. See how designers teamed navy with orange and with paler shades of blue.
These color suggestions are also featured in my article on how to wear navy.

cream
Ports 1961 – Jil Sander – Bevza
As well as a crisp winter white, you could also choose a softer shade of cream.

gray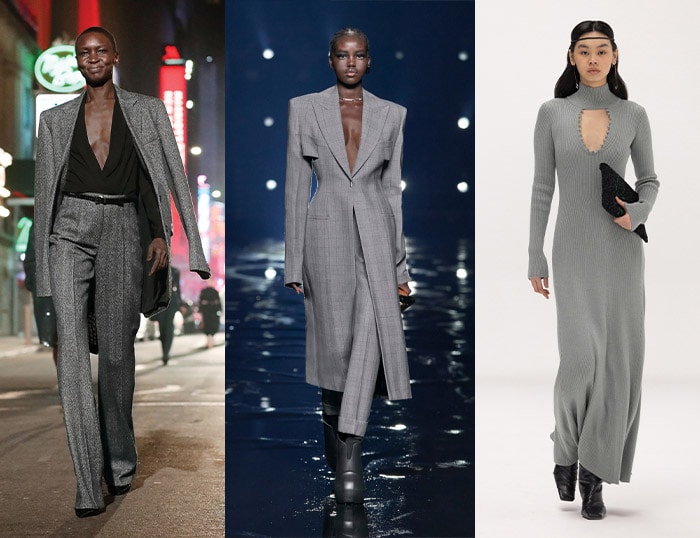 Michael Kors – Givenchy – Bevza
Gray is a great choice for tailored looks. Or you could also choose a gray sweater dress. Wear with other neutrals or add a color such as red to your look.

beige
Michael Kors – Bevza – The Row
Beige is sometimes seen as boring. But it doesn't have to be. It can definitely be very stylish and sophisticated.
There are more ideas on how to wear beige in this article on whether it is a good idea to wear beige over 40.

Which of these fall 2021 color trends will you be wearing? Which do you already have in your closet?
Continue reading:
like this post on the fall 2021 color trends? share it on pinterest!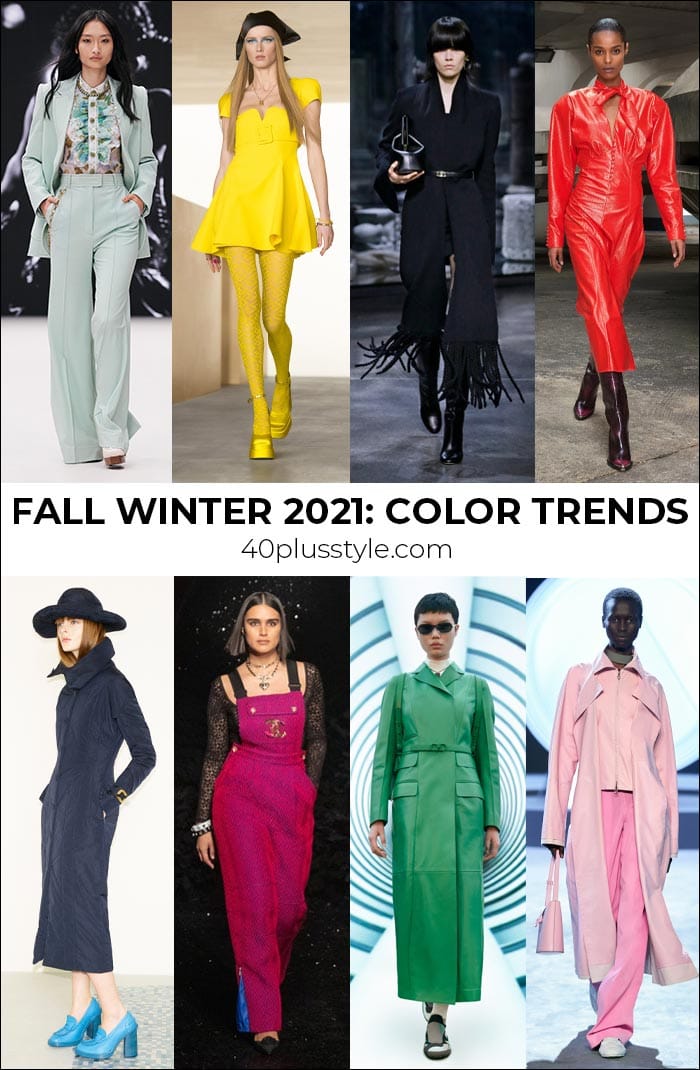 Images from Vogue
Want to get more articles from 40+style in your inbox, subscribe here.
You can also connect with 40+style on Facebook, Instagram or Pinterest.
Support 40+style by using the links in our articles to shop. As an associate for Amazon and many other brands, we receive a small commission (at no cost to you) on qualifying purchases which enables us to keep creating amazing free content for you. Thanks!