Adding new colors to your closet can be a great way to update your existing outfits, but which colors to choose? Look at our round-up of the Fall 2023 color trends you need to know, and see which your favorites are. Be sure to also check out our general Fall 2023 trends report.
Fall 2023 colors
First, let's start with the colors we spotted most on the Fall 2023 runways.
Bright, bold red
If you're looking for THE color of the season, then red is definitely it. Red is the color that dominated all of the designer runways for Fall 2023. Bold, and fiery, red will get you noticed for all the right reasons.
Choose a red dress instead of your little black dress for the upcoming party season, wear a red pants suit, or team a red blazer with your jeans.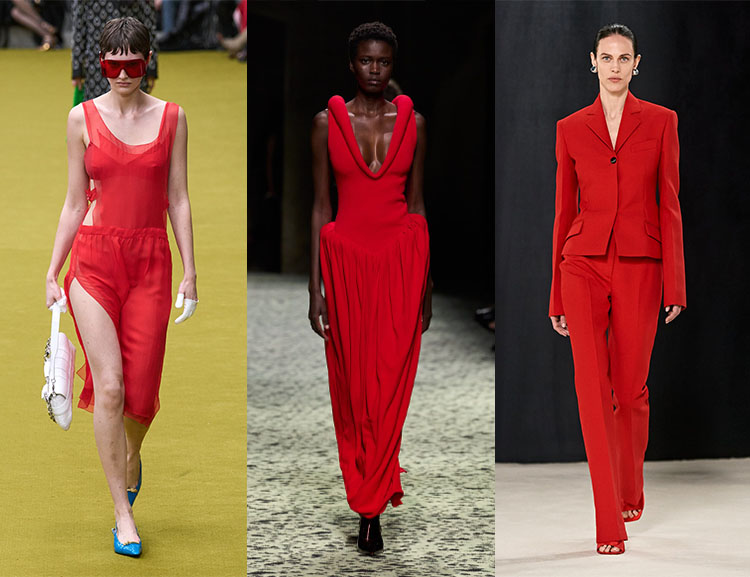 Gucci – Ferragamo – Bottega Veneta

Look at how to wear red for more inspiration on how to wear this color.
Beautiful burgundy
Burgundy is often a color that features on the Fall runways because it's one of those beautiful autumnal shades that mimic the falling leaves of the changing seasons. Opt for a burgundy coat to update your outfits, or start to wear burgundy with your summer outfits to transition into Fall. For example, you could wear a burgundy blouse with your white jeans.
Alberta Ferretti – Bally – Elie Saab

Fall 2023 color trends – Pale pink
Pastel shades are often unexpected during Fall, and that's what makes them so great to wear. Pink was almost as popular as red among designers for the new season. We love the way that Giorgio Armani teamed pink with black.
Chanel – Giorgio Armani – Giambattista Valli

There are plenty more ideas about how to wear pink in this article.
Fall 2023 color trends – Peach
Another pastel shade for you. This time peach. Still a pinky shade, but with orange undertones, many designers including Prada and Giorgio Armani chose to feature peach on their catwalks. Opt for peach in satin material (as shown at Giorgio Armani) for evening looks. Wear with black or navy, or other pastel shades for daytime.
Prada – Giorgio Armani – Giorgio Armani

Autumnal orange & terracotta
Deeper shades of orange are beautiful for Fall, especially if you have an autumn color type. Wear shades of orange together (like at Versace), or pair your orange with white (like at Rokh). To update your summer dresses, you could add a terracotta moto jacket over the top.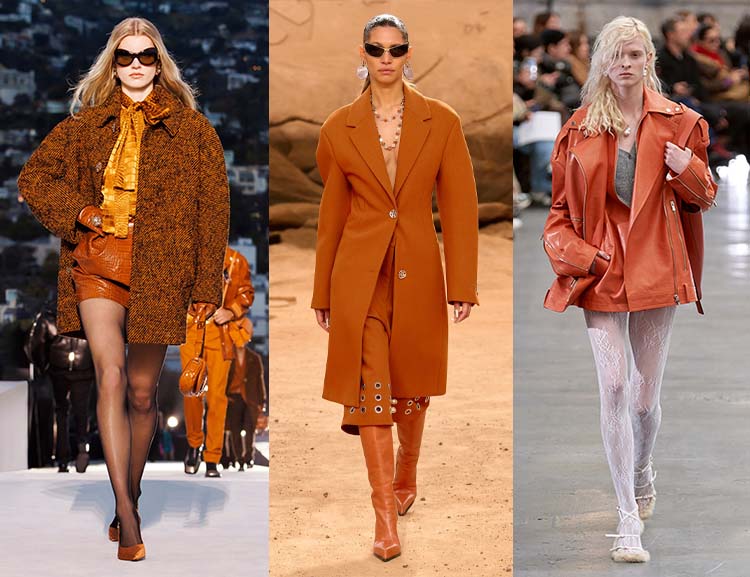 We have more inspiration here in our article on what color combinations to wear with orange.
Kelly green
Green has been very on-trend for a couple of seasons now, and it's still very much in style for Fall 2023. So definitely keep any of your green items to the front of your closet. Choose a green dress, blazer, silk shirt, or opt for a cozy green sweater with your favorite jeans.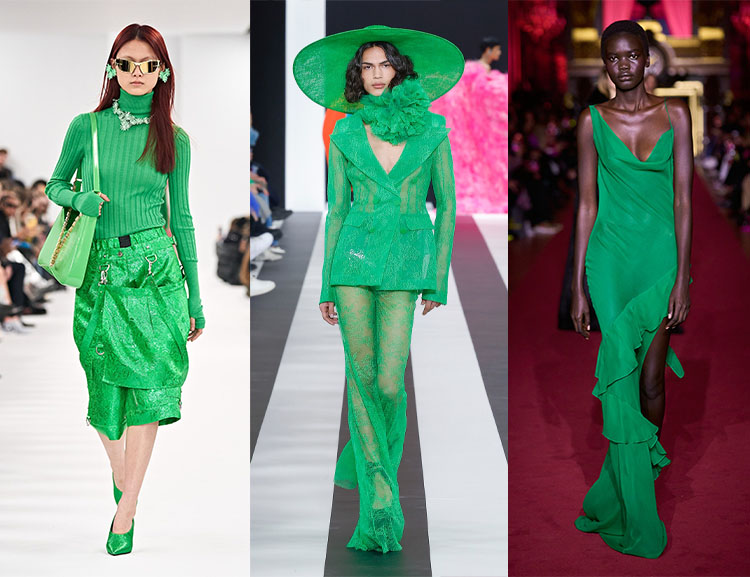 Givenchy – Nina Ricci – Dundas

Also take a look at how to wear green.
Sunshine yellow
Even if the days are drab and gray, wearing a sunny shade like yellow can't help but make you, and those around you, feel cheerful. Choose a yellow coat to update your outfits this season, (like at Dundas), wear a yellow dress for the party season, or choose a yellow suit or blazer.
Nina Ricci – Dundas – Ferragamo

You'll find more inspiration in our article on how to wear yellow.
Cyan blue and teal
There are a gazillion shades of blue, and this season, three shades stood out. Cyan or teal, as well as the next option on our list. These blues look beautiful with white, so you can wear with your white jeans while the weather is still warmer, before switching to pair with your favorite pair of blue or black jeans. Or choose a blue coat or blazer.
Gucci – Nina Ricci – Versace

Fall 2023 color trends – Cobalt blue
Cobalt was also ubiquitous on the Fall 2023 runways. It's a shade that suits all skin tones so it's a great option for everyone. Wear cobalt with any of your neutrals, or team with other bright shades like red or orange.
Victoria Beckham – Roland Mouret – Gucci

Neutrals
While you can put together an outfit full of color, you'll want the option of adding some neutrals. So, which were the neutrals most on-trend?
Butter
While red was the color that featured most on the Fall runways, a buttery neutral shade that could be more cream, not quite yellow, was the most popular neutral. What's great about this hue is that while it can be worn with all the same colors as white, it has a warmer tone that doesn't look as 'harsh' for autumn.
Many designers chose to mix two trends in one by using butter colors for their leather jackets, pants, and skirts. You could also look out for a shirt or sweater in butter with your black pants.
Givenchy – Bottega Veneta – Stella McCartney

Fall 2023 color trends – Brown
It may not be seen as the most exciting of colors, but brown can look incredibly classy and be teamed with so many colors. If black makes your skin look washed out, brown is a great alternative. Wear with other neutrals, or try wearing brown with a pop of color like red or orange.

Black
Black is, of course, the ultimate neutral. It goes with absolutely everything. So, it's not surprising that it featured heavily on the Fall catwalks. Lots of designers chose top-to-toe black. If you do want to go all-black, then choosing different textures can add interest to your outfit. If you find black isn't flattering against your skin tone, then wear a different color beside your face, and keep black to the bottom of your outfit.

Also check out how to wear black over 40.
Metallics
Metallic shades are also incredibly glamorous, and they go with everything, just like any other neutral, so they're a great addition to your closet. There was more gold than silver on the designer catwalks, but you can go for any metallic that looks good on you. They're all on-trend! Wear a metallic dress or coat for full-on glam, or opt for a more subtle take on the trend by wearing a metallic blouse, pants and skirt, and teaming with other neutrals.

Fall 2023 color trends – Gray
Every shade of gray was featured on the Fall catwalks, so go as pale or dark as you want with your gray. Wear your gray in a businesslike way with classic suits and coats. Or, opt for something unexpected and choose a gray dress you might otherwise usually wear in black.
Givenchy – Rokh – Ermanno Scervino

Take a look at how to wear gray with color palettes and ensembles for you to choose from.
Fall 2023 color trends – Navy
Navy is another beautiful alternative to black as it tends to be 'softer' and, therefore, more flattering for most skin tones. If you're treating yourself to a new coat this season, take inspiration from the catwalks at Ferragamo or Givenchy, or choose a sweater dress in navy, as shown by Stella McCartney.
Ferragamo – Stella McCartney – Givenchy

We also have this article on how to wear navy.
Beige
Beige doesn't have to be boring. Designers chose top-to-toe beige looks for their Fall outfits. The key is to choose different textures or add interesting accessories if you want an all-neutral look. Beige also looks beautiful with shades of red so you could pair the first color trend from our list with your beige.
Sportmax – Giorgio Armani – Prada

Take a look at how to wear beige without being boring.
White
Just like black, white goes with everything. And you don't have to wear white just for summer. It looks equally beautiful for winter too. Look out for white coats and dresses; wear your white jeans with booties or knee-high boots, or wear a crisp, white shirt with your jeans or wide-leg pants.

Olive
Olive is a shade of green, but it also works well as a neutral because it goes with any other shade. Choose olive green in luxurious fabrics like silk and satin. Or, for a classic olive green look, choose an olive parka coat or utility pants.

Which of these fall 2023 color trends are your favorites? Which do you usually wear? Do you think you'll add any new colors to your closet?
Continue reading:
Like this article on the Fall 2023 color trends? Share it on Pinterest!
Images from Vogue
Want to get more articles from 40+style in your inbox, subscribe here.
You can also connect with 40+style on Facebook, Instagram or Pinterest.
Support 40+style by using the links in our articles to shop. As an associate for Amazon and many other brands, we receive a small commission (at no cost to you) on qualifying purchases which enables us to keep creating amazing free content for you. Thanks!