Hats are less commonly worn these days but they are an accessory that can really elevate your style.
Let's examine types of hats and  how to wear a hat so you can look stylish and stay warm (or cool).
How to wear a hat and when
In the past, hats were much more common. There were times when it was considered rude for women to go outside without wearing a hat!
Nowadays, though, rules and expectations are different.
You can certainly wear hats with any outfit you choose, and many bold dressers like The Style Crone and Suzanne Carillo wear them often and with great flair.
And there are virtually no times when women are required or expected to wear hats, but a few times when it will be more appropriate than others:
When you may want to wear a hat
When it's cold outside: Obviously, if your head is going to freeze without one, pick out a cozy hat!
At Church or other religious places: Plenty of women go without, but hats are still somewhat common for church.
At the races: Do you go to the horse races? If you do, depending on the event and which enclosure you are in, you might like to wear a hat.
At weddings and garden parties: This is a fun time to pick out and wear a fancier hat.
This article from Emily Post has great tips for when women are and are not expected to remove their hats. Some of them surprised me!
How to wear a hat: Types of hats
There are many variations on hat styles, but most of them are drawn from the following basic shapes.
Fedora hat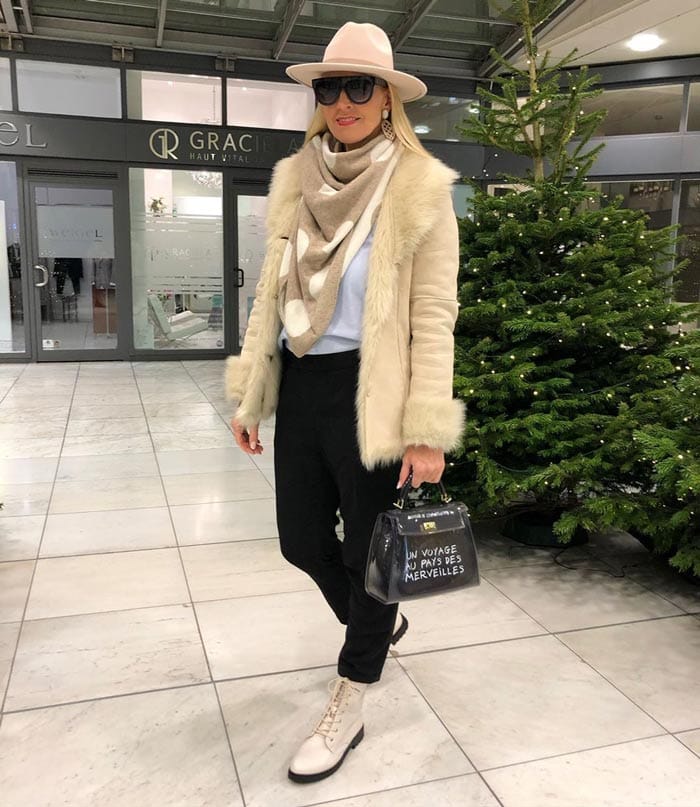 A fedora is a soft brimmed hat, often made from felt, with a curled brim and creased crown.
This style is drawn directly from menswear and is still worn by men, too. Fedoras are great with tomboyish or androgynous looks, but can also work well with outfits that have feminine elements.
Fedoras were once part of smart menswear looks, but are definitely a casual hat for women. They can be worn as winter hats, too, in milder climates.
Most often, fedoras are pulled down on the head to sit just above the brow line.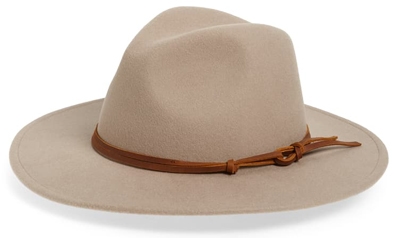 Nadine (above) looks fabulous in her neutral fedora. You can get a similar fedora hat from Brixton.
How to wear a panama hat
Similar to the fedora, but the panama usually features a higher crown and is made with natural fibers to keep you cool in warmer climes.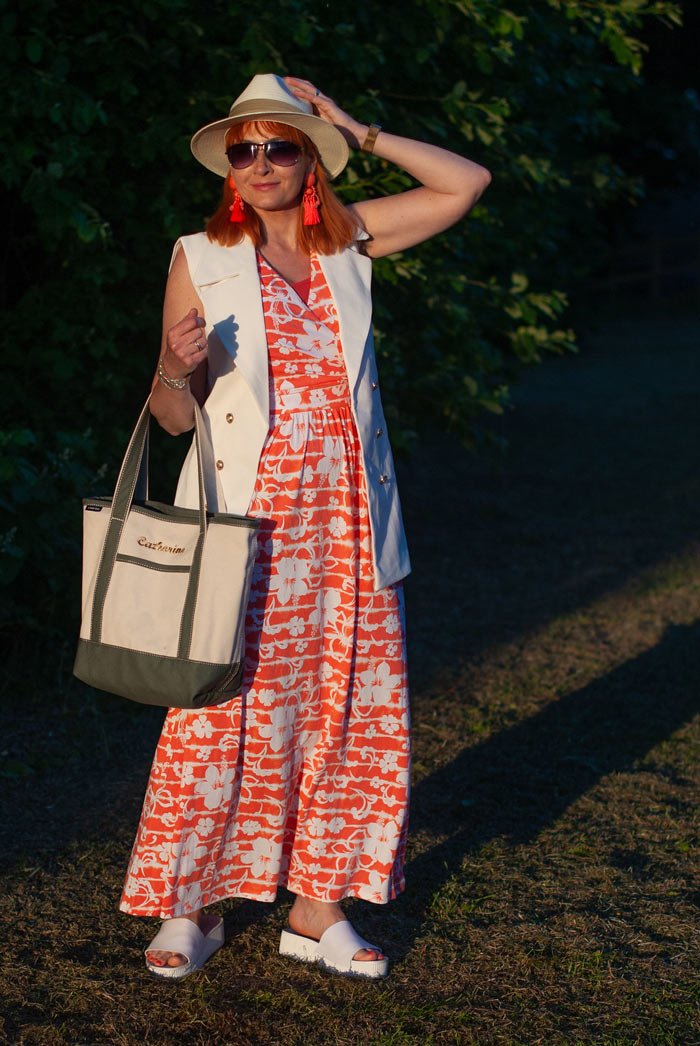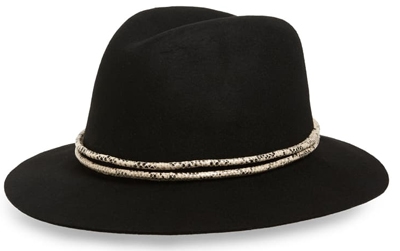 Catherine (above) opts for a classic, lightweight panama. Here is a similar panama hat from Rachel Parcell.
Women's hat styles: Trilby
The trilby is also similar to the fedora, though it has a shorter brim.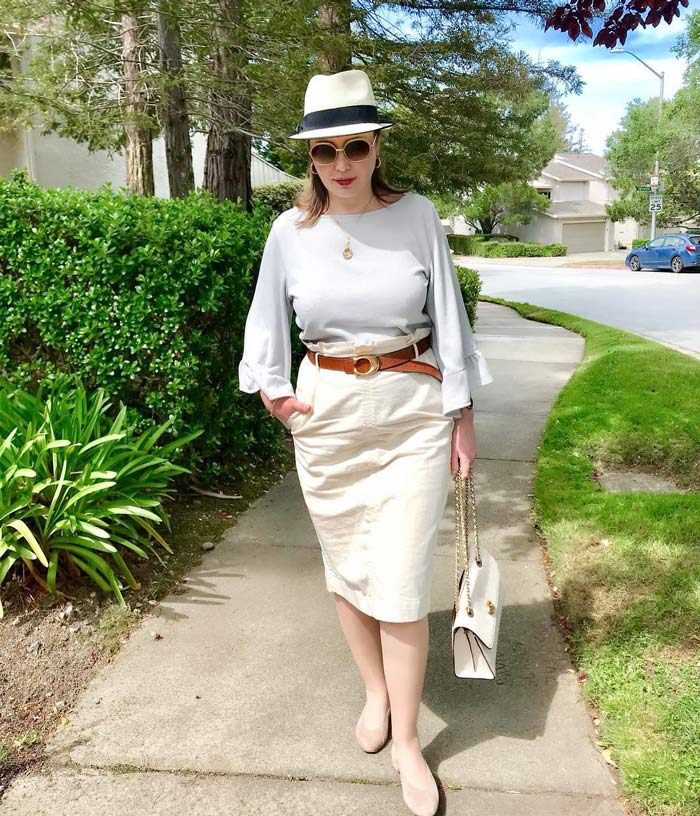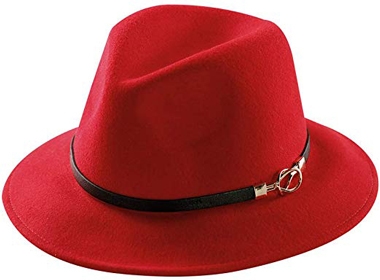 Oxana (above) opts for an all-neutral palette. You can get a similar hat from Beechfield.
Wearing a hat: Beret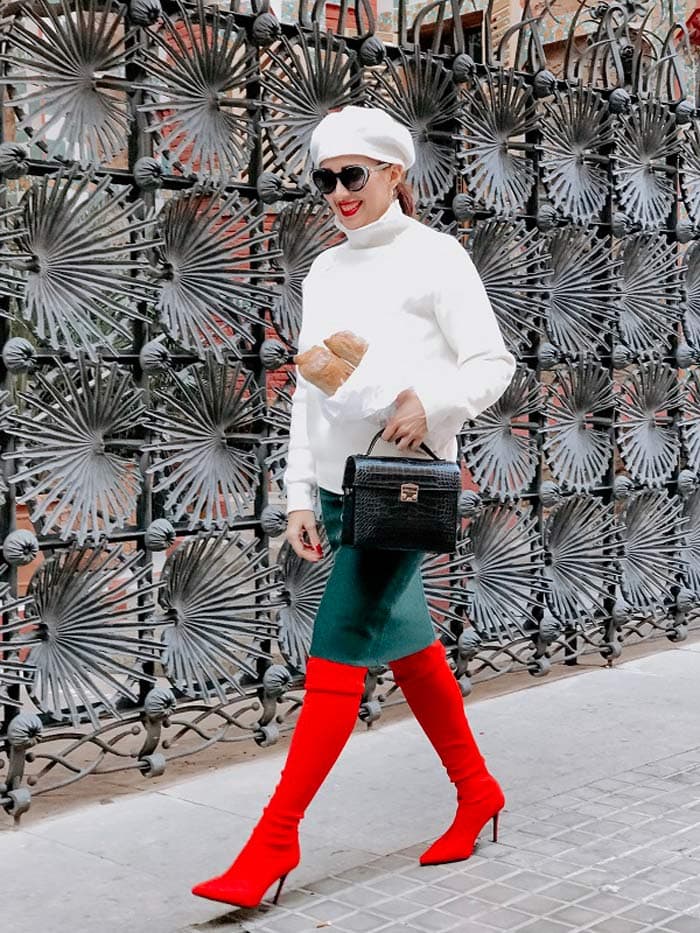 A beret is a round, soft, brimless hat with a tight band that sits around the head.
Most of us associate berets with the French, though berets have also been a part of many military uniforms over the years.
Berets are generally casual, though certain versions can be quite dressy.
There has been much discussion about the "right" way to wear a beret, but you can really wear this hat however you'd like.
While some prefer to pull their beret down somewhat, others may position the hat so most of it drapes off to one side, some set it toward the back of the head. Experiment to see what looks best to you.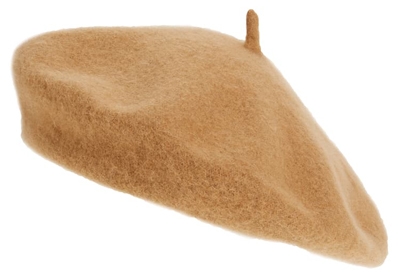 Patricia (above) matches her beret to her sweater. Check out this similar beret from Amazon.
Hat styles: Cloche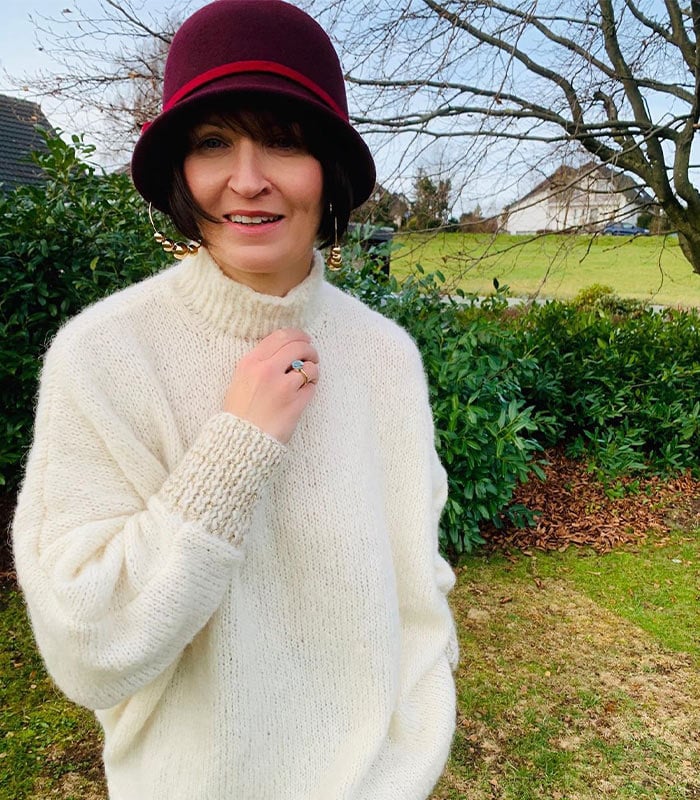 A cloche is bell-shaped and typically made from stiffer, sturdy material, though some are knit and floppy.
Cloches can flare out to have slight brims, but don't have defined brims like fedoras. Depending on its fiber makeup and construction, cloche hats can be formal or casual.
The bowler can be thought of as a cloche with a brim that curls up on both sides, and many sun hats and floppy-brimmed hats are cloche-shaped with widened brims.
The cloche is a close-fitting hat, and should be worn pulled down far enough that your head fills most of the hat.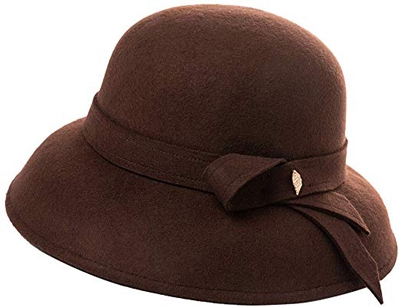 Alexandra (above) wears a beautiful burgundy cloche. Here is a similar cloche from Amazon.
How to wear a beanie / watch cap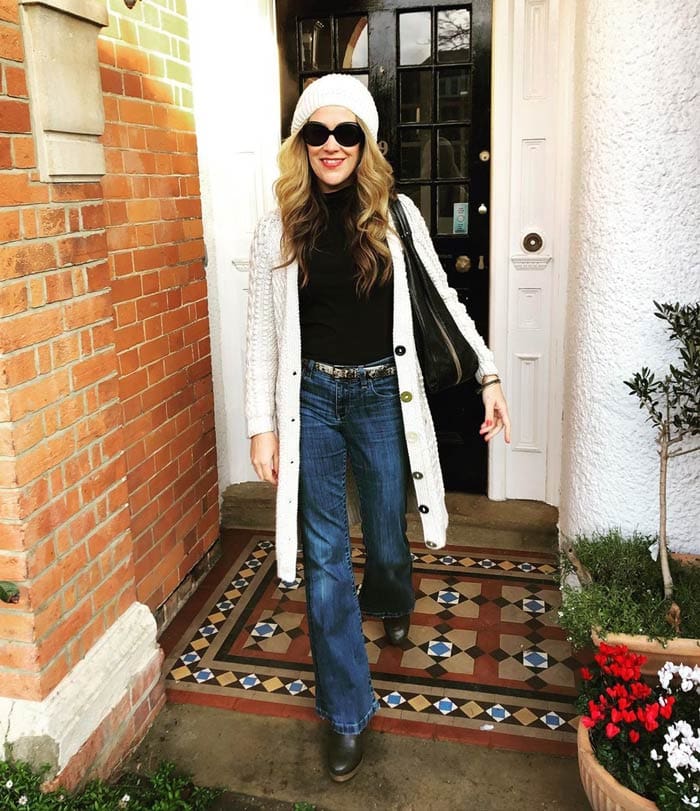 A watch cap is a tightly-knitted hat that's generally worn in cold weather.
A beanie is basically a watch cap that's worn toward the back of the head so the top slouches down somewhat.
Currently, the beanie style is quite trendy and you'll see stylish young women with their hats pushed back and slouchy.
Women over 40 can experiment with this style, but may feel more comfortable in watch caps. Both are casual hats, and can be worn with athletic-wear styled outfits or any casual look.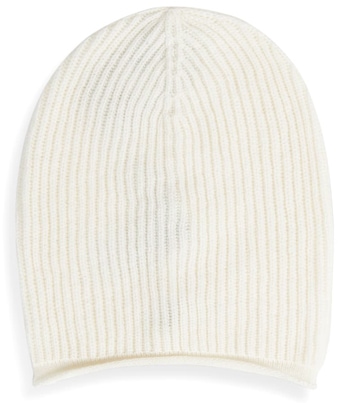 Kate (above) matches her beanie to her cardigan.
Outfits with hats: Newsboy cap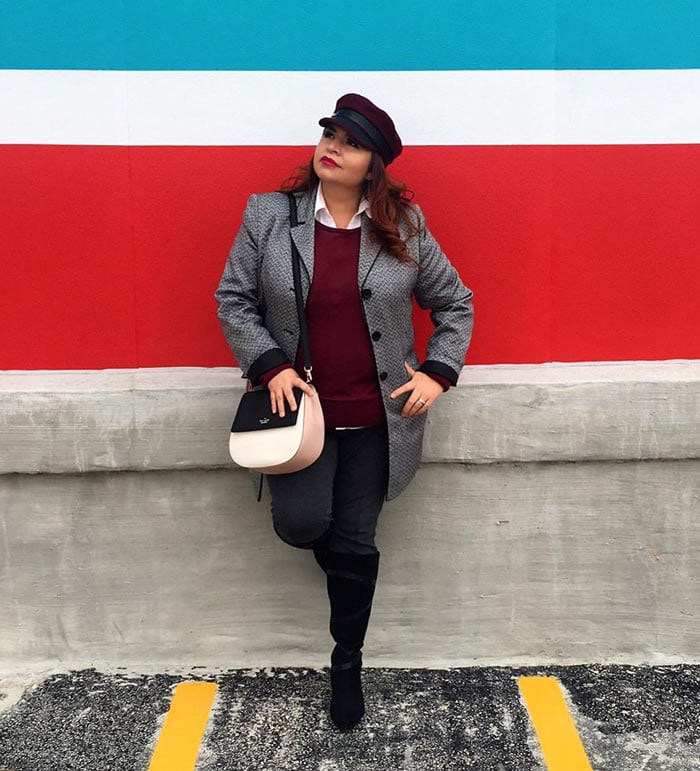 This style can also be called the Baker Boy, Bandit Cap, Apple Cap, Eight Piece Cap, Eight Panel, Cabbie, Jay Gatsby (from The Great Gatsby), Fisherman's Cap, Pageboy, Applejack Hat, Lundberg Stetson and the Poor Boy Cap.
Whatever you choose to call it, in most cases, this hat has a brim toward the front of the hat, a round top shape, and a button in the center of the hat.
However, rounded caps with shortened front brims like the one seen here, are often called news boy caps, too.
Most news boy caps are made of wool, but they can be made in just about any material. This is a casual hat style, and works best with menswear-influenced outfits.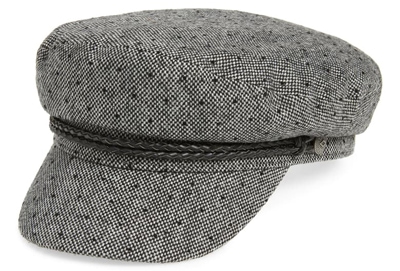 Mayte (above) opts to match her cap with her sweater. Here is a similar newsboy cap you can get from Amazon.
Bucket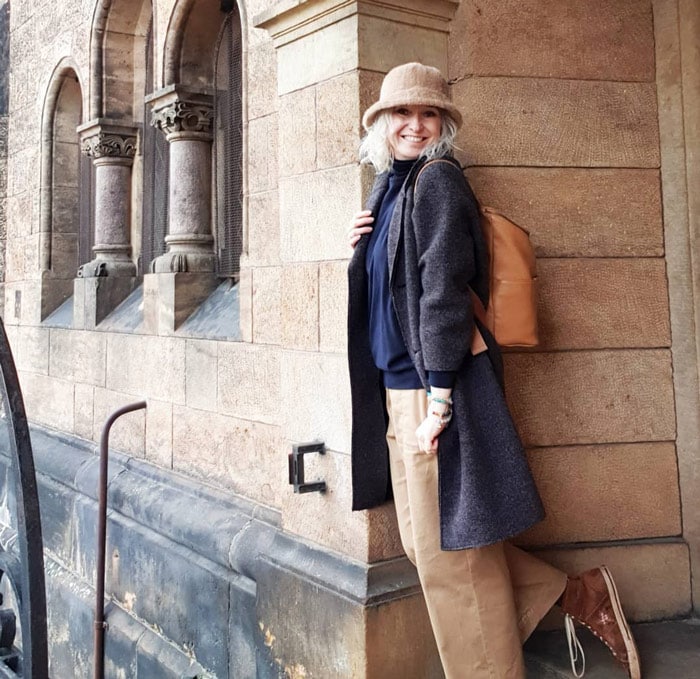 Bucket hats really do look a lot like upside-down buckets, although they also include soft brims.
This is a soft, floppy style of hat and the brim typically has circles of stitching. You're most likely to see bucket hats on men, but some women's styles do pop up.
Most buckets are casual, but they can be worn with smart-casual outfits. This will never be a truly formal hat style, though.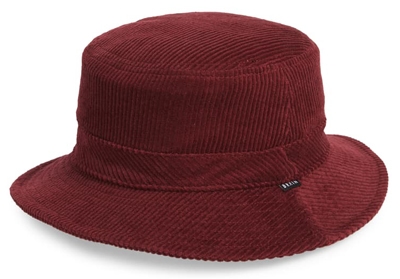 Zdenka (above) wears a cozy, textured bucket hat which matches her pants. Here is a similar teddy bucket hat from Amazon.
Bobble hat
A close relation to the beanie, bobble hats can trace their origin back to sailing, when they stopped sailors heads from being pumped while they ducked under equipment on their boat.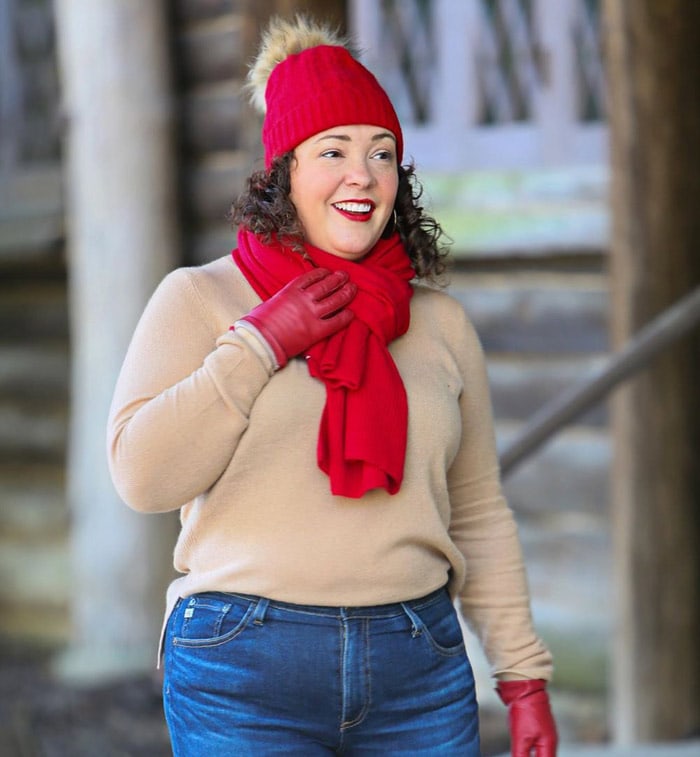 Alison (above) adds pops of red to a neutral outfit. Get a similar bobble hat from Amazon.
Sun hat
If you live, or visit, sunny climes, it's vital to keep your face protected, and a wide-brimmed sun hat can be the perfect, stylish, way to do so.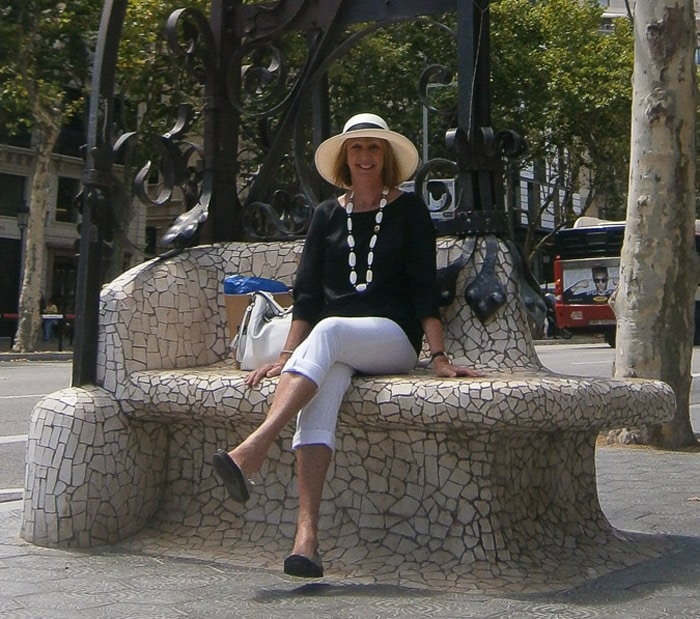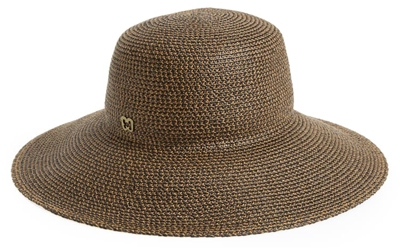 Greetje (above) looks fabulous in her wide-brimmed sun hat. You can check out this similar sunhat from Amazon.
Boater
Originally a hat for women in the 1800s, the boater then became a popular semi-formal option for men.
Nowadays, it's a stylish option for both!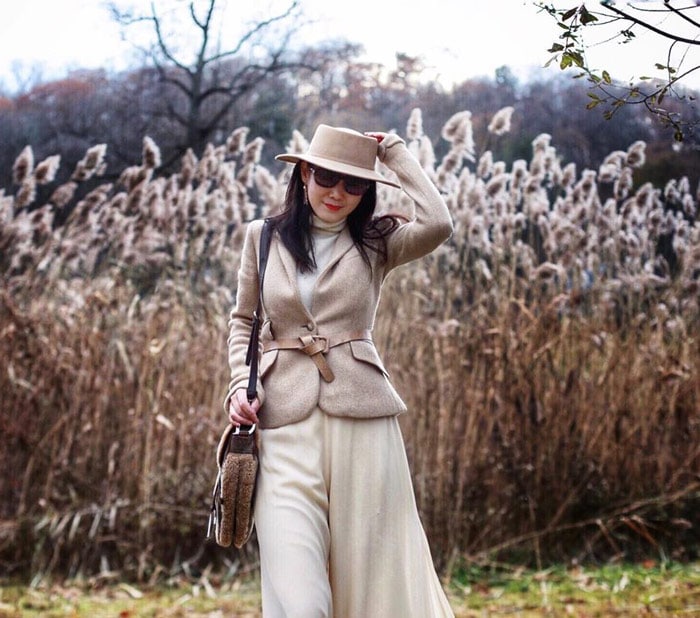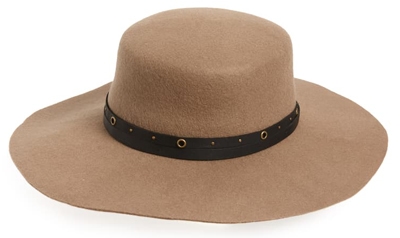 Cari (above) shows that beige definitely doesn't have to be boring. Check out this similar boater hat from Amazon.
Turban or wrap
Joan Collins often rocked a turban in the 80s. Now, the style is definitely having a resurgence after being seen on the Gucci catwalks.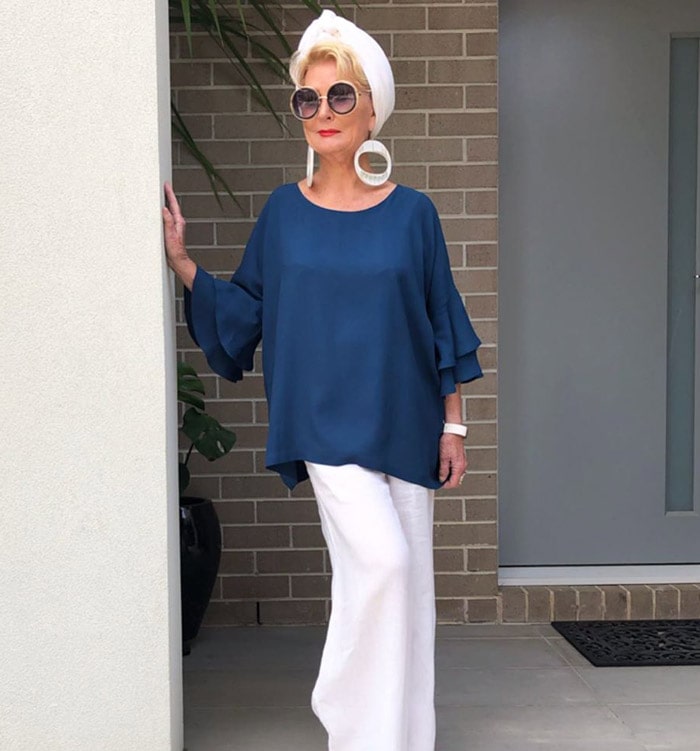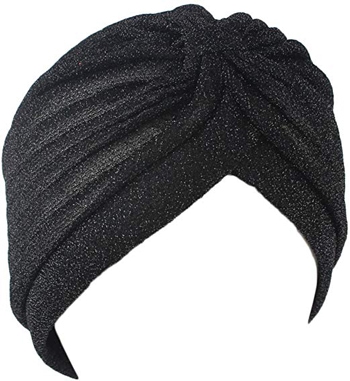 Home-Organizer Tech twist turban
Sharryn (above) looks very glamorous with her white turban and over-sized earrings. Check out this similar turban/head wrap from Amazon.
Women's dress hats: Fascinator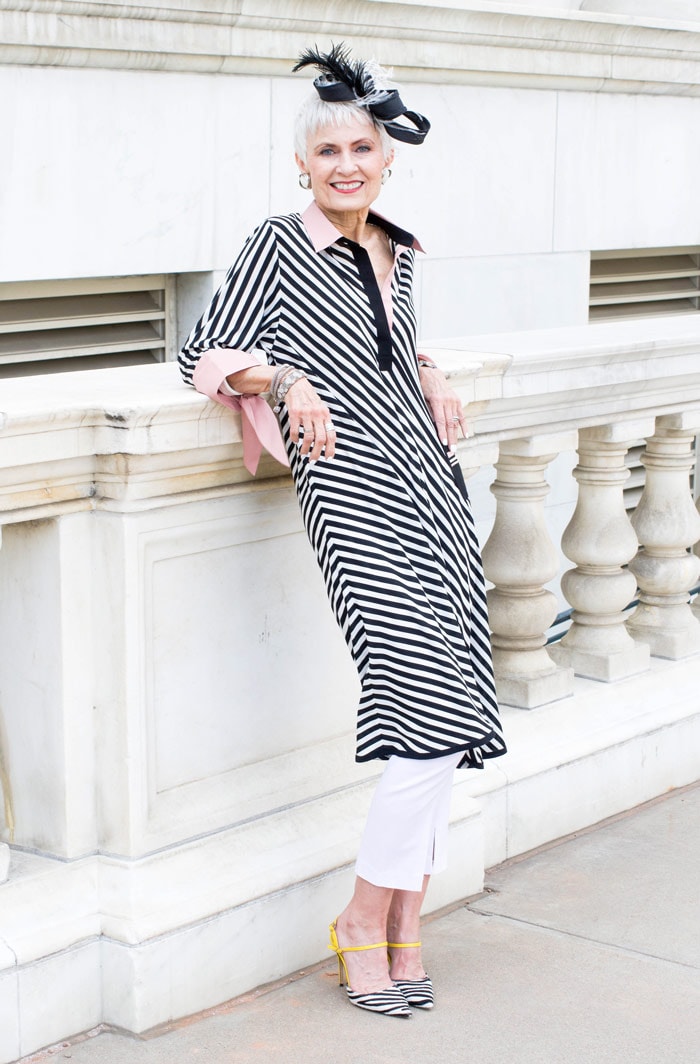 Fascinators are a little hard to define, but they're basically a category of headpiece that has been highly embellished.
Fascinators typically sit on one side of the head and clip into the hair, so some might think of them as hair accessories instead of hats.
This style is quite feminine and works best with dresses, skirts, and other ladylike looks.
Fascinators are formal, and can be worn to events with tie dress codes.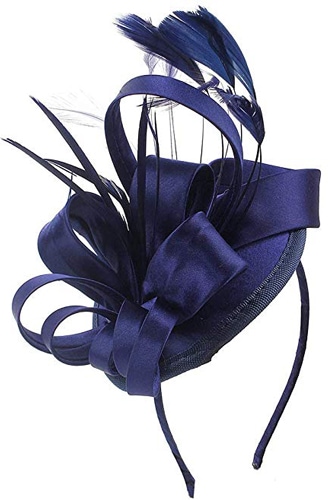 Judith (above) matches her hat to the stripes on her dress and shoes.
Choosing a hat for your head shape and figure
In most cases, your head shape is the same as your face shape.
As is the case with glasses, you want to select hats that offset the shape of your face, instead of mirroring it.
If you have a round face
A beret will emphasize it because the hat is round, too. Try an angular fedora instead.
If your face is a long oval
A droopy beanie may make it look even longer. Try a newsboy cap instead.
Trust your instincts
You certainly don't have to follow this guideline if you like how certain styles of hats look with your face and outfits. Trust your instincts.
Use hats to balance
In some cases, you can use hats to balance your curves and proportions. For instance, if you're a tall, plus-sized woman, a wide-brimmed floppy hat suits your scale and complements your shape. I
f you're a petite woman, adding a little height with a fedora can look quite stylish. If you're very curvy, you can reflect those curves with a rounded cloche.
Also take a look at how to choose a hat for your face shape.
For more tips on finding the right hat for your face shape, please check Judith's expert tips below.
Tips from hat-wearer extraordinaire Judith Boyd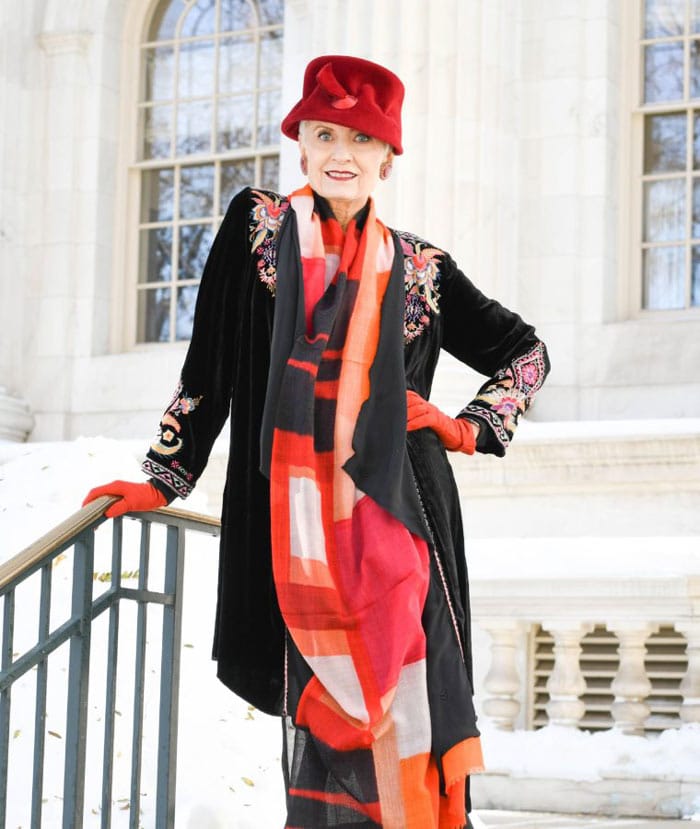 Judith has become a dear blogger friend whom I have met in real life as well! (read my interview with her here).
She adores hats and wears them daily, so of course I wanted to pick her brain on her expertise with hats. Here are her answers to my questions.
How does someone choose what hat to wear with each outfit?
Judith: Hats frame the face and finish off any ensemble. I usually start with a hat when I choose the pieces for an outfit, but you can start with anything.
A dress, suit, pants, shoes or even a piece of jewelry. I then proceed from the starting point considering color, shape, silhouette, event, occasion, mood and weather/season. For me it's a meditation and an important way to express myself.
If you're new to hat wearing, allow yourself to be a beginner. It might feel more comfortable to put your outfit together first, and then add a hat.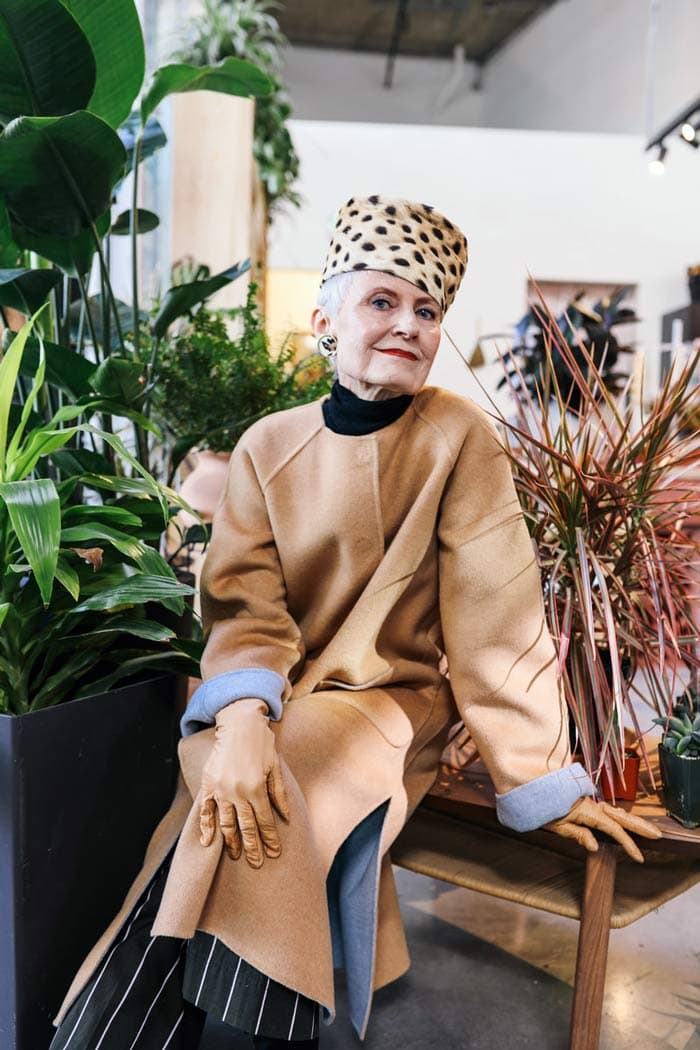 You could start with something understated and color neutral, like a beret or fedora.
Scanning thrift shops or consignment stores is an inexpensive way to begin. Wear the hat for a short period of time at first, such as out to coffee or a walk in the park.
Just like any new behavior, It takes a bit of practice, but you may notice that you get a better seat at a restaurant or someone may say, "That's a great hat!"
Before long, it may become a habit and then you are hooked! I was known to tell customers in the hat shop to, "just put the hat on your head and walk."
It's not a life long commitment, and you can always take it off and try again another day.
Which kind of outfits suit a head wrap?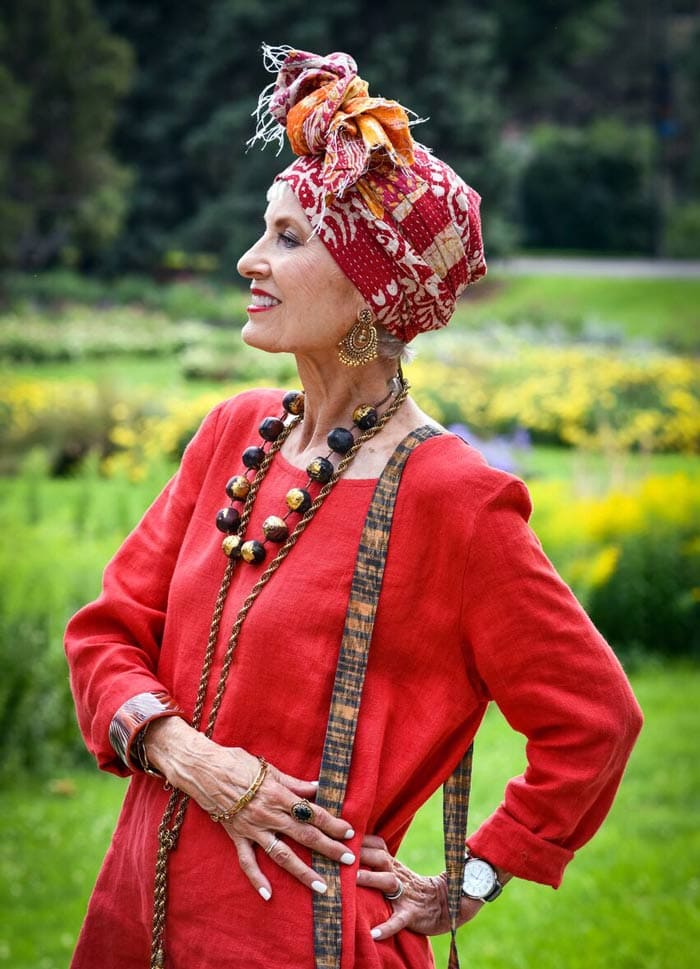 I've learned over the years that a head wrap can be worn with any outfit.
This viewpoint has been enhanced by the blogs and Instagram sites of women who make or wear head wraps on a daily basis.
A head wrap can be casual or dressy, depending on the fabric. If you're comfortable in a head wrap and enjoy wearing it, it shows. Which is true for any accessory.
How do you carry off a hat when no one else in your friendship group wears a hat?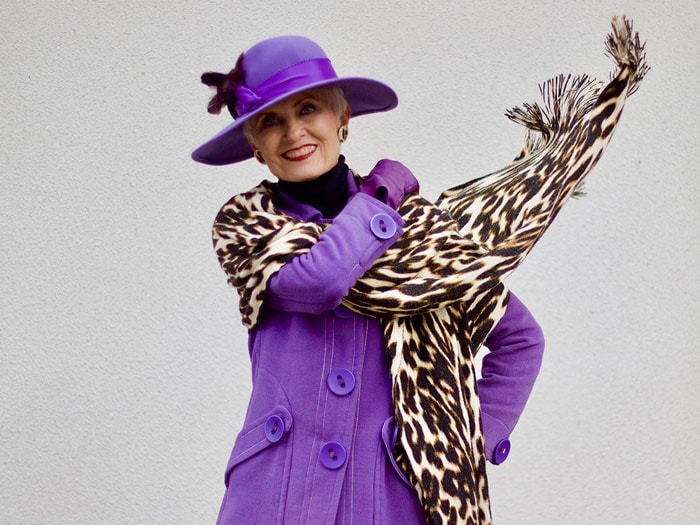 It doesn't bother me to wear hats around those who never or seldom do. I'm confident in my own choices and I don't need the approval of others to wear what I love.
But then I've been wearing hats since the 70's, and it's second nature to me. That's 40 years of practice!
I find that most of my friends accept that this is who I am and that hats are a part of me.
I'm of the opinion that if someone doesn't like my hat, they won't approach me or be interested in getting to know me. Why would I want a relationship with someone who feels uncomfortable about my hat?
What are your best tips for other women when it comes to wearing hats?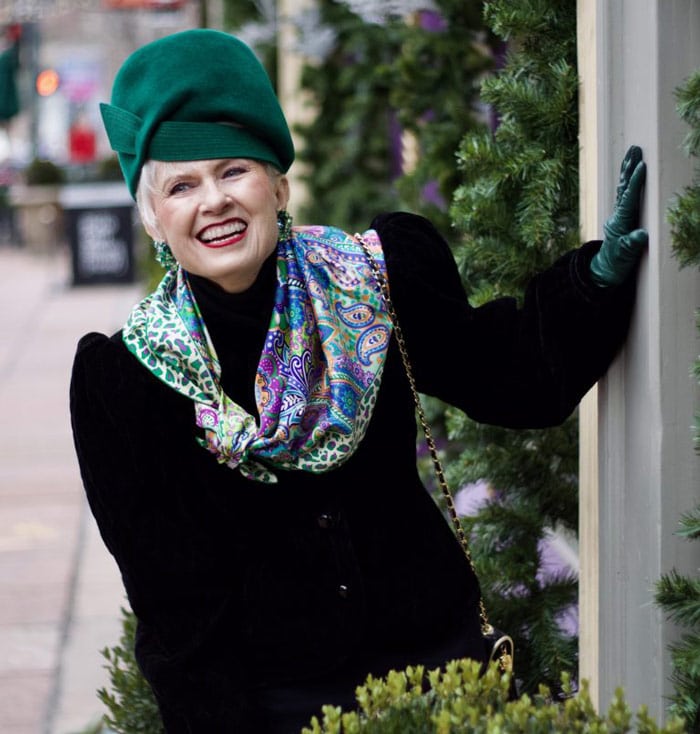 The perfect fit
Finding a hat that fits is the first step to wearing it.
The proper measurement to find your hat size is to measure your head circumference at the center of your upper forehead, which is about an inch above your ears.
Are you average size?
The average hat size for a woman is 22 inches. Most hats aren't sold by size, but it's helpful to know if your head is small, medium or large.
How to change the size
If a hat that you adore is too large or too small, there are ways to fix that problem. If you are near a millinery shop or millinery supply store, you should be able to purchase hat size reducers, which include foam and felt hat inserts or size adjustable sweatbands.
If your hat is too small, it's possible to have your chapeau stretched with a hat stretching device.
Break the rules
When I purchase a hat, I don't abide by rules that consider the shape of my face, which is square.
If I love the hat and the mirror reflects pleasure, it's mine.
Don't just look at your head
I do use a full length mirror so as to be aware of proportion and silhouette. Some say that the brim should not be larger than the width of your shoulders.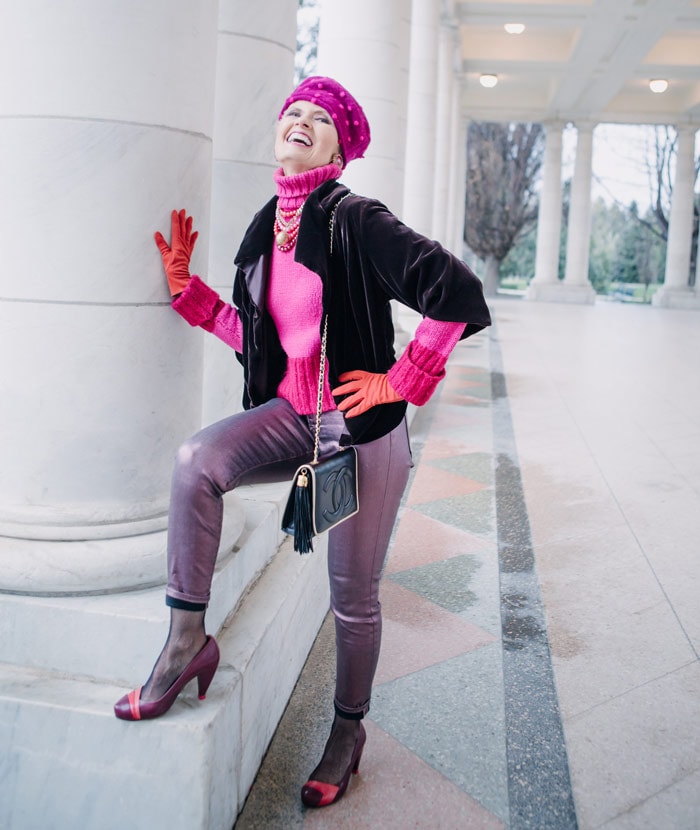 How to choose the best hat for your face shape
However, there are suggestions that can be considered regarding face shape if you are so inclined:
If your face is round
Choose a hat that has a broad or irregular brim, a prominent crown and vertical design features to balance out the fullness of your face.
If your face is square
Choose an asymmetrical hat to balance the angle of your jawline.
An irregular brim and prominent crown will make your face appear longer and wearing your hat at an angle will soften your face.
If your face is rectangle
Choose hats with full or uplifted brims and avoid high crowns and small brims that make you face look longer.
If your face is triangular
Choose any hat that adds width at the forehead. Asymmetric brims and crowns with some height will draw attention upwards.
If your face is diamond
Choose hats with medium brims to avoid making your forehead and chin more narrow. Wide hat bands help to visually widen your forehead.
If your face is heart-shaped or oval
There are no limitations.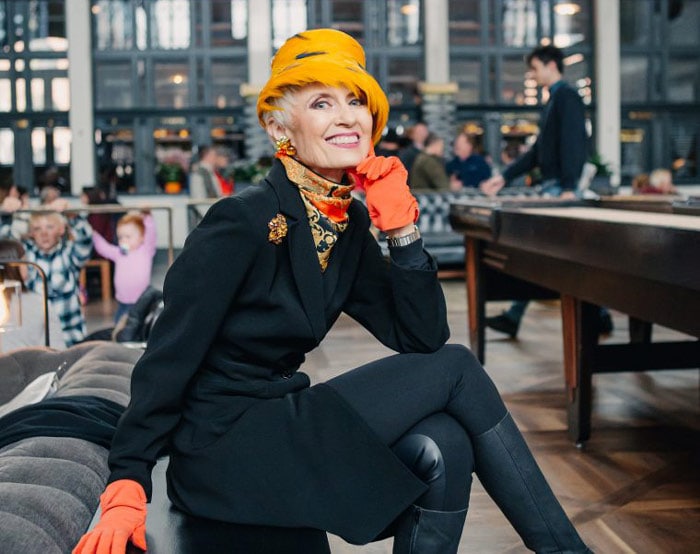 How to travel with hats?
Traveling with hats involves planning. I have a collection of fabric and packable hats that pack easily and retain their shape.
If I have a special occasion in another city, I have been known to send special hats ahead and they are available when I arrive.
How to make sure that hats stay on?
There are times when strategies are necessary to keep a hat, fascinator or headpiece on your head.
There are options available from online millinery supply sites if you don't have resources in your community. Combs, elastics headbands or hat pins can be used for this purpose.
I prefer round elastic cords with barbed ends, 12 inches in length, which hold a hat in position by placing the barbs into the crown near its edge or in the inner hat band, if there is one.
The elastic is positioned under the hair on the back of the head. My hair is short, so this works best for me. If you have long or medium length hair, you may prefer other options.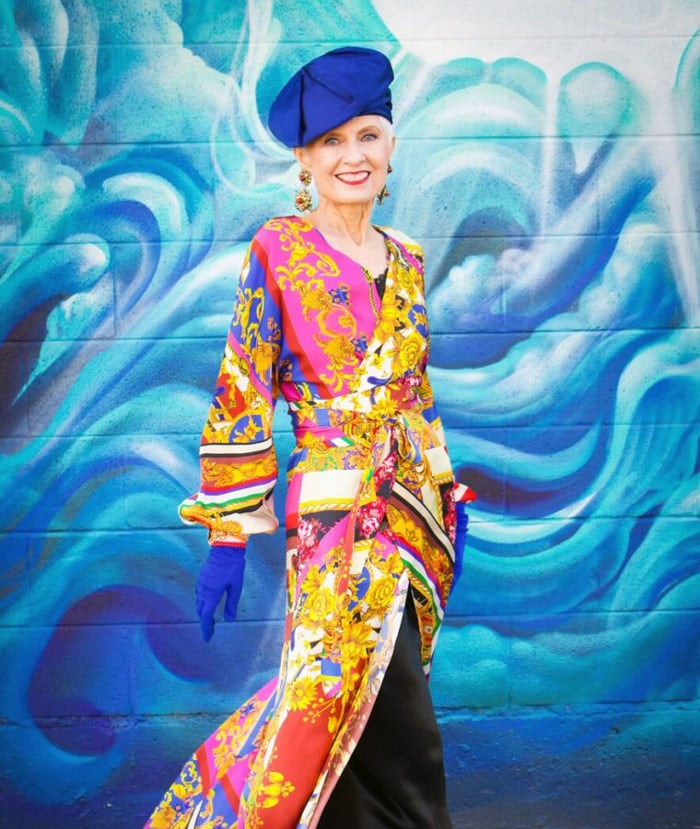 How to combine your hat with your hair?
Speaking of hair, which is important to most of us, finding a hat that fits for your style may take experimentation.
Wearing your hair up or down is all about personal preference, comfort level and whatever pleases your eye.
Browsing online images of women wearing hats provides ideas and guidance.
As a passionate hat wearer, I have my hair cut to go well with hats. Not everyone wants to make that commitment!
Matching your hat to your skin tone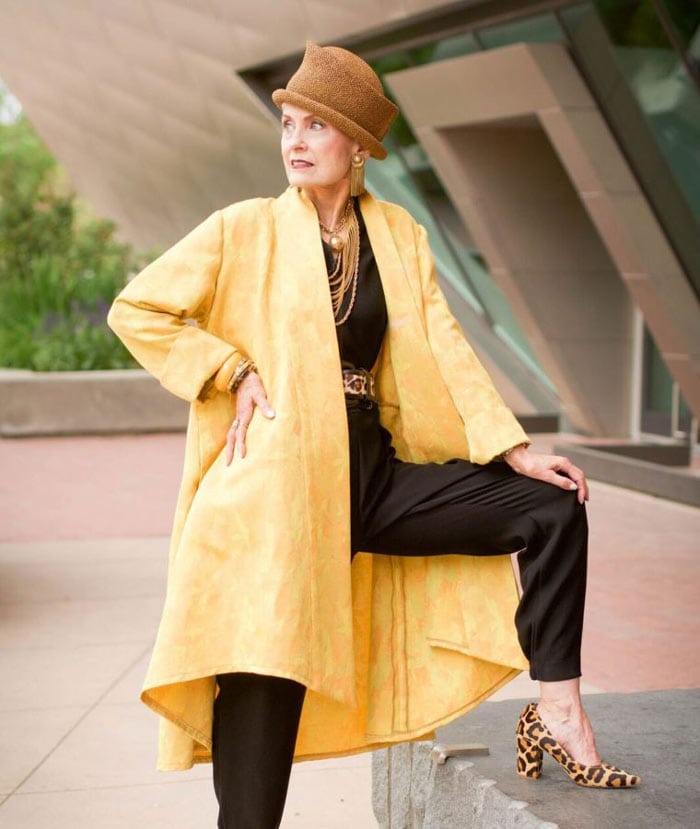 You may want to consider choosing a hat that flatters your skin tone, as it's an accessory that kisses your face.
Starting out with neutral colors and graduating to bold hues after you feel comfortable with headwear is one way to start a small collection.
What about hat hair?
Some women complain about "hat hair" after wearing a hat and taking it off. I wear my hat all day (unless I change hats) once it's found a place on my head, which is appropriate etiquette for women.
I avoid wearing hats with tall crowns to the theater, which would be the only reason I can think of to take my hat off. I wouldn't want to block someone's view!
How to wear your hat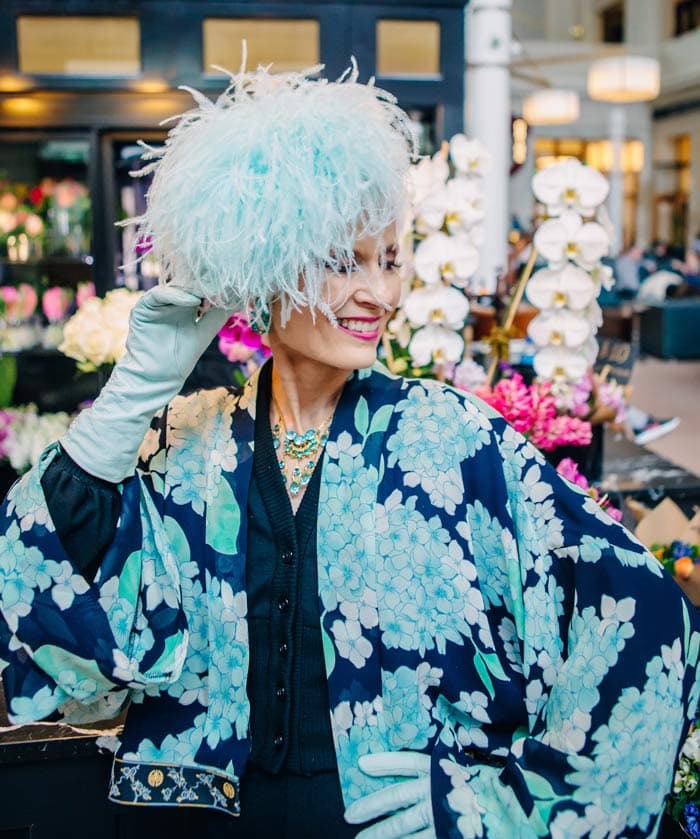 During the time that I owned my hat shop, I encouraged many women to purchase their first hat. I like to wear my hats low on my forehead, and many times tilted at a jaunty angle, usually over the right eye.
I would adjust hats for my customers and they would observe in the mirror the difference a small change could make in how the hat looked on their head.
I would encourage you to pull the brim of your hat lower on your forehead than you think you should, and slowly pull it up from there until it pleases you.
Playing with hats without brims can be managed in a similar manner. Sometimes a hat can be worn backwards or to the side, to create a totally different silhouette. Experiment and have fun!
How to store your hats
I'm a hat collector, and I have many hats. I store my hats in hat boxes when they aren't in season and display them when in season.
For example, I display my felt hats in fall/winter and my straw hats in spring/summer. I have various styles of hat racks and shelves for this purpose.
I have a number of delicate hats that I keep in hat boxes at all times, so as not to expose them to dust.
Before storing hats in boxes, I clean them with a hat brush (which again can be purchased from a millinery supply site) and store them in tissue paper, making sure that the shape of the hat is protected.
If you're new to wearing hats, it will be easy to care for a small number and it won't be complicated.
I've discovered these tips as a hat lover over the past 40 years. You may develop your own practices as you explore the wonderful world of hat wearing! Hats have added a beautiful dimension to my life and I hope that you find enjoyment in discovering the art that is headwear.
How to wear hats in summer
While it's obvious you will want to wear a warm hat to keep you cozy in colder months, a hat is also a summer essential.
What completes a great summer outfit?
That's right. The light straw hat! Great to shield yourself from the sun and often a stylish final touch to your outfit.
Below are some example of 40+women wearing summer hats. (photographed by Denton Taylor).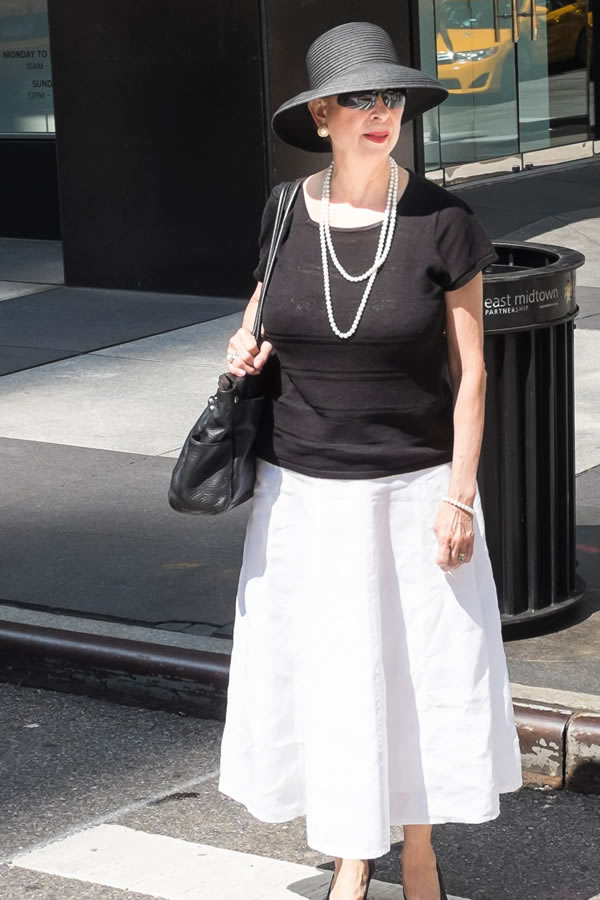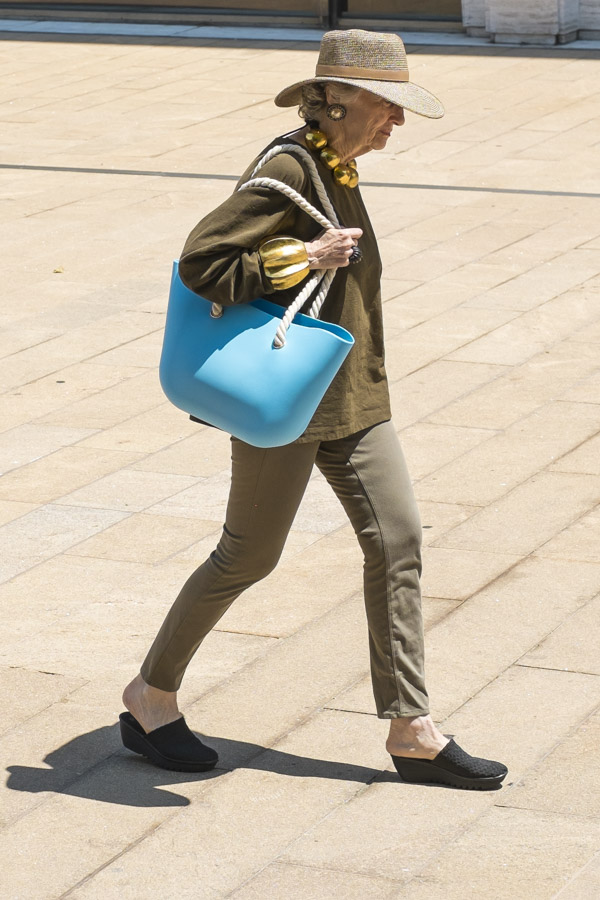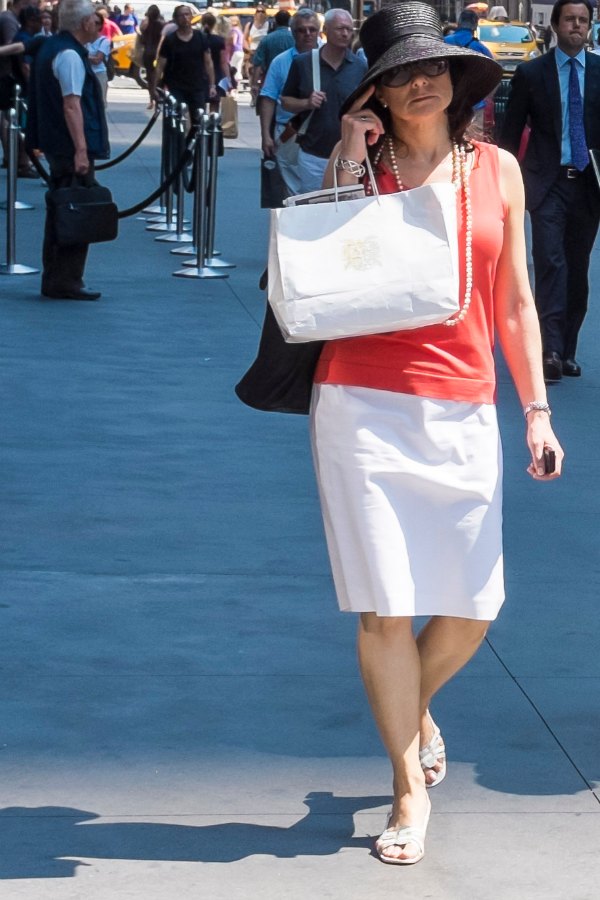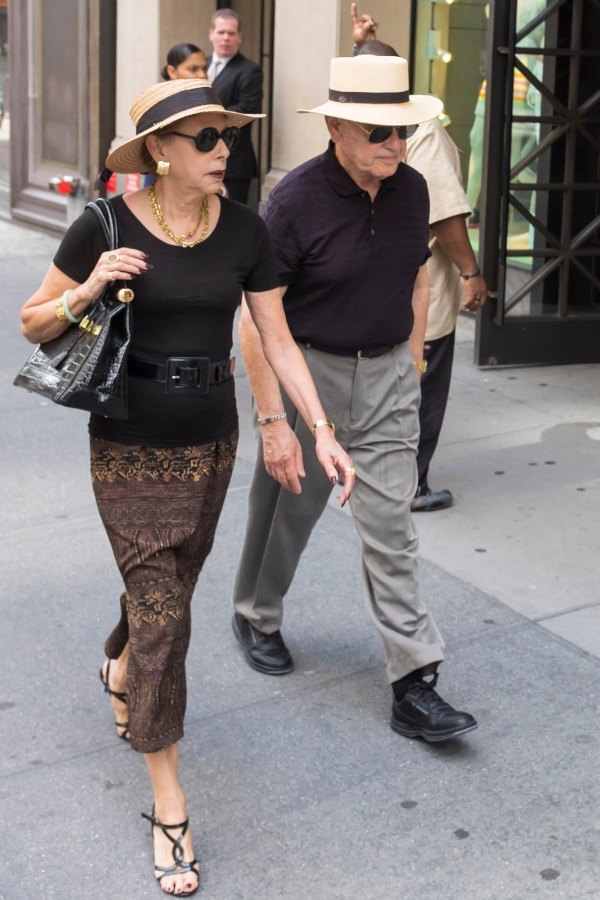 More inspiration on how to wear your hat!
Below is more inspiration on how to wear your hat. These photos were taken by Denton Taylor.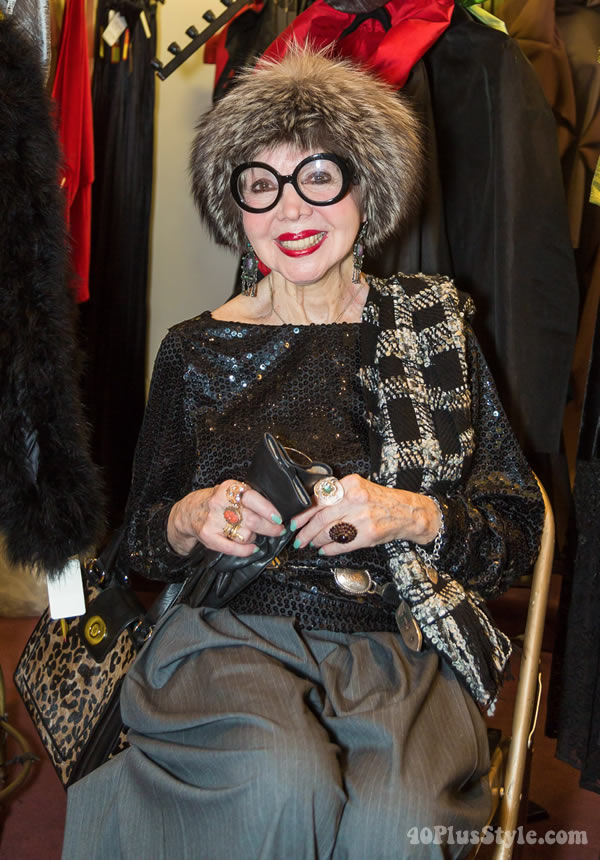 Jean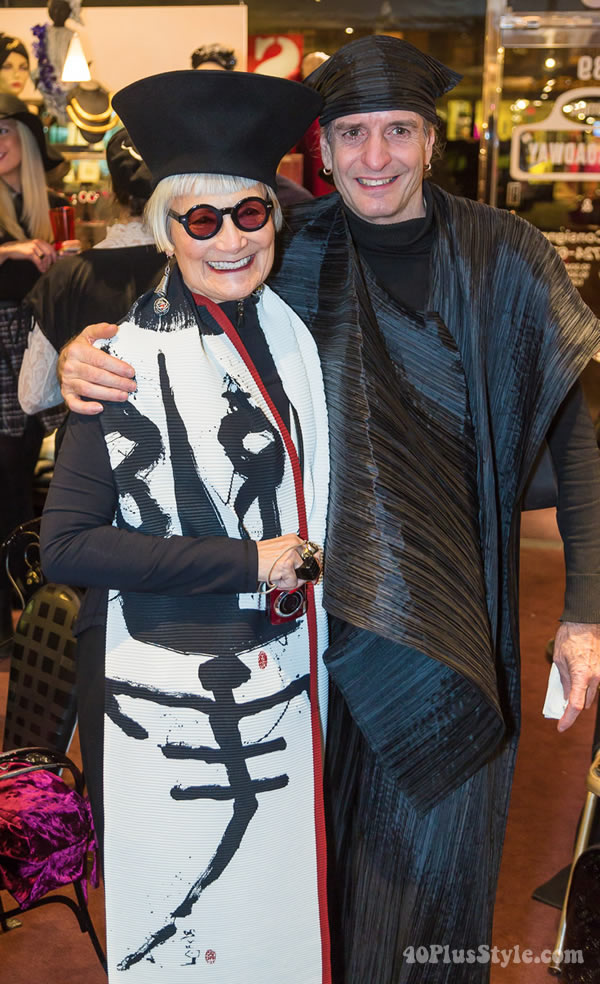 Valerie
Don't you just love these colors and that very unique hat of Valerie's? You may recognise her as one of the Idiosyncratic Fashionistas featured before this style interview. Love this picture of her.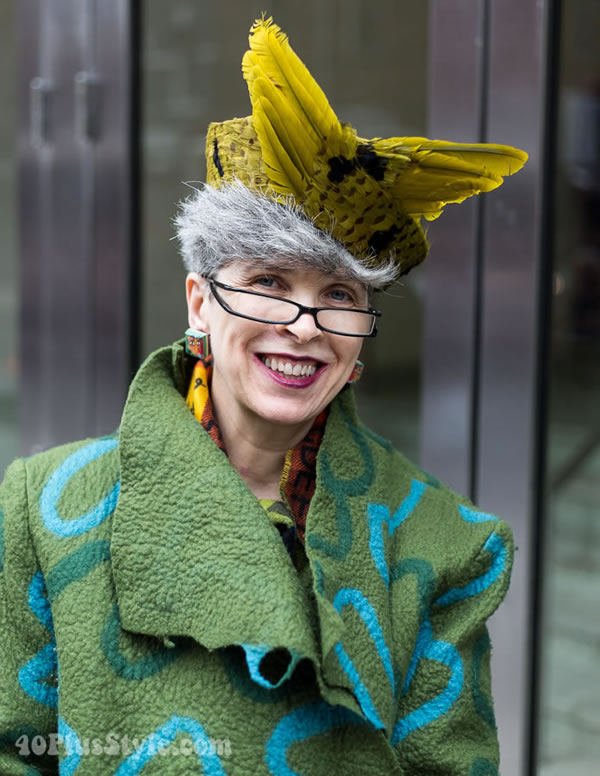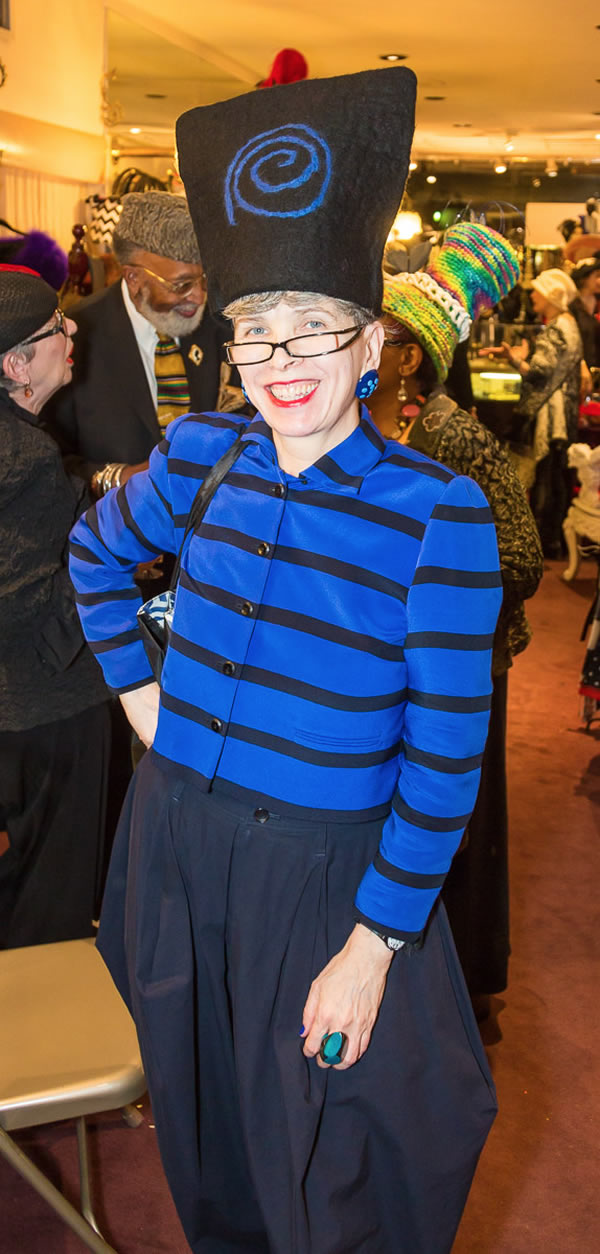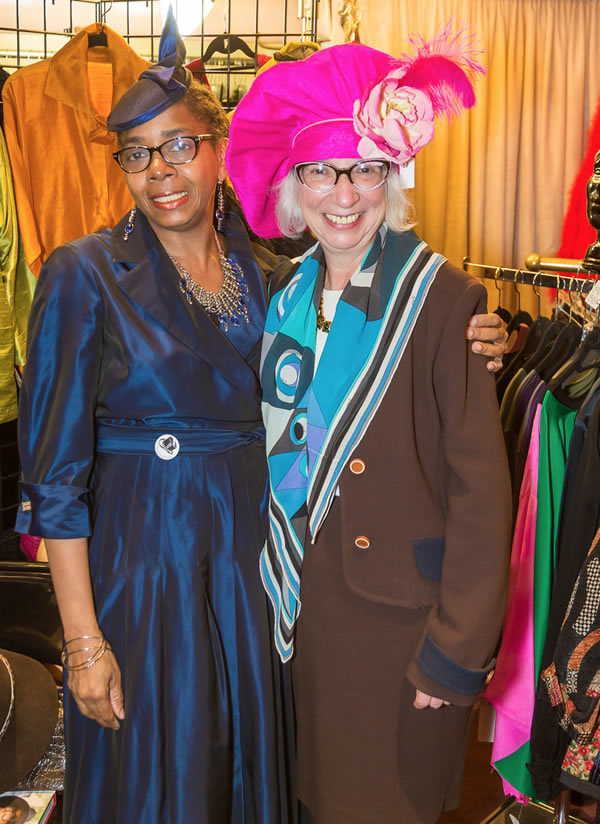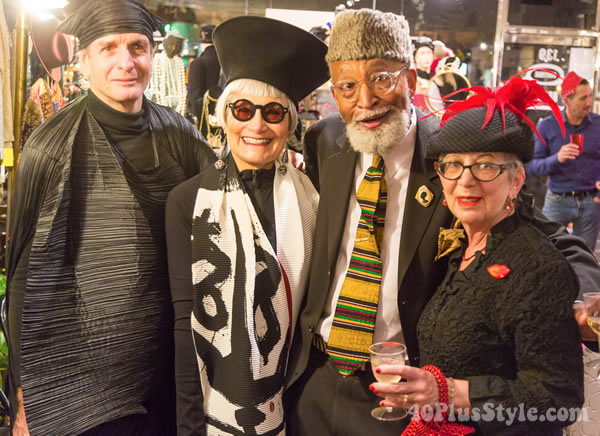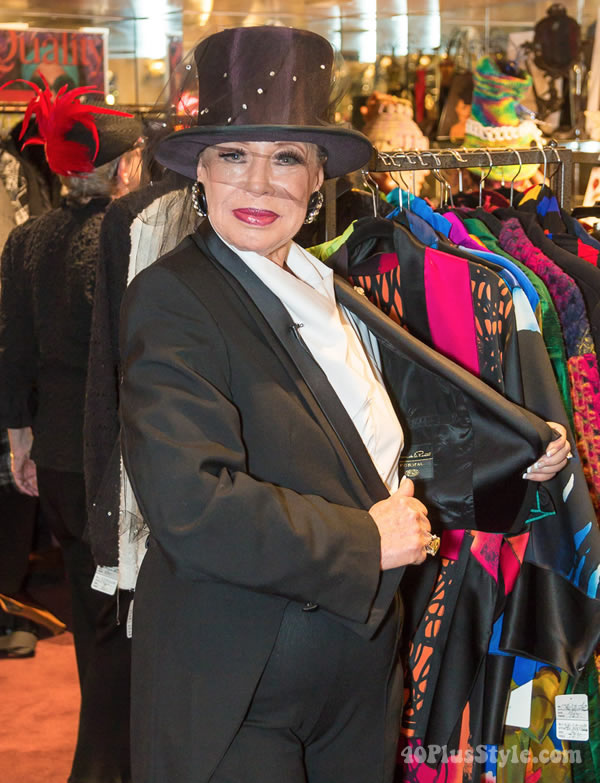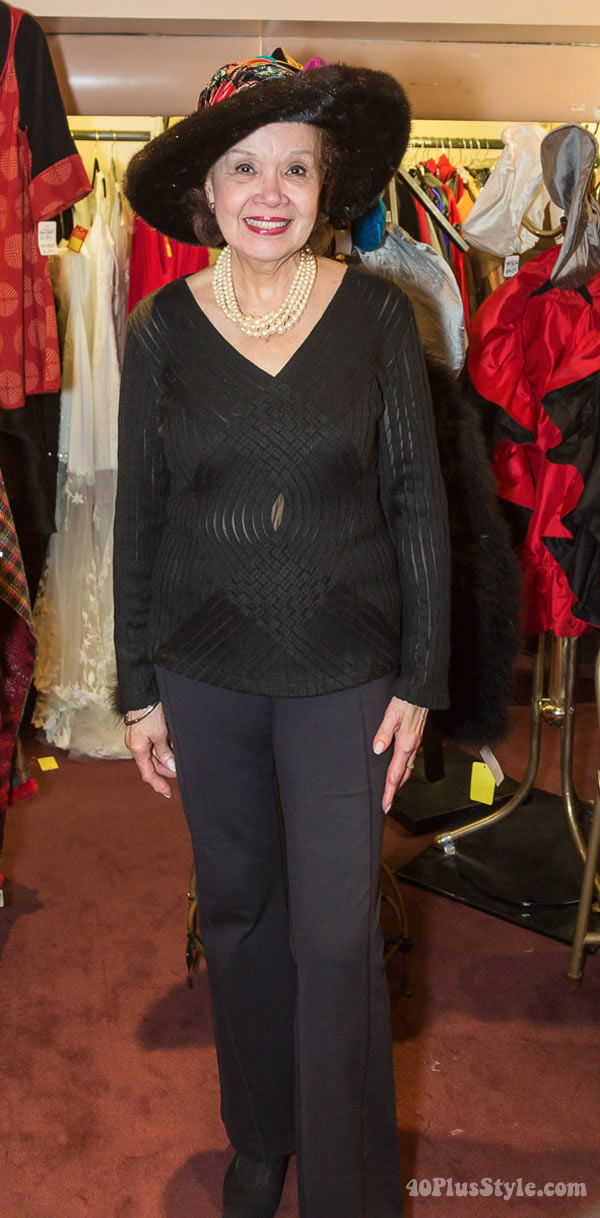 Teresa Taylor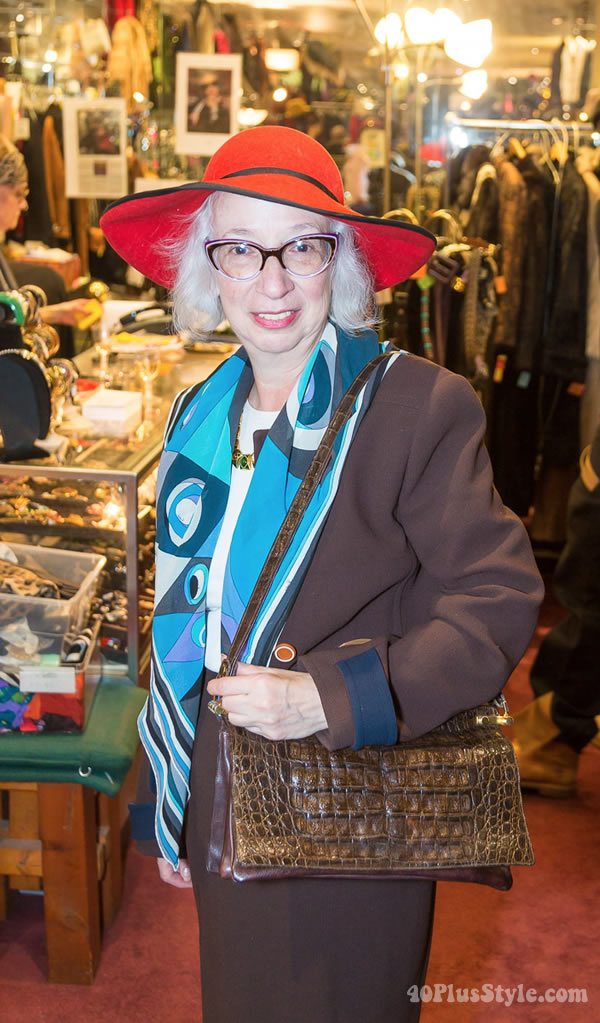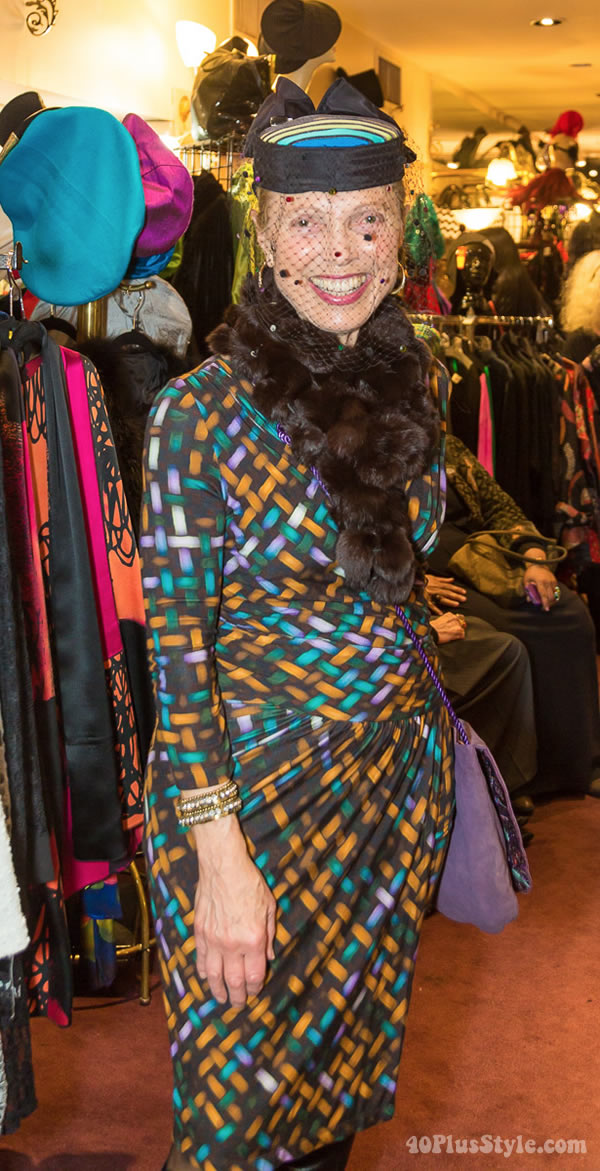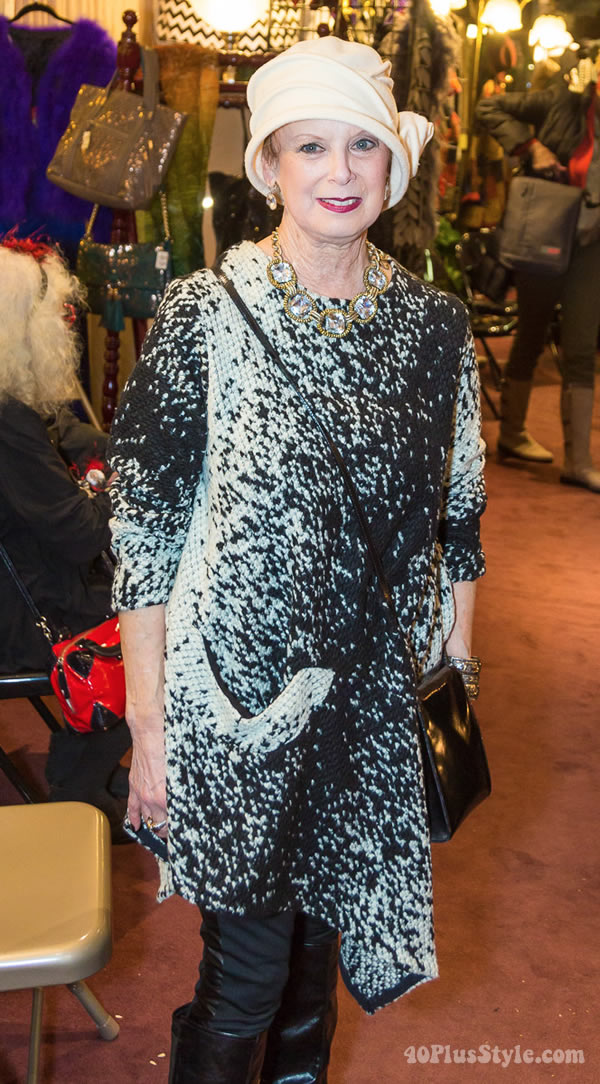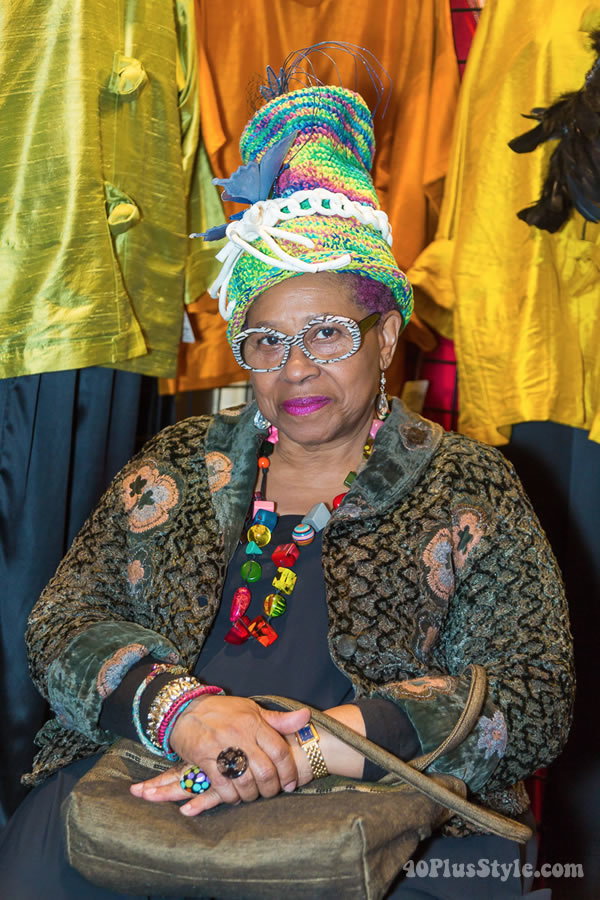 Dayle, Shelley and Valerie
3 ladies we have featured before all looking fabulous: Dayle (her style interview), Shelley (her style interview) and Valerie on another day.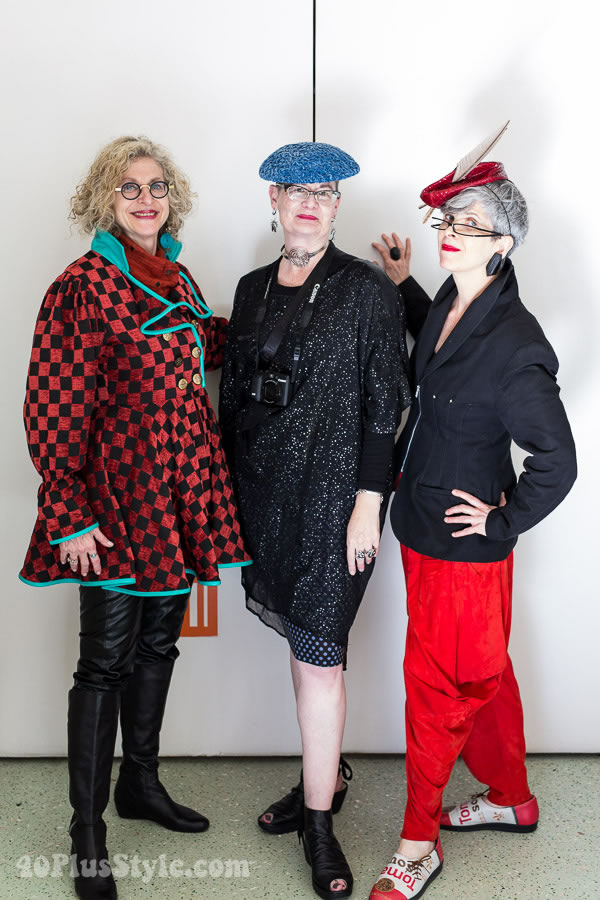 Black & White top hat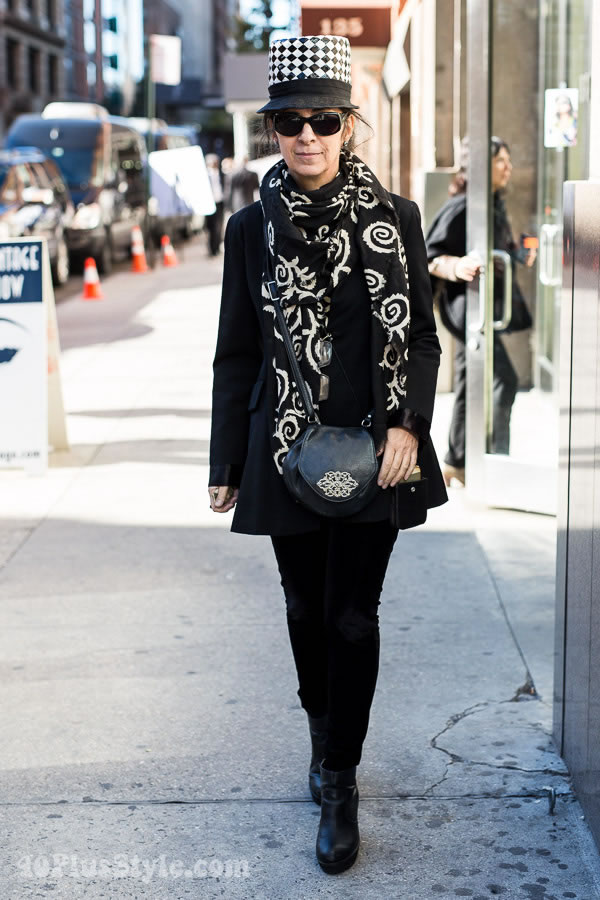 A red beret
Love the look of this woman. Super chic & edgy.
Black and white mix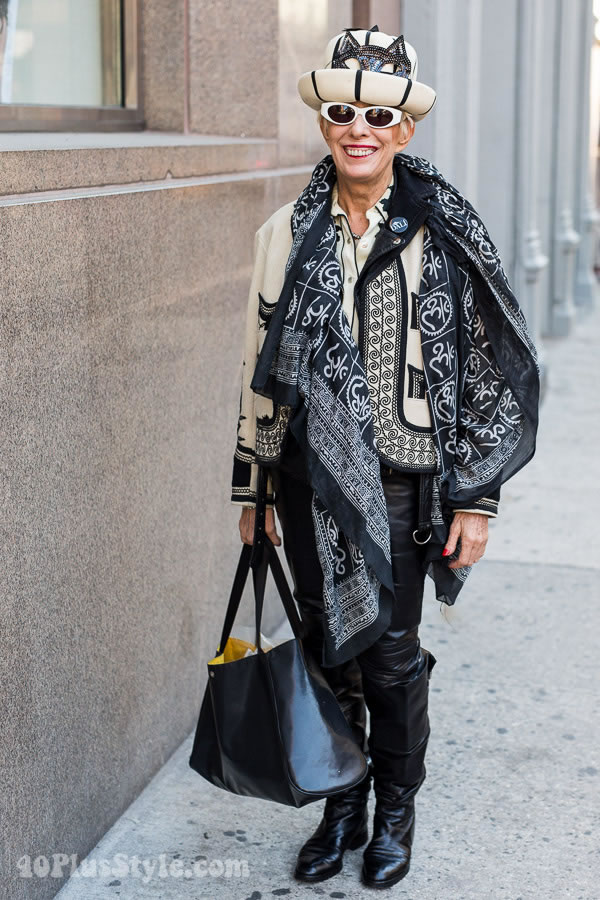 Great outfit accessorized with the most beautiful smile.
Vintage style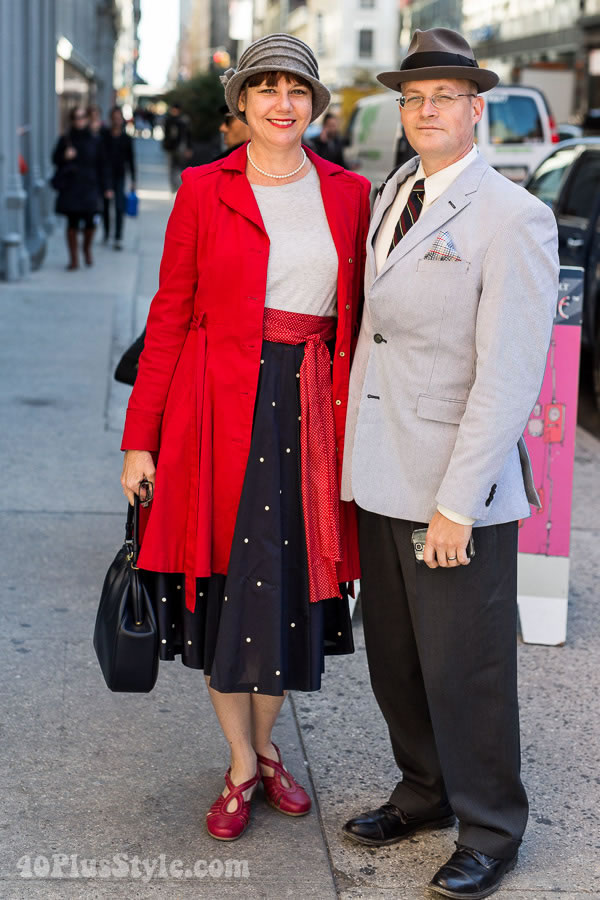 This couple fits the vintage show so well in their beautiful vintage attire.
Brown beret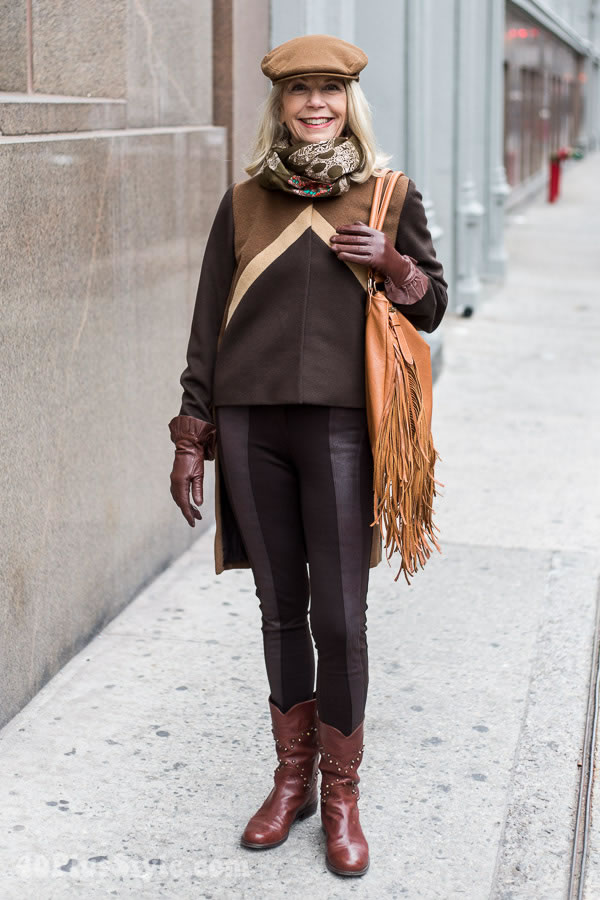 A hat can be subtle too like this beautiful beret. Great outfit too!
Jean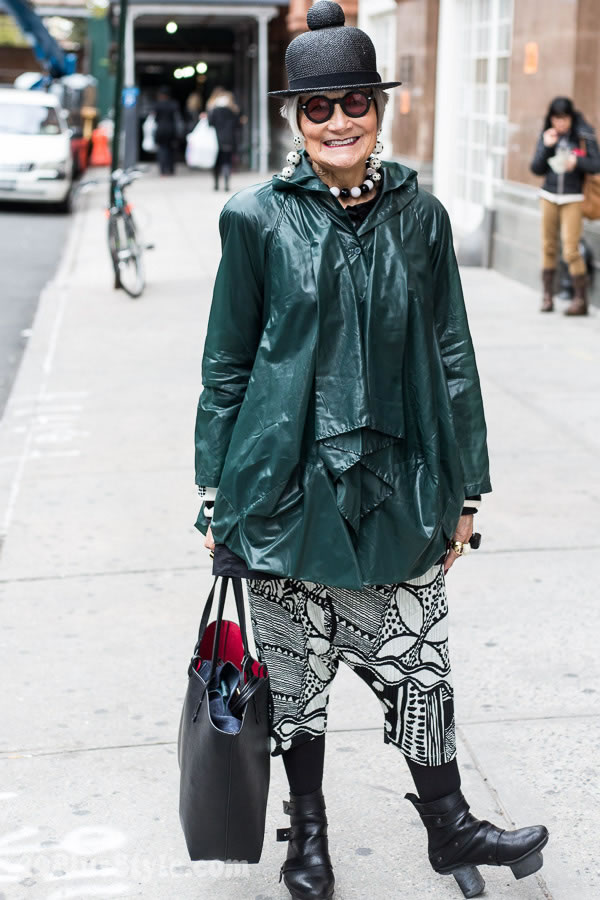 And here is the other half of the couple that makes the Idiosyncratic Fashionistas. Jean too embraced color on this day. Read her style interview here.
Shelley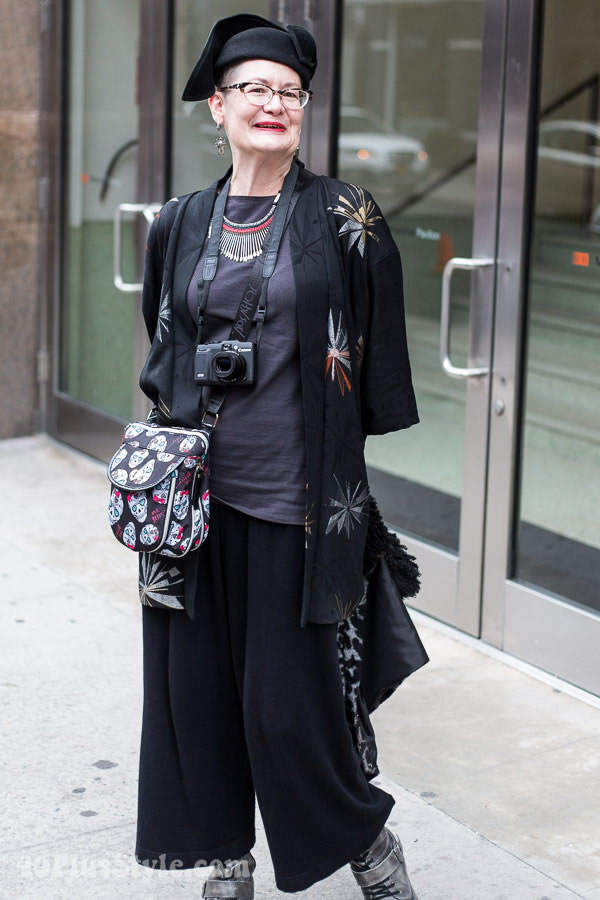 Shelley looking gorgeous on her second day too.
A hat that pops
What better way to add a bit of color than a bright blue hat? Fun!
Elegant cowboy style
A unique look that combines classic elements with a cowboy vibe.
Patricia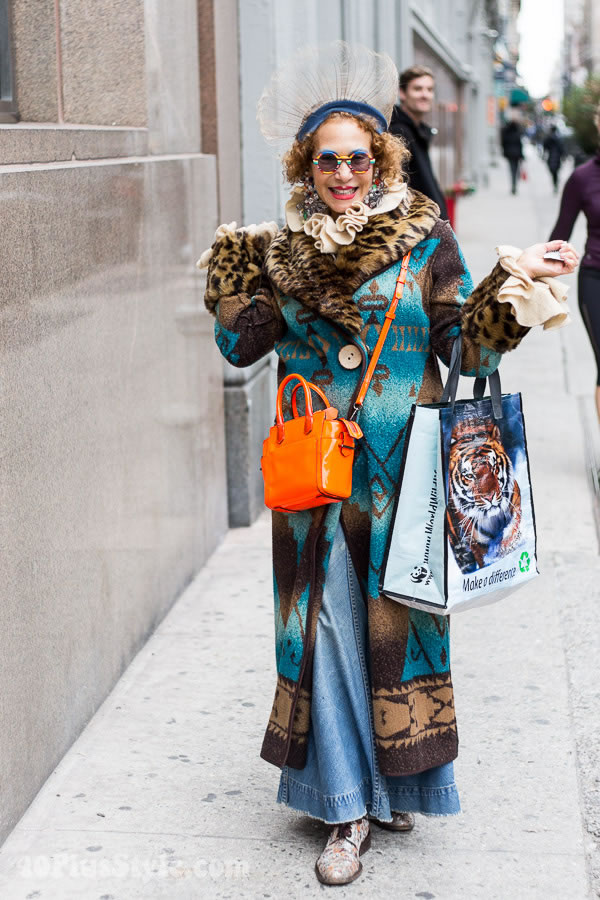 Home stylist and artist Patricia Fox, also known as Purely Patricia, looks colorful and happy in this ensemble.
Classic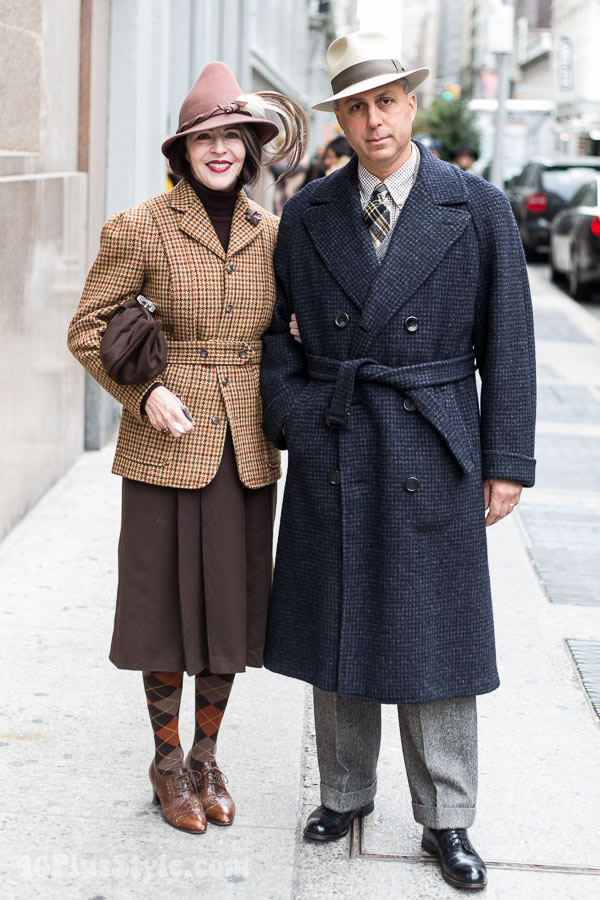 This couple look gorgeous and classically chic.
Monochromatic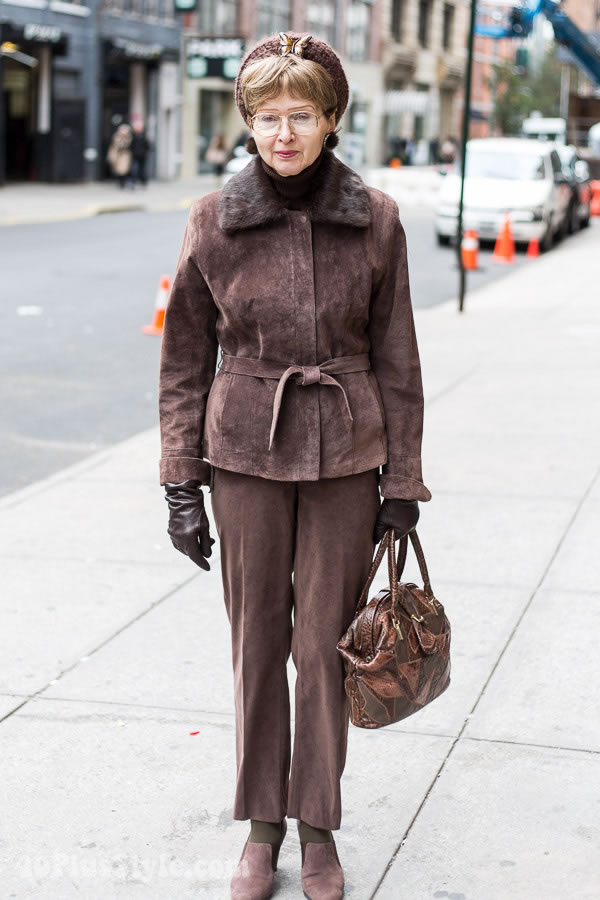 A Chic monochromatic look.
Round hat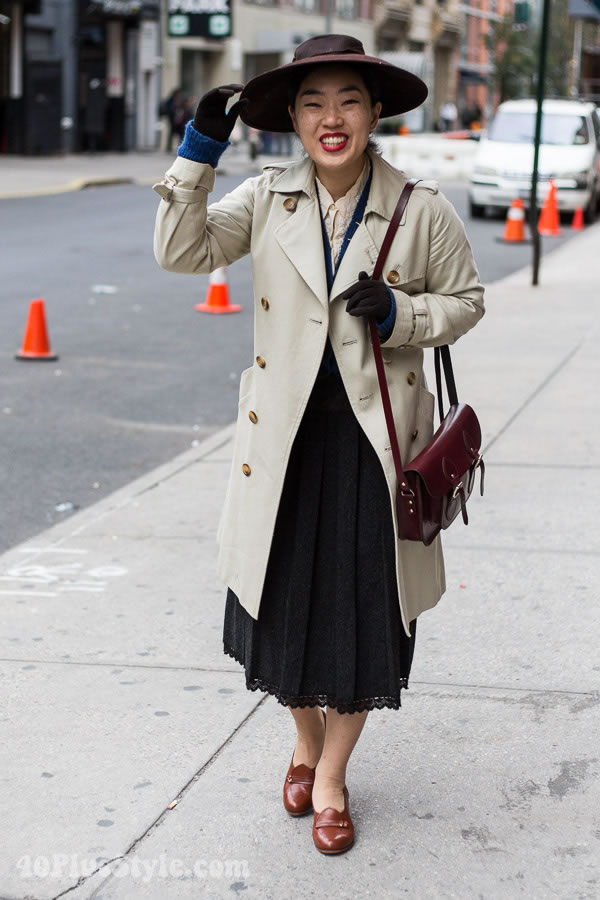 Finally this hat is a lovely example of how a fabulous hat can make an outfit instantly more chic and fabulous.
How to you like to wear a hat? Which of these hat looks is your favorite?
Continue reading:

Like this post on how to wear a hat? Share this post on Pinterest!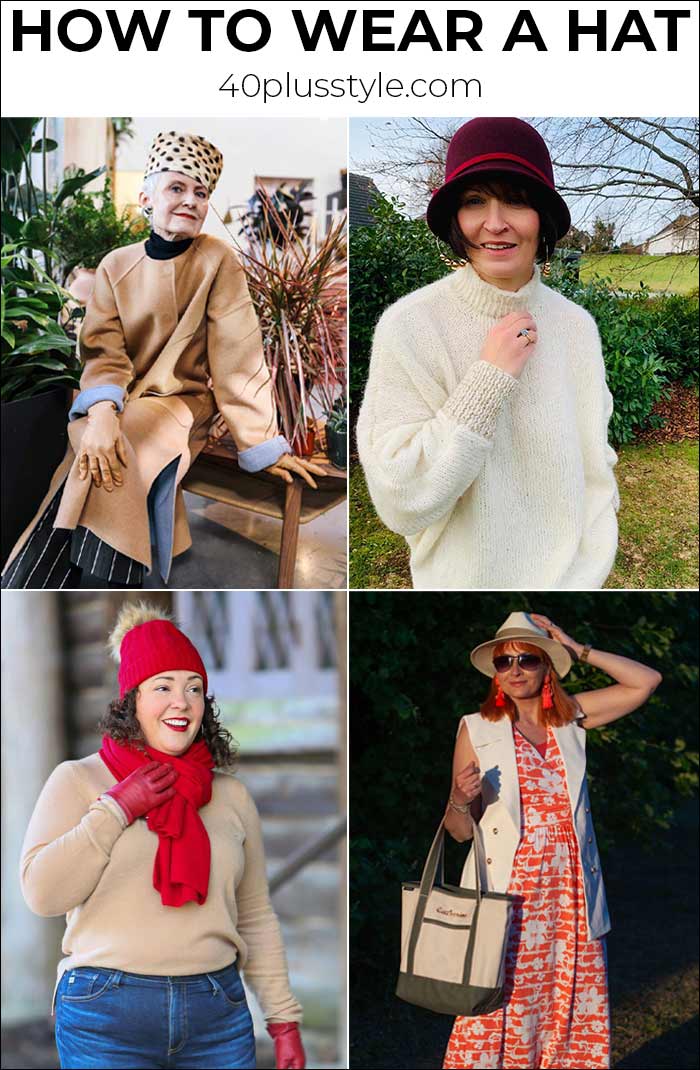 Feature and interview photos by Judith Boyd
Other photos from Instagram, credited individually
All other hat inspiration photos by Denton Taylor
Want to get more articles from 40+style in your inbox, subscribe here.
You can also connect with 40+style on Facebook, Instagram or Pinterest.
Support 40+style by using the links in our articles to shop. As an associate for Amazon and many other brands, we receive a small commission (at no cost to you) on qualifying purchases which enables us to keep creating amazing free content for you. Thanks!