Have you heard of LED face masks? Perhaps you have seen red glowed masked women coming by on Instagram or other social media? That's certainly how I first got introduced to a red light LED face mask.
I was intrigued but not yet enough to do more research into it or acquire an LED face mask for myself. That all changed when I got approached by Currentbody who asked if I was interested to try out their LED face mask.
That led me to do some research on the topic. I'm certainly always interested in non-invasive treatments that help keep my skin healthier for longer. I'm not a big fan of a lot of makeup, so keeping my skin in top condition (so that I don't need much) is one of my top priorities.
What is an LED face mask?
You may be familiar with a regular mask that's either a cream that you apply to your face or a liquid sheet that you put on top of your face.
This mask is quite different.
Rather than something to cover your face, it's a device that you put on your face. The purpose is the same: to get more radiant and even skin.
With an LED mask you do that though the benefits of red light (633Mm) and Near Infra-Red Light (830nm).
What is the benefit of red light to your skin?
In short, red light therapy can rejuvenate the skin. It improves complexion and creates a more glowing and healthier looking skin.
Red Light stimulates the production of new collagen, calms redness and creates an even skin tone.
What is the benefit of infrared light to the skin?
Infrared helps skin to heal quicker and stimulates the creation of new healthy skin cells.
Both red light and infrared together work below the skin's surface to stimulate the natural rejuvenation process, creating a complexion that is visibly glowing and noticeably healthier looking.
How exactly does the technology of an LED face mask work?
Here is how Currentbody explains the science behind the LED face mask:
"As we age, our skin gets blocked and red LED light feeds your skin and 'unblocks the pipes'.
"Infra-red, the other technology in the device works by stimulating the 'wound healing cells' in the skin – causing new, fresh skin to form."
"Together, they work in harmony to stimulate the natural processes in the body, creating newer, fresher-looking skin."
Unpacking the Currentbody Led Face mask
The mask is delivered in a beautiful black and white box.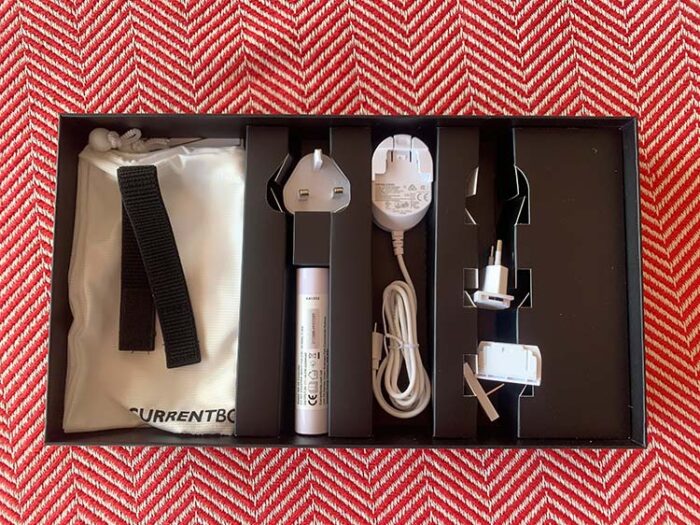 As I was very unfamiliar with this kind of mask I liked how soft it feels to the touch. The mask is very flexible, so you can just wrap it around your face.
First, you need to charge it for a few hours.
After that is done, you can just wrap it around your face and tighten it with the strap on the back.
You still carry part of the charger with you but it's not very cumbersome, so you can just walk around with the mask and go about your usual activities.
How I've used the Currentbody Face mask
Although many women use the mask while doing other things, I prefer to use it as a relaxing opportunity and keep my eyes closed.
Once the mask is charged, you can use it multiple times, and I keep it on my bed side table. Whenever, I like to have a break or when I feel like it in the morning I can put on the mask.
I put the mask on my face, close my eyes, and either meditate for a bit or listen to an Audio book.
The mask is automatically set to 10 min and it automatically switches off after that time, which ensures that it's never left on too long.
What does it feel like to have the mask on?
The mask feels like a warm glow on your face. The light doesn't get hot, so I find it very relaxing and soothing. It has easily become part of my weekly routine.
Currentbody recommends using the mask for 3-5 times per week for 10 minutes a day on clean skin.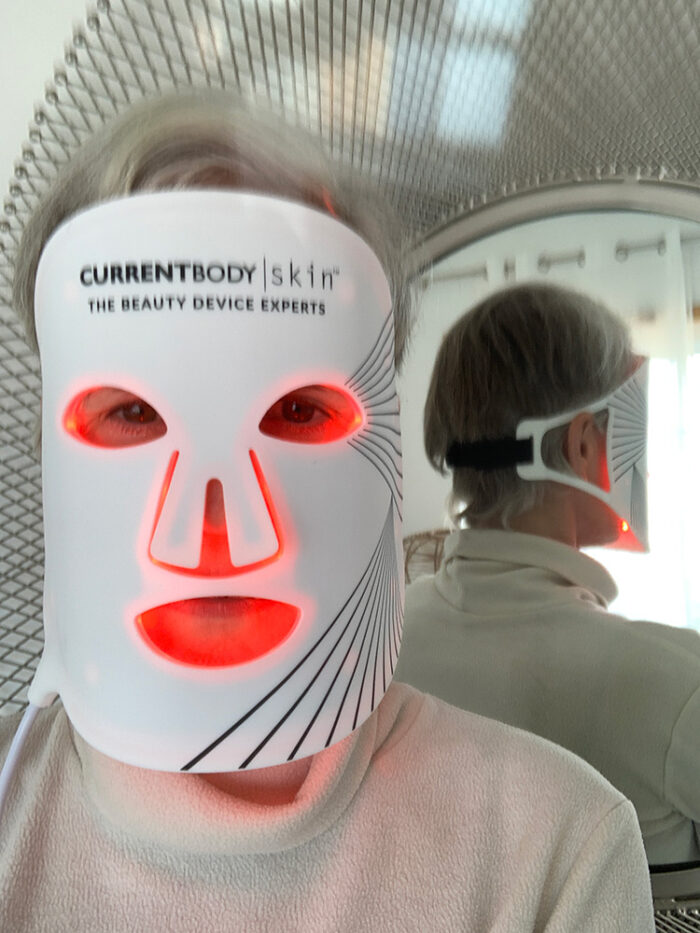 What kind of results can you expect from the Currentbody LED face mask?
Currentbody mentions that you can expect a more nourished, healthy skin that is visibly glowing and is clinically proven to reduce wrinkles by 35% in just 4 weeks.
I can't confirm if that is true, as I haven't used the mask for long enough. I'm also using it together with other facial products so it would be hard to isolate results.
So should you start using an LED mask?
From my research and my own experience there seem to be few if any downsides using it. And most articles and research seem to agree that there are clear benefits.
According to Currentbody, A-Listers like Carey Muligan, Kaley Cuoco, Kristin Davis and Renée Zellweger have already started using it. You definitely see Currentbody face masks come by regularly on Instagram.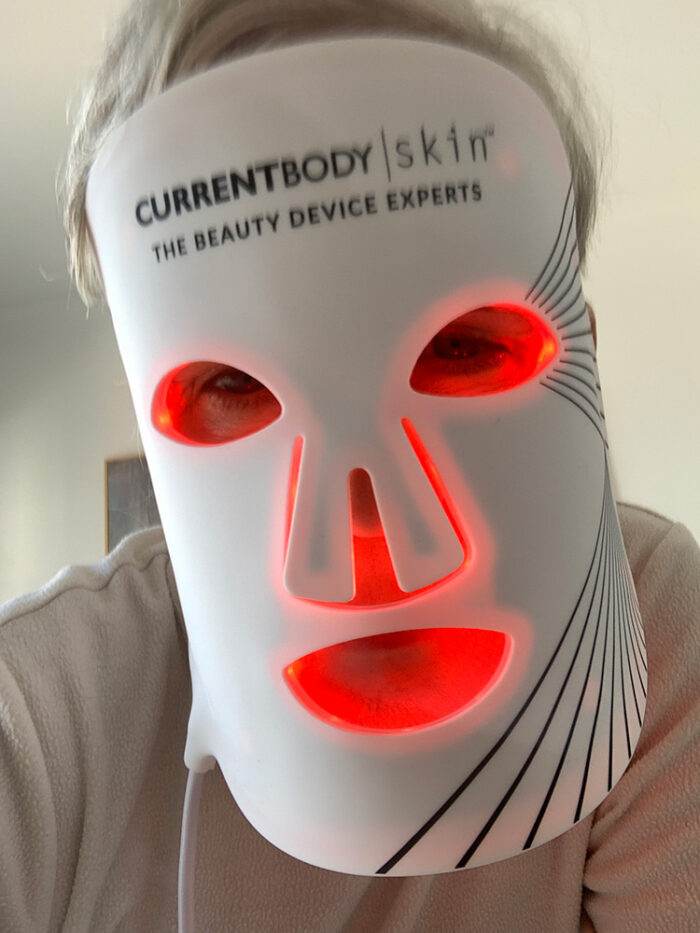 I've certainly felt that my skin looks more radiant and I'm interested to see the long-term effects of using this mask.
Since it's so easy and quick to use (it can become your excuse to relax or meditate for at least for 10 minutes per day!) I see only upsides from using this mask.
In my opinion, healthy and radiant skin is a great attribute as you get older and should be a priority for self care. Of course, good skincare is essential as is protecting your skin from the sun. If red and infrared can help stimulate collagen and even out skin tone in addition to that, I'm all for it.
This is an FDA approved device that you can use long-term and can be a good investment for your skin.
Want to try it at a discount?
Currentbody has been kind enough to extend a discount code to 40+style readers. Just use the code CB40PLUS and get 15% off ALL LED Devices. This is the mask I'm wearing. You may also want to consider the mask AND neck kit. The neck is often overlooked but it's an area where age can show up the most.
What do you think? Have you used an LED mask? Would you consider it?
like this post? share it on pinterest!
This article was sponsored by Currentbody
Want to get more articles from 40+style in your inbox, subscribe here.
You can also connect with 40+style on Facebook, Instagram or Pinterest.
Support 40+style by using the links in our articles to shop. As an associate for Amazon and many other brands, we receive a small commission (at no cost to you) on qualifying purchases which enables us to keep creating amazing free content for you. Thanks!