Ever wonder what to wear in Singapore? As you may know I live in Singapore which is a hot and humid place. So let's discuss how to dress in Singapore and stay cool throughout the day.
Dressing for Singapore weather
The weather here can make dressing in a way which is cool, comfortable AND stylish difficult.
But, I've learned a few tricks along the way which I share with you now to make thinking about what to wear in Singapore easy – whether you're visiting, vacationing or relocating.
Temperatures range from about 33 C (89.6 F) during the day in Singapore to 22 C (71.6 F) in the evening. This is combined with a very high humidity level of about 94%.
As you can imagine, the weather is rather sticky here.
This weather is pretty much the same the whole year round.
'm not complaining though; I very much prefer the Singapore weather to that of my home country The Netherlands, where it is usually cold and miserable.
But how to dress for Singapore?
Now you may think that dressing for Singapore is a breeze, which it is, if you stay outside all the time.
In that case all you need are some shorts and a singlet or t-shirt.
The less you wear, the better and pure cotton, linen or silk is mandatory.
You may want to pack an extra t-shirt in your bag, because you will sweat all over in no time at all.
So make sure to take your deodorant with you as well!
HOWEVER, most of you will not just walk outside, as a lot of Singapore's activities take place indoors.
And then dressing in Singapore comes with whole new challenges.
So here is a quick how to dress and pack for Singapore guide in case you ever come to visit me 🙂
Singapore's changing temperatures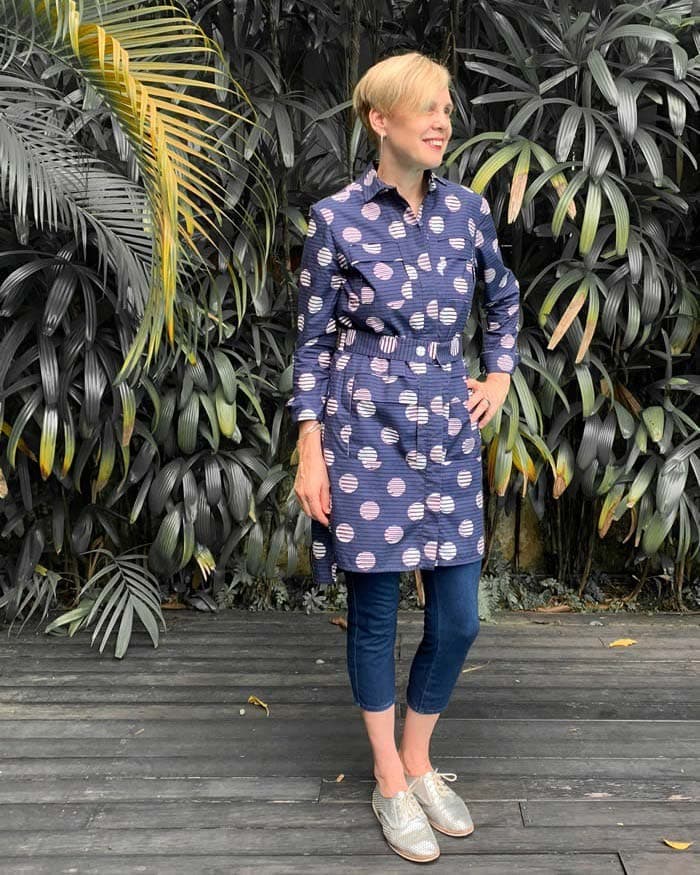 Above I am wearing my Rollie sneakers. It's rare to see women wearing heels in Singapore except for nights' out because you will tend to do lots of walking.
Get this similar printed shirtdress and denim leggings.
Although the outside temperature is hot and pretty much the same whole year round, it is a different story when you go indoors.
Air conditioning is everywhere in Singapore and the Singaporeans like their aircon freezing cold.
On a recent visit to the chiropractor the lady was wearing a big winter jacket and scarf indoors. No kidding!
The problem is that even though you may not like the aircon, it is often centrally controlled and in many offices and buildings you cannot turn it off.
My general dressing advice for what to wear in Singapore
So my advice to everyone visiting Singapore is to always take a cardigan, pashmina or scarf, wherever you go.
You never know when freezing temperatures (indoors) are going to hit you.
Blazers are not so practical as they are far too hot outside, but pashminas and cardigans can easily be stowed away in your handbag.
And if you take both, you will be covered for every situation.
My outfit below is cool and comfortable. Check out this similar midi skirt and pair it with this geometric print blouse I saw in Amazon.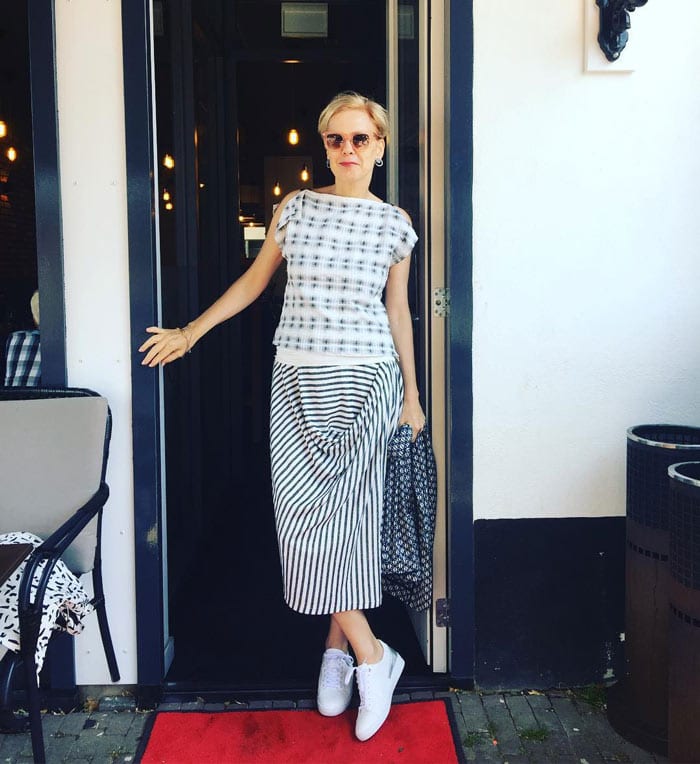 Here is more detailed advice for several locations:
What to wear in Singapore in…
The office: temperature can vary a lot, but some offices are really freezing cold. Business attire tends to be quite formal. Depending on the temperature in your office it's ok to wear suits with blazers.
It's always best to wear layers as you never quite know what the temperature is going to be like. I always see visits to business offices as an opportunity to wear a nice suit or pants.
A Taxi: taxis are affordable and everywhere in Singapore. So chances are you enter one on your stay here. The temperature inside taxis here is freezing cold though, so be prepared.
The Park: anywhere outside in Singapore, you want to wear as little as possible. Singles and shorts / skirts are the most comfortable. Or wear a long sleeved very thin cotton shirt so you're covered and protected from the sun.
Metro (MRT) is air-conditioned everywhere.
Shopping malls tend to be on the cold side too, although you usually get away with a light scarf here. There are a LOT of shopping malls in Singapore so expect to spend a lot of time there, when you're into fashion!
The Cinemas are very cold as well, so I always wear long pants when going there. This is actually a good occasion to wear a jacket as well. Most cinemas are inside shopping malls, so you can try on your 'warmer' clothes for once.
Fairs tend to be a place to show of your best day clothes. So dress up for the occasion.
Parties: definitely dress up for these. If outside, then wear your sexiest party dress. Do the same for inside but be sure to bring some cover.
Fancy bars and clubs: guys be sure to wear long pants! Although you can wear shorts in many bars here, some of the fancier ones (like the popular Skypark bar at Marina Bay Sands) require you to wear long pants. Otherwise they will not let you in.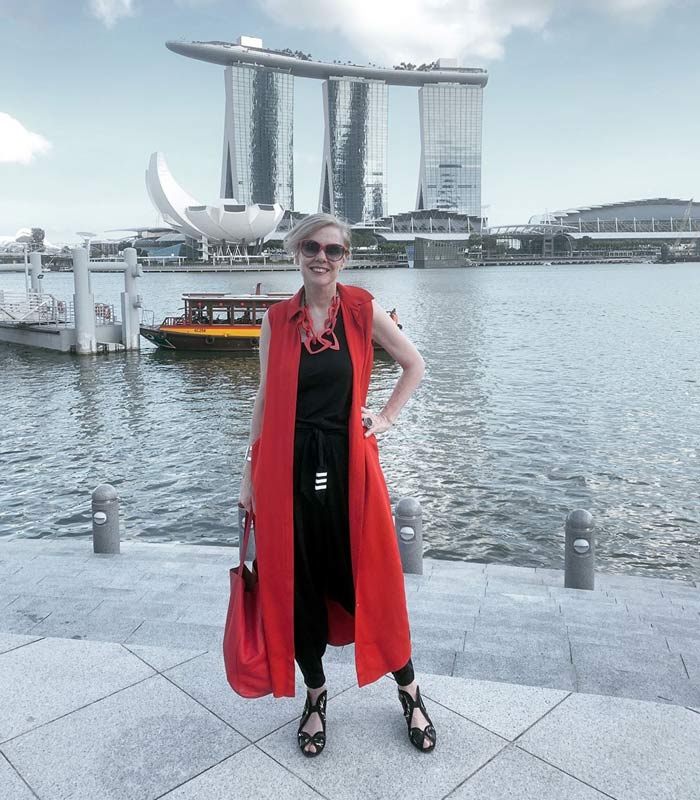 Get this similar black jumpsuit and long red collared vest to copy this look.
A "what to wear in Singapore" travel capsule
If you're visiting for a short break in Singapore, you will want to think about creating a travel capsule!
I tend to think that keeping your capsule to three colors will mean you can mix and match everything in your closet. Go for a mix of prints, patterns and plain pieces to give your capsule interest.
Singapore clothes: Wear natural fabrics
I love natural fabrics not only because of the way they look, but because they keep me cooler in the hot climate of Singapore.
If you wear polyester or other manmade fabrics here, they tend to keep heat, and sweat, in and you can soon start to feel pretty uncomfortable, making them impractical options for what to wear in Singapore.
Having said that, some of the modern fabrics used in athletic wear are especially designed to be moisture-wicking, so if you are planning on some walking or hiking through nature parks and reservoirs like Macritchie or taking a trip to do some cycling on the little island of Pulau Ubin, you could think about packing some lightweight tops and shorts or leggings.
Check this similar white crop blouse and denim palazzo pants to recreate this look.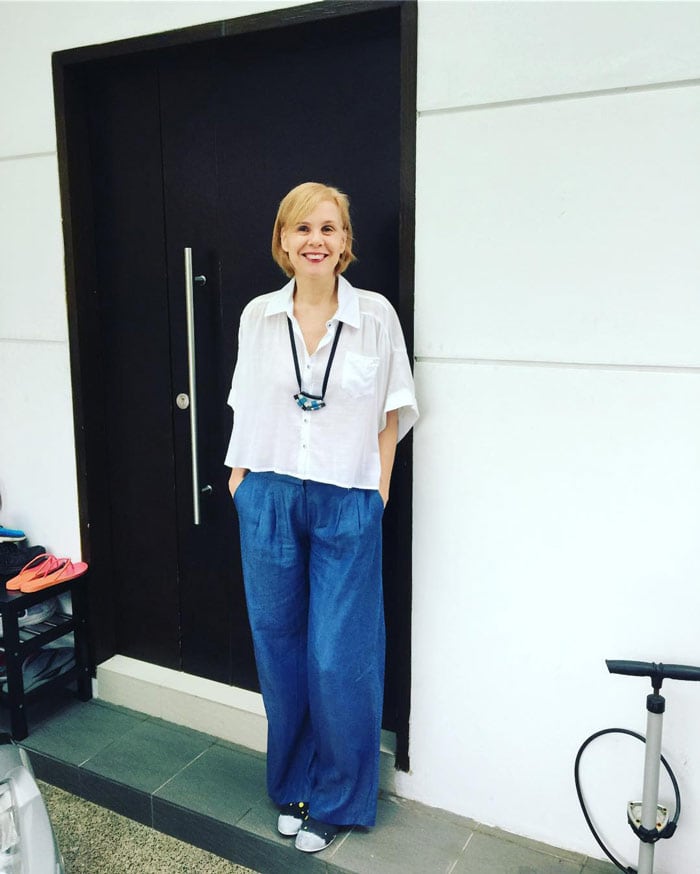 Brands which are good for a Singapore outfit
Think about where you can get pieces made from natural fabrics.
Three places you could try when thinking about what to wear in Singapore are Eileen Fisher, Boden and Marks and Spencer
What style of clothing do residents wear? Is there a Singapore dress code?
A good way to decide what to wear in Singapore is to think about what locals wear. You will find that Singapore is a place of fairly classic dressing. It's unusual to see anything too outlandish in this cosmopolitan city.
Most Singaporeans dress very formally for work. However, when not at work or a party, Singapore tends to be a very casual place. Most people live in tee-shirts, shorts and flip-flops.
Tops for Singapore
As with any trip, you want to make sure that the pieces you take with you to wear in Singapore are versatile and will work hard in your travel closet.
Choose tops in natural fabrics that you can wear with your shorts, skirts and cropped pants. You can always dress them up with jewelry. Also make sure you have a top that is a little smarter for evening.
Eileen Fisher silk and cotton top – J.Crew silk top – Boden top – Boden silk shirt
Coats, jackets and cardigans for Singapore
On the face of it, it may seem ridiculous to pack outerwear for Singapore. However, if you are planning on spending any time at all in taxis, malls, cinemas and certain bars and restaurants, you will find that the air conditioning is very cold.
You may want to slip a cardigan or lightweight blazer over your outfit to ensure that you don't get too chilly. Just bear in mind that you are likely to want to fold up whatever coat or cardigan you take with you.
Singapore can also have rain at any time of year; sometimes very heavy rain showers. However, I tend to carry an umbrella with me rather than a raincoat or anorak as I find I get too hot outside in an extra layer.
If you are doing a fair amount of walking, however, you may prefer to pack a jacket. Make it a lightweight, travel jacket that you can fold up and pop into your bag in cash of rain. Otherwise, you may end up wearing one of those rather attractive plastic tourist ponchos.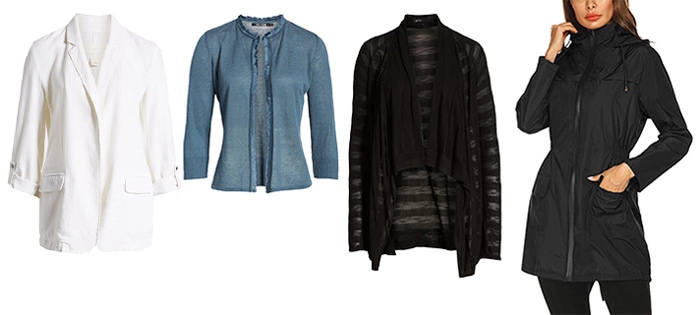 Caslon linen blazer – Nic+Zoe cardigan – son drape cardigan – Doreyi packable raincoat
Singapore fashion: Pants for Singapore
You will want a mix of shorts for day and pants which can be used for both day and evening.
You may find that it makes your packing easier to choose mainly plain pants for your "what to wear in Singapore" capsule so that you can mix and match your tops more easily.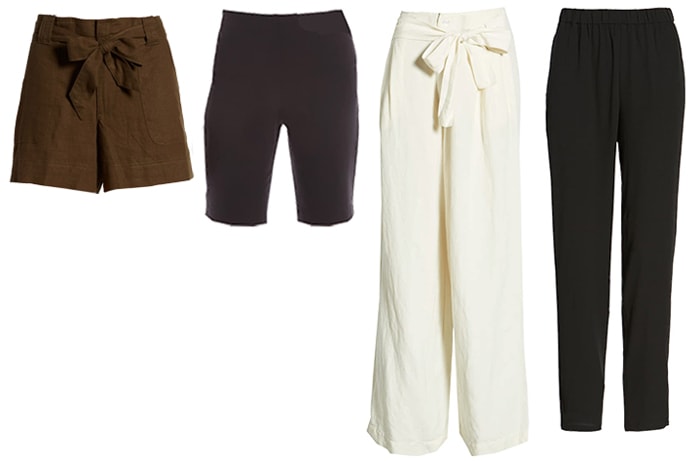 Wit & Wisdom belted shorts – Karen Kane city shorts – Rails linen pants – Eileen Fisher slouchy silk pants
Dresses and skirts for Singapore
Pack a nice evening dress in case you want to head to a swish restaurant or bar. While Singapore is quite casual by day, and you will definitely see many people at bars, particularly those which are indoor/outdoor venues, still in tee-shirts and shorts, there are also lots of opportunities to dress up.
Singaporean women definitely like looking elegant and classic.
I would also pack a dress which can take you from day to evening, and skirts or dresses you can wear casually during the day.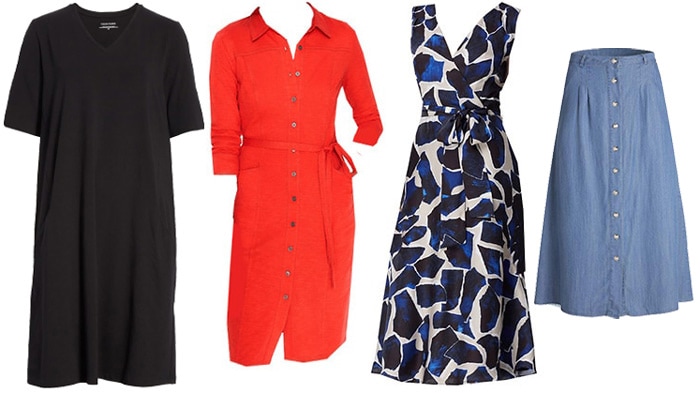 Eileen Fisher a-line dress – Boden shirt dress – Tahari wrap midi dress – Tronjori tencel denim skirt
Swimwear for Singapore
Depending on your trip itinerary, you may well find yourself doing a spot of swimming in Singapore. You could opt to head to one of the beach clubs at Sentosa or you may be very glad of a cool dip in your hotel pool after a day of sightseeing.
As you would expect from a city sitting almost on the equator, Singapore is hot and humid. You can get burnt whether the sun is shining or it is an overcast day. So, I would also opt for a rash vest to make sure you can cover up if you want to spend the day at the beach either relaxing or paddleboarding. I'd also include a cover-up in case you want to pop that over your swimsuit for lunch.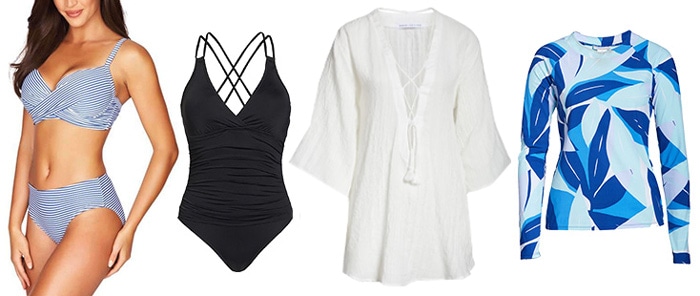 Sea Level bikini top / Sea Level bikini bottom – La Blanca one-piece swimsuit – Robin Piccone tunic cover-up – La Blanca rashguard
Shoes for Singapore
Unless you are working while you are in Singapore, or you are heading out for a meal or party which doesn't require much, or any, walking, Singapore is all about flat shoes.
It's quite rare to see anyone wearing high heels on the streets of Singapore. Think about flip flops and comfy shoes that you can walk in to see sights such as the Botanic Gardens, Marina Bay Sands or Gardens by the Bay, or that you are comfortable in for a spot of retail therapy on Orchard Road.
Plus, the benefit of flip flops is that if it does rain, your shoes won't get ruined.

Havaianas leaf pin sandals – Eileen Fisher Joy sandals – Louise et Cie sneakers – Eileen Fisher asymmetrical strap sandals
Accessories for Singapore
Umbrellas, hats and sunglasses are all vital accessories in Singapore.
Singapore is one of the safest cities in the world, so you would have to be very unlucky to fall victim to crime.
I've even seen people leaving their mobile phones on the table to "chope" or keep their table in the local hawker markets while they pop to one of the food stalls to put in their order – not that I would recommend that. The other local option is to put down a packet of tissues!
But, you may still want to opt for a specially designed traveller bag so you can keep all of your valuables safe, and keep your hands free.
When choosing a travel bag, make sure you find one you can fit a bottle of water in as you will want to carry water with you wherever you go to make sure you don't get dehydrated.
For more inspiration, take a look at this piece on the best travel purses.

Nordstrom tote bag – Sole Society bag – Travelon anti-theft bag – Something Navy croc embossed belt – Something Navy snake embossed belt – BP. drop earrings – Kate Spade stud earrings – Knotty triangle pendant necklace – Kate Spade statement necklace – Brixton straw fedora – Nordstrom metallic wrap – Longchamp round sunglasses – Knirps umbrella
A capsule wardrobe for Singapore
Read our ultimate guide to creating a capsule wardrobe that works best for you.
Conclusion
In the end, packing for Singapore is pretty easy. A lot of breezy clothes, and some scarves and cardigans. Enjoy the lovely temperature in the evenings, where you can sit on a terrace with almost nothing on and take in the atmosphere of Singapore! You should definitely come and visit.
Continue reading:
So will you be planning to come to Singapore anytime soon?

P.S. If you are indeed coming, you may also like to read my Singapore shopping guide
Like this post on what to wear in Singapore? Share it on Pinterest!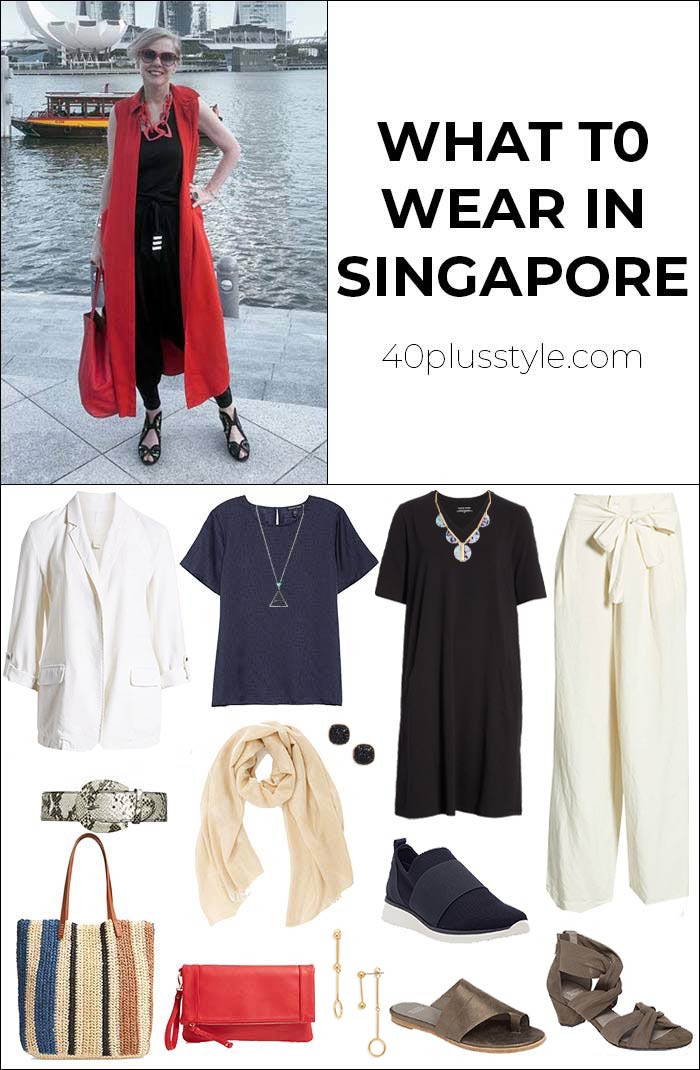 Want to get more articles from 40+style in your inbox, subscribe here.
You can also connect with 40+style on Facebook, Instagram or Pinterest.
Support 40+style by using the links in our articles to shop. As an associate for Amazon and many other brands, we receive a small commission (at no cost to you) on qualifying purchases which enables us to keep creating amazing free content for you. Thanks!