I travel a lot and I used to take a lot of clothes on those travels too.
Although I'm definitely not a carry-on-only kind of girl, I'm taking less and less as I travel and I have become increasingly smart with packing. I still want to fit as many outfit choices as possible into my luggage though!
My friend Alex from Travel Fashion Girl, however, is an absolute champion when it comes to packing and she ALWAYS travels carry-on-only. This is even more surprising considering how smart she always looks.
One of her secrets is to pack with packing cubes. And because she wasn't happy with the packing cubes available on the market, she created her own.
Introducing the Compass Rose Travel cubes
Alex developed these packing cubes to her specific needs. They are strong, numbered, have different colors and fit perfectly in your carry-on suitcase.
If you were like me and have no idea how to use packing cubes, you will love this video she created. You will be amazed how much your fit into these little cubes.
Unique packing strategies
Each pack of travel cubes has four cubes. There are two red cubes and two gray ones, and they are numbered one to four to make it easier for you to devise the best packing strategy to suit you, your trip and your family.
They also fit the exact width of a carry on suitcase to allow you to maximize space.
Here are the ways to use them to make sure you can travel with just a carry-on, and arrive perfectly organized, so you can find what you need straight away, whether you want your pajamas out immediately as you're arriving at night, or you want your first sight-seeing outfit so you don't waste a moment in a new city.
1. Organize by item
You could use the numbers of the cubes to pack by item. So, you might put all your tops in number 1, all your bottoms in number 2, your underwear and accessories in number 3 and your dresses in number 4.
This is a great system for anyone who packs a capsule wardrobe, as you know that everything will go with everything else, so it really doesn't matter which top and pair of bottoms you pick out first. It's also a good option for you if you are only traveling to one destination, with one weather system.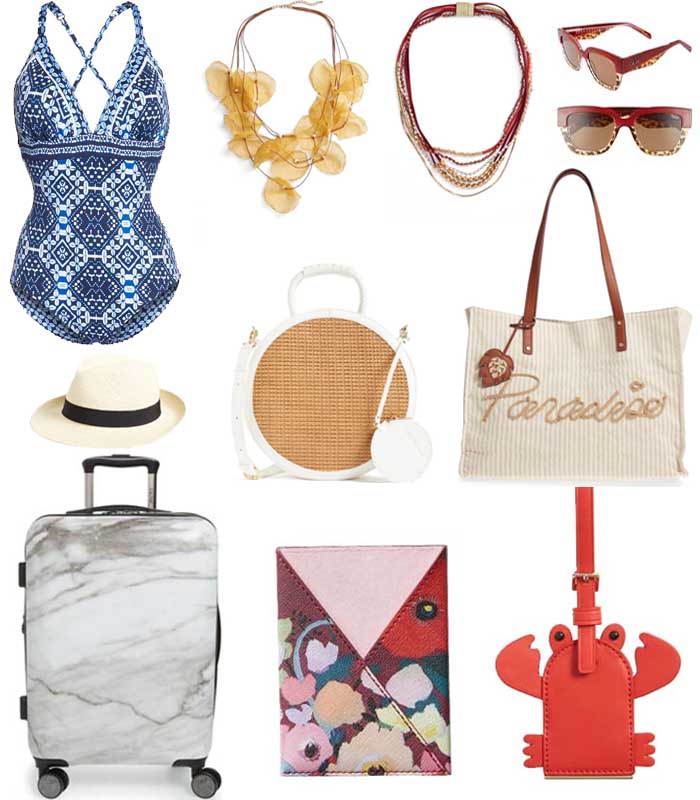 Lieth sweater – Lieth abstract scarf – Kate Spade sunglasses – Hobo credit card and passport case – Bose headphones – Compass Rose Travel Accessories packing cubes
2. Organize by outfits
I love this idea for traveling on a short break. So, just as you would set out your outfit for the next day the night before, you can set out four outfits here.
Use each cube for a separate outfit, and have everything you need in there, including your tops, bottoms, accessories and underwear, so you don't need to worry about digging around in your suitcase to find anything.
This  could also work for longer trips as, if you are heading somewhere warm and don't need bulky winter clothes, you should be able to fit in two outfits to a cube. Or you could opt for two tops and one pair of pants or a skirt per cube, which all go together.
For more storage ideas read our article on the best vacuum storage bags to store your clothes and save space.
3. Organize by weather
A great option if you are traveling to two different destinations with different climates, or maybe if you are planning to combine a trip to the beach with a trip to the mountains.
You can use the red cases for your warm weather clothes and the gray ones for the pieces you need for cooler climes.
4. Organize via destination
If you're going to two distinctly different destinations, you can pack for each destination in your packing cubes.
For example, our editor Liz recently went to Bali. But, to two completely different destinations. For her visits to lots of temples around Ubud, she needed pieces which were respectful, and which covered up her shoulders and knees. For surf destinations like Canggu, which has a younger, more relaxed vibe, she needed completely different clothes. You could pack those in separate cubes.
You might be planning to combine a city break in Cape Town with a safari. Or, you may be heading to the beach before going inland and spending some time in the countryside.
5. Organize by family member
Now, I'm not suggesting that you can fit in a week's worth of clothing for your whole family in four packing cubes.
But, if you're heading for a night or two away as a family, then you could organize your cubes and give each family member one numbered cube.
It may be that you could share two packs of cubes, and give each family member two red cubes or two gray cubes.
6. Organize by activity
Do you have a trip planned where each day has a distinct activity? It may be that you've put together your own itinerary, or you are due to travel on an organized tour where you have your itinerary in advance.
So, if you are due to do some city sightseeing or shopping one day, followed by a hike the following day, a day at the beach and then a boat trip, you can pack each cube to suit each day.
For more ideas for traveling light, read this piece on packing for a 10 day trip in a carry-on.
Want to make your next trip easy through packing light?
Give these packing cubes a try. My friend Alex has put a lot of love into these cubes and you can check out the many 5 star reviews on Amazon. And if you have a notorious overpacker in your family they would be a great Christmas gift too!
Have you ever used packing cubes? What are your strategies for packing with a carry-on only?
Like this article? Save it on Pinterest!
Want to get more articles from 40+style in your inbox, subscribe here.
You can also connect with 40+style on Facebook, Instagram or Pinterest.
Support 40+style by using the links in our articles to shop. As an associate for Amazon and many other brands, we receive a small commission (at no cost to you) on qualifying purchases which enables us to keep creating amazing free content for you. Thanks!