As I'm going through the first 4 steps of the 21 Steps to a More Stylish You style course with the participants, it's clear that many women struggle with adapting their clothes to their environment.
How much do you adapt, if at all?
On the one hand, you want to stay true to your style and show your unique personality. On the other you may want to fit in and not stand out too much which may mean that you dress more casually or in more neutral tones than you may otherwise have done. I have already written about the latter in my article Why do we all want to blend in so much so you may like to go there after reading this article.
How much should you adapt your clothes to your environment or the people you meet?
It's very normal to adapt your clothes to your environment or the people you meet. I noticed for example how my style changed with every country I lived in.
You often see that girlfriends are dressed in a similar way too.
I often take into account who I'm meeting and may dress a bit more colorful or a bit more arty. For example when I knew I was going to meet women like Sue Kreitzman and Diana Gabriel, I want to make an extra effort to embrace color and print.
Notice how I blend right in! This is definitely a bit more colorful than I usually dress, but these items are still from my wardrobe and pieces I love, even though I normally would not combine them together.
Here is that same pant which I wore for a gathering of style club members in LA. This is totally true to my style. A bit of asymmetry, a bit of color, paired with a statement necklace and fabulous shoes. Note how we all ended up mostly solid color on top with quite a lot of neutral thrown in.
When I met up with Rosemond to go for dinner in Los Angeles, we both had the same idea of wearing pants and a top. Even though I'm a bit more dressed up than her.
I did not completely adapt to Susan's style which I know is more neutral. Still we blend in quite well together as we both embrace big sunglasses and accessories.
It's funny how every time I meet Teresa we always end up in a similar look blending right in. Even though we never discuss outfits beforehand and colors are always totally different.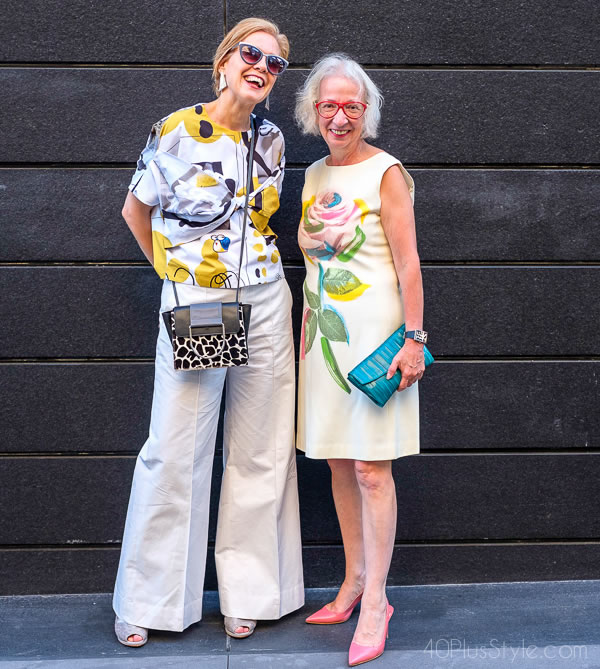 Looks like we are all got the memo for a printed top for the Style Club meetup in New York.
Definitely blended right in with these colorful ladies Leslie and Dayle.
Pure coincidence that we ended up looking very similar in this meetup, although I know that Diana loves to wear black and white every now and then.
The trick though is to not be a complete chameleon so that you can stay true to your style. Even though I dressed with the people I was meeting in mind, I still dressed completely true to me.
How to dress more polished when you live in a very casual environment?
If you live in a very casual environment, it's tempting to just blend in and dress in a very casual and neutral way.
However, if you start blending in too much and just adapt completely to your environment, you also lose touch with yourself if that casual style does not reflect who you are.
Let't use myself as an example.
I'm often (one of) the best least casual people in the room. Last week I went to a business conference with predominantly men in attendance, whose dress code was t-shirt and jeans.
I instead opted for my crop flare jeans or cropped pants in black or white with an arty top and a nice jacket. I wore jewelry on all days and wasn't afraid to wear color too.
Did I stand out? For sure. Was I staying true to myself and totally ok with that? Absolutely!
Of course I adapted a little bit to my environment as well. I did not wear my most colorful or trendy clothes. But my 'blending in' didn't take me away from my own style. If I had gone too far in that regard and just opted for the blend t-shirt and jeans that most wore, I would not have felt like myself, which would not have allowed me to shine.
How to get the confidence to stay true to yourself?
Staying true to yourself is a process. You may find yourself a little bit uncomfortable at first when you are wearing a statement necklace and you don't see any other women in the room wearing any kind of jewelry.
So take baby steps at first. Start adding just one little accessory to the grocery store or an informal meetup. Once you're totally comfortable with that, you can take it up a notch by wearing a colorful top.
You will find that people will just start accepting you for who you are and even take delight in the fact that you're just putting a little bit more effort into your everyday outfit.
If you're not sure what your true style is or if you want a little help with getting comfortable with your style, you will love my FREE 5 day Find Your Style Challenge. You can join here.
How much do you adapt your clothes to friends you are meeting?

Photography of photos 1,2,6,8,9 by Denton Taylor
Want to get more articles from 40+style in your inbox, subscribe here.
You can also connect with 40+style on Facebook, Instagram or Pinterest.
Support 40+style by using the links in our articles to shop. As an associate for Amazon and many other brands, we receive a small commission (at no cost to you) on qualifying purchases which enables us to keep creating amazing free content for you. Thanks!