Although 76% of us women prefer to shop for clothes in a store, there is much to be said for the overall convenience and hassle-free experience of shopping for the odd item of clothing online – as long as you are familiar with the retailer and the way they fit and size the clothes.
But size and fit is only one part of the equation – how do you judge the quality of fabrics when you shop online?
Here are some useful tips.
Use all of the available viewing tools to zoom in on the fabric
These days, e-tailers have an amazing array of viewing tools that allow you to zoom in and out on the fabric – so use them!
For example, here is a blown-up section of a cashmere cardigan wrap on Bluefly.com – see how the zoom tool allows you to get a very good look at the details of the knit:
Use the zooming tools to check that:
The patterns (if any) match up at the sleeves and lapels
Any zips on the item are lying flat and are covered properly with a placket
The item has been properly cut along the grain or nap of the fabric (especially easy to tell on thick fabrics with a natural nap such as corduroy or velvet, but with the zooming tool, it should be easy to check for silk and cashmere also).
Here is an example of a zoomed-in look at a patterned jacket, allowing you to check that the pattern at the sleeve matches the flow of the pattern elsewhere (it does):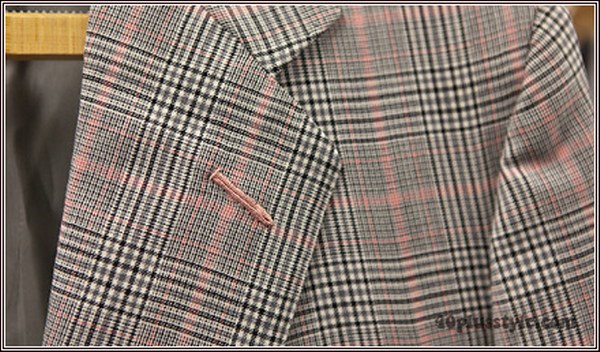 Where possible, use motion (video) and rotation tools to view the fabric from all angles
Search for e-tailers that give you the full 360 shopping experience, such as Asos.com, Netaporter.com, and Shopbop.com. When viewing an item on their pages, watch out for the small video icon at the bottom of the page and press it to see the item of clothing modeled on a live model, who will turn and show you how the clothes "behave".
This feature is great, because it allows us to avoid very expensive mistakes – for as we all know, an item lying flat on a white website screen can look very different when worn on a real person. With these animations and 360 rotation tools, you will be able to tell if a fabric moves or falls too stiffly, or if it is too revealing or thin. Sometimes the hemming will be uneven, and these tools will help you spot that.
The Asos.com runway system of showing you the clothes is particularly brilliant, as you get a good, long look at how the fabric behaves in long motion.
Read the item description carefully for important clues about the fabric
We are visual creatures, and naturally our eyes are drawn to the image of the clothing before any text. But it's important to read the fine print of the item description carefully, because they give us important clues about the quality and maintenance of the fabric. Keep an eye out for the following details:
The percentage of natural fibers versus synthetic
100% natural fibers or as high as possible the percentage is better for sweaters and blouses (silk and cashmere), but note that items such as jeans fit better with a percentage of Lycra for stretch, and basic t-shirts will wash and keep their shape better with a percentage of acrylics or other synthetics mixed in with the cotton.
Maintenance
Fabrics such as wool (angora and cashmere) and silk require either hand-washing (and flat-drying) or dry-cleaning. It is up to you what level of maintenance you are willing to invest in your chosen garment, but don't buy anything without thoroughly understanding the level of maintenance required to keep the fabric in tip-top condition.
Other Details
You may be able to discern some of this by using the zoom tools, but look to see if there are additional clues about the fabric in the item description such as extra buttons or zips included with the item (handy for replacing old or broken ones), tensile weight (important for silk and cashmere to judge thinness or sheerness of the fabric), details about the lining and internal pleating (note that linen jackets will normally not have a lining, but that their stitching must be impeccable in order for their structure to hold up).
If you want to know more about fabrics and their unique properties be sure to also check this article on 40+Style.
I hope this guide proves helpful to you, but is there anything I've forgotten? What handy tips have you picked up over the years for judging the quality of fabrics when shopping online?
Want to get more articles from 40+style in your inbox, subscribe here.
You can also connect with 40+style on Facebook, Instagram or Pinterest.
Support 40+style by using the links in our articles to shop. As an associate for Amazon and many other brands, we receive a small commission (at no cost to you) on qualifying purchases which enables us to keep creating amazing free content for you. Thanks!