It's important to stay fit and healthy. But if your bust moves around when you're exercising, you're never going to be comfortable. Below you will find the best sports bra options to hold everything where it should be while you work out.
Cathy @themiddlepageblog above (read her style interview here) chooses a bra that matches her leggings.
Check out this blue printed racerback bra and leggings from Zella. Here is another set you may consider from the same brand.
Susan @susanjakovina above chooses a palette of soft pastels for her sportswear.
Recreate her outfit with this similar longline sports bra (another option here) and leggings.
Angela @angelamashelle above looks great in her matching green activewear set.
Check out these workout sets from Sidefeel and LINGD, and these sports bra and leggings options from Nike.
best sports bras in store now
Now, let's take a look at some of the best reviewed and most recommended sports bras you could choose for your workouts.
I'd love to hear your own recommendations too. If you've found a comfortable, supportive, stylish sports bra, you can tell me in the comments at the bottom.
Amazon essentials
If you workout regularly and are looking for an affordable option, you could choose a pair of Amazon Essentials bras. Reviewers say they are comfortable, soft and fit well. Although some said these wouldn't work for high intensity running, so they may be best for yoga or pilates.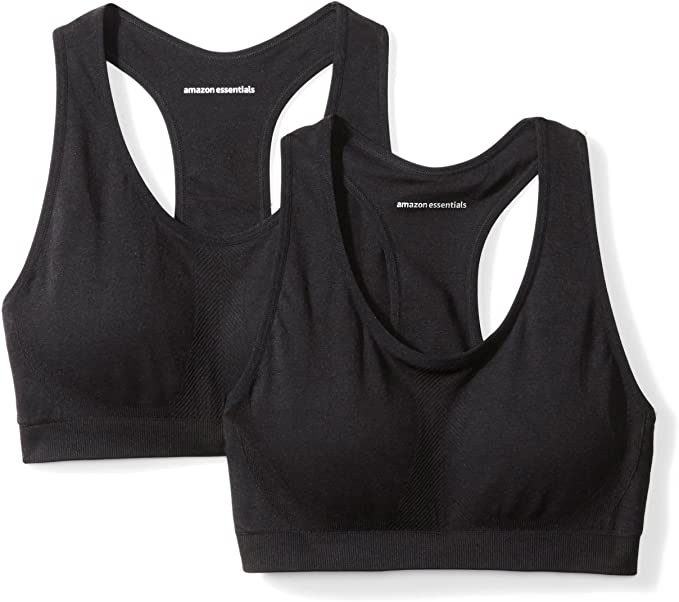 Amazon Essentials Light-Support Seamless Sports Bras
Best sports bras for large breasts: Wacoal bra
Wacoal is often well-reviewed for women with larger busts. Many sports bras don't have underwiring, but the Wacoal bra (below) does, which means it is extra supportive. It is available in a wide range of colors and sizes and it has incredibly positive reviews from women with larger chests.
natori supportive sports bra
With a hidden underwire and foam cups, the Natori bra (below) is ideal for yoga. You can wear as a traditional bra, or change the straps to a racerback.
Natori Yogi Convertible Sports Bra
HEATHYOGA SPORTS BRA
If you exercise several times a week, then a pack of three bras will give you enough to wash and wear. The Heathyoga bras (below) are designed for high and medium impact exercise.
Heathyoga High Impact Sports Bras
Best bra for high impact – Shefit bra
The high impact Ultimate sports bra® from Shefit is a popular choice for women who want to keep their bust in place while working out. Available in multiple colors, this bra gets a lot of raving reviews.
high impact Ultimate sports bra® from Shefit
Running girl bra
The Running Girl bra (below) has crisscross straps to give freedom of movement, and has good reviews from wearers who say friends have mistaken it for higher end brands.
RUNNING GIRL Criss-Cross Back Padded Strappy Sports Bra
Hanes racerback bra
If you like a wire free bra, then the Hanes racerback bra could be a good choice. Reviewers say this is an ideal option for lower impact workouts, or for days when you are relaxing at home.
Hanes Seamless Racerback Sports Bra
Evercute sports bra
The double crossover straps on the Evercute bra (below) make this a stylish option. You can opt for packs of two, three, four or five, and there's a big choice of colors. Reviewers say these work well for large busts, with no spillage over the top.
Evercute Cross Back Low Impact Sport Bras
Padded strappy sports bra
Another option for you that comes in multipacks so you can be sure to always have a clean bra for your workout routine. The Mirity racerback sports bras have more than 50,000 largely very positive reviews from women who say they are comfortable for larger breasts and don't give an unflattering "uniboob" effect like some other sports bras.
WIRE-FREE sports bra
If you like a longer line sports bra that looks more like a crop top, the longline sports bra (below) is well reviewed by women who say it is a good dupe for a well-know brand.
THE GYM PEOPLE Wirefree Longline Sports Bra
seamless sports bra
Simple, and seamless, the Champion sport bra (below) has wide straps and mesh to keep you comfortable and cool. Reviewers say it offers medium support although it doesn't have any paddings.
Champion Freedom Seamless Racerback Sport Bra
running bra
You can choose from a regular sports bra, or a longline tank top with built in bra with the crisscross bra (below). Reviewers say this is a supportive choice for larger breasts but also has additional padding if you feel your chest needs a little extra oomph.
RUNNING GIRL Crisscross Back Bra
high impact workout bra
If you'll be doing high-impact exercise like running, trampolining, burpees or skipping, then you'll need a high-impact bra. Women who have tried the Fittin bras (below) say they are comfortable choice for larger busts.
FITTIN Padded Seamless High Impact Racerback Bras
High impact gym bra
Another good high impact choice to try is the Mirity bra (below). These have more than 50,000 mainly positive reviews from women who say they keep everything in place while being comfortable and affordable.
MIRITY High Impact Gym Activewear Bras
tank style bra
Simply styled, the Fruit of the Loom tank bras (below) have more than 70,000 mainly good ratings from women who say they are particularly good if you have any pain related condition like fibromyalgia.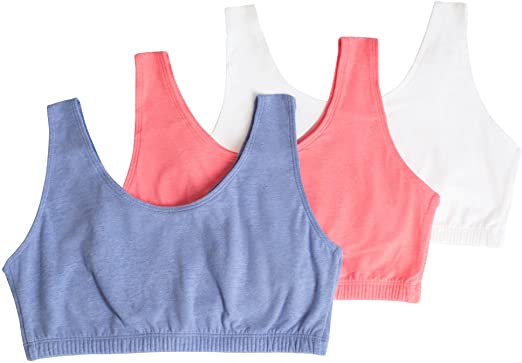 Fruit of the Loom Built Up Tank Style Sports Bras
Cross back bra
Wirefree, the Akamc bras (below) have an elastic band for support instead. One reviewer who is 72 said she liked these so much she ordered another set.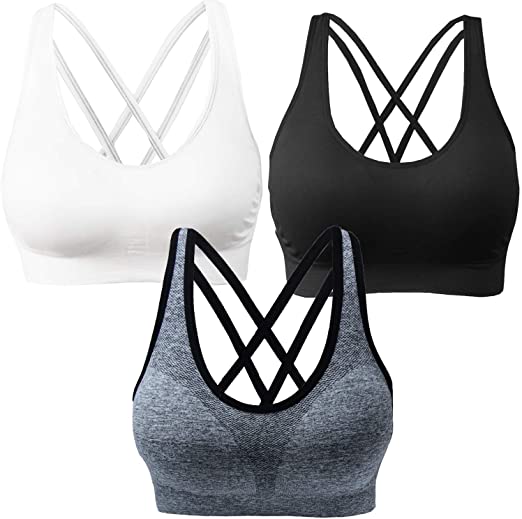 AKAMC 3-Pack Cross Back Wire-free Sport Bra
Curvy sports bra
Many of the bras above are very well reviewed by women who have larger busts, and the Champion sports bra (below) could be another option to consider as it is specifically designed with curves in mind. Reviewers say they like these as they have built-in padding that doesn't bunch up.
Strappy sports bra
The Angool bras (below) have a stylish, sporty look and are designed for medium to light workouts.
Matching bra and leggings
If you would like a matching set, you could try the bra and leggings below. If you want some extra coverage but still want to show off your workout set, you could wear a semi-sheer tunic over the top.
Don't forget to tell me about your recommendations in the comments below.
Continue reading:
Like this article on the best sports bra options? Share it on Pinterest
Feature image by Angela @angelamashelle
Want to get more articles from 40+style in your inbox, subscribe here.
You can also connect with 40+style on Facebook, Instagram or Pinterest.
Support 40+style by using the links in our articles to shop. As an associate for Amazon and many other brands, we receive a small commission (at no cost to you) on qualifying purchases which enables us to keep creating amazing free content for you. Thanks!