Finding the perfect pair of jeans is hard. But it can be even trickier for the apple shape because you will want to streamline a bigger waistline while making the most of your slender legs. This article will give you ideas for the best jeans for apple shape figures to help you find your most flattering pair.
Finding jeans for the apple shaped body
Of the five body types we feature on 40+Style (apple, pear, hourglass, inverted triangle, and rectangle), the apple shape tends to carry weight around the mid section.
The priority for most apple shaped women is to hide or camouflage a belly or a muffin top. Yet you may want to highlight your proportionately slender legs. So, how do you find jeans that fit your midsection without being too loose on your legs?
What to look out for when choosing the best jeans for apple shape women
Let's start with the features and cuts to look for when choosing your denim.
Bootcuts are flattering
Bootcut styles are back on trend right now, and are universally flattering. The flared leg will help to balance out your tummy area.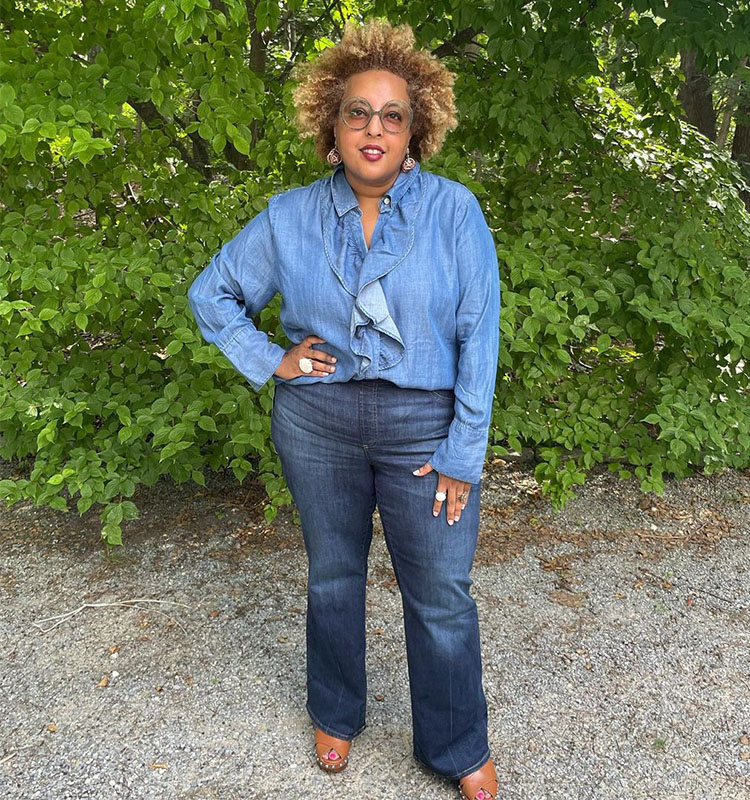 Lydia @birabiro above (read her style interview here) opts for a flattering darkwash bootcut as part of her double denim look.
Recreate her outfit with this similar chambray top (another option here), bootcut jeans and sandals.
skinny jeans can work too
Skinny jeans can be tricky if you like to tuck your top in, because they make your top half look bigger and your legs look thinner, creating a lack of balance. However, skinny jeans can be great for wearing with loose tops and longer tunics, as that will help to hide a belly. Plus, skinny styles will show off your legs.
Look for slimming panels and pull-on styles
There are some clever jeans around right now. Rather than wearing any shapewear, you can choose jeans with hidden slimming panels. Pull-on styles will make them easy to get on, and can help to ensure a good fit.
Also take a look at the best tummy control jeans to give you a smoother look.
Choose high or mid rise
A low rise jeans fit means that your belly could be hanging over your jeans, creating that dreaded muffin top. A higher rise will keep everything tucked in for a more flattering effect.
Opt for darker colors
Black or dark blue will create a slimming effect, helping to downplay a bit of a tummy.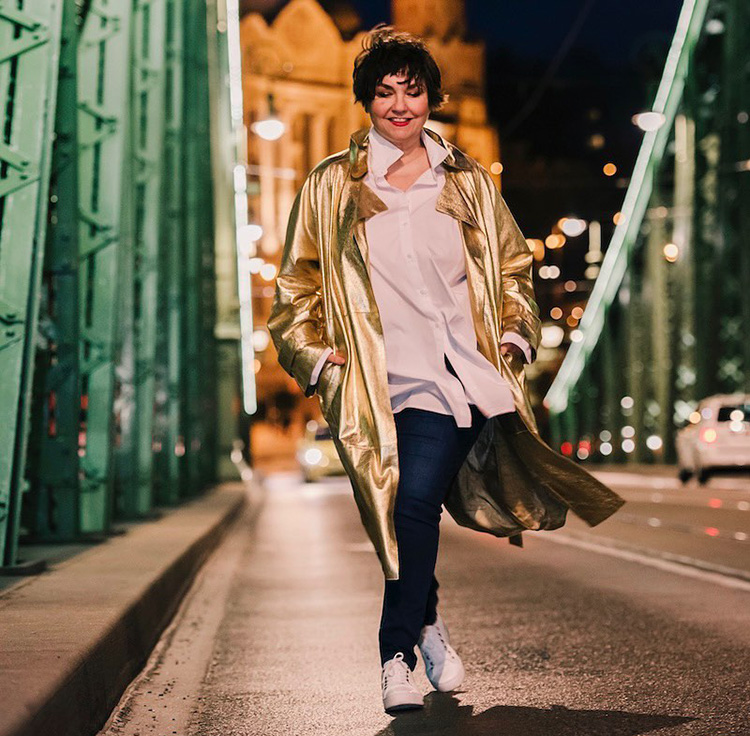 Susanne @textelle (read her style interview here) shows off an outfit that would work well for the apple shape, with a tunic shirt worn over skinny jeans, and then a long coat worn open as an outer layer.
Check out this similar tunic shirt, jeans, coat and sneakers.
Jeans with a bit of stretch
Look for jeans with some elastane or spandex so you get a good fit. Not too much though. You don't want your jeans to be baggy by the end of the day.
Bottom lifting
You're likely to have a flatter bottom than other body shapes, so choose jeans that give you some curves there.
Show off your ankles
As an apple shape, I bet you have great ankles. Don't be afraid to show them off with an ankle length.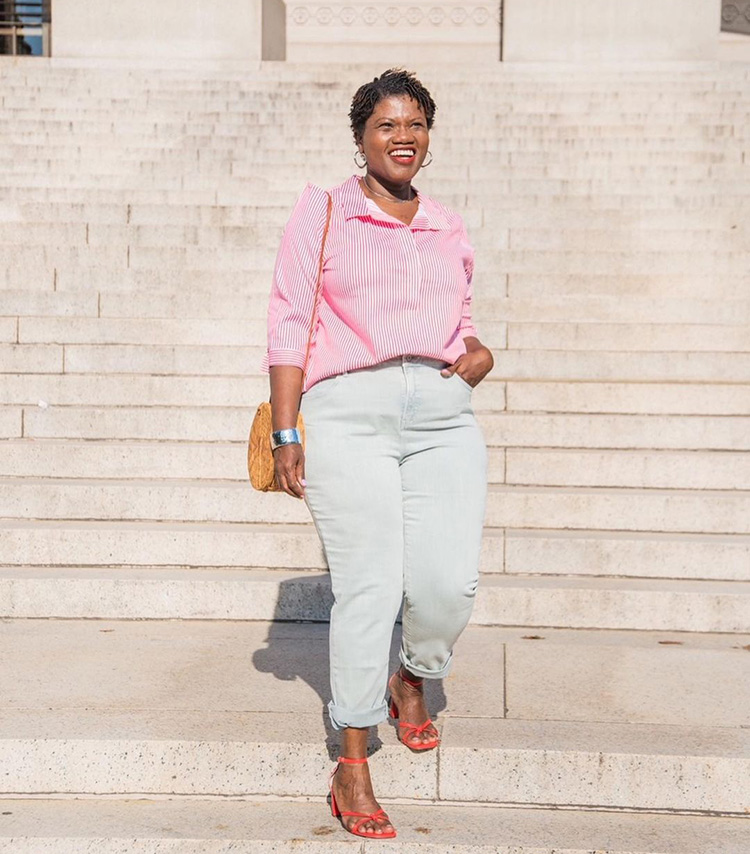 Georgette @grownandcurvywoman (read her style interview here) shows how you could break the "rules" and wear a lighter wash. She keeps her shirt folded over a little for a belly-hiding effect, and turns up her jeans to show off her lovely ankles. The colored sandals help to draw the eye down.
Get her look with this similar striped shirt, jeans, sandals, earrings and sling bag.
Best jeans for apple shape
Now that you know about the features to look out for in your jeans, let's look at some of the most recommended pairs you could choose for the apple shape.
lee sculpting jeans
If you like a skinny fit, the Lee sculpting jeans (below) are a good choice for the apple shape. They have a structured shape and a bit of stretch to keep everything tucked in. Plus, they have a pull-on waistband, so there are no fastenings to add any unwanted bulk.
One reviewer says her waist is her largest point and they are a great fit for her. Other reviews describe these as the best jeans ever, their go-to jeans for covering up a tummy, and say they retain their shape well.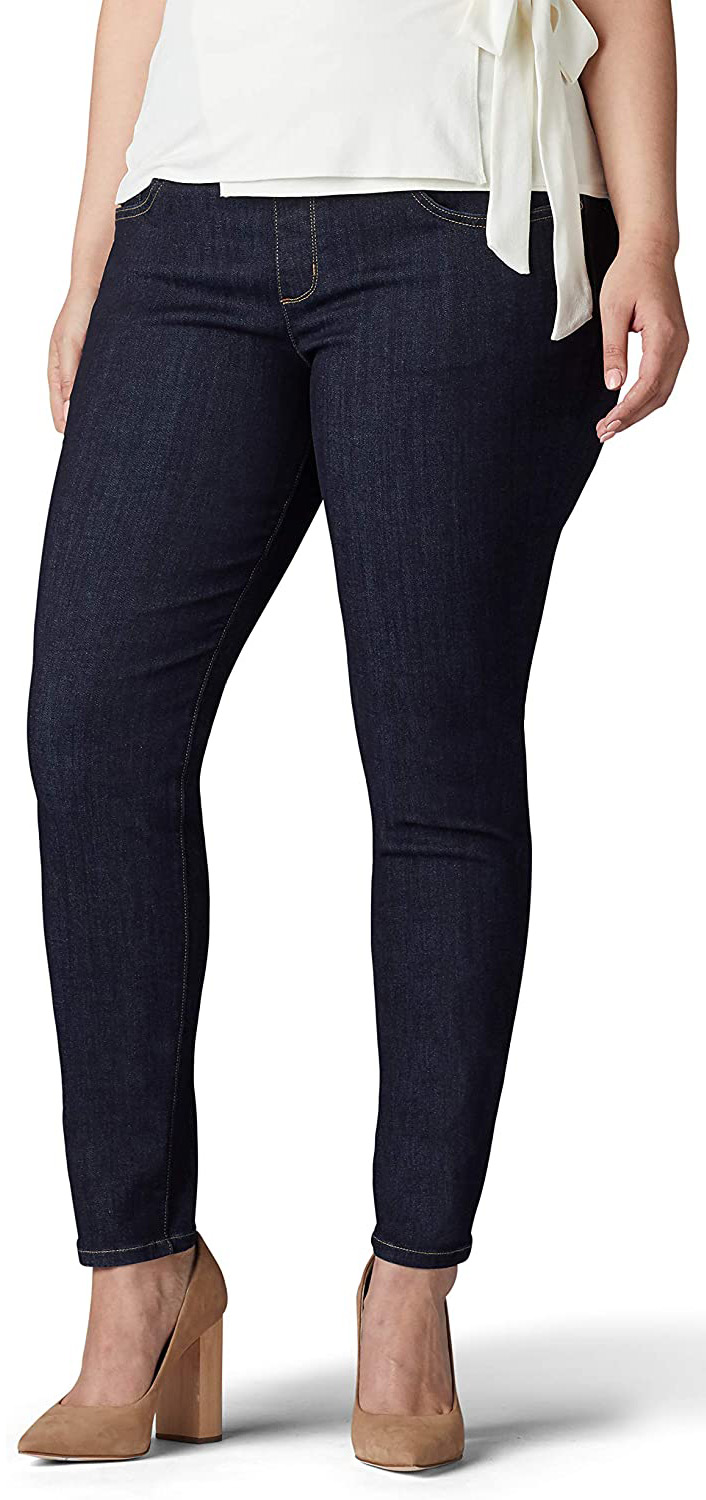 Lee Sculpting Slim Fit Skinny Leg Jeans (available in regular and plus size)
NYDJ
One of the 40+ style team's favorite jeans brands, NYDJ are a good go-to if you're looking for a new pair. The Barbara bootcut (below) is one of NYDJ's most popular styles because it is universally flattering.
They feature soft, stretchy denim and lift-tuck technology to slim from within. Wearers say they are super flattering.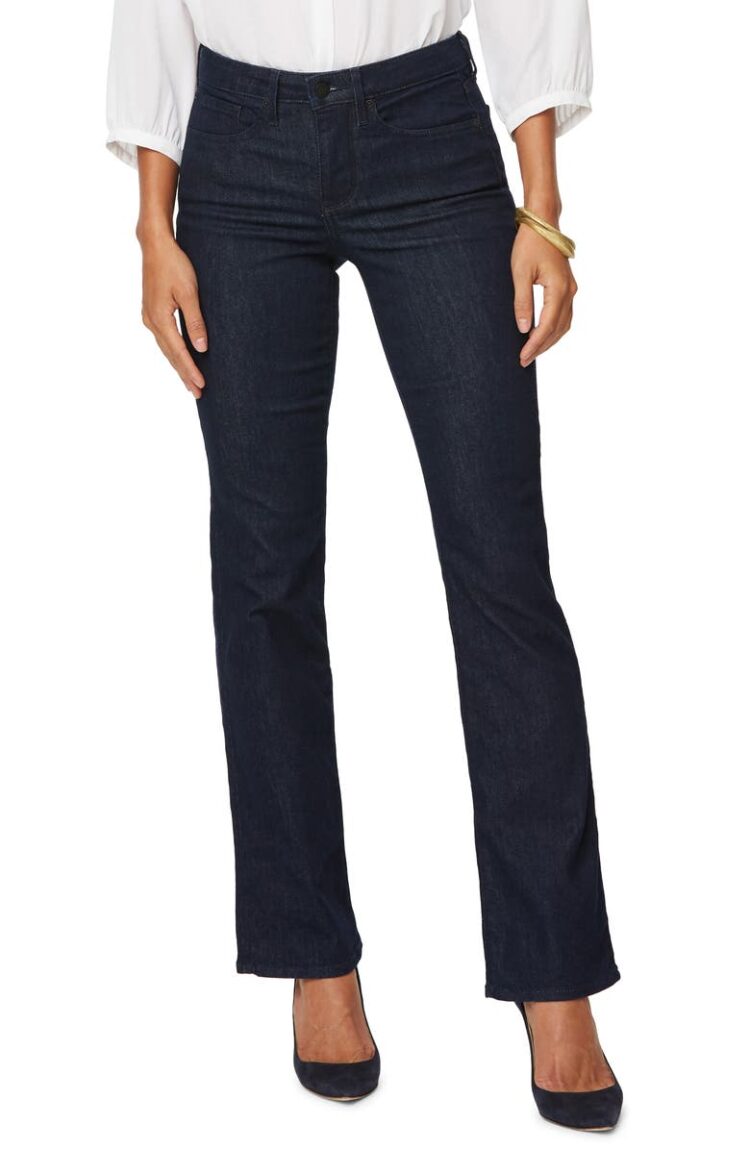 NYJD Barbara Bootcut Jeans (also available in Amazon)
PAIGE
Another personal favorite here at 40+ style, PAIGE is a great brand for women over 40. The PAIGE jeans (below) are a very flattering shape. Plus, the raw hem jeans will draw attention towards your ankles. These will keep their shape for a long time.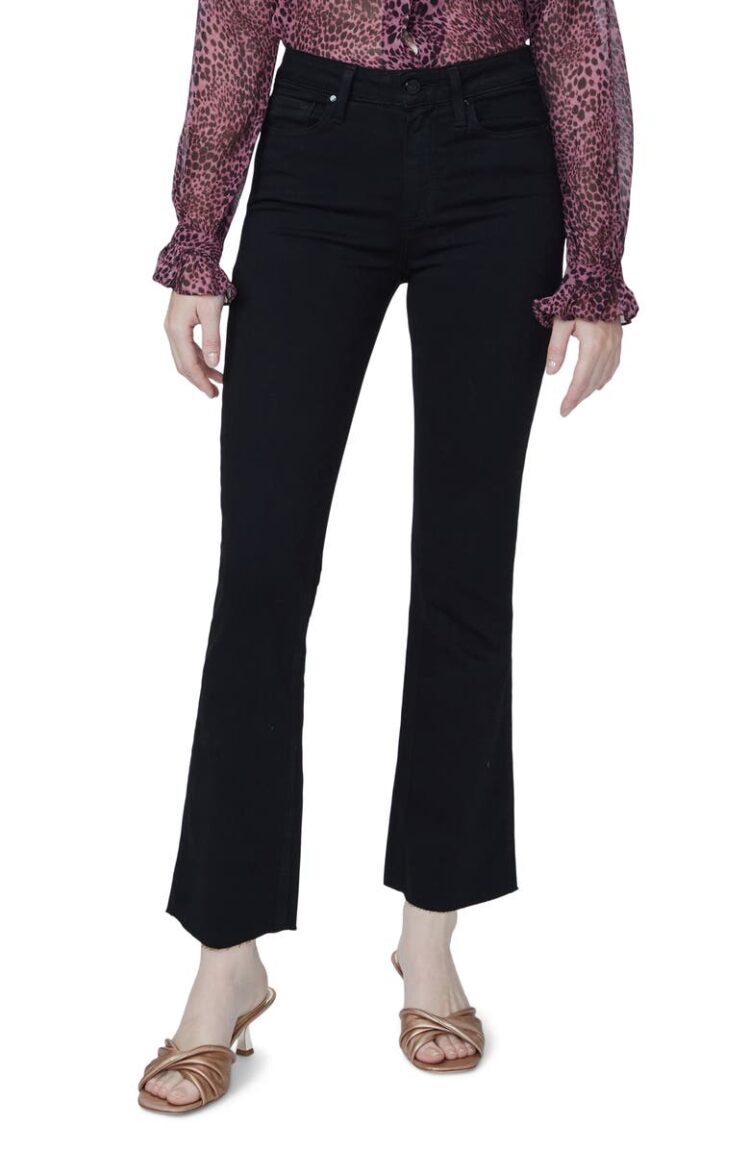 PAIGE Claudine High Waist Raw Hem Ankle Flare Jeans
SPANX
Okay so you may have a pair of Spanx in your underwear drawer. But have you tried Spanx jeans? The jeans (below) are designed with stretch denim, high-rise tummy coverage and hidden sore shaping technology. A good way to wear this season's on-trend flare shape in a flattering way for the apple figure.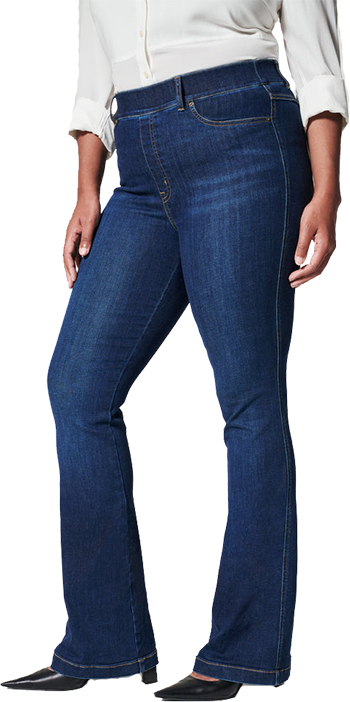 Wit & Wisdom
Wit & Wisdom's Ab-solution technolgy is designed to fit and hold, including holding your butt up to give a lifting effect. The jeans (below) are a classic bootcut shape, featuring some subtle fading for a relaxed effect. Wear with your casual wear, or mix your denim with more elegant pieces such as a blazer.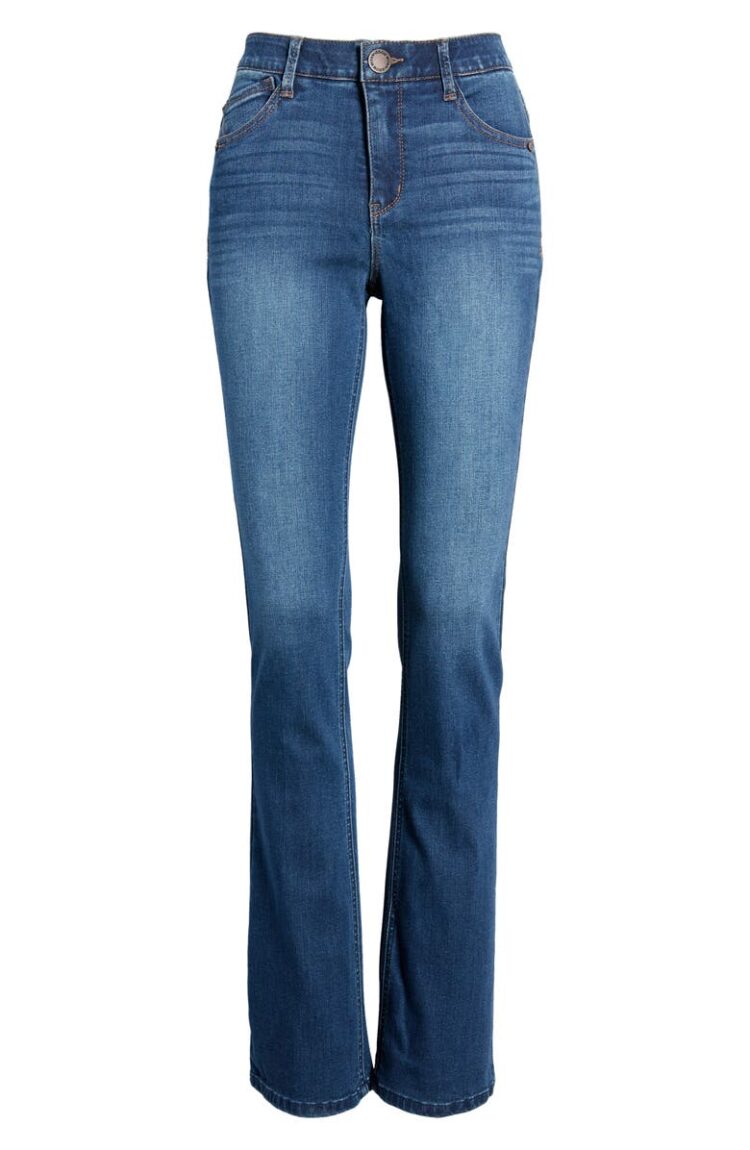 Wit & Wisdom Ab-Solution High Waist Itty Bitty Bootcut Jeans
democracy
Democracy also has a tummy-tucking jean, designed to streamline the figure. The itty bitty bootcut (below) comes in a good choice of blue, black and gray denim shades, and has excellent reviews from women who says it gives your derriere a lift while holding the tummy in. One woman said she has 10 pairs as these are the only jeans she wears.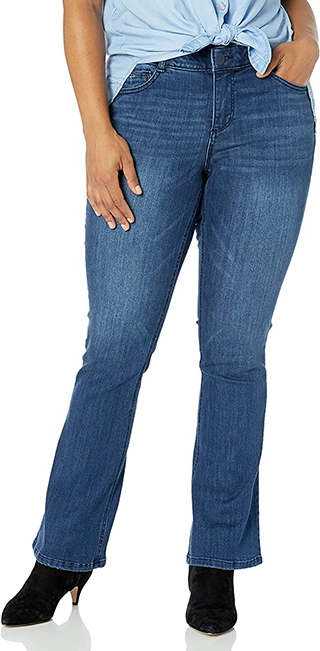 Democracy Ab Solution Itty Bitty Boot
KUT from the Kloth
KUT from the Kloth is another favorite at 40+ Style. The bootcut style (below) is a true classic that won't date. These are a good option if you are a tall apple shape as the legs do run long.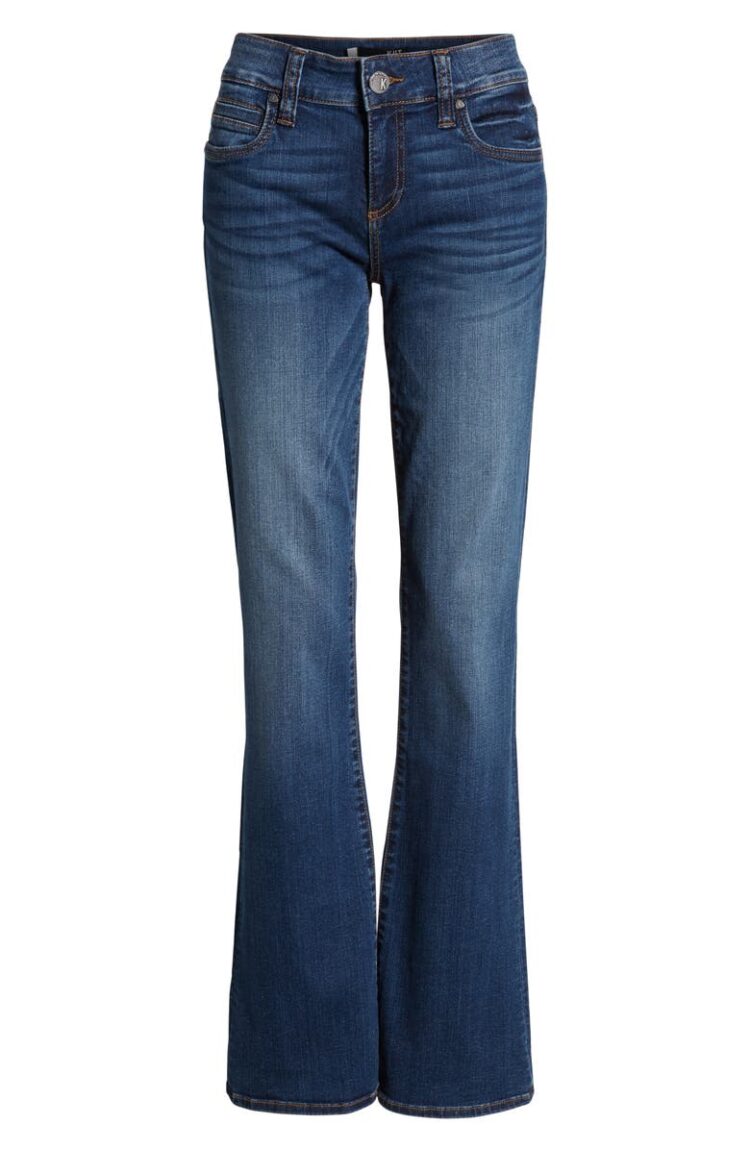 KUT from the Kloth Natalie Bootcut Jeans
Seven7
Okay, so there obviously is a tummy section in the Seven7 tummyless jeans (below), but they're called tummyless because they are designed to minimize the mid section. They should sit just below your natural waist, and they are slender through the thigh before ending in a subtle bootcut.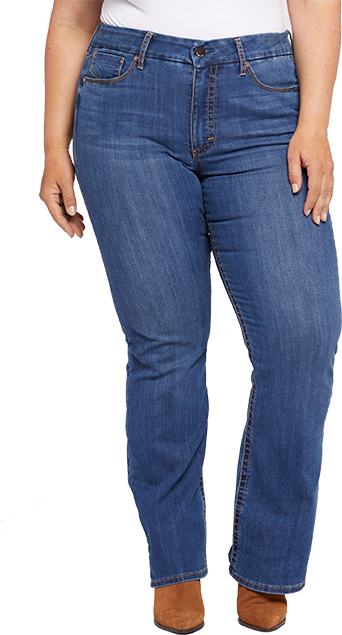 Seven7 High Rise Tummyless Micro Bootcut Jeans (available in regular and plus size)
Signature by Levi Strauss & Co. Gold Label
Levi's are a good brand choice for the apple shape, as they have a good choice of styles that are cut well for slender legs. The Signature Levi's (below) come in a number of different blue shades, and reviewers say they hold their shape well, even if you are bending and stretching a lot during the day.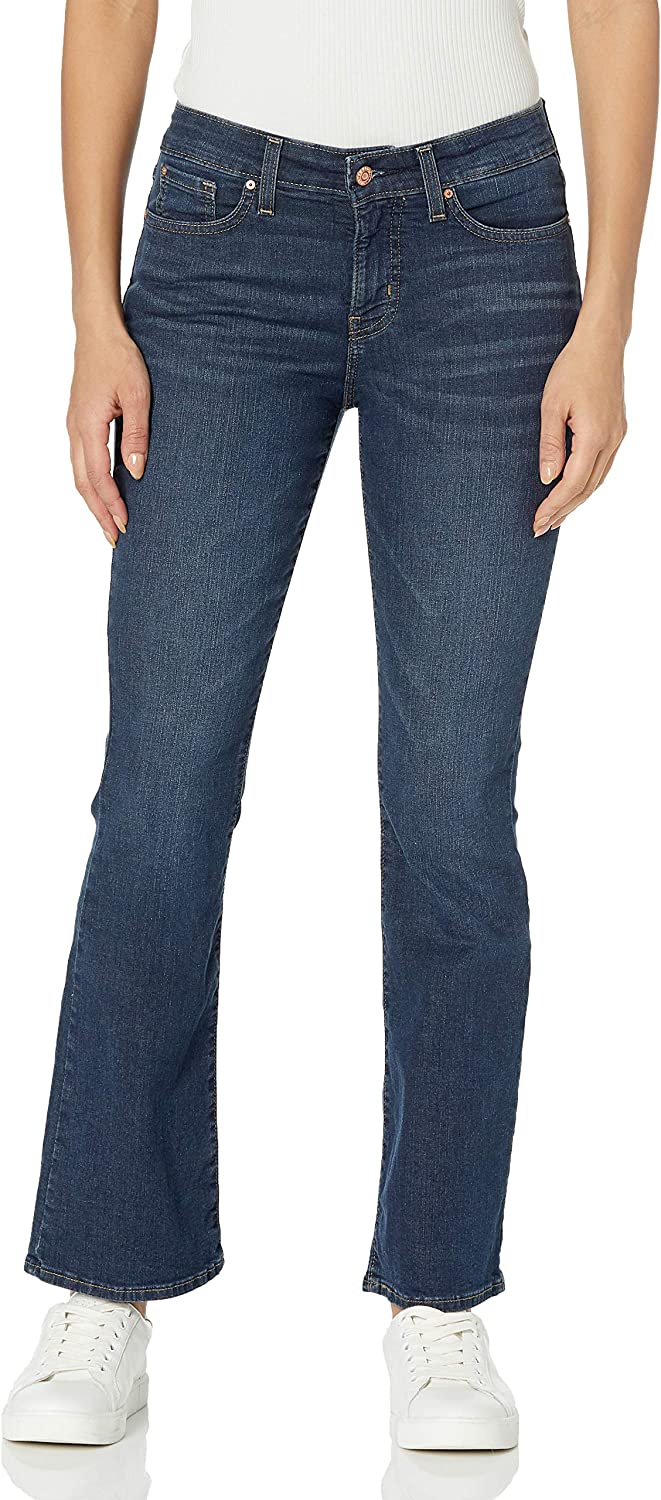 Signature by Levi Strauss & Co. Gold Label Totally Shaping Bootcut Jeans
MOTHER
One of the trendiest jeans brands around at the moment, MOTHER is a good place to start if you want to update your denim. The MOTHER jeans (below) are a good shape for you if you are an apple, as they have a high waist to tuck your tummy in, and they feature a trendy kick flare so you can show off your ankles and your favorite shoes.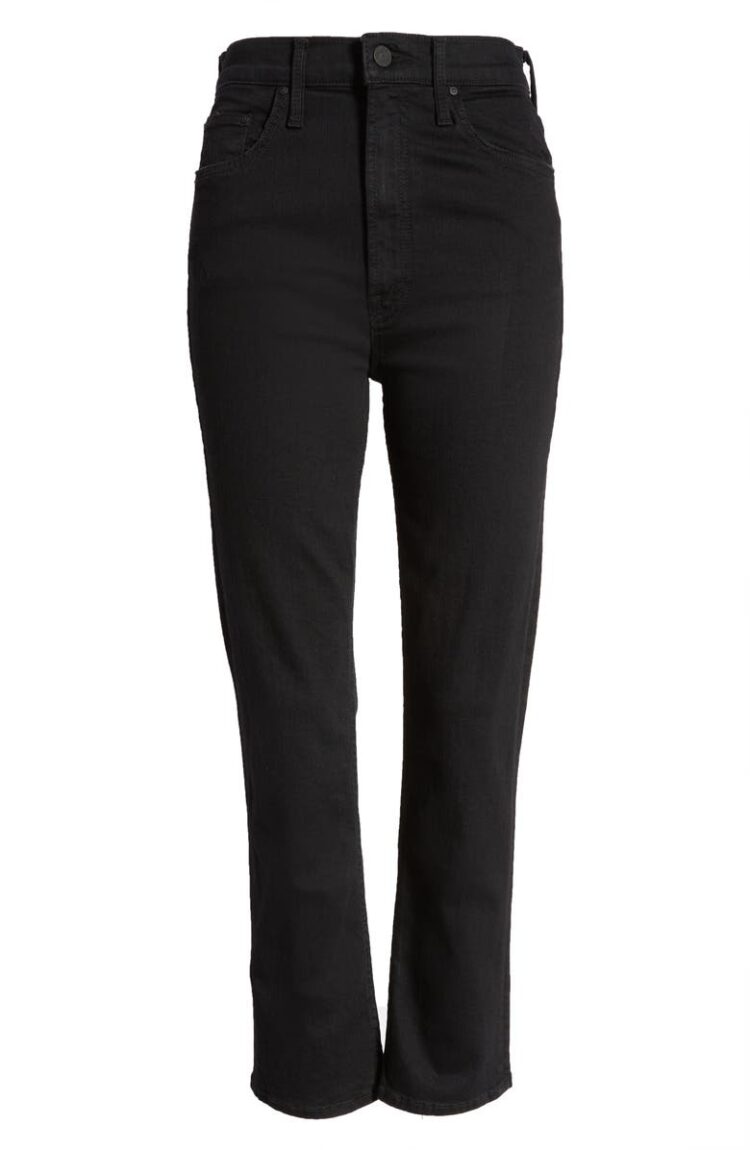 MOTHER High Waist Rider Ankle Jeans
1822 Denim
A flare shape can work for a number of different figures. For the apple shape, the flare will balance out your tummy, for example, while for the inverted triangle, the flare will balance wider shoulders. The flare jeans (below) are soft and stretchy to hold everything in place comfortably.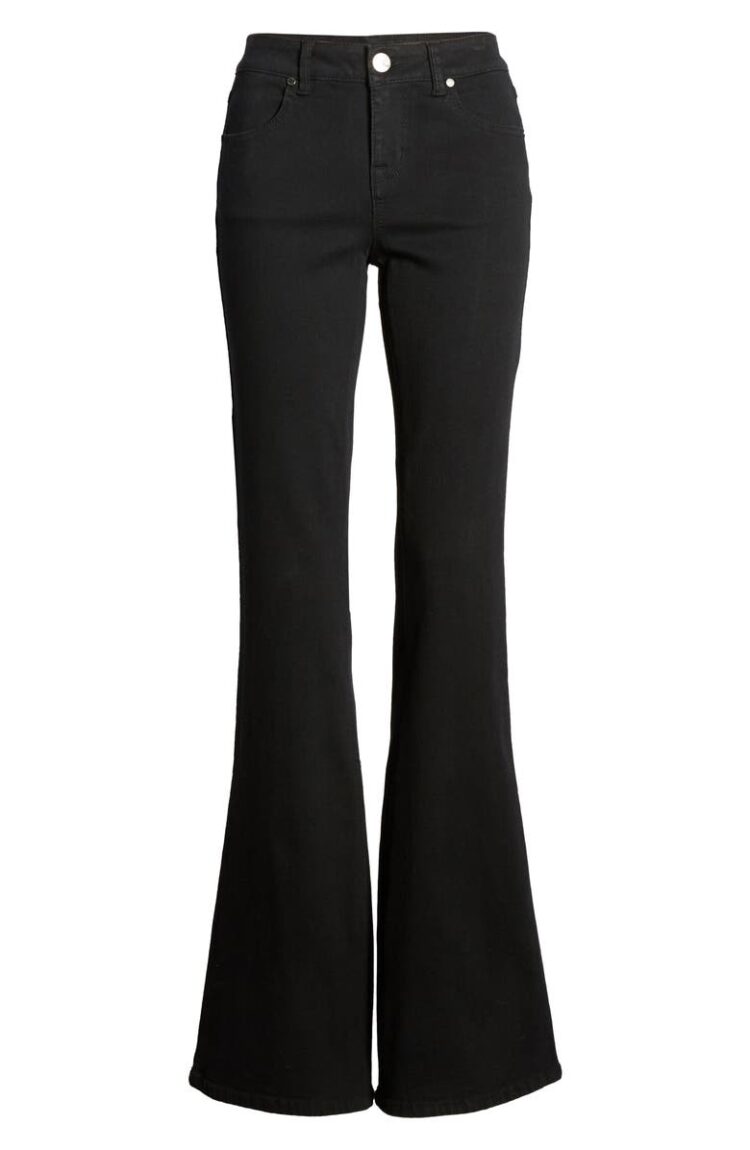 apple shape jeans: Cinq à Sept
If you want to have a little fun with your denim, then look out for classic shapes with an unusual twist. The split hems on the jeans (below) will draw attention away from your tummy and to your ankles.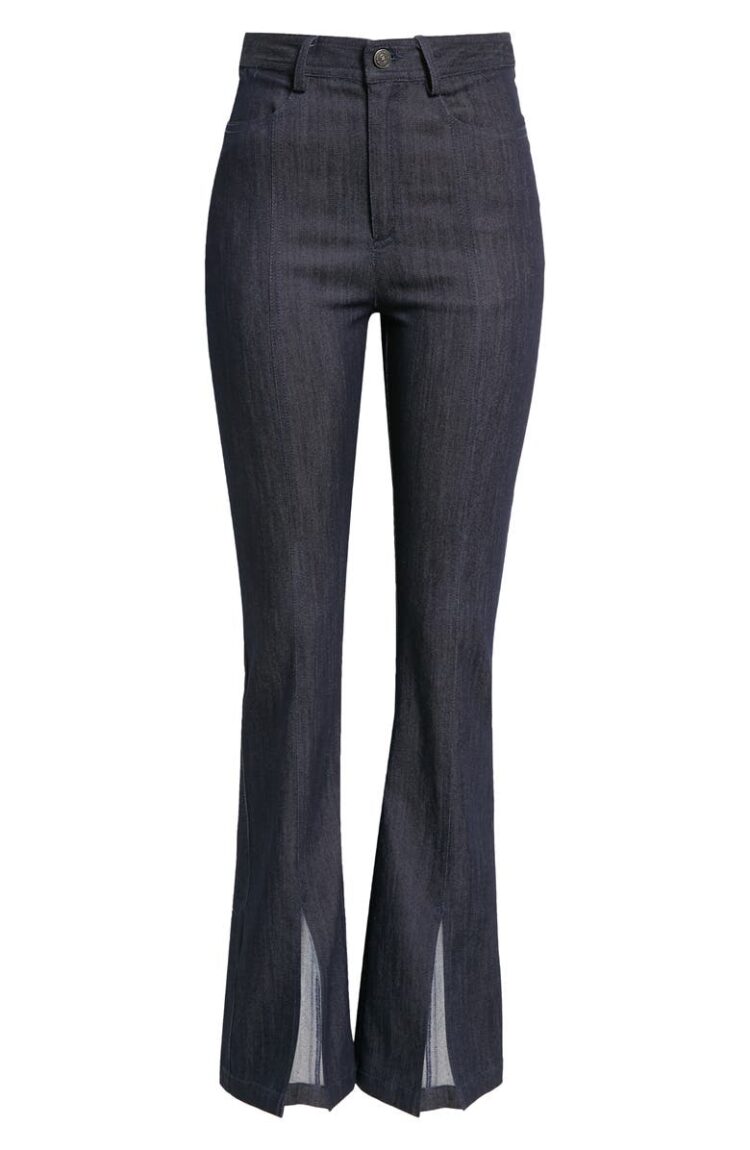 Cinq à Sept Shanis High Waist Split Hem Flare Jeans
Do you have a favorite among the pairs above? If you're an apple shape, you can also leave your jeans recommendations in the comments below, to help other women with similar figures.
What to avoid when choosing the best jeans for the apple shape
You've seen what to look out for, and you've taken a look at some of the most flattering jeans in stores now. But how about what to avoid? Below is a quick run down on what you might want to dismiss when it comes to your denim.
Avoid jeans with a button fly
A button fly can add unwanted bulk, as well as drawing attention to your mid section. Instead, opt for a discreet zip fastening or a pull-on style.
Make sure you don't wear jeans that are too small
Don't squeeze into your jeans or you will end up with your waist digging in. If you need to, size up.
Avoid jeans for a curvy cut
While you do have curves, jeans for a curvy cut tend to be designed with a smaller waist and larger hips in mind rather than vice-versa, so are best-suited to the pear shape or hourglass shape.
Avoid a tapered style
As an apple, you want to balance out your wider waist and slim legs. Tapered will do the opposite.
shop some of the best jeans for apple shape below:

Continue reading:
Like this article on the best jeans for apple shape figures? Share it on Pinterest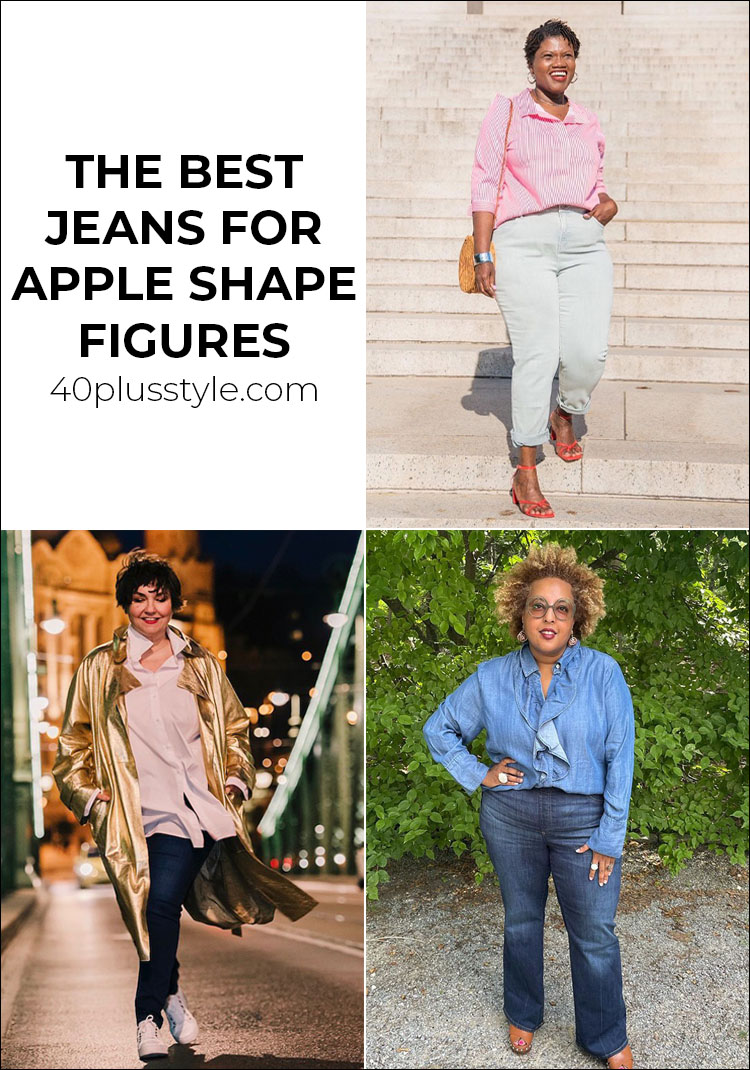 Feature image by Lydia @birabiro
Want to get more articles from 40+style in your inbox, subscribe here.
You can also connect with 40+style on Facebook, Instagram or Pinterest.
Support 40+style by using the links in our articles to shop. As an associate for Amazon and many other brands, we receive a small commission (at no cost to you) on qualifying purchases which enables us to keep creating amazing free content for you. Thanks!