If you're an apple-shaped woman you know that finding clothes made for our shape is pretty tough and most designers do not design with us in mind.
We are often happy just to find clothes that fit, let alone look good. I think this will change in the future, but in the meantime where to shop?
I've found a few places where I find quality items that not only fit, but look good too. So, in the ongoing spirit that this is a work in progress, here are my favorite places to shop.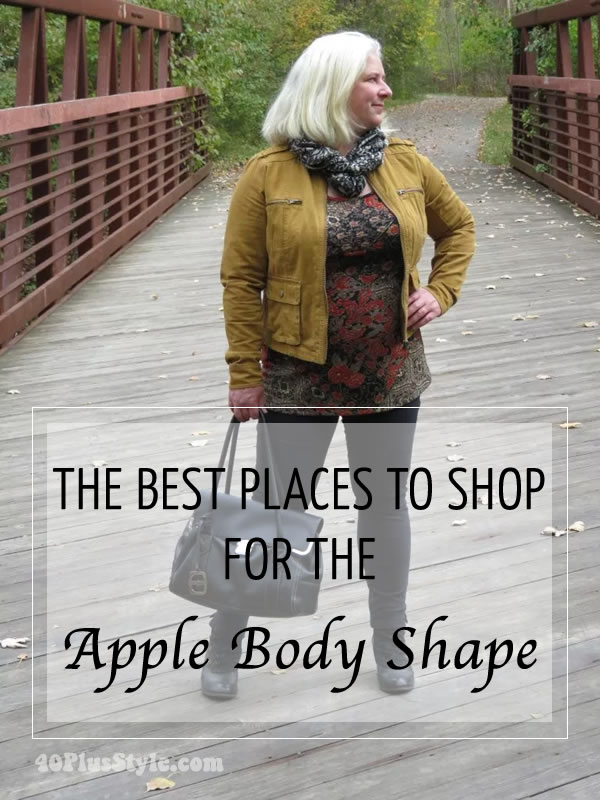 J. Jill
J.Jill is by far my favorite place to shop. They feature soft silhouettes with a lot of elastic waist pants and skirts. I know, elastic waists can be the absolute worst, but I find these are made with the idea of having the waistband be undetectable as well as comfortable.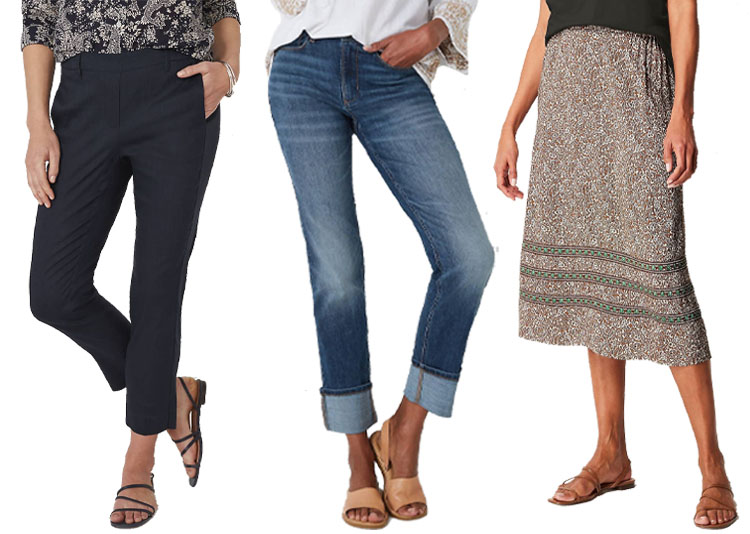 Modern Linen-Stretch Slit-Hem Pants – High-Rise Wide-Cuffed Jeans – Striped Border Midi Skirt
They have a variety of comfortable pants
Whether you're looking for traditional jeans or leggings or somewhere in-between J. Jill has been my go-to place.
I wear their jeans with the stretchy, traditional waistband and their soft cotton knit pants with the elastic waist. Besides the stretchy waists, the fabric is also stretchy so whether you're sitting or kneeling down the fabric moves with you.
Their leggings are some of the softest fabrics I've felt for pants or even for pajamas!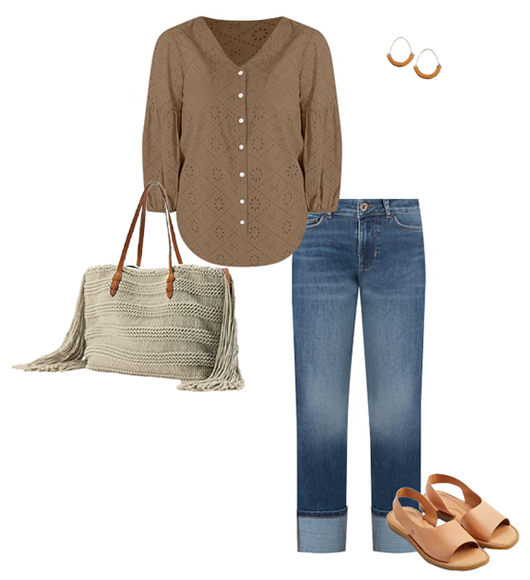 Buttoned-Front V-Neck Blouse – High-Rise Wide-Cuffed Jeans – Born® Inlet Sandals – Knitted Fringe Tote – Earth Tones Hoops
Their skirts are flattering and so pretty
I'm in love with their skirts. The waistbands are wide and completely enclosed in cotton and the fabric is stretchy and not tight, but still has that flattering pencil silhouette.
They also update their skirts in colors of the season and in patterns too. They have a really nice ponte knit fabric that is easy to wear and easy to care for both in the skirts and in several styles of pants.
I can easily find cute tops that work for our shape
This whole outfit below is from J. Jill except for the shoes. I'm wearing one of their ponte knit pencil skirts I mentioned above and one of their tunics. I own several of their tunics and several made out of the same ponte knit as the skirt and pants. The ponte knit is a heavier knit that skims rather than clings.
I also love how the stores are organized and are such a clean, easy-to-navigate design. The staff is very friendly and helpful which is always a nice touch. They will even hang up your clothes for you in the changing room and are available for changing out sizes. I shop in their petite section and it is fully stocked too.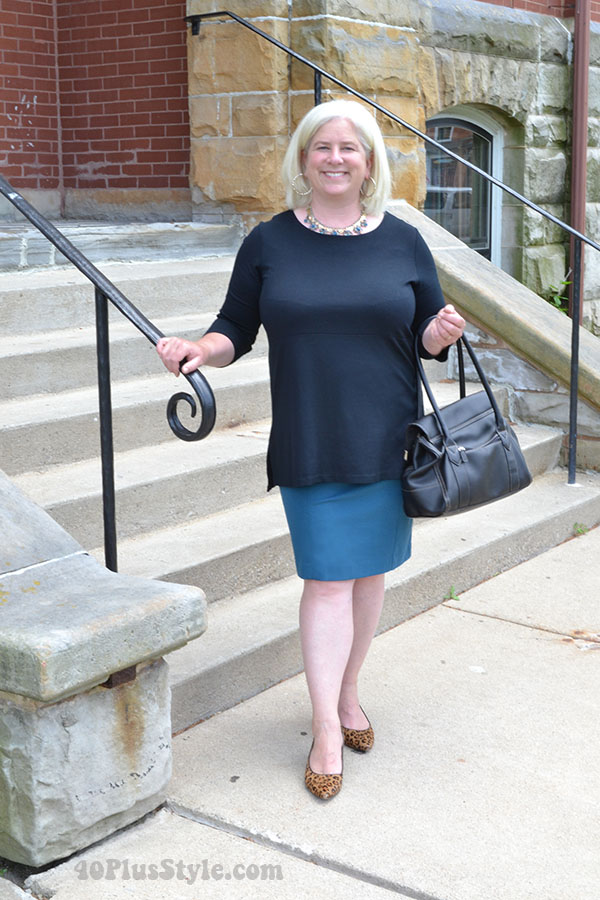 White House Black Market
White House Black Market is my second favorite shop. The staff are well trained so if you're just figuring out your style you can go in and just put yourself in their hands. I like to look through their racks myself, but I always try their suggestions because you never know until you try them!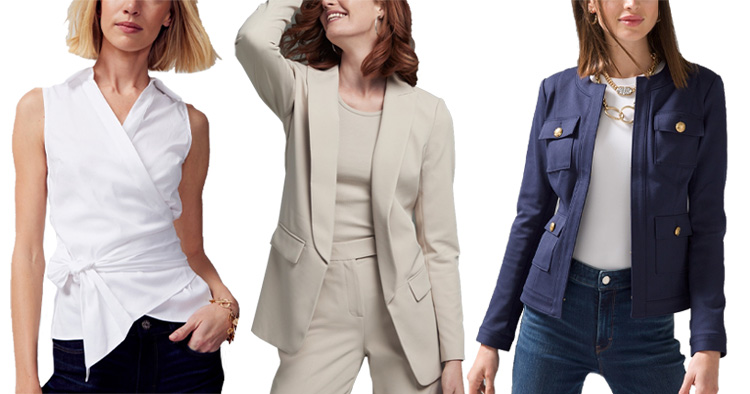 Poplin Wrap Top – The Relaxed Blazer – WHBM® Stylist Jacket
They have pants that have great stretch
As an apple shape you will find most of their waistbands are for other shapes but I have found several pairs of pants here with a stretchy waistband and stretchy fabric as well as fashionable and flattering cuts.
Their sweaters are flattering with high quality knits
I have several of their sweaters, but I own two of their midi coverups in different colors because they are wardrobe workhorses.
I can easily style their sweaters when I want to look stylish, but don't want to fuss with an outfit. I find the fabric is usually wash and wear and high quality so very little pilling on their sweaters.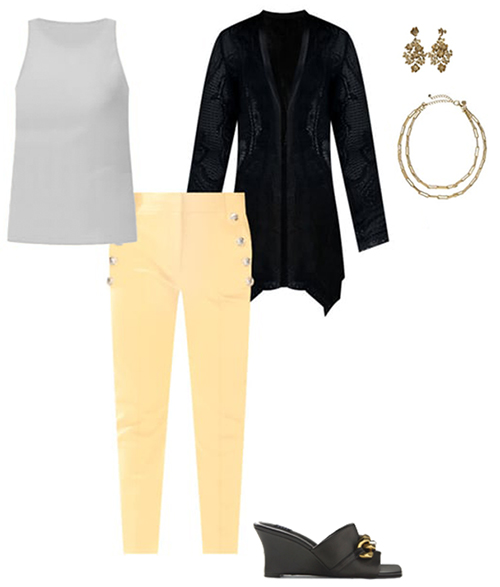 Pointelle Coverup – WHBM® FORME Rib Tank – WHBM® Jolie Button Straight Comfort Stretch Pant – Chain Wedge Sandal – Convertible Goldtone Pavé Link Necklace – Goldtone Floral Statement Earrings
Be on-trend with their beautiful jackets
To me, this is what they do best. They feature beautifully cut jackets, that are always so stylish. Even though I'm big-busted and can only fit into their size 16 jackets occasionally, I still always try them on, especially if they have some stretch. If you are smaller than size 16 you can find some very flattering jackets that can be worn open for a great look.
Shop here when you have some time and are in the right mind set to put yourself in their hands. Their in-store sizes go up to size 14 and they have size 16 available online.
Loft
Though Loft doesn't have a lot of items that work for our shape, especially pants and you really have to look for tops, I find they have lots of sweater options.
I find some of their tops are cut with some structure so they don't look like a tent and have a wide variety of styles.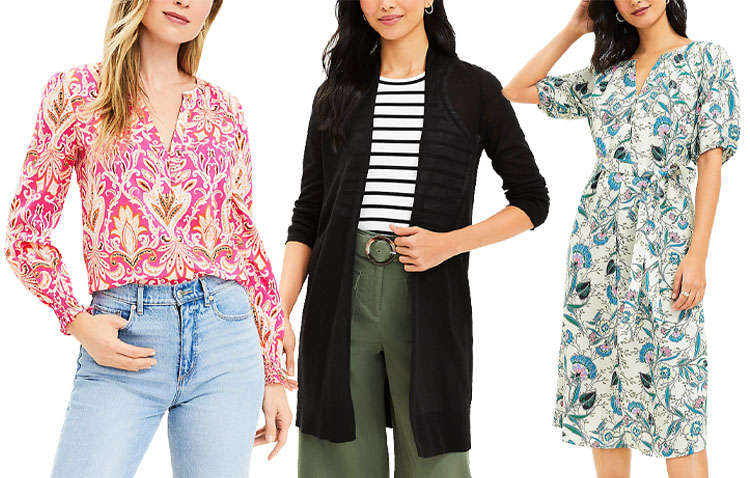 Paisley Smocked Cuff V-Neck Button Blouse – Lightweight Open Cardigan – Floral V-Neck Puff Sleeve Midi Dress
They, in my opinion, also have the most beautiful patterns and are always on-trend with their colors and patterns so sometimes I will just go in there to buy a scarf to update my wardrobe.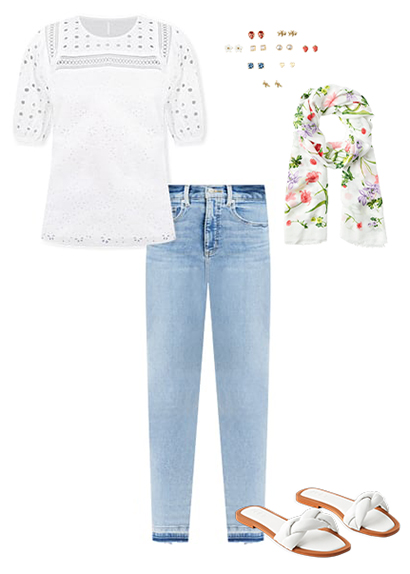 Mixed Eyelet Puff Sleeve Top – High Rise Skinny Jeans in Staple Light Indigo Wash – Padded Braided Leather Slide Sandals – Strawberry Earring Set – Garden Scarf
Maurices
Maurices often has clothing for younger women, but I find they have a great selection of work/office pants that have various waist sizes and recognize that just because your waist is bigger doesn't mean you don't want comfort.
They also have reasonably priced jackets that fit my size 16 top and larger sizes. You don't have to worry about spending a lot of money here for a trendy item or two to freshen up your wardrobe.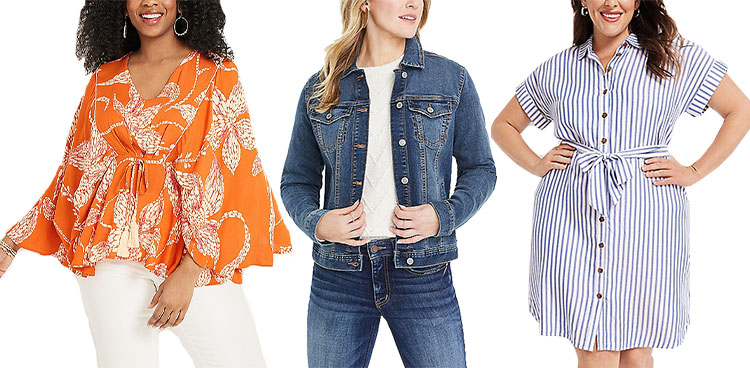 Floral Flounce Sleeve Peplum Top – Denim Jacket – Striped Button Down Shirt Dress
shop the items above here:

These are the national chains that I have found have a decent selection.
Of course you can go to department stores and hunt for clothes and I know there are some cute little boutique shops that have options for our shape.
When I go into a store I'm not familiar with, I look at their staff. If they are around my age and they have a variety of shapes, especially similar to mine, then I'm hopeful that I will find some flattering outfits.
For more tips on the apple body shape and how to dress it, be sure to download our free guide below and check our articles on how to dress the apple body shape and the best jeans for the apple body shape!
I'd love to hear your suggestions of stores where you've found a nice selection for apple shapes. Please let me know in a comment!
Julia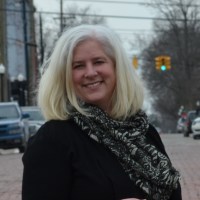 Julia lives in the Midwest of the United States. She contributes articles on style and dressing to 40+Style, specializing in features for woman with the apple body shape.
Like this article? Save it on Pinterest!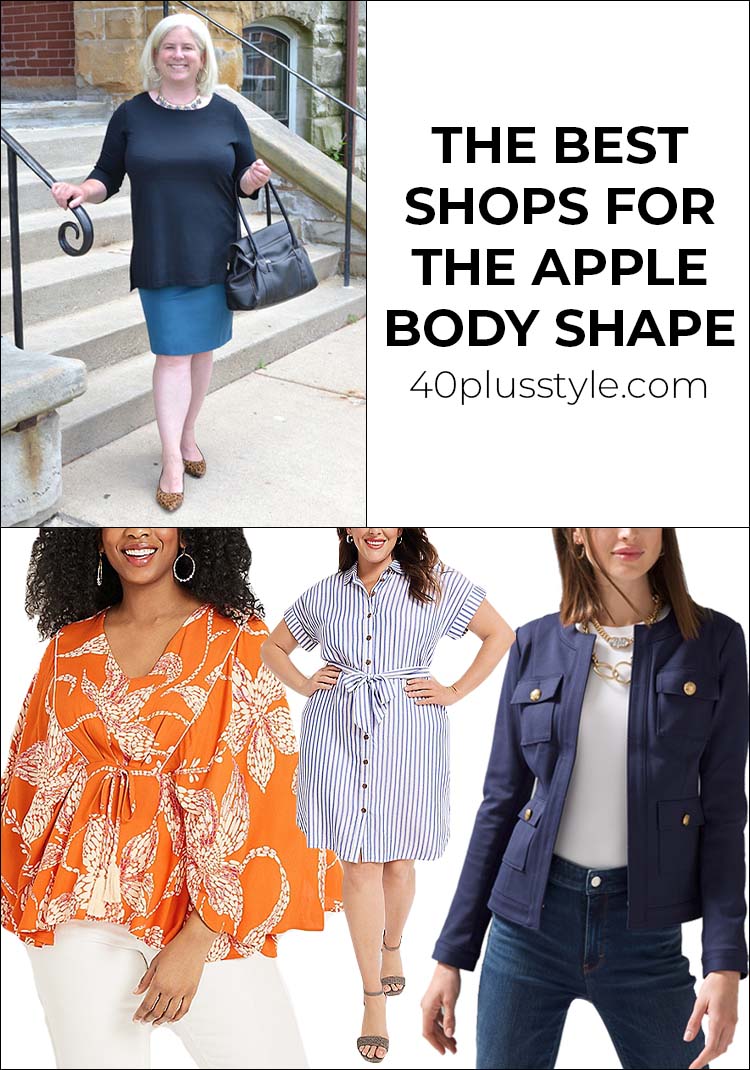 Feature image by Julia of When the Girls Rule blog
Want to get more articles from 40+style in your inbox, subscribe here.
You can also connect with 40+style on Facebook, Instagram or Pinterest.
Support 40+style by using the links in our articles to shop. As an associate for Amazon and many other brands, we receive a small commission (at no cost to you) on qualifying purchases which enables us to keep creating amazing free content for you. Thanks!