Lisa loves to add something special to her style which she often does with color and accessories. As a stylist, she is in a perfect position to inspire you and give you some fabulous style tips. Enjoy!
Can you tell us a little bit more about yourself?
I'm a stylist.
For me it's all about a complete look from head to toe. Hair, make up, outfit and accessories. The total package!
As a point of reference which age group do you belong to or perhaps you are willing to share your age?
I have no problem sharing my age, I'm 55 years old – there's no age I'd rather be.
Can you tell us a bit more about your blog The Silver Stylist and why you created it?
I started my blog because I've been involved with hair, fashion, cosmetics and skincare since I was young. I also really enjoy helping people. The way we dress and groom ourselves speaks volumes in this visual world. I love helping others find their identity, whether it's doing their hair, make up, or looking for an outfit for a special occasion.
I was the one all my friends came to for help or for my opinion in all these areas. I had just left a full time job and was watching my sweet granddaughter 2 days a week. So I had some time I could spend on a venture like the Blog.
I've always been inspired by other people and started looking for inspiration on the internet, especially looking for women my age that I could relate to. I saw a lot of women in their 20's, 30's and 40's, but not a lot in my age range.
So with the encouragement of my friends and family I decided to start blogging. And it's opened my eyes to a whole other community……it's been amazing!
How would you describe your own personal style?
I like to be edgy but at the same time stylish.
Just because you hit a certain age, you don't have to change into a drab uniform. You can carry on a flashy style no matter what point of your life you're in.
What would you consider the most important components of your style?
I believe you should maximize your strong points and minimize the areas you struggle with. And I always think you should use accessories to give your outfit and appearance a boost. You should be memorable.
Where do you live and how does that influence your style?
I live just outside Atlanta. I spend a lot of time in our beautiful city, too – it has something for every taste, style-wise. We have sophisticated arts, traditional southern charm and a hipster community, just a mixture of whatever you're looking for.
I probably stand out in the suburbs, but I do a lot more blending in as I head into town.

Do you feel you have a signature style?
I think I consistently create a "package" look. You'll rarely find me out and about without being pretty well planned out. It drives my husband crazy, because that can take some time.
What inspires your outfit choices the most?
I would have to say Color. Color draws attention, and the stylish combination of color sets you apart.
I would also have to say shoes are a very close 2nd. I love them! I will find a pair of shoes that I think are unusual, different or just plan fun, buy them and then build an outfit around them.
Do you take things like color profiling or body type into account when you dress?
Everyone has colors that look great with their skin tones – they should consider that when they pick their outfits. And everyone (I really mean EVERYONE) has body issues – we're all conscious of certain areas and pretty happy with others. We should consider those areas when we create our wardrobe.
Has your style changed at all after turning 40?
If anything, I've become less conservative and added more trendy items. I also took what many would consider a negative (gray hair) and turned it onto a huge positive. I can't go anywhere without getting very positive comments about my hair. This also drives my husband crazy.
Do you believe in dressing 'age appropriately' and what does it mean to you?
No, I wear what I like! I know a lot of mature women are more comfortable with a longer hemline on, higher necklines and sleeves that cover more of their arms. If I'm out shopping and I like it, I try it on. If I feel good in it, I buy it.
Would you say that at this stage of your life you are now more, or less interested in fashion, style and the way you look?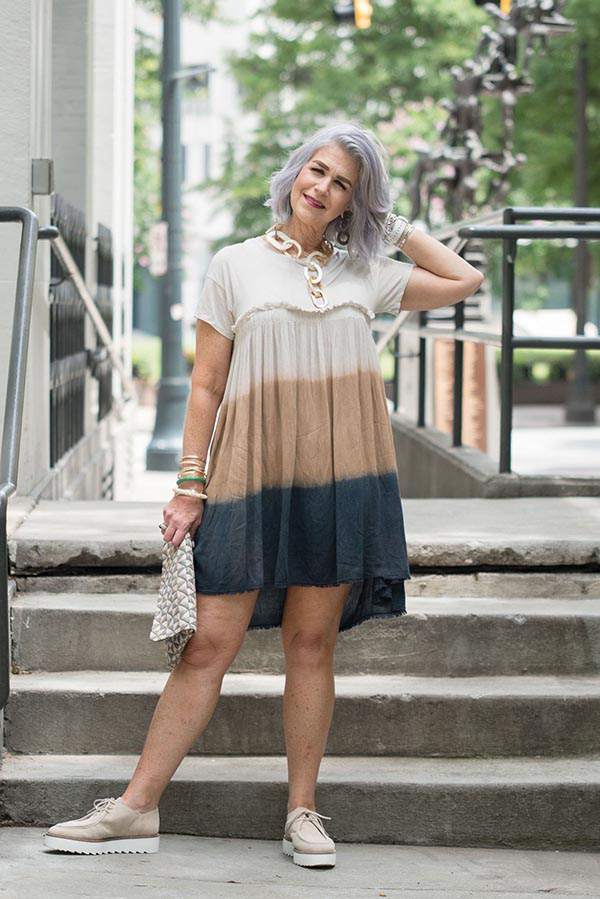 I'd say I'm more interested in fashion, style and the way I look. In an industry where the majority of fashion and cosmetics are geared to youth, I believe that as a mature women, I can share that it's fun and liberating to be where I'm at.
I care about the way I look and take care of myself. I'm happy being the age I am. I'm thankful for the wisdom I've gained in living 55 years on this planet. There are a few things I would like to tell the younger me, but it's okay – I'll share those things with my daughter and my granddaughter.
Why is the way you look important to you?
It shows that you care. It speaks to others that you're prepared to be where you are – you planned to be your best for whatever the occasion is. It could be the grocery store or a social event. You're ready to be your best!
Do you follow trends? And if yes, which trends excite you at the moment?
Of course! I devour what's going on to see how people are integrating new ideas into their style. Many times it's exciting and something I want to model. Many times I laugh and stay as far away as I can.
I love the additions of texture and color we see now. Fewer rules and boundaries are allowing more combinations and fresh looks. I love when something really edgy and new is mixed with a classic. Also mixing several different prints together giving an outfit/look more dimensions.
Do you have any fashion and style tips for women over 40?
Forget the age number, find what looks you love and magnify them.
Take the parts of your look you're happy with and amplify them.
Minimize your problem areas and work on them if you can.
Seek out good advice and be proud of your look.
What are your plans for your blog and how do you see it develop over the coming years?
I'd like to reach more women to encourage. That's where my heart is, and if I can help others get excited about fashion at any stage of their life, I'll be happy. I want them to walk into a room and surprise their friends.
Anything further you would like to add?
Thank you for letting me be a part of this! I want to encourage everyone to look their best. I want them to be confident that they are special.
Be sure to visit Lisa at @TheSilverStylist
Which of Lisa's outfits is your favorite?

Like this post? Share it on Pinterest!
Want to get more articles from 40+style in your inbox, subscribe here.
You can also connect with 40+style on Facebook, Instagram or Pinterest.
Support 40+style by using the links in our articles to shop. As an associate for Amazon and many other brands, we receive a small commission (at no cost to you) on qualifying purchases which enables us to keep creating amazing free content for you. Thanks!