Is your collection of shoes expanding? Then you may need some new shoe storage ideas. In this article I will highlight many shoe storage ideas, so you can always find the perfect shoes for every outfit.
Why shoe storage is important
Whether you have a shoe collection to rival that of Carrie Bradshaw, or you prefer a paired down shoe capsule, what you don't see, you don't wear. That's why you need the right shoe storage ideas and develop a good system.
By putting in place some of these tips, techniques and tools, you'll find that your hallway, your bedroom and your closet will be tidier, and you'll probably discover some shoes you'd forgotten you had!
Don't forget to share in the comments at the bottom some of your own shoe storage ideas. What are the best shoe storage solutions you've found?
What to consider when choosing your shoe storage
Before moving on to some specific shoe storage ideas, here are some things to keep in mind.
The space you have to work with
While you may be lucky enough to have an enormous walk-in closet; in which case you probably have plenty of shelving for your shoes, you may be more limited in space. If you are working with a small space, you will have to be inventive when it comes to your shoe storage. It's also important not to turn everything into storage.
You don't have to keep your shoes in one place
When thinking about shoe storage ideas, you don't have to keep your entire collection together. You may, for example, opt to keep the pairs you wear more in a storage solution close to your front door, and the rest of your shoes in your closet.
You can also choose to have your party shoes together and your workout shoes. That way you can keep part of your collection separate, yet still have a good overview.
Can you see them easily?
There may be some shoes – such as those you wear for special occasions – that you can put away at the top or back of your closet. But, for your day-to-day shoes, it's vital to be able to see, and get to, them easily.
Different ways to store your shoes
Just as there are countless shoe styles, there are myriad ways to store them. Below are some of the most efficient.
1. Shoe rack
You can either pop a shoe rack in your hallway or inside your closet. These are ideal for smaller spaces as they come in all sizes.
Shoe racks are ideal for smaller spaces or can be fitted in cupboards. A small shoe rack is great for just outside the door (it's customary in Asia to take your shoes off before entering the house). The disadvantage is that they can quickly give a messy appearance to the house.
Simple Houseware 4-Tier Shoe Rack Storage Organizer
2. Under the bed
This is a very nifty solution if you have the kind of bed where you can fit storage underneath. If you have a normal bed then under the bed drawers could work well too. You would need to know where to find your shoes though.
storageLAB Under Bed Shoe Storage Organizer
3. Over the door
This can be another efficient way to store your shoes if space is limited. These racks can be hung inside or outside of doors.
SimpleHouseware Crystal Clear Over The Door Hanging Shoe Organizer
4. Shoe cubby
These nifty little storage cupboards can fit a pair of shoes in each hole, without taking up too much room in your home.
ClosetMaid Stackable 15-Unit Organizer
5. Closet shoe organizer
If you want to keep your shoes in your closet, but you want to make sure they are organized and off the floor, then a hanging storage solution could be right for you.
Whitmor Hanging Shoe Shelves Closet Organizer
6. Shoe bench
While you can't fit dozens of pairs of shoes into a shoe bench, they are a handy solution for the footwear you wear the most. Plus, you can sit down while you pop your shoes on.
7. Shoe carousel
These are some great alternatives for small spaces. You pop the toes of your shoes over the racks for storage, and you can turn the rows around so you can easily get to them.
Household Essentials Three-Tier Adjustable Revolving Shoe Rack
8. For narrow spaces
If you don't have much room, you can opt for tall, narrow storage rather than shelving which takes up a large footprint. You could easily fit shelves like the ones below next to your front door.
Tangkula Space Saving Vertical Shoe Rack
9. Shoe slots
Not a storage solution on their own, but a handy way to fit more shoes into your existing storage! They have an adjustable height making them fit everything from flip flops to heels, and you can line them up in rows, meaning you can fit twice as many pairs of shoes in your space.
10. Clear shoe boxes
I do a lot of my own shoe storage in boxes. I like the idea of using shoe boxes or boxes that are just a bit nicer (you could wrap your shoe boxes with paper so they all look the same) and then putting an image of the shoe in front of the box.
That way you still get an easy overview of all of your shoes, without your house and cupboards looking messy. Of course, you can also opt for clear boxes so you can easily see what is inside!
Whitmor Clear Heavy Duty Stackable Shoe Storage
11. Cardboard shoe boxes
My personal ideal would be to have good shoe shelves in my cupboards. If ever I get the chance to design or buy a new wardrobe, that is what I would do. For now I think I'm going to look for some good shoe boxes. See-through ones when they are placed in cupboards and nice closed ones with pictures in front for open spaces.
To me shoes make a space look messy very quickly, so although I want to be able to see them easily, they need to be hidden away from public view.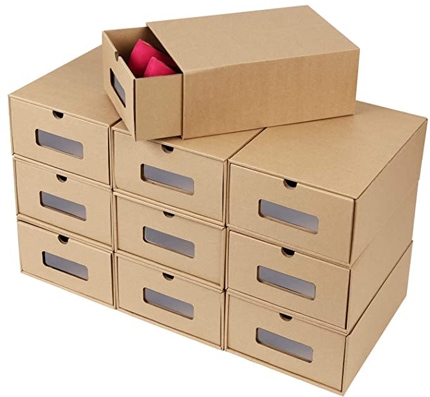 Prasacco Visible Cardboard Shoe Storage Boxes
12. Wall mounted
Another idea, either for within your closet or in an open space is to opt for a wall-mounted solution. You could just have one of these racks as part of your hallway storage, or you can line them up in rows.
j-me Horizontal Wall Mounted Shoe Organizer
13. Closet boot storage
Now that you're thinking about whether you are storing your shoes in the best way, how about your boots? Boots can be trickier to store and can soon become misshapen if they aren't stored correctly.
If you have multiple pairs of boots, hanging them in a vertical row can save space in your closet.
Boot Butler Hanging Boot Storage Rack
14. Boot hangers
A good solution is to hang your boots. You can make use of spaces that are currently not used and your boots are clear to see so they are ready to wear for transitional or cooler weather.
Boottiquie Boot Rack-Short Garment & Boot Rack
You may also need:
If you really want to store your shoes correctly, you will want to ensure they retain their shape and ensure they don't become damp. Cedar shoe trees can help to remove unwanted moisture as well as keeping your shoes in the right shape until you want to wear them.
All of these shoe storage ideas and solutions and many others have been pinned to my storage ideas Pinterest board where you can also see the sources of many of these images, so be sure to check that out. I will update that board as I come across new solutions.
How do you like to store your shoes? What are the best shoe storage ideas you've found? More ideas are always welcome!
Continue reading:
Like this post on shoe storage ideas? Share it on Pinterest!
Want to get more articles from 40+style in your inbox, subscribe here.
You can also connect with 40+style on Facebook, Instagram or Pinterest.
Support 40+style by using the links in our articles to shop. As an associate for Amazon and many other brands, we receive a small commission (at no cost to you) on qualifying purchases which enables us to keep creating amazing free content for you. Thanks!