I have never been that much into shoes, so shoe storage was never such a big issue for me. But as I have started to appreciate the value of fabulous shoes and acquired more, I find that I need better shoe storage. At the moment they are spread over a few places in the house, but not stored in such a way that I can easily see all my shoes. And what you don't see, you don't wear. So, time to find some better shoe storage solutions!
Shoe cupboards are of course the ideal. The only requirement of course is that you need lots of space. I guess it would be every girl's dream to have shoe cupboards (and the shoes) like the 2 pictured above. But even though I can't complain about my current living space at all at the moment, there is no room for these lovelies.
Shoe recks are ideal for smaller spaces or can be fitted in cupboards. I like the middle one above from Ikea which is great for just outside the door (it's customary in Asia to take your shoes off before entering the house). The disadvantage is that they can quickly give a messy appearance to the house.

A good solution is to hang your shoes. You can make use of spaces that are currently not used and your shoes are clear to see. A disadvantage for me is again that it would look too messy. However, if you have a dedicated clothing room this could be a great solution. I love the solution above middle where the shoes are hanged in such a zen way, that it's even nice to look at!
This is a very nifty solution if tyou have the kind of bed picture above. If you have a normal bed than under the bed drawers could work well too. You would need to know where to find your shoes though.
These are some great alternatives for small spaces. The caroussel on the left actually looks really nice. I also like the idea of using wine storage for shoes as you see pictured on the right.
This can be another efficient way to store your shoes. All of these can be hanged inside or outside of doors.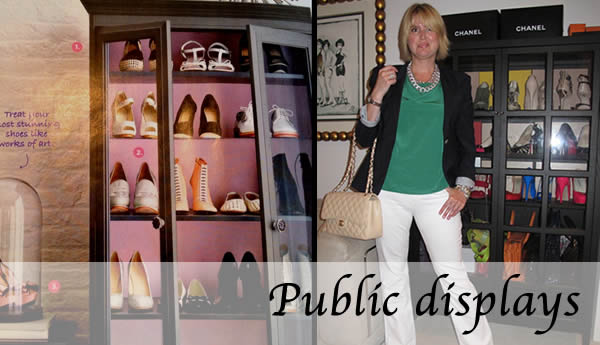 If you are really proud of your shoes, you can also store them as works of art or pride in your living room or other public areas. This is what Lissy does  from A girl in Boston.
I do a lot of my own shoe storage in boxes. I like the idea of using shoe boxes or boxes that are just a bit nicer (you could wrap your shoe boxes with paper so they all look the same) and then putting an image of the shoe in front of the box (as seen on the left picture). That way you still get an easy overview of all of your shoes, without your house and cupboards looking messy. If you don't mind putting a lot of shoes in one box then the above right solution looks nice too, but you will not get a good overview.
My personal ideal would be to have good shoe shelves in my cupboards. If ever I get the chance to design or buy a new wardrobe, that is what I would do. For now I think I'm going to look for some good shoe boxes. See through ones when they are placed in cupboards and nice closed ones with pictures in front for open spaces.To me shoes make a space look messy very quickly, so although I want to be able to see them easily, they need to be hidden away from public view.
All of these solutions and many others have been pinned to my shoe storage pinterest board where you can also see the sources of many of these images, so be sure to check that out. I will update that board as I come across new solutions.
Below are some storage solutions you can buy online.

How do you like to store your shoes? Any more ideas welcome!

Related posts: