I've already looked at clothing, shoe and handbag trends for fall. Now I'm turning my attention to the finishing pieces for your outfits – accessory trends.
Statement accessories
There was a lot of jewelry on the fall 2019 catwalks that definitely made a statement, rather than subtle, delicate pieces.
Designers went big with everything from necklaces to bracelets, earrings to rings featuring among the latest accessory trends. But, you don't have to be quite so outlandish if it's a little over-the-top for you.
Making women's accessories trends work for you
You can just use the runway trends as inspiration and adapt them to suit your own style personality.
Even though I don't follow trends slavishly, I always find it useful to keep up-to-date with what is on trend so I can cherry pick the trends I like and use them to update my outfits.
Here are the best accessory trends for fall 2019 to try.
Heritage pearls
You will have noticed from my piece on the best fall 2019 trends that designers have definitely taken inspiration from years gone by to create outfits in heritage fabrics.
That heritage feel was carried through to accessories with many designers opting to finish off their outfits with pearls.
While pearls can be seen as an old-fashioned piece of jewelry, they can also be very on-trend when worn in the right way.
Parabal Gurung – Chanel – Christian Dior

Long earrings
I'm pretty sure you won't want to be wearing earrings which come past your shoulders, but I thought it was useful to show you these so you can see that a longer length of earring was on trend for fall.
So, even if you don't want your earlobes to be carrying earrings which are quite so big, you may wish to think about wearing your drop or dangly earrings more often.
Louis Vuitton – Prabal Gurung – Loewe

Delicate dangly earrings
While some of the dangly earrings (as seen above) on the catwalks looked very uncomfortable, there were also more delicate options which looked much more wearable among the fall 2019 accessory trends.
Many of the drop earrings featured floral designs, mirroring prints on clothing, bags and shoes.
Valentino – Prada – Oscar de la Renta

Womens accessories with tassels
Tassels on jewelry have been one of the major accessory trends for the past few seasons, particularly for summer.
And, this is a trend that isn't going away. So, if you do have some tassel jewelry, don't put it to the back of your jewelry box just yet.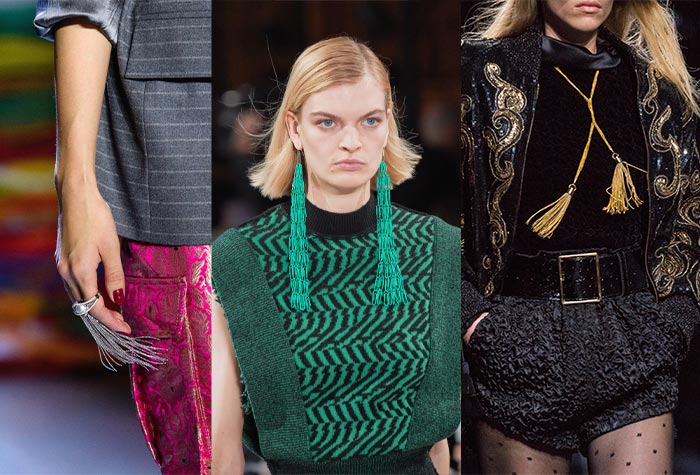 Prabal Gurung – Stella McCartney – Saint Laurent

Geometric fashion accessories
I love contemporary jewelry which features an unusual shape, and I was pleased to see many designers opted to create contemporary, geometric jewelry as part of their collections.
This kind of contemporary jewelry is a great way to update many of your existing outfits.
Sacai – Oscar de la Renta – Gucci

Bohemian ladies accessories
If you have more of a boho style personality rather than being someone who loves minimalist design, you are sure to like the free-spirited styles showcased by the likes of Oscar de la Renta and Stella McCartney.
Designers opted to use fabrics instead of metals to create jewelry, as well as adding coin detailing and feathers.
Stella McCartney – Chloé – Oscar de la Renta

Embellished hoops
Of course, hoop earrings aren't a new style. But, when you think about a hoop earring, you tend to think about a simple style of gold or silver hoop.
This season, designers chose to embellish hoops with extra gems or fabric.
Chanel – Stella McCartney – Altuzzara

Big, dramatic brooches
This was another accessory trend which had a heritage feel about it.
If you have brooches which you haven't worn for a while, now is definitely the time to give them another go.
You could wear them in the traditional way on your lapels. Or, you could add a brooch to your winter hat, as shown at Versace.
Dolce & Gabbana – Versace – Oscar de la Renta

Matching sets
Putting together an outfit which is too "matchy matchy" is often seen as a fuddy-duddy or old-fashioned thing to do.
But, I'm definitely noticing that matching pieces are on-trend again.
This was shown among the fall 2019 clothing trends with the two-piece suits on the catwalks.
For jewelry, many designers opted to create a big impact by matching earrings with necklaces.
Dolce & Gabbana – Chanel – Paco Rabanne

Chain necklaces
A timeless trend, chain necklaces are always in vogue. But, they are particularly on trend for fall 2019.
Designers kept the chainlinks large or created a modern feel by layering necklaces.
For more inspiration check out this piece on how to layer jewelry.
Saint Laurent – Alexander McQueen – Marni

Chunky bracelets
Just as with earrings, bracelets were chunky rather than delicate.
Wearing one, single, large cuff bracelet is an easy way to add impact and update your outfits.
Chanel – Chloé – Dolce & Gabbana

Colorful gemstones
While the well-known saying may be that diamonds are a girl's best friend, designers opted to showcase jewels of every color on the catwalks.
You could get the same kind of look with costume jewelry if you don't happen to have giant sapphires and emeralds to hand.
Dolce & Gabbana – Chanel – Versace

Wide belts
Moving on from jewelry, there were plenty of belts of all types on the runways.
Wide belts were cinched over sweaters, dresses and blazers, making sure that you always have a defined waistline, even if wearing baggier clothing such as a sweater dress.
Louis Vuitton – Stella McCartney – Saint Laurent

Metal belts
As well as the wide belts and those with large buckles, there were also plenty of delicate belts either made entirely of metal, or featuring gems or chains.
Marni – Givenchy – Chanel

Cozy scarves
I was so pleased to see that being on trend and being practical don't have to be two entirely separate things.
If you're living in colder climes, you can stay cosy and on-trend with these scarves, which are designed to add warmth AND style.
Saint Laurent – Chloé – Loewe

Scarves tied in a bow
These scarves obviously won't add so much warmth to your outfit, but they do demonstrate the most on trend way to tie your lightweight scarves this season.
Chiffon scarves were tied in over-sized, ladylike bows.
Miu Miu – Valentino – Dolce & Gabbana

Leather gloves
Another one of those style staples which never goes out of fashion, leather gloves are a great buy either for yourself, or as a gift for loved ones, for cooler weather.
If you are looking for gifts, you may wish to check out this piece on the best gift ideas for women over 40.
Dries Van Noten – Erdem – Burberry

Embellished tights
I'm sure most of you add a pair of tights to your look when the weather turns colder and you still want to be able to wear your dresses and skirts.
This season, there weren't any plain, black opaques on the runways.
Instead, designers opted to feature embellished tights or to opt for a bright pop of color.
I'm not sure about the yellow tights, but perhaps you might think about adding some texture to black tights, or choosing an autumnal shade such as burgundy.
Paco Rabanne – Erdem – Versace

Hats of every sort
There were plenty of hats on the catwalks. There were also plenty that I wouldn't wear.
But, isn't that the point of the major fashion shows sometimes – to showcase looks which are more outlandish than you would generally wear everyday.
However, there were also lots of lovely, wearable styles. I particularly liked Chanel and Saint Laurent's trilbies.
Loewe – Chanel – Saint Laurent

Statement rings
Just as other pieces of jewelry were large, so too were rings. Models wore just one or two big rings rather than more delicate options.
Adding special rings is actually one of Ruth Essex's 5 tips here to instantly elevate your style.
Valentino – Dolce & Gabbana – Versace

There's plenty more inspiration here in these articles on how to accessorize.
Which of these accessory trends is your favorite? Do you already have some of these in your closet?
Continue reading:
Like this piece on the best accessory trends? Share it on Pinterest
Want to get more articles from 40+style in your inbox, subscribe here.
You can also connect with 40+style on Facebook, Instagram or Pinterest.
Support 40+style by using the links in our articles to shop. As an associate for Amazon and many other brands, we receive a small commission (at no cost to you) on qualifying purchases which enables us to keep creating amazing free content for you. Thanks!