A pareo or sarong makes a great beach cover up. In many cultures, the pareo is part of a woman's daily wardrobe. I'm here to help you show how to wear a pareo in fashionable ways and use it beyond the beach.
Pick a pareo with a classic color and pattern. The one I use is from Zara. The pattern gives the way I tie my pareo visual interest, since I can create new patterns depending on how I tie it. The small tassels are a nice design touch.
Select a fabric that's not too sheer. A cotton-silk blend weave is a good, lightweight choice.
Also have a look at the best bathing suits for women over 40
What to Wear With a Pareo
I've evolved with fashion through the years, starting with a pareo and bikini, to wearing it as a dress, to layering one. Some of my favorite ways to layer a pareo include:
With a belt to cinch the waist
With a denim jacket
With leggings and a tank top underneath
With a strapless one-piece pant suit (worn in the pictures)
Ready to start wrapping?
1. A Kimono Shawl
Useful and stylish when it's a bit chilly or your shoulders need sun protection.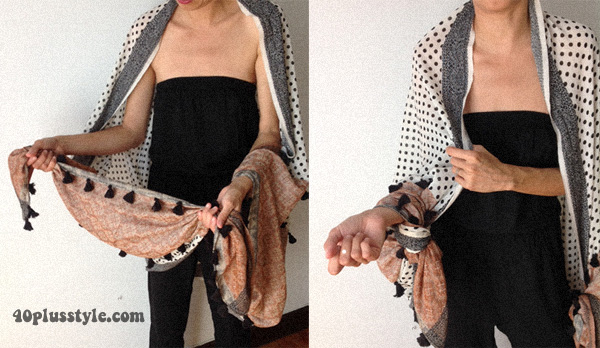 Take the short ends on each side of your pareo and tie them together leaving an opening for your hand to slip through each hole. The longer, hanging ties shorten the shawl to keep it on your shoulders.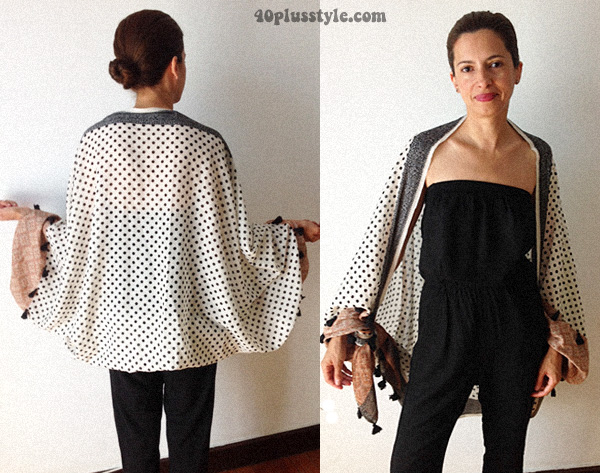 2. A Wrap Halter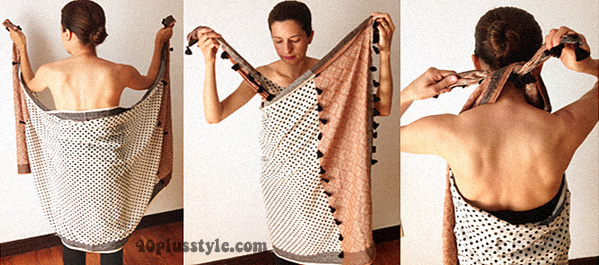 This is one of the easiest ways to make a dress or top. Place the middle of the pareo against your back and hold each end in your hand. Cross the ends across your chest and tie them at the back of your neck. Smooth the front, spreading the fabric underlayer to cover your chest area. This flows beautifully when worn with leggings or pants.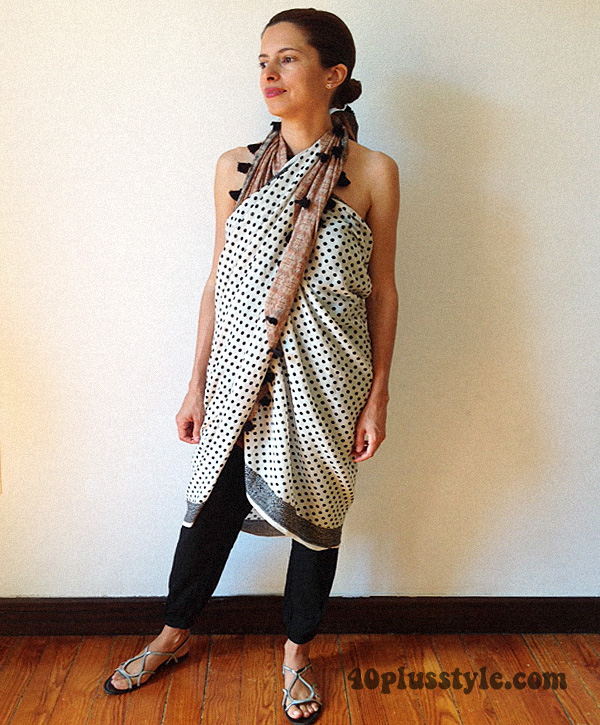 Add a belt to cinch your waist and to keep everything in place if you're wearing this as a dress. Choose a strapless bra, adjusting the neck tie to hold the back of the pareo up high enough to conceal your bra.
Also check the best bathing suit cover ups for for the beach
3. A Mini Halter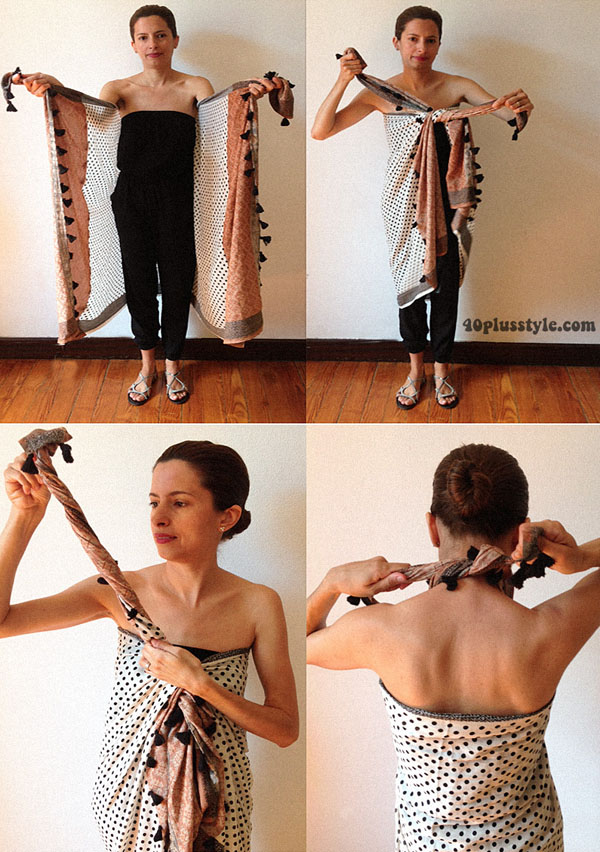 Tie your pareo in front with a big knot. Take the two hanging ends, twist them and tie at the back of your neck. Now you have an instant, flirty mini halter dress or top that looks great with shorts or leggings.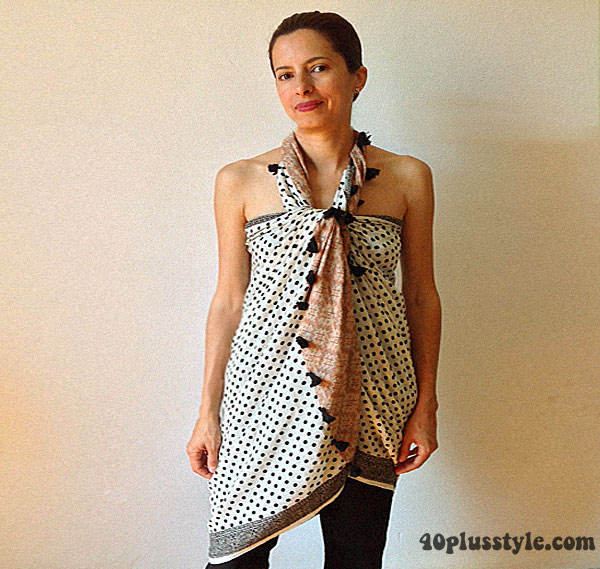 4. A Strapless Dress
This part of the technique will be the start of the rest of the looks: With the middle of the pareo against your back and the ends in front, grab some fabric at a halfway point between the tip of the pare0 and your chest for each side. Tie the bunched fabric pieces together, leaving the ends of the pareo to fall and hang.
For a clean, strapless look, find the two hanging ends, fold them together and tuck them into your chest, under the knot.
5. A Single Shoulder Strap Top or Dress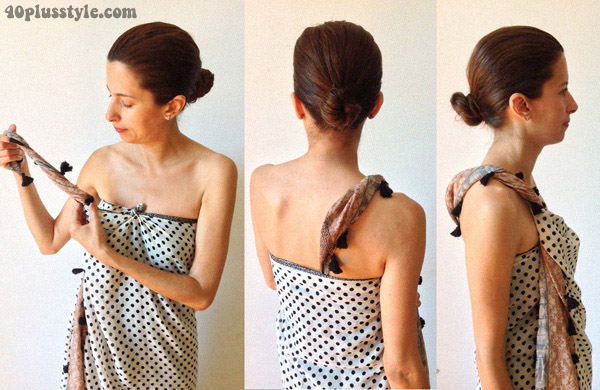 Follow the strapless steps but take one of the hanging ends, twist it and tuck the strap piece into the back of your pareo.
6. A Flowy Top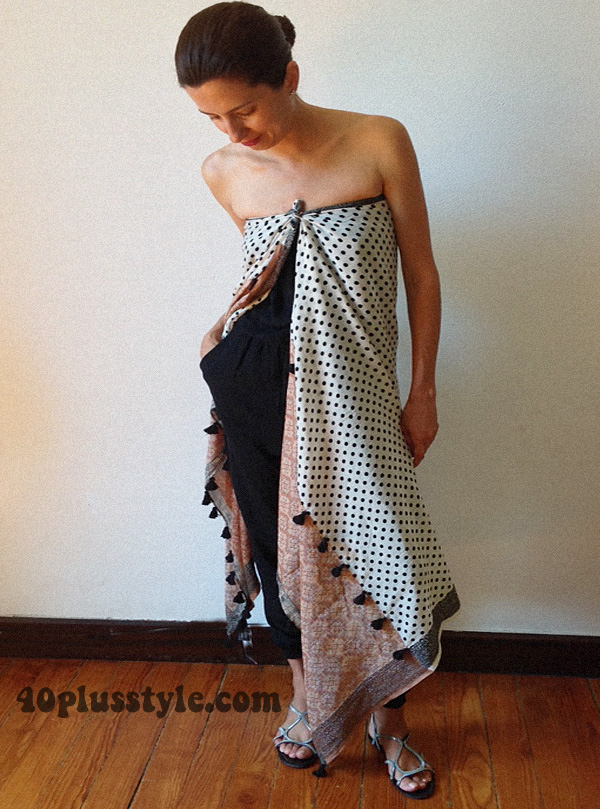 Use the strapless dress technique and leave the ends to hang in a strapless, flowy top like the photo above.
7. Flowing Bandeau Shirt Dress
Try this for a final fashion pareo technique.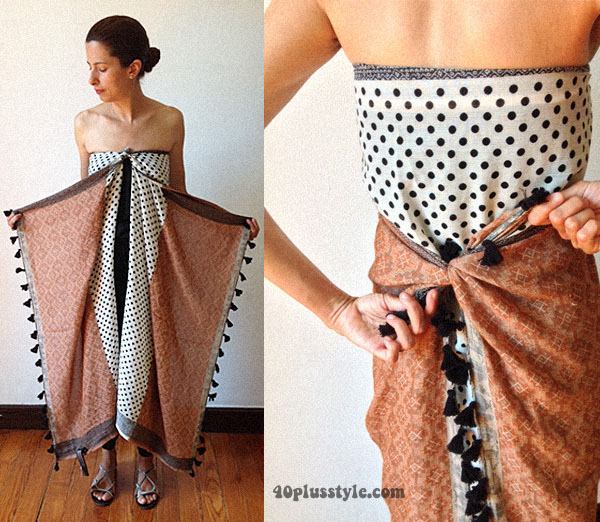 Tie your pareo with the strapless technique, grab the hanging ends and tie them in the back of your pareo, like an apron. The look is unique, and if you use a mirror to see your back, you can tuck until you create a really interesting pattern.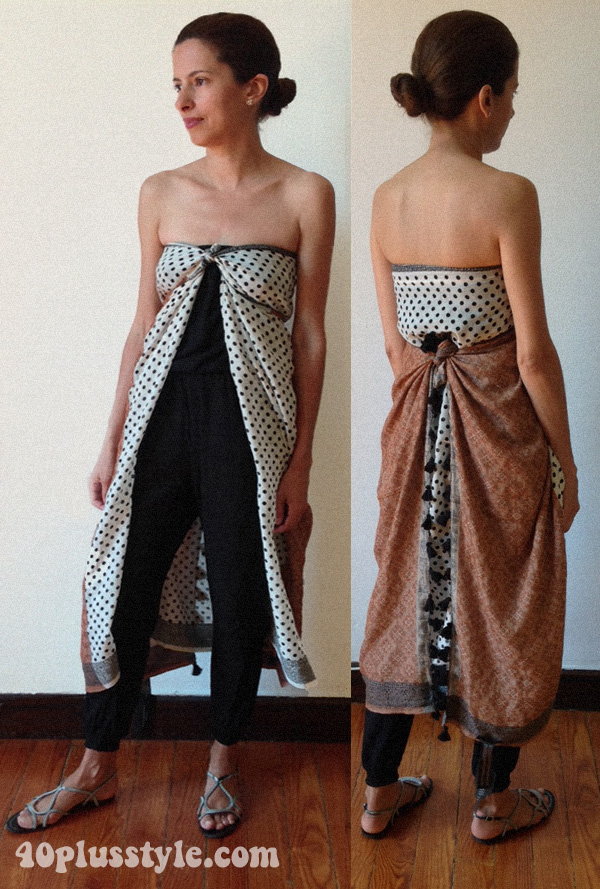 Now that you have some ideas, start experimenting! How will you wear your pareo?
Cynthia
Like this article on how to wear a pareo? Save it on Pinterest!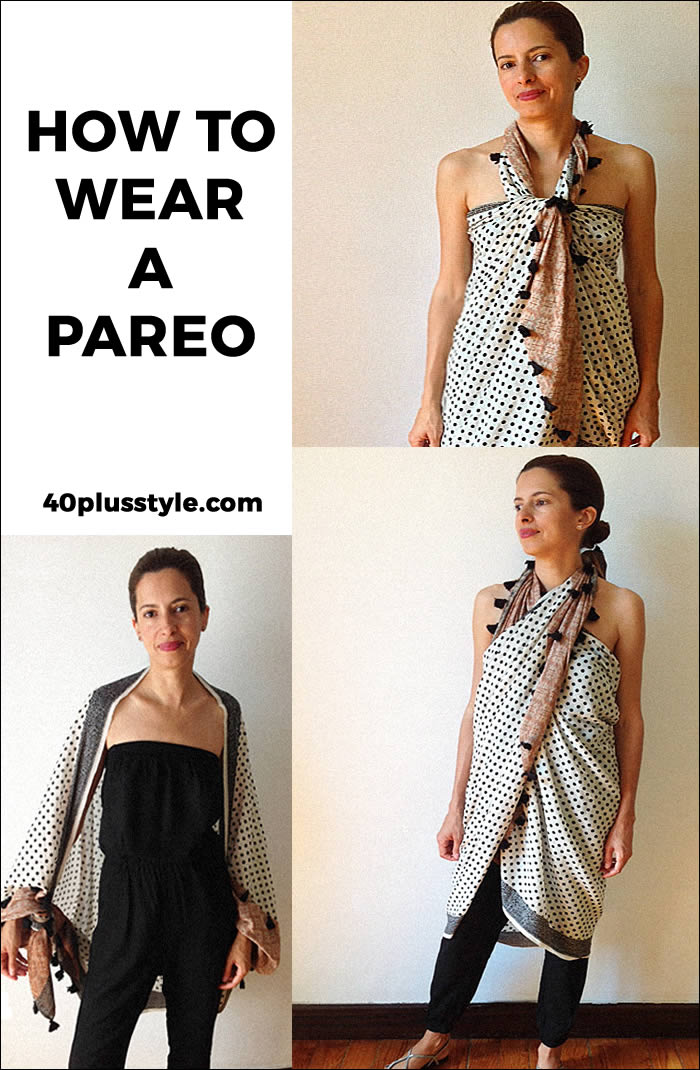 Want to get more articles from 40+style in your inbox, subscribe here.
You can also connect with 40+style on Facebook, Instagram or Pinterest.
Support 40+style by using the links in our articles to shop. As an associate for Amazon and many other brands, we receive a small commission (at no cost to you) on qualifying purchases which enables us to keep creating amazing free content for you. Thanks!