There seems to be a 'trend' going on where bloggers and instagrammers wear something new every single day which may prompt you to think that you need lots of clothes in your closet.
Not one to follow the crowd (mostly) I have been doing the opposite lately and basically wear the same outfit all the time. Different variations, of course, but essentially still the same thing.
I still feel good and I still look good, because I'm using a formula that just works for my style personality and body type.
So why stick to a formula?
There are a few reasons why a dressing formula works so well for me:
#1 Save money
As mentioned above I feel that overspending on clothes is not the right thing to do. I feel it's important to have plenty money left for experiences, sport and overall well-being. Spending some money is definitely important but we really should not aim to spend money on the right clothes (and fewer of them) and give them all sufficient wear.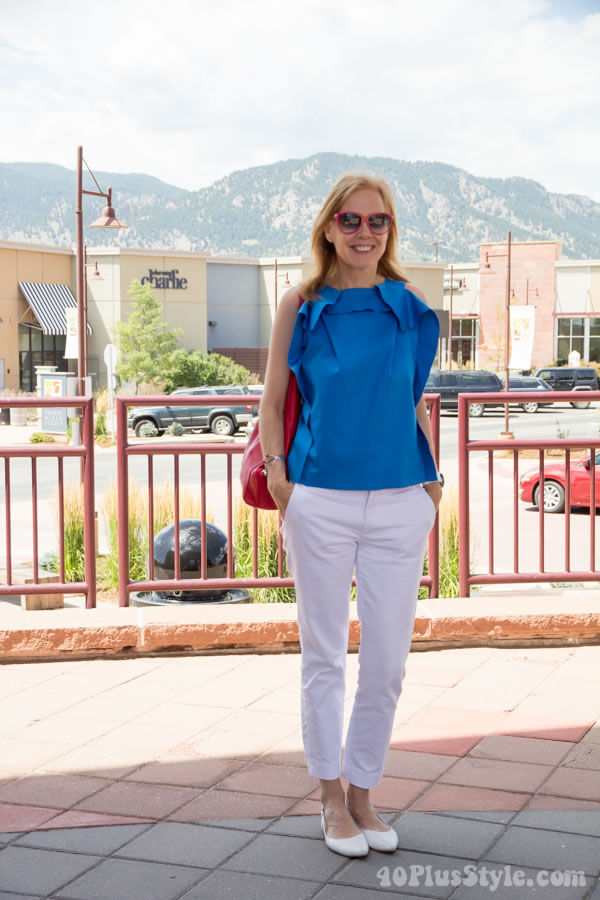 #2 Avoid waste
I also feel that we just have TOO MUCH. The landfills keep filling up and after watching the documentary The True Cost, I just feel we should do more with less. Do we really need overflowing cupboards? Or can we just concentrate on some simple outfit formulas that work for us?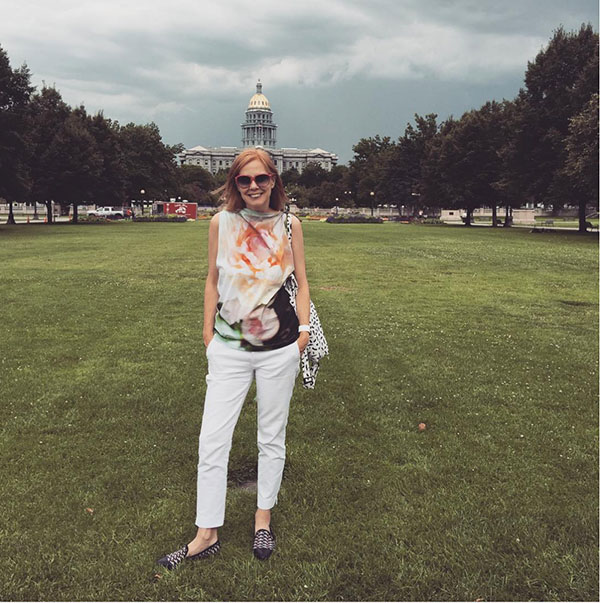 #3 Gain time
Then there is time. Or the lack of it. As a busy entrepreneur with lots of plans and ideas, I simply don't have the time to spend hours on shopping, grooming, putting different outfits together etc. Time is precious and I need a simple and convenient way to get dressed.
#4 Comfort & happiness ensured
Although I'm all for taking risks and trying new things, in fact I very much encourage it, I also believe in doing more of what works. When I wear my dressing formula, I KNOW that I will feel comfortable, happy and stylish in my outfit. It may not be the most adventurous, fashionable or creative outfit but I know that it does the main job of letting me feel good about myself.
My dressing formula
My basic dressing formula is simple:
Skinny 7/8 pants + original top that can stand on its own + nice shoes + accessories
Let's look at the details:
Skinny pants
I love my skinny pants from Zara that was also part of the casual summer challenge and capsule. I have them in several colors, but the ones I use most is my white version (by far the most popular) and the black ones.
They are comfortable, make my body look good and they look good with almost any kind of shoe.
I can therefore dress them up or down depending on the occasion. I wore them a lot in London for example with my sneakers, which was perfect for walking around. But I also love wearing them on an evening out with fancy shoes.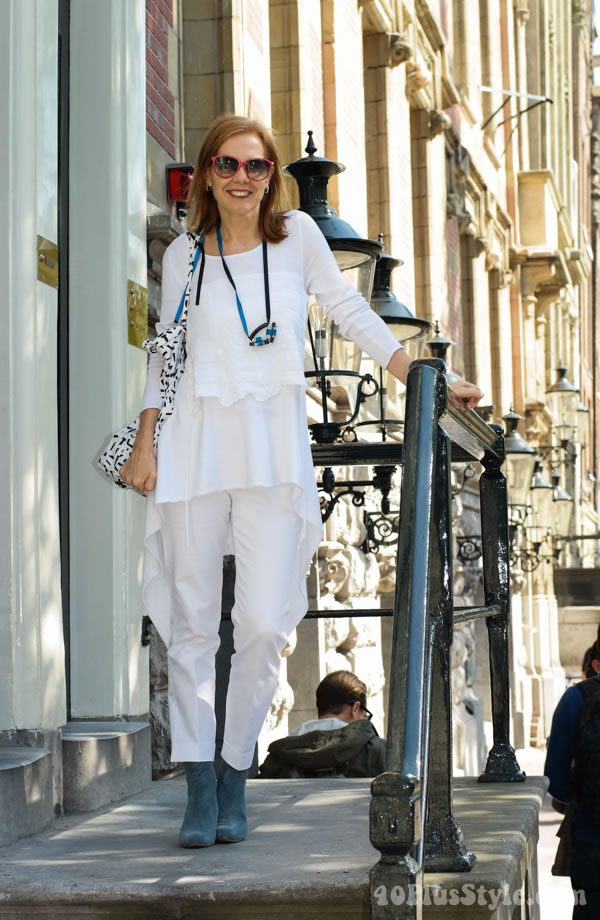 Top
I often advocate the purchase of tops that can stand on their own. Tops that are just a bit more special than your average t-shirt. I like asymmetrical tops, but it could be a print or a stripey top for you.
Of course if it's cooler a nice striped top with a blazer jacket would be perfect too! If you have a nice top then that's all you need to look good when you pair it with your skinny pants.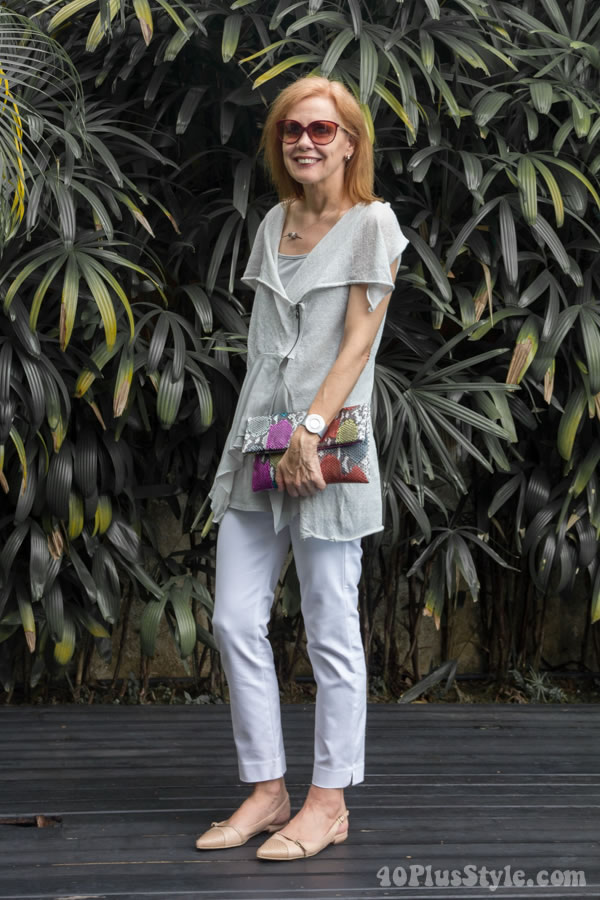 Shoes
The 7/8 pants can be worn with many types of shoes. My favorites are sneakers (for days when I walk a lot), booties (for colder days), pointy ballerina flats (when I want to be comfortable yet stylish), block heels (when I want to look a bit more polished and fancy) or wedges for a casual chic look.
Accessories
Last but certainly not less important are the accessories.
I ALWAYS wear some accessories. Often it's a necklace, bracelet and lately also earrings. When I'm outside, I wear sunglasses. They are the finishing touch and will make any ordinary outfit special. Don't ignore them!
Does this mean I don't wear anything else?
Of course not!
You have seen me in all kinds of outfits apart from this formula as every now and then, it's just fun (and necessary) to do something different. I usually make more of an effort when I go to a special event or whenever I have time.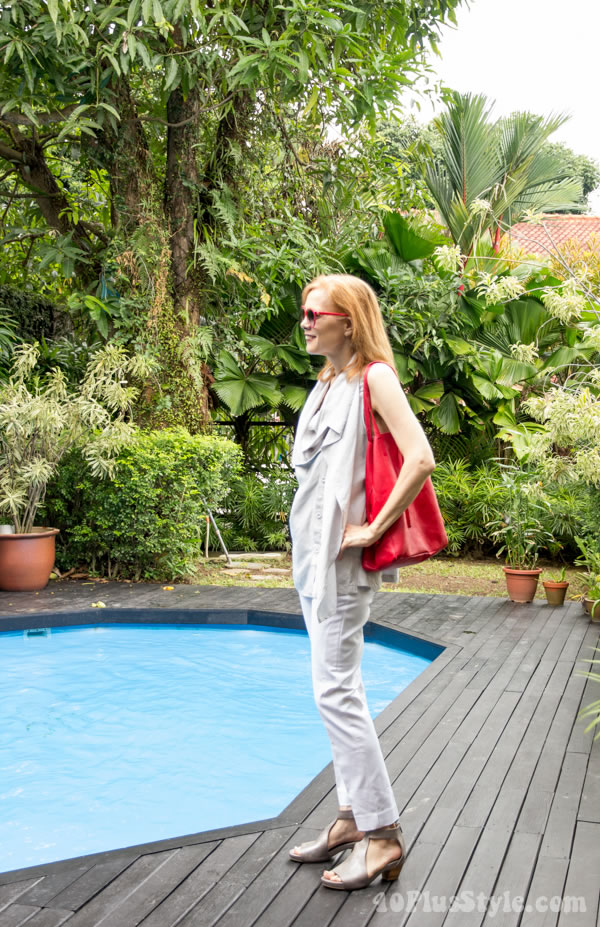 But it's super useful to have a few formulas ready to go.
They are ideal for those situations when you feel you 'have nothing to wear' or feel overwhelmed by the size of your wardrobe.
Use capsule wardrobes to minimise your closet and always have something to wear
In addition to a few formulas that work for you, it's also very beneficial to apply the principle of a capsule wardrobe to your closet. These are a collection of clothes that all work together and are able to be mixed and matched. This will allow you to create many outfits from just a few pieces.
If you like to find out more and put this principle into practice you can access our casual capsule wardrobe challenge.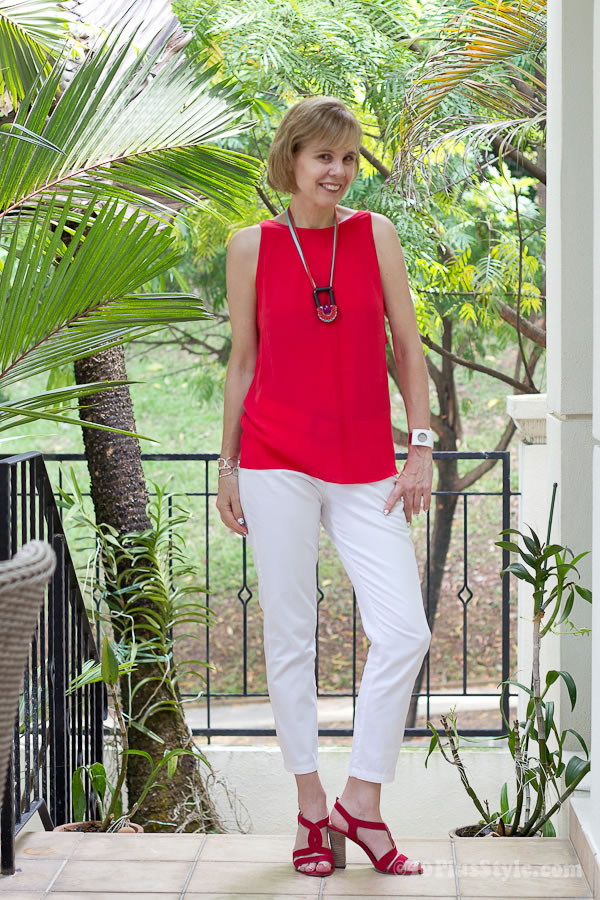 We will offer you lots more help in keeping your wardrobe lean, fabulous and practical in months to come so stay tuned!
Do you have any outfit formulas that work for you?

Disclaimer: I'm not a minimalist, I still have plenty of clothes and accessories. But doing more with less is definitely one of my goals this year!
Want to get more articles from 40+style in your inbox, subscribe here.
You can also connect with 40+style on Facebook, Instagram or Pinterest.
Support 40+style by using the links in our articles to shop. As an associate for Amazon and many other brands, we receive a small commission (at no cost to you) on qualifying purchases which enables us to keep creating amazing free content for you. Thanks!