Adding a new pair of shoes to an existing outfit can make a huge difference, instantly updating your style. If you are thinking about adding a new pair of shoes to your closet, what to choose? Below, you'll find the styles that stood out at the Fall 2023 runways. Take a look at these shoes for Fall 2023 and see which trend and style appeals to you the most.
Shoes for Fall 2023
From flats to fancy heels, you're sure to find a favorite trend for the new season. Look below at the 20 shoe styles featured most on the designer runways. Even though you may find some of the styles outrageous, milder versions of these styles usually trickle down to mainstream trends. That's why we'll also show you how the high street has interpreted these trends so you can start wearing them now. You'll find an overview of the most comfortable shoes with arch support here.
Classic court shoes
Let's start with a classic. You can't go wrong with black court shoes, which are always on trend. Many designers chose to go back to basics for Fall 2023 and featured timeless trends that won't date.
Opt for a heel height that's comfortable for you rather than choosing the four-inch heels showcased on the catwalks. Wear with tailoring or to dress up your jeans.

Also take a look at our style capsule for the classic style personality.
Pointed flats
If you prefer flats, there were plenty of comfy flats on the catwalks, too. Particularly on trend, this season are pointy rather than round toes. Pointed flats are good for adding the illusion of height and longer legs without having to wear a heel. Wear yours with full skirts, pants or jeans, both for the day and for the evening.
Gucci – Giorgio Armani – Prada

Check out how to wear flats without looking frumpy.
Wedges
Wedges are usually more popular for summer – think espadrille-style woven wedges. However, they're also having a style moment for winter and Fall 2023. Look for wedges where the wedge heel is in the same color and material as the rest of the shoe. Wear with your wide leg pants, or with your evening dresses for dinner and events you have coming up.
Givenchy – Bottega Veneta – Ferragamo

Shoes for fall 2023 – Thigh high boots
Thigh-high boots can be tricky to wear. We assume you want to look different from Julia Roberts in Pretty Woman. However, they can also look classy and on-trend. The trick is to either wear them under your midi dresses or wear them with skinny pants, jeans, or leggings that are a very similar color to the boots.
Giambattista Valli – Hermès – Bottega Veneta

There's more inspiration in our article on the best winter boots for women over 40.
Bows
Feminine and pretty, many designers opted for feature bows on their shoes for the new season. Balmain and Valentino combined bows with the classic court shoe trend, while Bally opted for ankle tie shoes. If you're concerned about your legs looking short, avoid shoes with ankle straps, as they can visually cut across your legs. But, if you love your ankles, wear them as they draw attention there.

Brogues and loafers
From girly and feminine to menswear-inspired, brogues and loafers featured heavily on the Fall catwalks. Wear with your ankle or wide-leg pants or with your skirts and dresses for a preppy look.
Miu Miu – Giorgio Armani – Stella McCartney

Gold heels
Some glamour for you now. There were lots of gold outfits all over the catwalks for Fall 2023, but if you want a more subtle take on the gold trend, take a look at how the likes of Saint Laurent, Bottega Veneta and Balmain added a contrasting gold heel to their shoes. Look out for similar pairs on the high street (below) and wear them for dinner or parties. They will go beautifully with your favorite little black dress or to dress up your jeans.
Saint Laurent – Bottega Veneta – Balmain

Red boots
Red is definitely the color of the Fall 2023 season. It was all over the runways, with designers using red top-to-toe for clothes, shoes, and accessories. If you're treating yourself to a new pair of boots this season, why not add a bit of drama with a red pair? Choose long boots and wear them under your dresses.
Saint Laurent – Hermès – Hermès

Read and find out the complete list of the color trends for Fall 2023.
red shoes
Red is such a big trend for Fall that we're bringing you red shoes too! Opt for any style of shoes from our round-up, so long as they're red, and you'll definitely be on trend. You'll see that Ferragamo combined two trends in one by using a wedge style on red shoes.
Dolce & Gabbana – Ferragamo – Louis Vuitton

Take a look at our article on how to wear red for more inspiration.
shoes for fall 2023 – Cream boots
If you're more of a neutral kind of gal, then there were also plenty of cream boots walking down the runways. Choose a knee-high block heel style. Cream boots are perfect for wearing skinny or slim white jeans, so you can still wear them during the cooler months. Cream boots also go well with summer dresses as they're not so 'heavy' looking as darker colors like black.
Bottega Veneta – Off-White – Bally

Metallic
We love metallic shoes as they add instant modernity to your outfits. There were lots of silver boots on the catwalks. Or, for a more subtle take on the metallic trend, choose a pair of boots with metallic accents, as shown at Off-White. The great thing about metallics is they work as a neutral, so they go with everything.
Bottega Veneta – Off-White – Alexander McQueen

Take a look at the best silver shoes for a hipper more youthful look for more options.
Mock croc
Texture is a great way to add interest to your outfit, and you can do that with the mock croc shoe trend for Fall. Choose classic courts, boots, slingbacks or pointed flats. While traditionally mock croc styles tend to be in shades of brown, choosing a pop of color will give you a hipper look.
Bottega Veneta – Victoria Beckham – Gucci

Pale pink
They're not the most practical options, particularly if you're expecting bad weather, but Miu Miu and Victoria Beckham got around that problem by choosing to create their pink shoes in an easy-to-clean patent material. Or, if you're simply going from a taxi to a restaurant, wear pale pink shoes as part of your evening outfit.
Miu Miu – Giambattista Valli – Victoria Beckham

Shoes for fall 2023 – Buckles and studs
A little bit of rock chick style for you now. If you want to add a bit of an edge to your outfit, then choosing a pair of shoes or boots with studs and buckles is a great way to do so. Valentino chose to combine the look of classic court shoes with rock chick styling by adding studs, but you could also choose flat boots to tuck your jeans into.
Alexander McQueen – Balmain – Valentino

Fluffy
Again, it's not exactly practical, but if you want to add a bit of playfulness to your outfit, choose a pair of shoes with some fluff or fringe. If you're not keen on fluffy shoes, you can add the trend with a fluffy handbag instead.
Bottega Veneta – Gucci – Stella McCartney

Slingbacks
Another classic shoe shape is the slingback. Slingbacks look refined and elegant and are perfect for everything from workwear to evening dresses and jeans. Choose a pointed toe, and opt for a lowish heel that is easy to walk in.
Gucci – Giambattista Valli – Miu Miu

Jewels
With party season coming up, why not add a bit of bling to your shoe closet? Jeweled shoes are perfect for dressing up your favorite black dress. Or, wear with a tuxedo suit for any events you have coming up.
Miu Miu – Giambattista Valli – Stella McCartney

shoes for fall 2023 – Mary Janes
With a bit of a retro feel, Mary Janes are ideal for preppy outfits. Wear under wide-leg pants for extra glamour, with cropped pants to show off your ankles, or with your dresses and skirts.
Christian Dior – Giorgio Armani – A.P.C

Lace-up boots
Choose lace-up boots for a more urban take on boot trends this season. Wear with your leggings and skinny jeans, or you can 'toughen' up your floaty summer dresses by wearing them with tights and lace-up boots.
Off-White – Christian Dior – Gucci

Sculpted heels
As well as the gold heels you've already seen in our round-up, there were also lots of exciting heel shapes on the designer runways. Look for heels that get wider at the bottom, those that bend in ways you wouldn't expect, and those in curvy shapes. They're definitely a talking point at any party.
Loewe – Giambattista Valli – Christian Dior

Which of these shoes for Fall 2023 would you wear? Which fall shoe trends excite you the most?
Continue reading:
Like this article on Shoes for Fall 2023? Share it on Pinterest!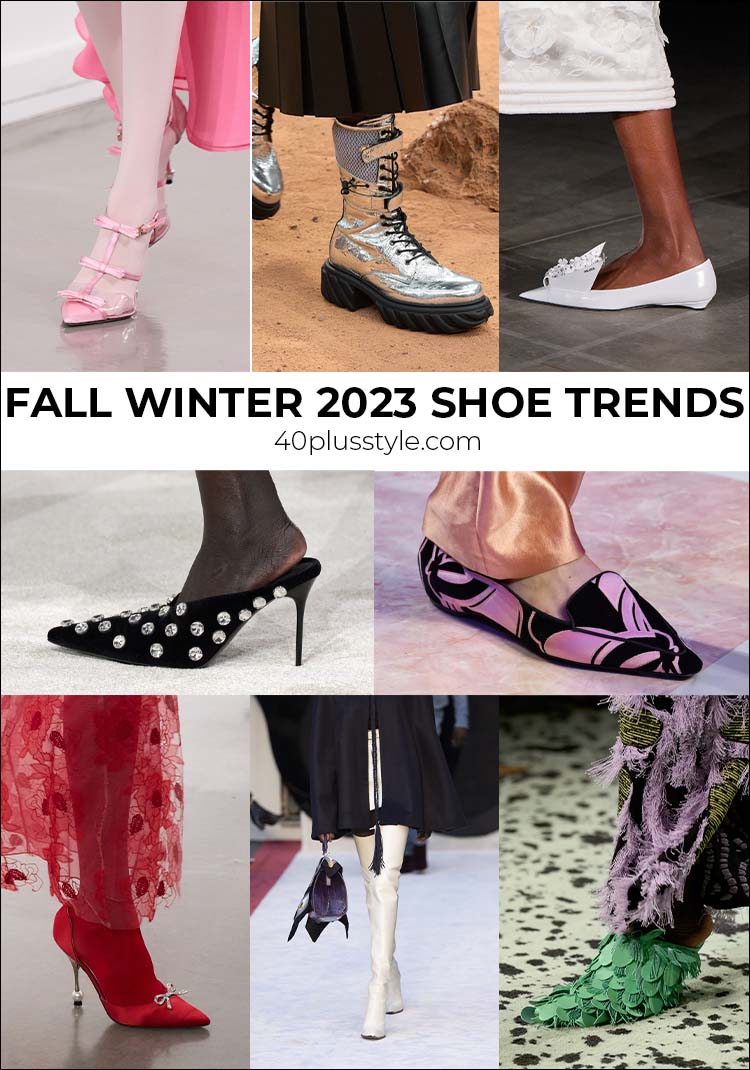 Images from Vogue
Want to get more articles from 40+style in your inbox, subscribe here.
You can also connect with 40+style on Facebook, Instagram or Pinterest.
Support 40+style by using the links in our articles to shop. As an associate for Amazon and many other brands, we receive a small commission (at no cost to you) on qualifying purchases which enables us to keep creating amazing free content for you. Thanks!