I mentioned before that although I like the look of a maxi skirt or dress on others, I cannot make this look work for me. I'm not sure why that is but I feel the look overpowers me and makes me look huge. It does not help that I'm usually not that much into prints which are very popular for maxi skirts and dresses.
Still, I do really like the look on others. I feel it's feminine and often deliciously bohemian chic.
I'm sure you will agree with me that the women featured today look absolutely fabulous!
Suzanne (Suzanne Carillo Style Files) really knows how to rock both maxi dresses and a maxi skirt. She looks truly amazing on all of these images. How beautiful and dreamy is that last picture in her flower maxi dress?
MCarmen (MyEmptyBag) is looking beautiful, romantic and dreamy in this pastel flowery maxi dress combined with chambray shirt.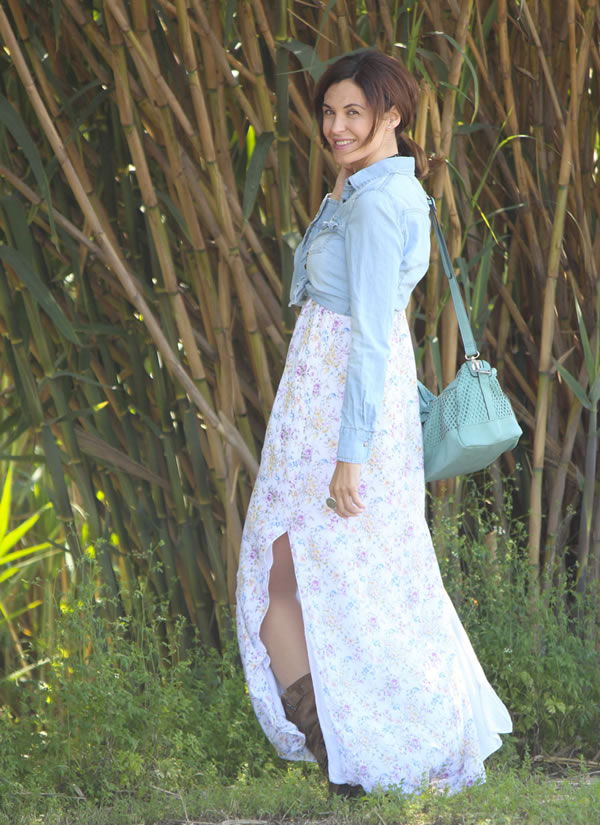 Lissa is looking fabulous in her 2 maxi dresses. Of her first turquoise maxi dress she says: "This is a drapey knit dress that I re-styled so it has more shape.  Also, covers arms just right :>) The necklace is from Target!  The headscarf is vintage from a Swap Event. The sandals are old – I painted the stripes for fun.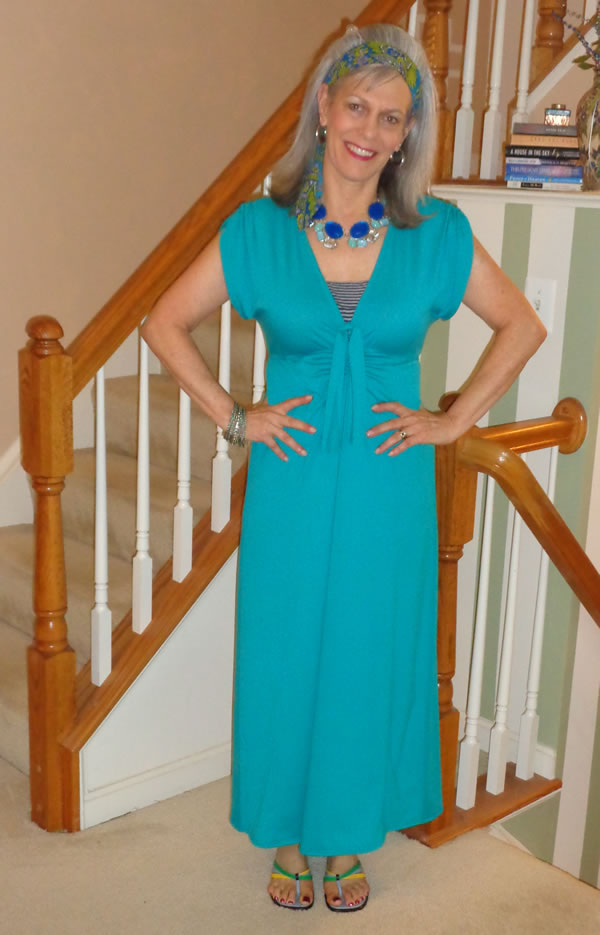 About this black maxi dress with colorful prints Lissa says: "This is fine for work with the little cotton sweater, but playful and casual without…."
The Wardrobe Mistress (Home where story begins) wears a long black net skirt purchased from the Paris Street Market, a Vintage Antique Market (02 Collection), printed tee (Suzie in the City), accessorized with misc. pearl jewelry, purse (Mo), nude flats and 100% paper handmade sun hat (Cushees Boca Raton FL USA). Lovely to see your face today!
Ana (Mrs American Made) writes that she finds the maxi dress the easiest item to wear of all – just one item and throw it on! Great look!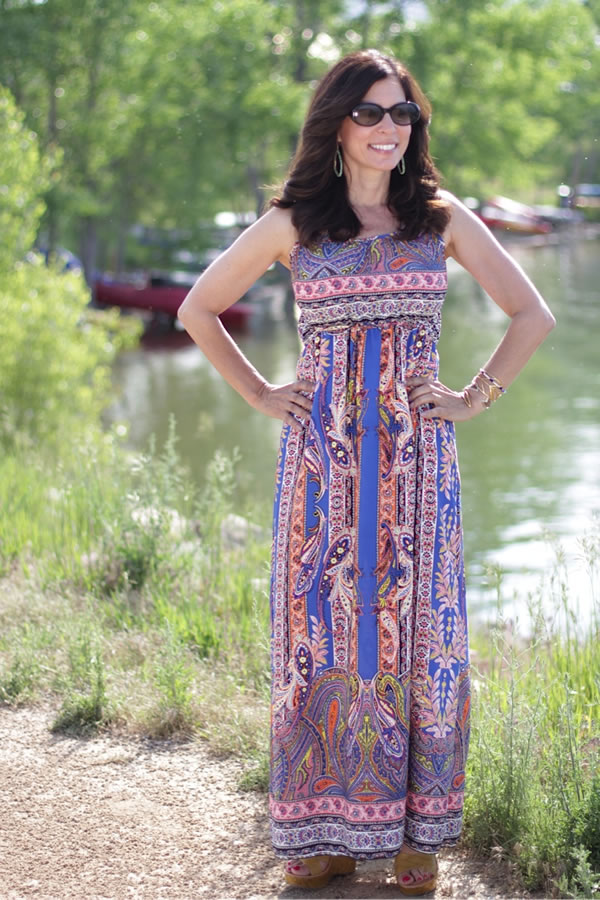 Linda loves the maxi dress as well and is showing 6 fabulous versions here.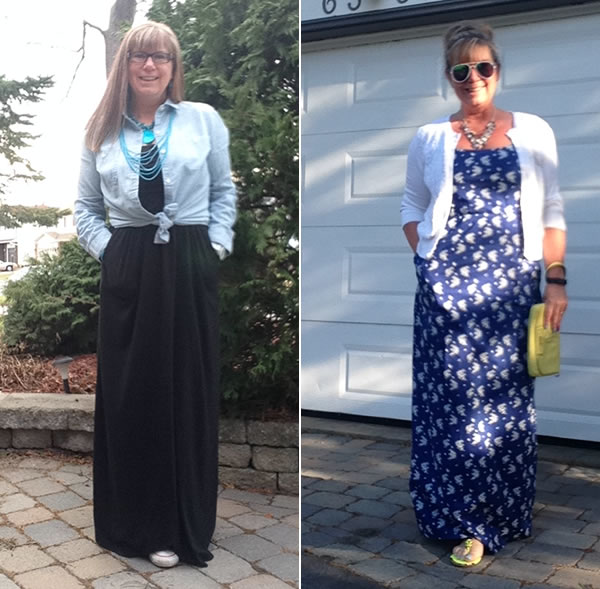 Lorraine is looking glorious in her 2 colorful creations that she combines with short cardigans. Here is what Loraine had to say about her dresses: "I have maxi dresses which I wear on holiday abroad but it's not something I have worn during the day in the UK. However, I like the feeling of the fabric around my legs so I might give it a try.". I think she should; she looks magnificent in these dresses.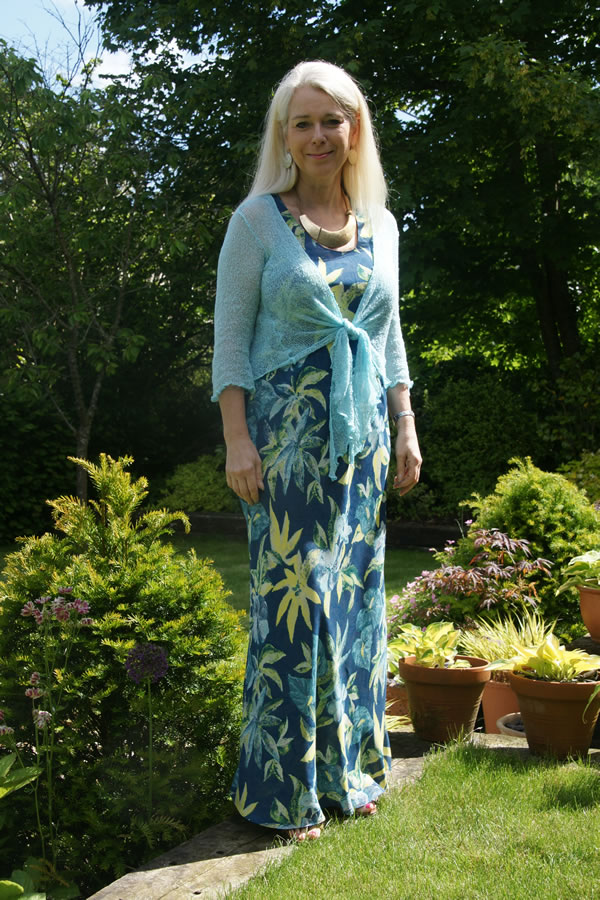 Thanks again to all ladies for submitting these glorious looks! After seeing all these fabulous outfits, I feel I may have to give the maxi dress another go. I did a quick search and there is a huge selection of maxi dresses available. Here are just a few of my favorites.

Are you ready for the next challenge?
We have almost come to the end of the Casual Style Challenge and this will be our last mini challenge. This one is more up my alley and I have already photographed my look. Show me your best looks for casual outfit formula 7 which is knee-high pants with a jacket, cardigan or blouse. Your pants can be longer than knee-high but not as long as 7/8 pants. The reason I added a jacket or blouse is to make this look a bit dressier, but if you feel your look is casually chic with just a top then you can submit that as well.
There are a 2 ways you can join in:
Photograph yourself in a look that follows formula 7 and send the photo(s) to me at sylvia [at] 40plusstyle.com. Make sure your photo is of good quality. You can send as many photos as you like, but they all need to follow the casual outfit formula 6. You can feature any type of skirt and top / or
Create a collage in Polyvore. It's free to sign up and create collages and you can post the link to your collage in the comments of this article or send it to me through email.
Please ensure your entries are in by 14 June. I look forward to seeing your outfits!
For now, do you wear maxi dresses or skirts? Which of the above looks is your favorite?