We have A maxi dress is a great choice for summer as Patrica shows above. In this article let's see how to wear a maxi dress. I will also highlight some of the best maxi dresses online now.
How to wear a maxi dress
A maxi dress if a fabulous option for summer but you need to know how to wear it. A maxi dress can overpower you, so the right proportions are key.
Things to keep in mind when you're wearing a maxi dress
Pay attention to proportions. Be aware of the length of your legs and torso and adjust accordingly.
Also make sure that the dress is not wide all over. Although that can work for some women, for others the volume will be overpowering.
Make sure there is structure in your look: emphasizing the waist is usually a very effective way to add structure. This goes as well when you are wearing a midi dress.
Layer with a short jacket: This is a great way to add structure too. You can opt for a jacket that ends at your waist (for a 1/4 – 3/4 silhouette that makes your legs look extra long). A longer jacket will work too which creates the usually very flattering 1/3 – 2/3 silhouette.
Take advantage of asymmetry and high-low effects: These usually help to make your maxi dress more flattering as they break up the large volume and create flattering vertical lines.
Read our article on the best midi dresses for women over 40.
10 of the best maxi dresses in stores now
Here are the top 10 maxi dresses I love in stores now. These ones could definitely tempt me to try maxi dresses again.
As I'm updating this for summer, I've concentrated on pieces you would wear during the warmer months, or for a vacation. But there are also some beautiful pieces here that you could take into fall by wearing with boots and a moto jacket.
1. white maxi dress
When you think of a long white dress, you probably think of a wedding dress. But, I think a white maxi dress can look beautiful for summer and beyond.
Fraiche by J high/low wrap maxi dress
I'd opt for a more casual style like this chic wrap dress which you could team with metallic sandals for summer.
2. sexy maxi dresses
Julia Jordan metallic stripe halter maxi dress
One person's idea of what is sexy is obviously totally different from another's. But, in my eyes, it is all about confidence rather than necessarily showing off lots of flesh. So, I'd choose a maxi dress to show off what you like most about your body.
For instance, you could choose a halterneck style if you love your shoulders or a maxi dress with a slit on the leg if you love your legs, like this pink and white dress Monica is wearing (below). Here is a similar tie-dye dress you can check out.
3. long sleeve maxi dress
It can be difficult to find maxi dresses which have sleeves if you prefer to cover-up your upper arms.
But, a shirt style could be a good option. Choose a vibrant color to add some cheer to your summer. Or you could choose a neutral with a stylish pin, or add a belt.
Also check out this article on the best dresses with sleeves.
Vicki (above) looks gorgeous in this striped dress with long sleeves. It's also a very versatile look that you could wear for warmer or cooler months. Copy this style with a similar dress here.
4. plus size maxi dresses
One of the great things about maxi dresses, I think is that there are some beautiful options no matter what your shape or size.
You could opt for a style with a pattern which can be worn with black sandals for summer and then you could swap those for booties or knee-length boots for fall.
How to wear a printed maxi dress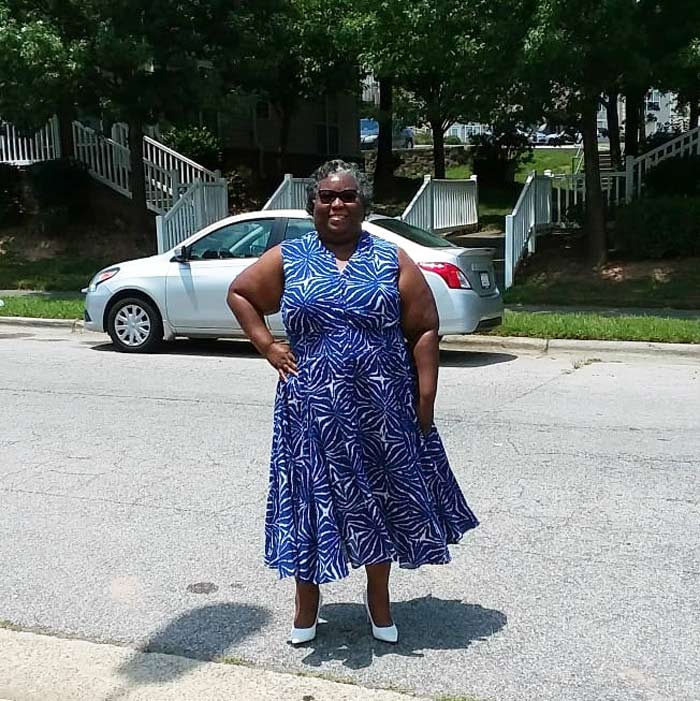 Regina (above) got her blue and white printed dress from Dressbarn. Here is a similar dress from the brand.
5. black maxi dress
Just as the little black dress is a classic, so to is a black maxi dress.
You could wear a black maxi dress with pretty much anything, whether you choose to team it with a denim jacket for casual days, or dress it up with statement jewelry and heels.
6. floral maxi dress
A floral maxi dress is definitely a classic look for summer. But, if you choose florals which have a darker background, you can also easily wear with a moto jacket for fall.
Galiya (above) paired her floral dress with sneakers for a casual look. Here is a maxi dress with a floral print.
7. petite maxi dresses
If you are petite, you may feel that you have to avoid maxi dresses, but so long as the length doesn't swamp you, they can be a beautiful option.
Wearing separates can visually create a line or lines across your body which can make you look shorter.
Choosing a dress in one color can elongate your figure. You could also choose a length that you can wear with heels to make your legs look longer and you look taller (if you want to).
Eileen Fisher sleeveless maxi dress
8. lace maxi dress
A lace maxi dress can provide a formal look, but it can also give you a bohemian look for summer. You could add a denim jacket and sandals to make it more casual.
9. red maxi dress
A red dress always creates impact and a red maxi dress with definitely get you noticed. I would just add a statement necklace and sandals for summer.
Get a similar v-neck red dress to the one Melanie (below) is wearing here.
10. wrap maxi dress
A wrap dress is an absolute classic, although wrap dresses tend to be thought of as knee-length options.
But, there are definitely some beautiful maxi length options.
Wrap dresses tend to be universally flattering because of the v-neck and defined waist.
French Connection wrap maxi dress
What to wear with your summer maxi dresses
I think a maxi dress makes a stunning statement on its own.
It's easy to wear yet makes an impact. But, you may well want to add other pieces to your maxi dress either because it is cooler in the evenings during summer, or you want your maxi dress to have seasonal longevity so you can wear it in fall too.
By adding the right accessories, you can take your maxi dress from day to night. Plus, unless you are walking barefoot on the beach, you will definitely need some shoe options for your maxi dress.
How to wear a maxi dress with Coats, jackets and cardigans
You may wish to have an outer layer to go with your maxi dress or skirt – either because the weather cools down in the evening on your vacation, because you are wearing your maxi dress as a transitional layer, or because you prefer to cover your arms.
I think that a jacket or cardigan which ends at waist level or slightly above looks best. Otherwise, you can end up feeling lost in fabric if you have a long dress and also a long jacket. However, this can work if you belt over the top of your cardigan or jacket.
You could opt for a cropped cardigan or denim jacket to add some warmth on vacation evenings.
Or, you could add a moto jacket to take your maxi skirt or dress from summer to fall.
Cupcakes and Cashmere moto jacket – 1901 denim jacket – Alex Mill crop cardigan– Vince Camuto tie hem satin blazer
Abi (above) added a blazer over her printed maxi dress. Get a similar black and white striped maxi dress here.
Shoes and boots to wear with maxi dresses
I always think that open-toe sandals or shoes work best with maxi dresses. A closed toe ballet pump or heeled pump just doesn't look right with the informal sweep of a maxi dress.
But, I also think booties look great for fall and winter (either closed or open toe), as well as knee-length or over-the-knee boots.
That way, you can get much more use out of your maxi skirts and dresses.
Born gladiator sandals– Nine West espadrille wedge sandals – Toms ankles trap sandals– Naturalizer knee high boots
handbags and accessories to go with your maxi dress
Unless you are opting for a formal ballgown in a maxi length, a maxi dress tends to have a casual air of easy style. I would make sure that your accessories and handbags have the same kind of feel.
So, instead of structured tote bags, you could think about natural materials such as rattan, softer shapes and tassels.
For your jewelry, I would keep that I-haven't-tried-to-hard vibe by opting for long pendant necklaces, and drop or hoop earrings.
I think maxi skirts and dresses can have a Grecian feel about them, so you could also go down this route and choose a stack of bracelets or cuff bangles.
You could also add a scarf. Although, I'd make sure it isn't too long as you will end up swamped in material.
Antik Kraft woven straw satchel – Mali + Lili woven rattan bag – Cult Gaia Mini Ark Handbag – Sondra Roberts colorblock hobo bag– Treasure & Bond silk square scarf – Akola tassel pendant necklace– Vince Camuto cuff bracelet – Argento Vivo hoop earrings – Knotty tassel drop earrings – Knotty multi tassel drop earrings
Here is the complete capsule wardrobe with 10 looks using the pieces I featured above
More tips on how to wear a maxi dress
1. Keep it simple
As your maxi dress is a dramatic, flowing piece, you can afford to keep the rest of your look simple. A simple pair of sandals and a rattan bag is a perfect vacation look.
2. Don't put your maxi dresses away for winter and fall
While maxi dresses are usually thought of as easy, breezy, floaty pieces to wear for summer, they can also make great transitional pieces. You can add a turtleneck sweater underneath, a moto jacket and a pair of booties, knee or over-the-knee boots.
3. You don't have to choose patterns
If, like me, you tend to opt for block colors rather than patterns, a maxi dress can still be a stylish option. You could opt for a stylish one-color shirt or wrap dress, or a long tunic, which you could belt to add shape.
4. Don't forget about your body shape
Choose a dress to suit your body shape. For example, if you are an hourglass, you will look best in a style which either comes in at the waist or which you can tie. If you are an apple, you might want to choose an empire style. Try on a number of different styles to see what works best for you.
5. Pay attention to the length
Either go for a floor-length dress (making sure it's not so long that you trip over it!) or make sure that your dress hits at the slimmest part of your legs as that will be most flattering.
Maxi skirt and dress inspiration
Suzanne really knows how to rock both maxi dresses and a maxi skirt. She looks truly amazing on all of these images.
Ana writes that she finds the maxi dress the easiest item to wear of all clothes – just one item and throw it on! Great look!
Lorraine is looking glorious in her two colorful creations that she combines with short cardigans.
Here is what Loraine had to say about her dresses: "I have maxi dresses which I wear on holiday abroad but it's not something I have worn during the day in the UK. However, I like the feeling of the fabric around my legs so I might give it a try." I think she should; she looks magnificent in these dresses.
@hagitdana_stylist (below) wears a denim vest over a black sleeveless maxi dress. Get a similar dress here.
Lizzie's outfit (below) is all about colors. She is wearing a printed maxi dress with red heels. You can check this bell sleeved dress and heels for options if you want a look like this for yourself.
@thesummermama (below) is wearing a maxi dress from Boohoo and a rattan handbag from Topshop. Check out this dress and bag for a similar look.
Do you wear maxi dresses or skirts? Which of the above looks is your favorite?
Feature image by Patricia
Want to get more articles from 40+style in your inbox, subscribe here.
You can also connect with 40+style on Facebook, Instagram or Pinterest.
Support 40+style by using the links in our articles to shop. As an associate for Amazon and many other brands, we receive a small commission (at no cost to you) on qualifying purchases which enables us to keep creating amazing free content for you. Thanks!