A maxi dress is a great choice for summer because it looks incredibly glamorous but is also very easy to wear. In this article let's see how to wear a maxi dress. I will also highlight some of the best maxi dresses online now in case you want to treat yourself to a new one.
What is a maxi dress?
Well, this may seem like an obvious question, but what is the definition of a maxi dress? Generally, a maxi dress is a floor, or ankle, length dress. Any shorter and it would be a midi dress.
Easy to throw on, a maxi dress can exude elegance while still being the ultimate in casual wear. Plus, a maxi dress, unlike any other length, means you don't have to shave your legs!
How to wear a maxi dress
A maxi dress is a fabulous option for summer but you need to know how to wear it. A maxi dress can end up overpowering you, so the right proportions are key.
Things to keep in mind when you're wearing a maxi dress
Pay attention to proportions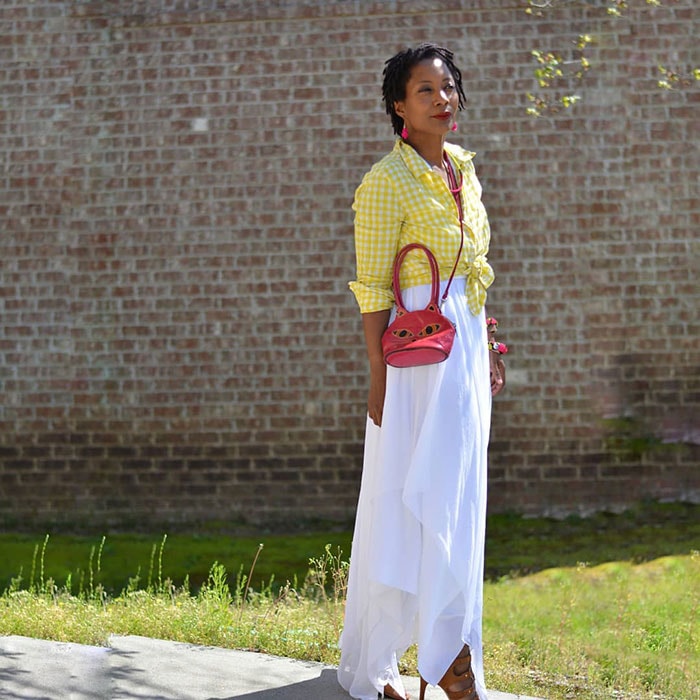 Be aware of the length of your legs and torso and adjust accordingly. While a floor-skimming maxi dress can be fabulous, you don't want it so long that it is actually brushing the floor and you are tripping over.
Troy @thethriftanista above (read her style interview here), opt for heels with her floor-skimming skirt. Note that by knotting her shirt rather than wearing it loose, she makes her legs look even longer.
Steal her look with this similar maxi dress, check shirt, crossbody bag, heels and earrings.
Make sure that the dress is not wide all over
Although a wide, loose style can work for some women, for others the volume will be overpowering.
Make sure there is structure in your look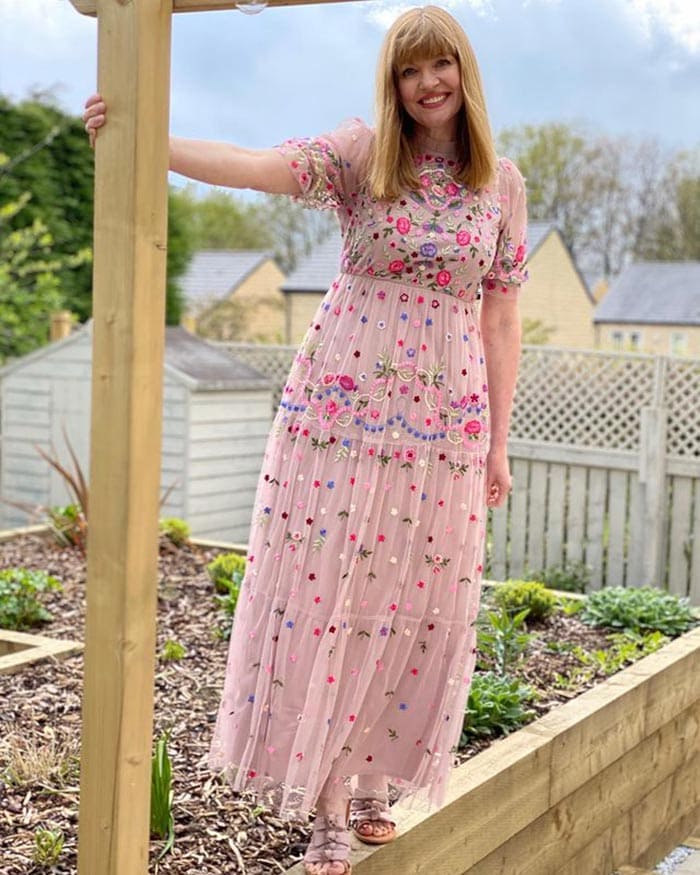 Emphasizing the waist is usually a very effective way to add structure. That's also true when you wear a midi dress.
Lizzi @whatlizzyloves above (read her style interview here), wears an embroidered maxi dress from Coast (similar dress here). It emphasizes her slimmest point under her bust.
Layer with a short jacket
This is a great way to add structure too. You can opt for a jacket that ends at your waist (for a 1/4 – 3/4 silhouette that makes your legs look extra long). A longer jacket will work too which creates the usually very flattering 1/3 – 2/3 silhouette.
Take advantage of asymmetry and high-low effects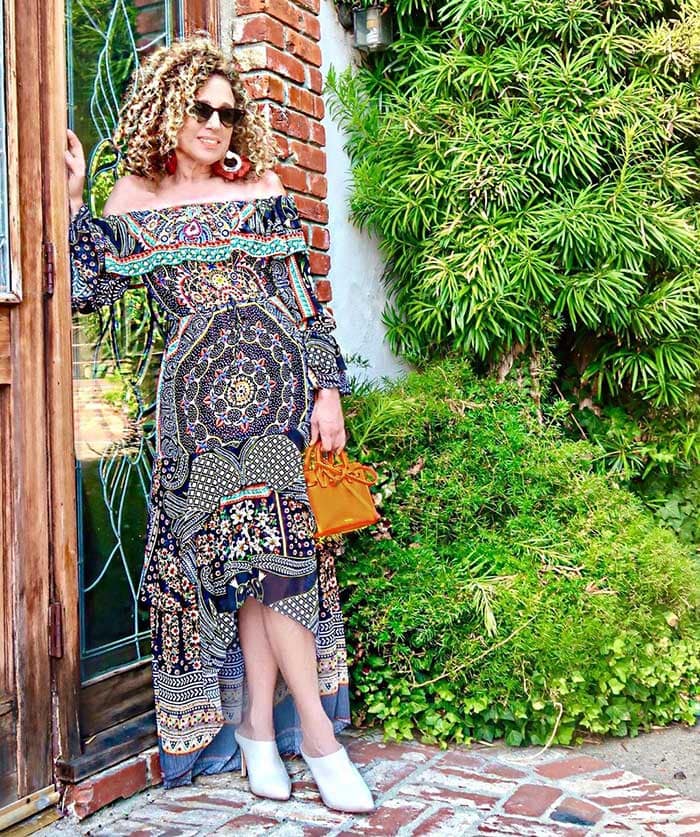 These usually help to make your maxi dress more flattering as they break up the large volume and create flattering vertical lines.
Wendy @fashionoverfifty.wendy, above, opts for a high-low style with off-the-shoulder detailing.
Check out this off the shoulder dress that you can wear with these similar mules, handbag, earrings and sunglasses.
If you prefer a slightly shorter syle, you can read our article on the best midi dresses for women over 40.
the best maxi dresses in stores now
Now that you're thinking about how to wear your maxi dress, below are the maxi dresses and skirts I love in stores now. I tend to find maxi dresses difficult to wear, but these dresses could definitely tempt me to try this hem length again.
As I'm updating this for summer, I've concentrated on pieces you would wear during the warmer months, or for a staycation, a vacation, or just for a barbecue or picnic in your garden.
But there are also some beautiful pieces here that you could take into fall or winter by wearing with boots and a moto jacket, depending on what the weather is like where you are.
DVF maxi dress
If you don't like the floral or boho style prints that you tend to find on lots of maxi dresses, how about a geometric style instead like the DVF maxi dress (below).
twist maxi dress
Eliza J tends to be a good choice for all styles of dress, including maxi dresses. The twist front dress (below) could be a good option if you're looking at dresses to hide a little bit of a tummy.
Eliza J twist front maxi dress
graphic print maxi
A maxi dress is often the perfect vehicle for adding some prints to your outfit. I love the graphic print of the Karen Kane maxi (below) which would be perfect for a vacation.
tropical maxi dress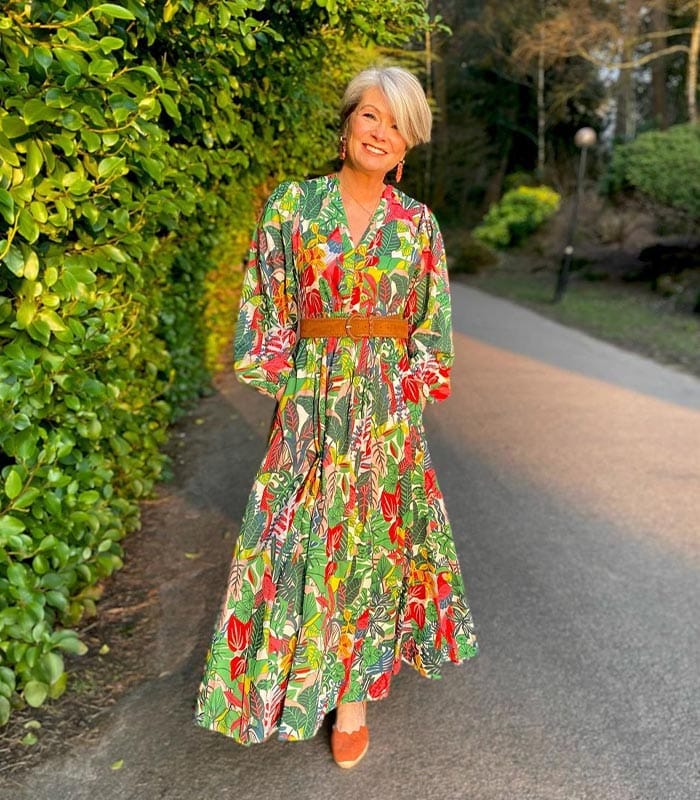 A tropical print is perfect for a vacation.
Nikki @midlifechic, above, wears a dress from Boden. Here is a similar dress from the same brand.
Compete her look with these similar sandals, belt and earrings.
Sam Edelman twist strap maxi dress
floral dress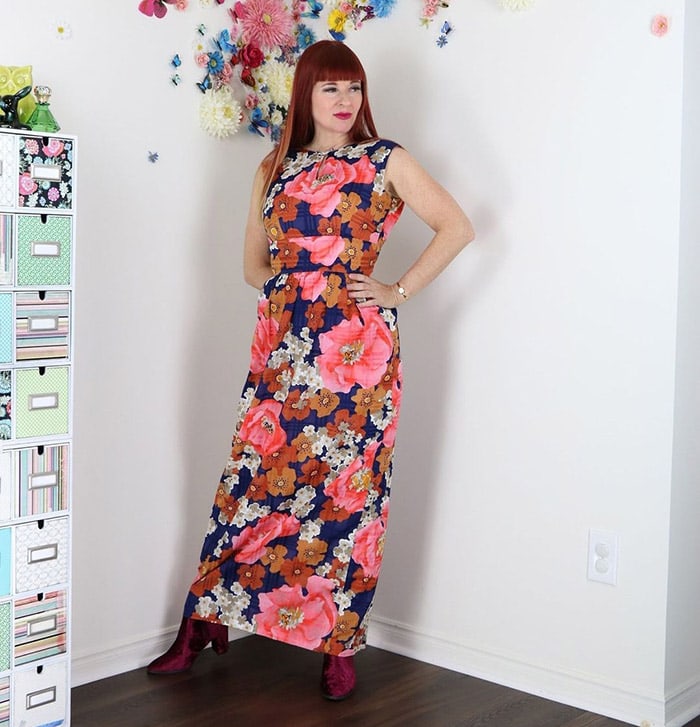 A floral maxi dress is definitely a classic look for summer. But, you can also easily wear with a moto jacket for fall. The floral maxi from Connected Apparel (below) is a little unusual because of the giant flower print.
Suzanne @suzannecarillo (read her style interview here), above, looks chic in a maxi floral dress and suede boots.
Steal her look with this similar maxi dress and boots.
Connected Apparel floral maxi dress
Or, you could try the romantic feel of the soft floral pattern on the halterneck dress (below).
beach cover-up
A maxi dress is a great option as a beach cover-up. You can easily pop one over your bathing suit to go from beach to bar.
snakeprint maxi
If you're looking for a casual maxi dress that is easy to wear, how about the Amazon maxi (below). It comes in a good choice of colors and patterns and has plenty of good reviews from more than 40,000 people.
red maxi dress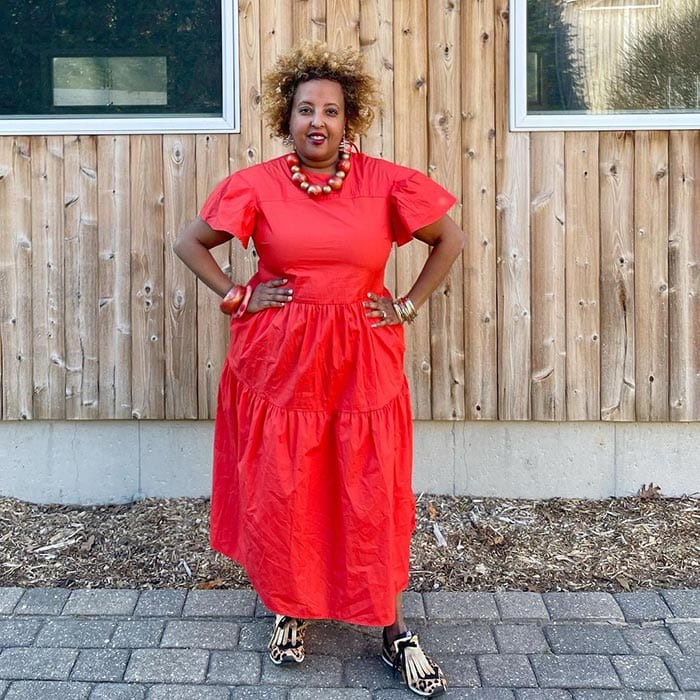 A red dress always creates impact and a red maxi dress will definitely get you noticed. I would just add a statement necklace and sandals for summer.
Lydia @birabiro (read her style interview here), above, teams her dress with matching jewelry.
Recreate her outfit with this similar dress, shoes and necklace.
navy maxi
Equally as classic as the black dress, is the navy maxi. Navy can be more flattering than black on your skintone and is just as versatile. The ruched option on the jersey maxi (below) will help to hide any lumps or bumps.
Fraiche by J ruched jersey maxi dress
pink maxi dress
It can be tricky to find a maxi dress with sleeves so the faux wrap dress (below) could be a good choice if you're looking for one. You could choose a bright shade like the pink option (below), or there are also plenty of pastel and neutral colors to look at.
blue maxi dress
Another easy-to-wear option for you, the loose styling of the long dress with pockets (below) makes this a good choice for a vacation or as a beach cover-up. If you want to create a different look, you could always add a belt to cinch your waist.
Floral flowy maxi
I think you could definitely style the v-neck, buttoned maxi (below) up or down. You could wear with sandals by day and add heels for evening.
Milumia button-up floral maxi dress
Maxi skirts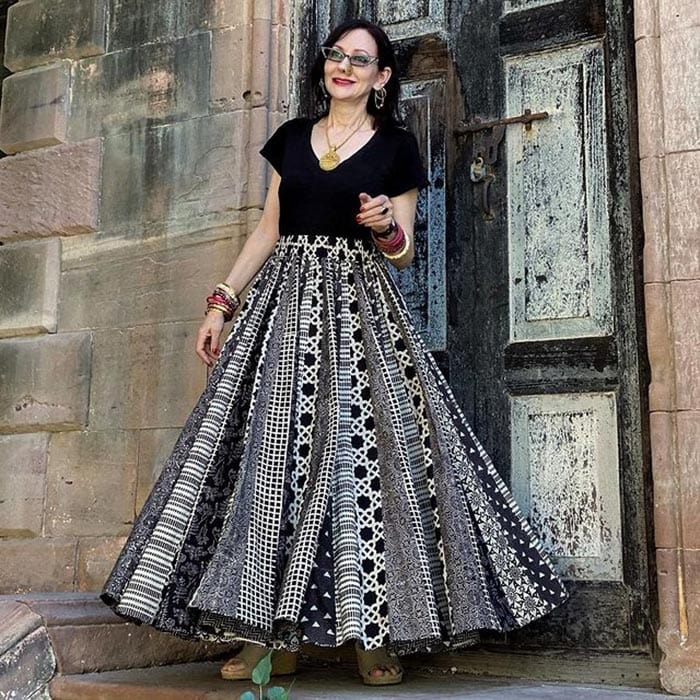 Of course, if you are opting for a floor-sweeping look, you could also think about a maxi skirt rather than a maxi dress.
A great way to wear your maxi skirt is to style with a simple tank or white shirt and let your maxi skirt be the focal point of your outfit, or to wear with a more casual t-shirt to mix up your style.
Lisa @madamehall above (read her style interview here), lets her skirt be the stand-out part of her outfit by wearing it with a black t-shirt.
Get her look with this similar tee, skirt, sandals, necklace and earrings.
Below are more stylish maxi skirts you may like to consider:
Polka dot maxi
Polka dots will never go out of style. The long skirt below would look lovely teamed with a white t-shirt and red accessories.
Roll top maxi skirt
The roll top skirt (below) has plenty of good reviews with women saying it is soft, comfortable and it looks better in person than in photos.
Loveappella roll top maxi skirt
Elastic waist long skirt
Long and flowy, the elastic waist skirt (below) will add drama to your outfit. The abstract watercolor print (below) could be ideal for a summer wedding, or you could choose florals, an animal print or block color.
L'VOW elastic print maxi skirt
Boho maxi
If you have a bohemian style personality you probably have more than one maxi skirt in your closet. You could wear the embroidered style (below) with sandals and a tank top for summer or boots and a moto jacket for winter.
What to wear with your summer maxi dresses
Do you have a favorite maxi from the options above? What should you wear with it? I think a maxi dress makes a stunning statement on its own.
It's easy to wear yet makes an impact. But, you may well want to add other pieces to your maxi dress either because it is cooler in the evenings during summer, or you want your maxi dress to have seasonal longevity so you can wear it in fall too.
By adding the right accessories, you can take your maxi dress from day to night. Plus, unless you are walking barefoot on the beach, you will definitely need some shoe options for your maxi dress.
How to wear a maxi dress with Coats, jackets and cardigans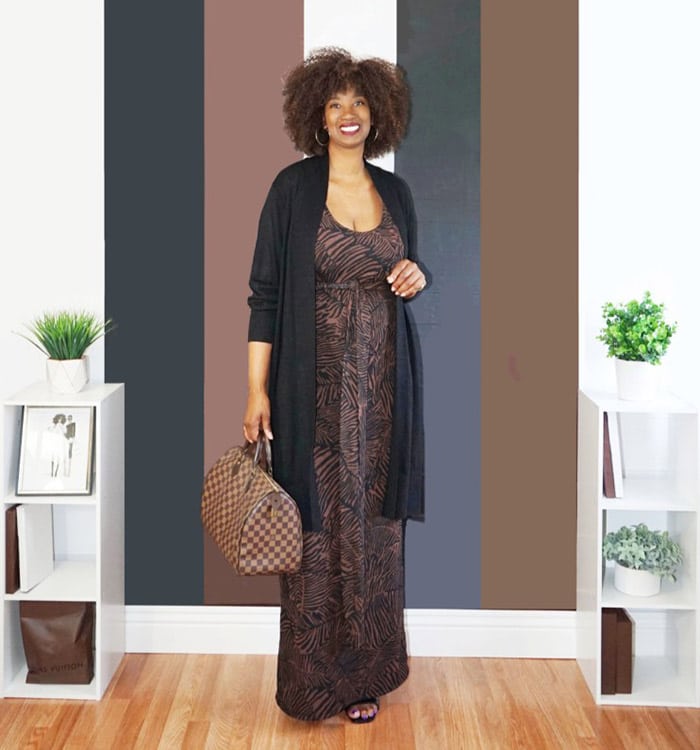 You may wish to have an outer layer to go with your maxi dress or skirt – either because the weather cools down in the evening on your vacation, because you are wearing your maxi dress as a transitional layer, or because you prefer to cover your arms.
I think that a jacket or cardigan which ends at waist level or slightly above looks best. Otherwise, you can end up feeling lost in fabric if you have a long dress and also a long jacket. However, this can work if you belt over the top of your cardigan or jacket.
You could opt for a cropped cardigan or denim jacket to add some warmth on vacation evenings.
Or, you could add a moto jacket to take your maxi skirt or dress from summer to fall.
Tanasha @stylishheights, above, shows how you could style your maxi dress with a longer option to create a flattering column effect.
Steal her look with this similar maxi dress, cardigan, sandals, handbag and hoop earrings.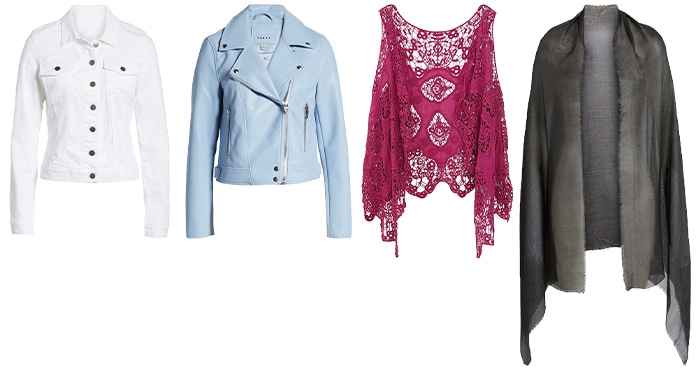 KUT from the Kloth denim jacket – BLANKNYC moto jacket – Jastie crochet vest –Nordstrom shimmer wrap
Shoes to wear with maxi dresses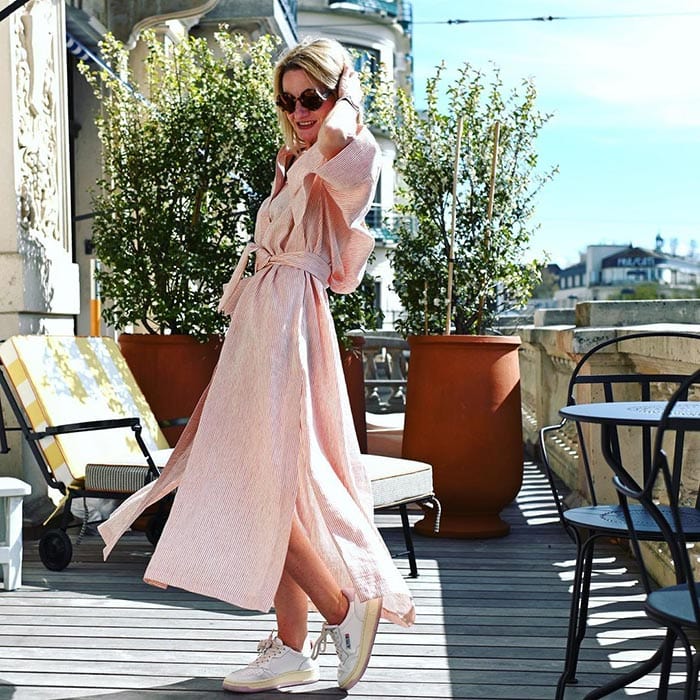 I always think that open-toe sandals or shoes work best with maxi dresses. A closed toe ballet pump or heeled pump just doesn't look right with the informal sweep of a maxi dress.
But, I also think booties look great for fall and winter (either closed or open toe depending on how cold it is), as well as knee-length or over-the-knee boots. You could also choose sneakers for a more casual look.
That way, you can get much more use out of your maxi skirts and dresses.
Yvonne @funkyforty above (read her style interview here), looks fabulous in her belted maxi dress and sneakers.
Recreate her outfit with this similar shirtdress, sneakers and sunglasses.

Tory Burch sandal – BP. block heel slide sandal – Toni Pons linen wedge sandal – Superga platform sneaker
Accessories to go with your maxi dress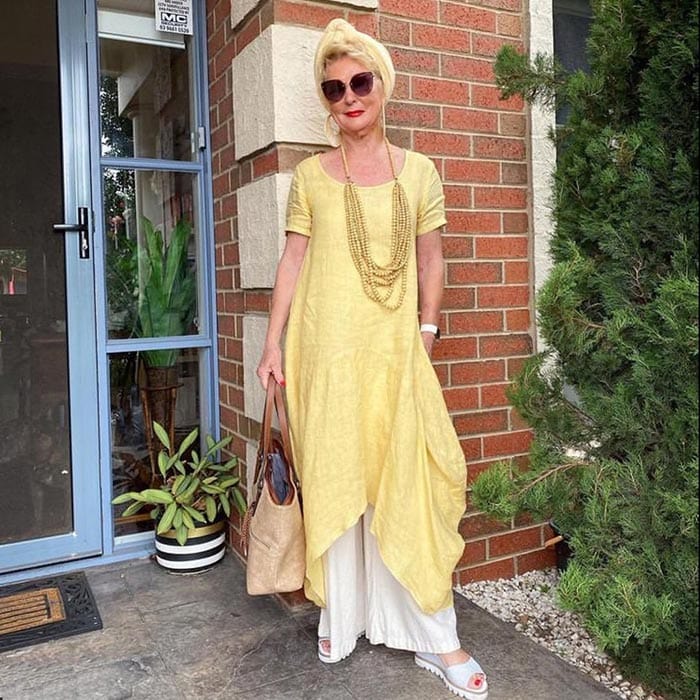 Unless you are opting for a formal ballgown in a maxi length, a maxi dress tends to have a casual air of easy style. I would make sure that your accessories and handbags have the same kind of feel.
So, instead of structured tote bags, you could think about natural materials such as rattan, softer shapes and tassels.
For your jewelry, I would keep that I-haven't-tried-to-hard vibe by opting for long pendant necklaces, and drop or hoop earrings. Maxi dresses can particularly lend themselves to your outfits if you have a bohemian style personality.
I think maxi skirts and dresses can also have a Grecian feel about them, so you could also go down this route and choose a stack of bracelets or cuff bangles.
You could also add a scarf. Although, I'd make sure it isn't too long as you will end up swamped in material.
Sharryn @thestylishwoman above (read her style interview here), wears her long dress over pants and adds statement jewelry.
Steal her look with this similar dress, pants, sandals, tote, head wrap and necklace.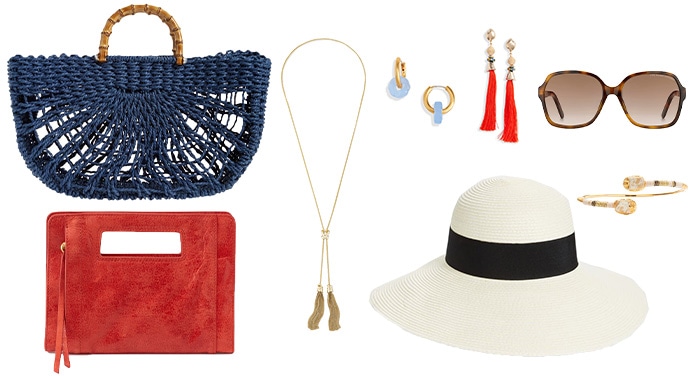 Hobo leather clutch – btb Los Angeles straw tote – Akola drop earrings – Madewell hoop earrings – The Marc Jacobs gradient sunglasses – Kendra Scott tassel necklace – Gas Bijoux cuff – Nordstrom floppy hat
Below is a maxi capsule wardrobe for you with 9 looks using the pieces I featured above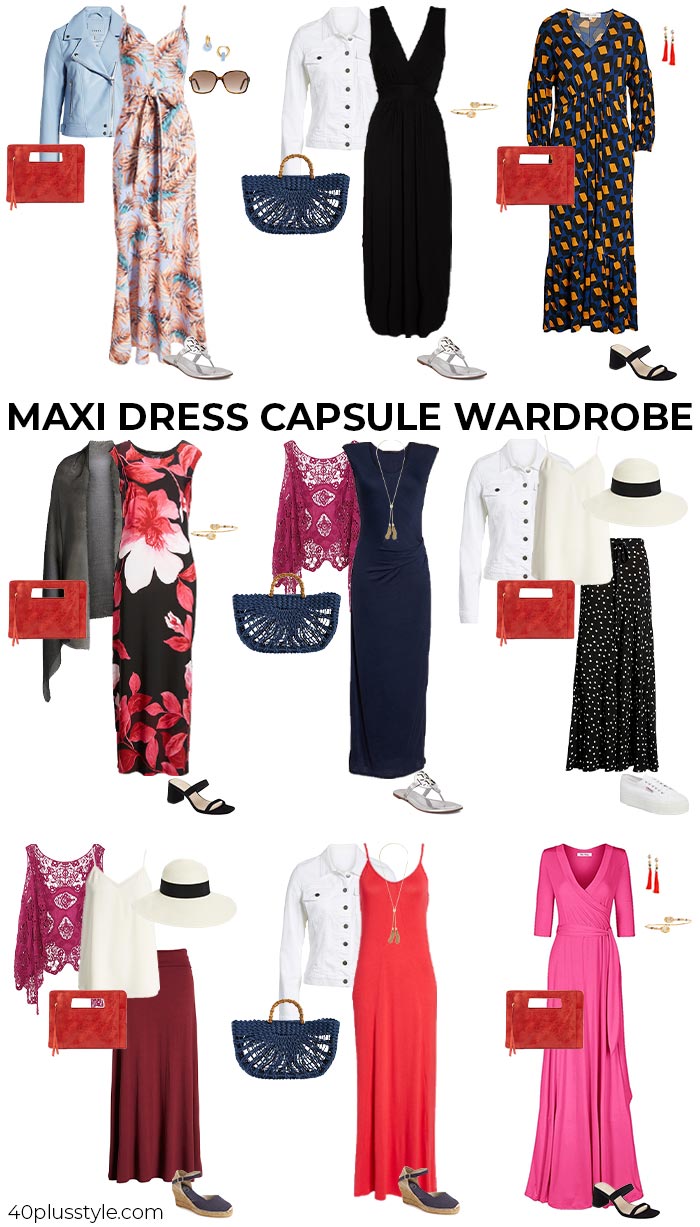 shop all items above here:
A few final tips on how to wear a maxi dress
1. Keep it simple
As your maxi dress is a dramatic, flowing piece, you can afford to keep the rest of your look simple. A simple pair of sandals and a rattan bag is a perfect vacation look.
2. Don't put your maxi dresses away for winter and fall
While maxi dresses are usually thought of as easy, breezy, floaty pieces to wear for summer, they can also make great transitional pieces. You can add a turtleneck sweater underneath, a moto jacket and a pair of booties, knee or over-the-knee boots.
3. You don't have to choose patterns
If, like me, you tend to opt for block colors rather than patterns, a maxi dress can still be a stylish option. You could opt for a stylish one-color shirt or wrap dress, or a long tunic, which you could belt to add shape.
4. Don't forget about your body shape
Choose a dress to suit your body shape. For example, if you are an hourglass, you will look best in a style which either comes in at the waist or which you can tie. If you are an apple, you might want to choose an empire style. Try on a number of different styles to see what works best for you.
5. Pay attention to the length
Either go for a floor-length dress (making sure it's not so long that you trip over it!) or make sure that your dress hits at the slimmest part of your legs as that will be most flattering.
Do you wear maxi dresses or skirts? How do you style yours?
Continue reading:
Like this article on how to wear maxi dresses? Share it on Pinterest
Feature image by Nikki @midlifechic
Want to get more articles from 40+style in your inbox, subscribe here.
You can also connect with 40+style on Facebook, Instagram or Pinterest.
Support 40+style by using the links in our articles to shop. As an associate for Amazon and many other brands, we receive a small commission (at no cost to you) on qualifying purchases which enables us to keep creating amazing free content for you. Thanks!