Black and white remains the eternal chic combination to wear and below we will show you LOTS of black and white outfits that can inspire your next look.
Even if black and white are not your best colors there are many ways to wear black and white to suit your unique coloring
We appreciate black and white pairings because of their inherent minimalism.
Even when heavily accessorized or embellished, the look still retains an inherent minimalism that transcends style personalities.
A few tweaks can take the look from rocker chic to romantic elegance.
Black and white outfits you can wear
Below I will showcase black and white outfits from myself and other women.
I have selected those black and white outfits that are timeless and still look hip today now that we are in  2019!
Outfits with a white top and black base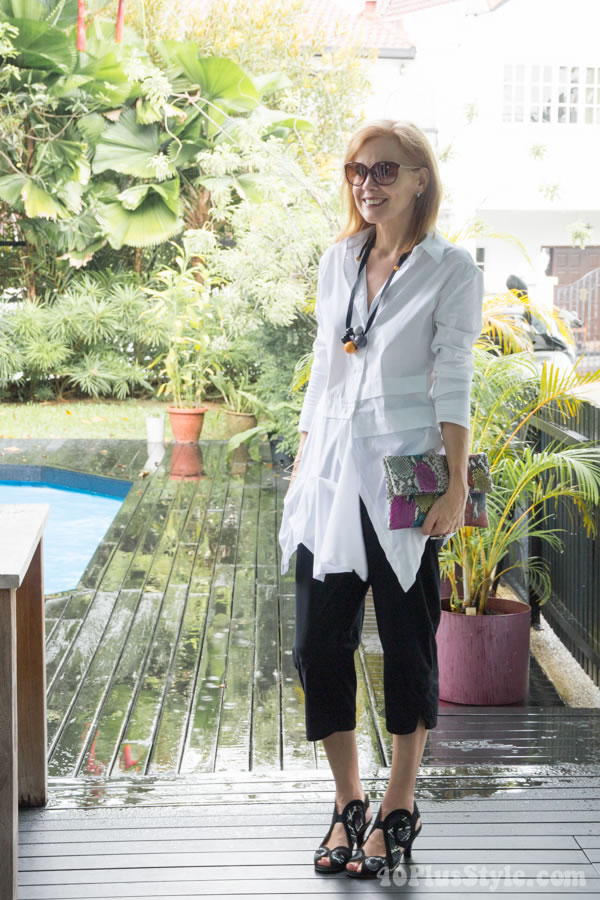 This is the classic combination but that doesn't mean it has to be boring!
Pairing your black base with an asymmetrical white top is both chic and hip!
Please note, these tops are no longer available but I'm loving this white asymmetrical top.
Black and white looks extra nice when you combine a simple outfit with pumps, but simple ballerinas or arty flats would work fine too.
The hat makes the outfit a little bit dandy, the pumps makes it feminine and create the perfect balance.
Combine your white tops with a (colorful) statement necklace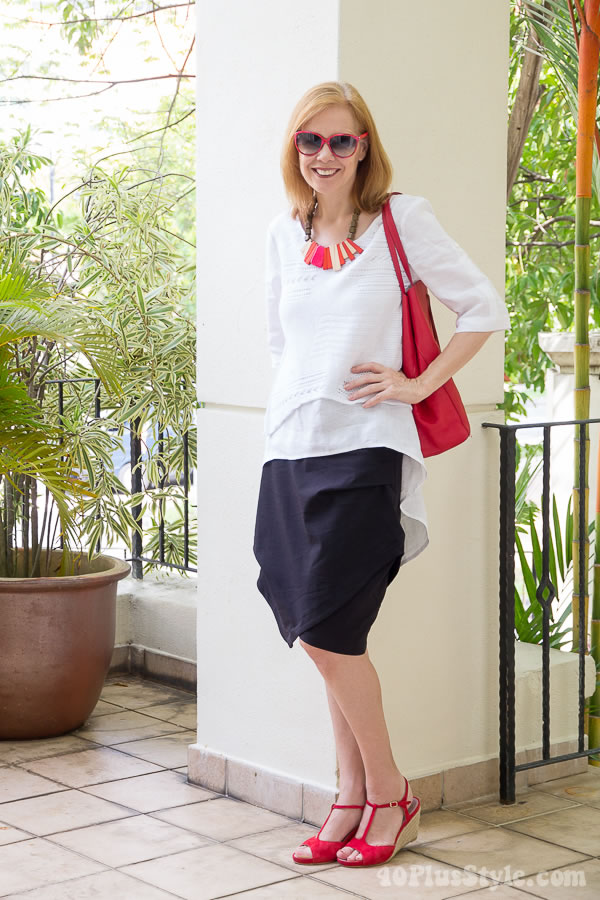 If white close to your face is not your best color, a great trick is to add a statement necklace. Red always looks really good on me and it gives this outfit the pop of color it needs!
The below necklace works well too as do the colorful glasses.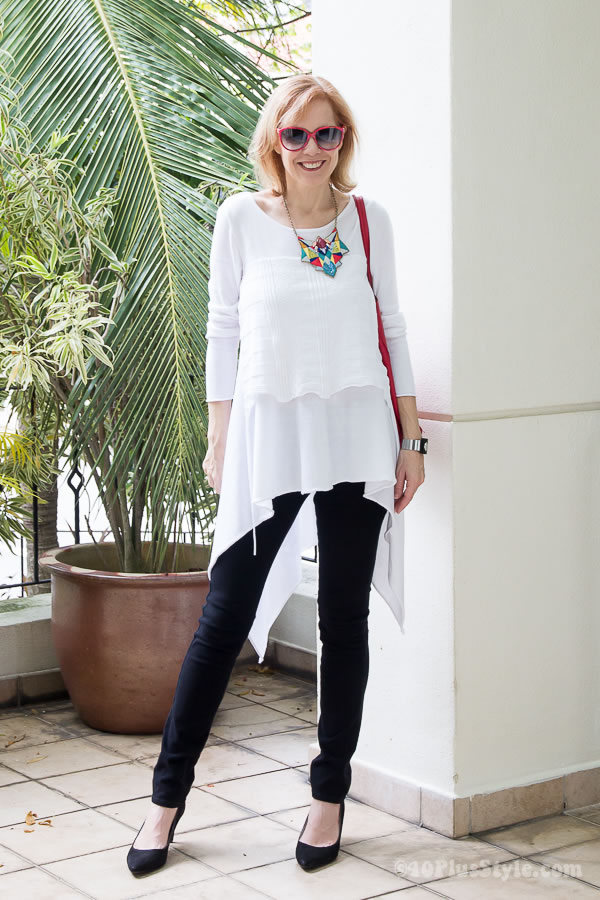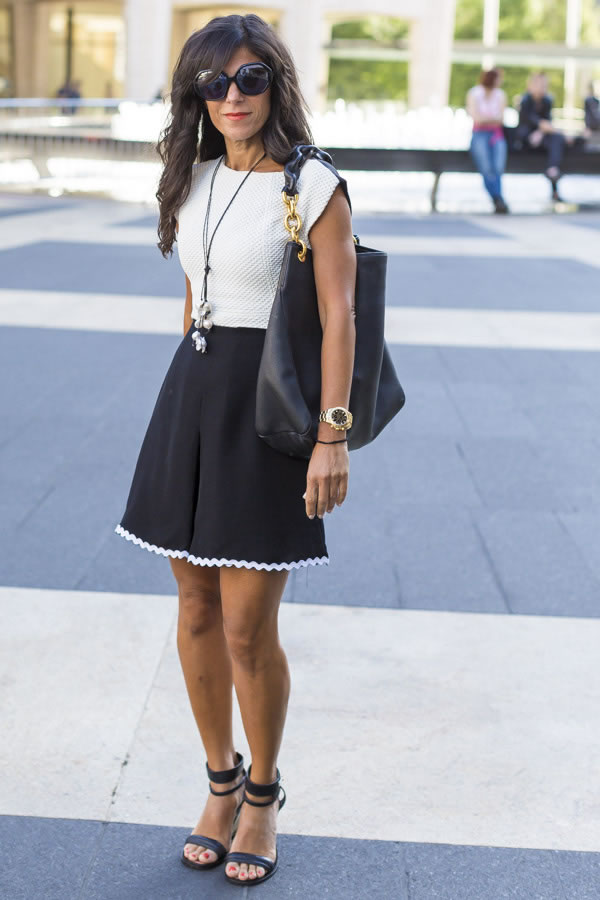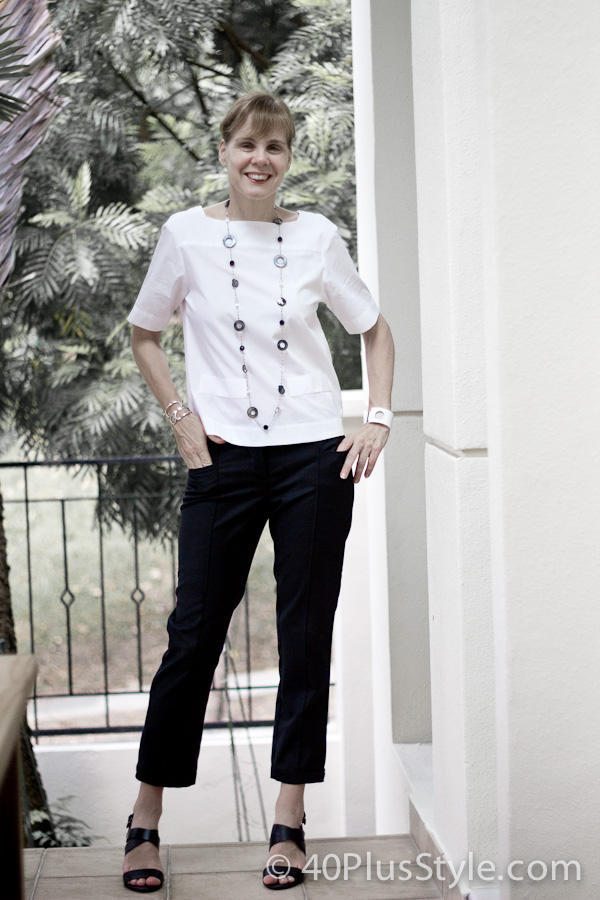 Outfits with black top and white base
Linda Fargo keeps it really simple with a black top and white mini skirt. Her red lips provide the dash of color.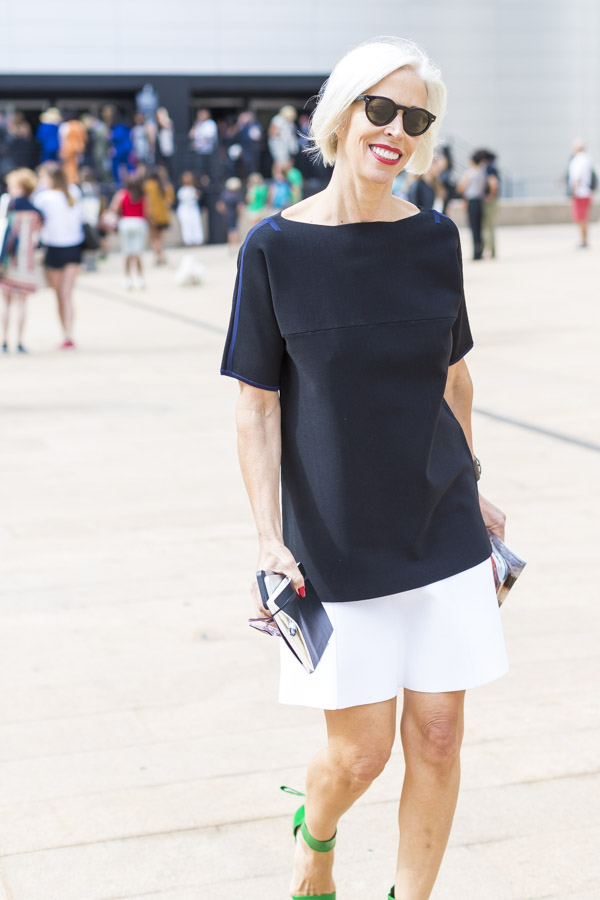 Not a lot of color here but I'm reinforcing the black and white theme with accessories. The different texture in the outfit makes it interesting.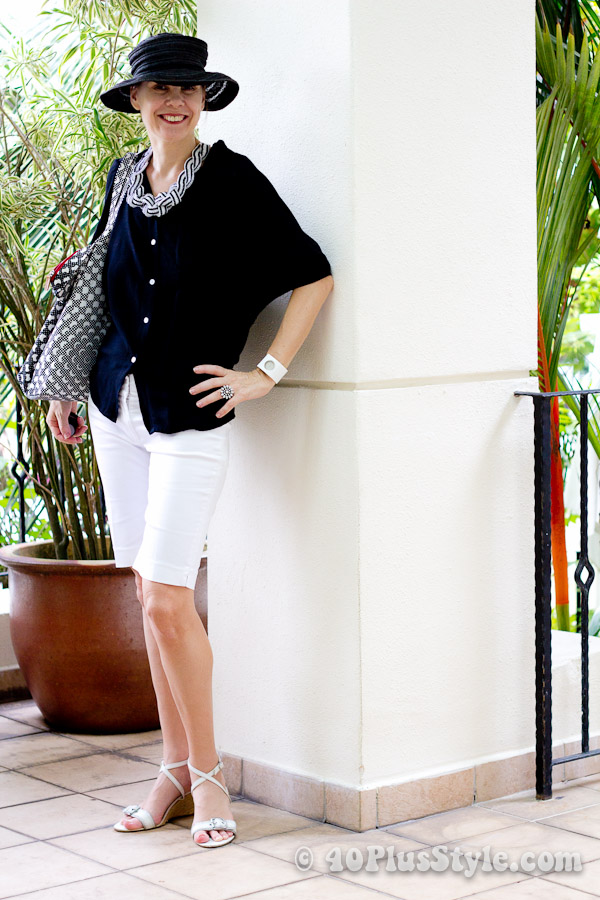 I love the simplicity of the below outfit where the accessories truly shine. I also love how she breaks the style 'rule' that you can't wear wide with wide. It works here as her top is really short.
Check out our complete guide on how to wear wide leg pants here.
Black top with a printed bottom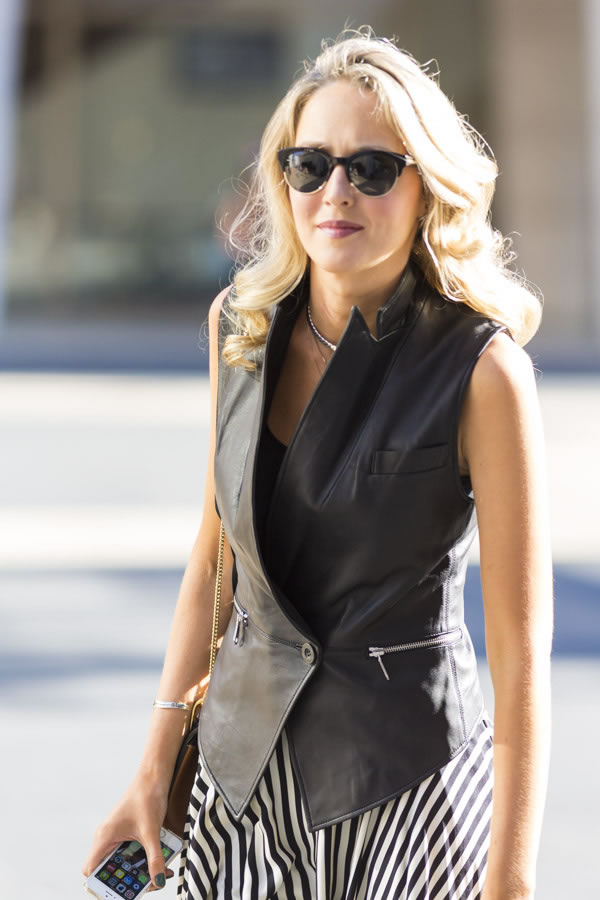 Plaid and layering were two key trends on the fall catwalks, and this look features both, along with a statement pendant necklace. Photo by @stylishmurmurs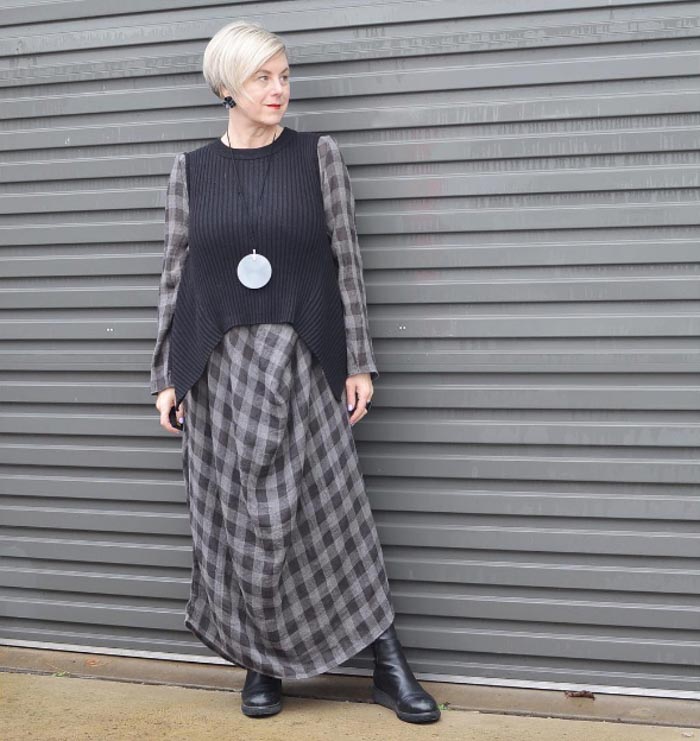 If you'd like to read more about Deborah and her style, you may read her style interview here.
A fabulous transitional piece, a classic black leather moto jacket can take summer outfits through to fall. Here, black booties and a pair of aviators provide the perfect finishing touches! Photo by @mummaslove4fashion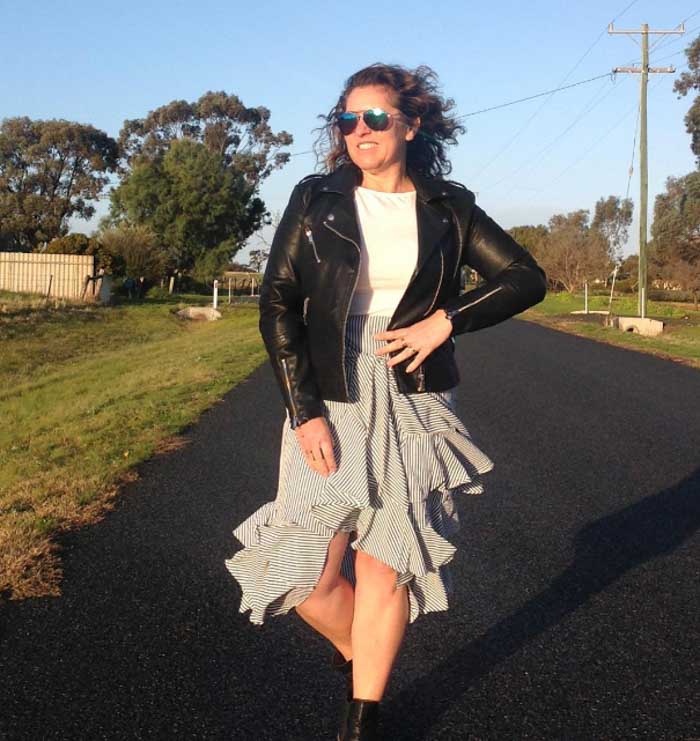 Diana is wearing  monochrome topper is worn over a black dress to create a stylish black and white outfit. Chunky rings add extra interest and are one of 40+ stylish Ruth Essex's tips for instantly adding style to any outfit. Photo by @dianagabrielnyc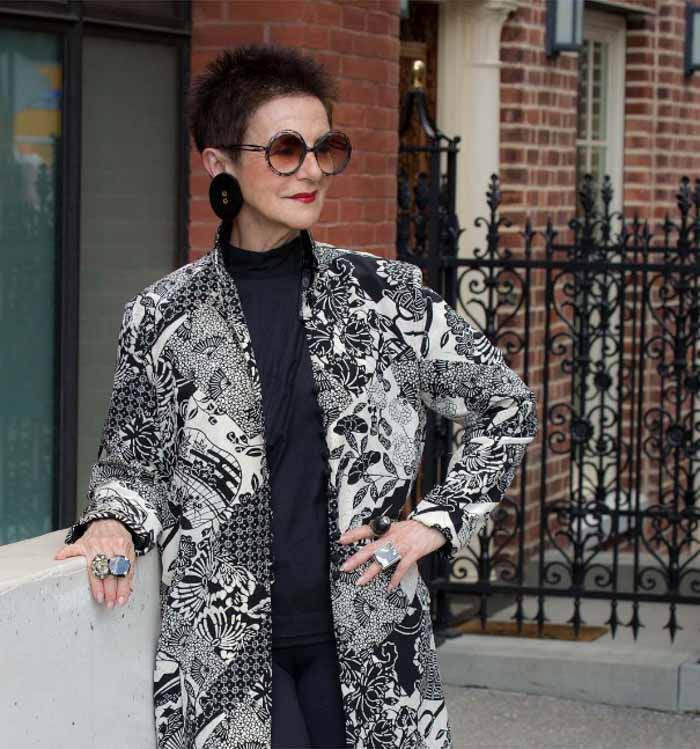 Get Diana's tips on how to make a statement with her style interview here.
Black and white pattern mixing
Black and white lends itself perfectly for print mixing. Stripes, dots and patterns can easily be mixed together.
Below you will see this simple polkadot dress I bought. I combined it with an old (and neglected) pencil skirt I have, which actually has an asymmetric undercover (not really visible here). I thought that outfit looked quite decent, but I wanted to add some more pizazz…

Red hat versus black hat
Also note, that I tried this outfit with both my red hat and my black hat that looks a bit like a hat from the twenties.
The red hat is a little bit more photogenic while the black is a bit more chic.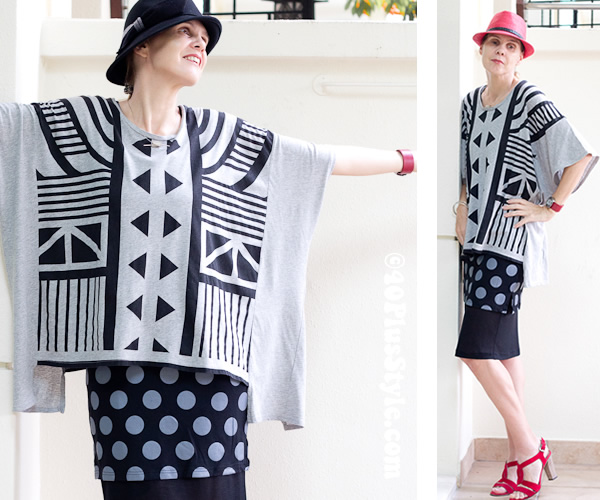 Adding the second graphic top, makes for some nice pattern mixing, a trend I have admired in others and was keen to try out myself.
The top is also very versatile and you can really have fun with it for photographs! In the end I decided to go with the black hat, as I felt that the outfit itself was playful enough. Of course, I kept the red shoes and watch.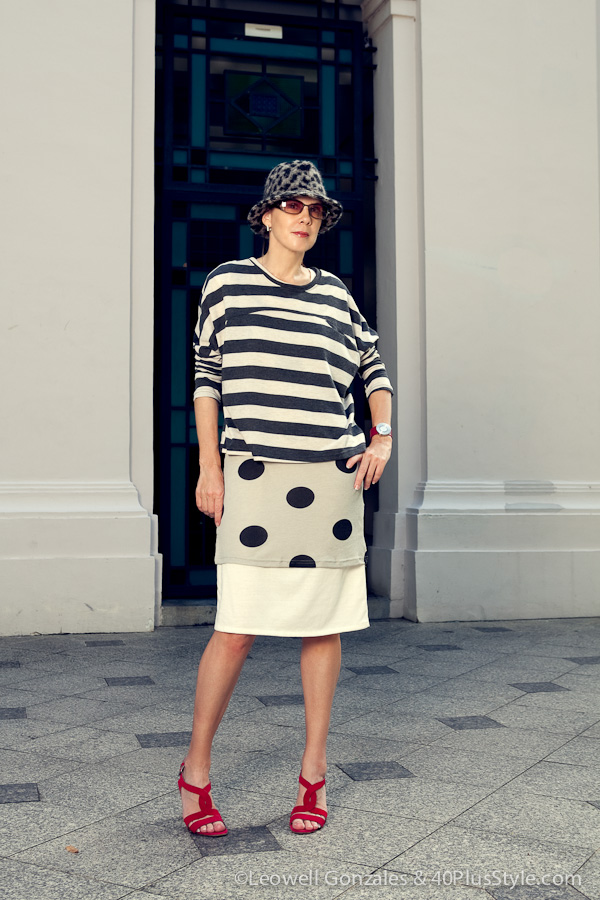 Black and white dresses
A dress is always a good idea and a black and white printed dress is great at camouflaging your belly too.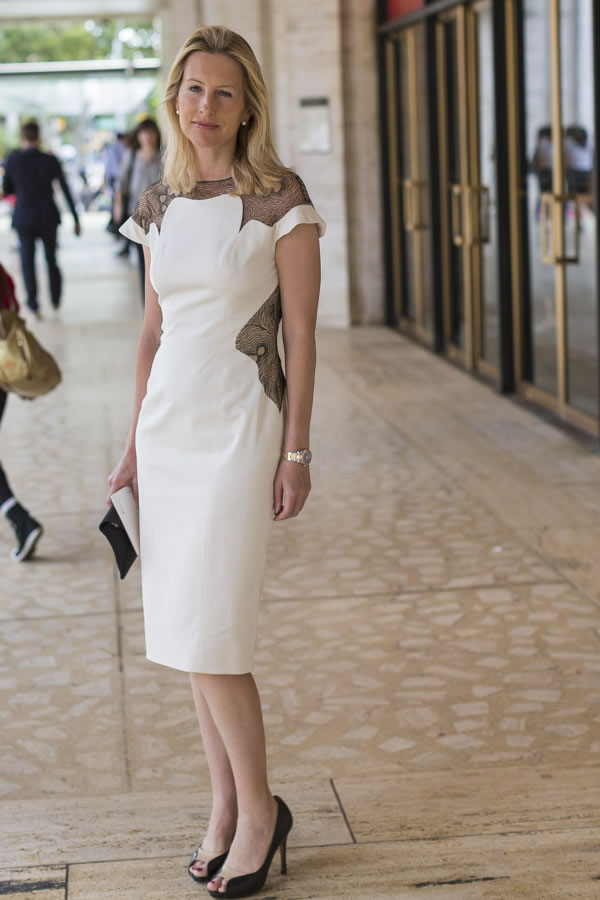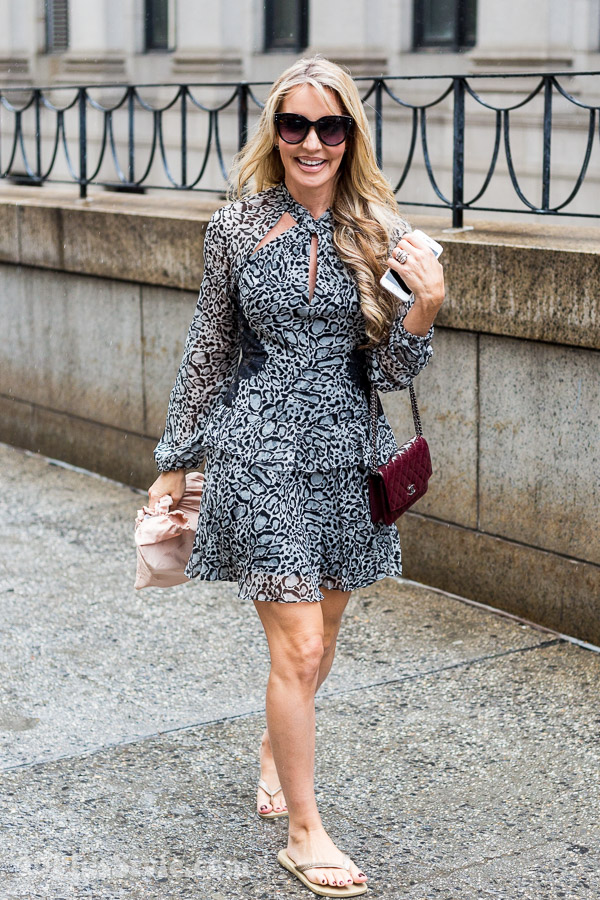 Polka dots are a perennial style staple which are always on-trend, but they've definitely been having a moment this year. Here, they are teamed with bright boots and matching earrings. Photo by @curvycartel
There's more polka dot inspiration here.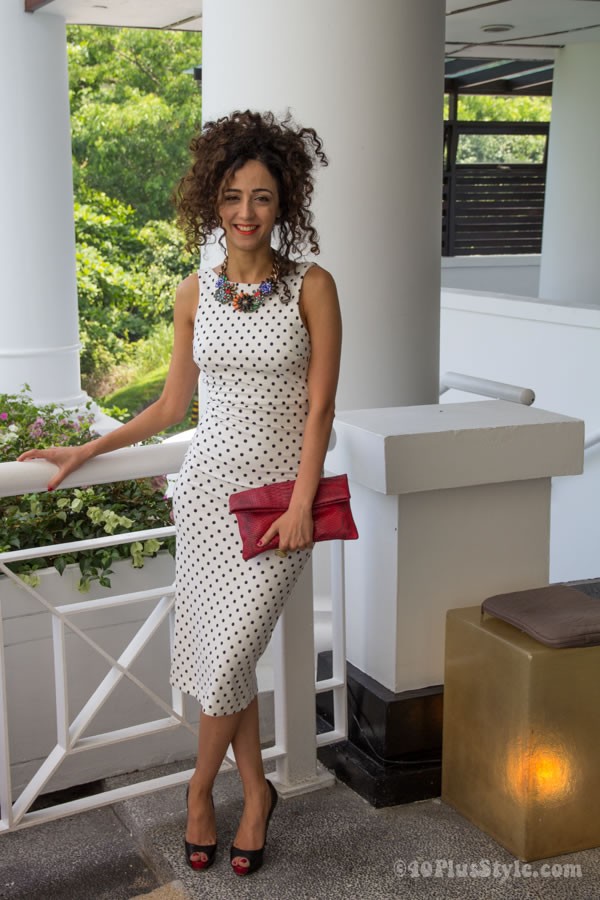 Black and white printed tops
A modern, yet comfortable look!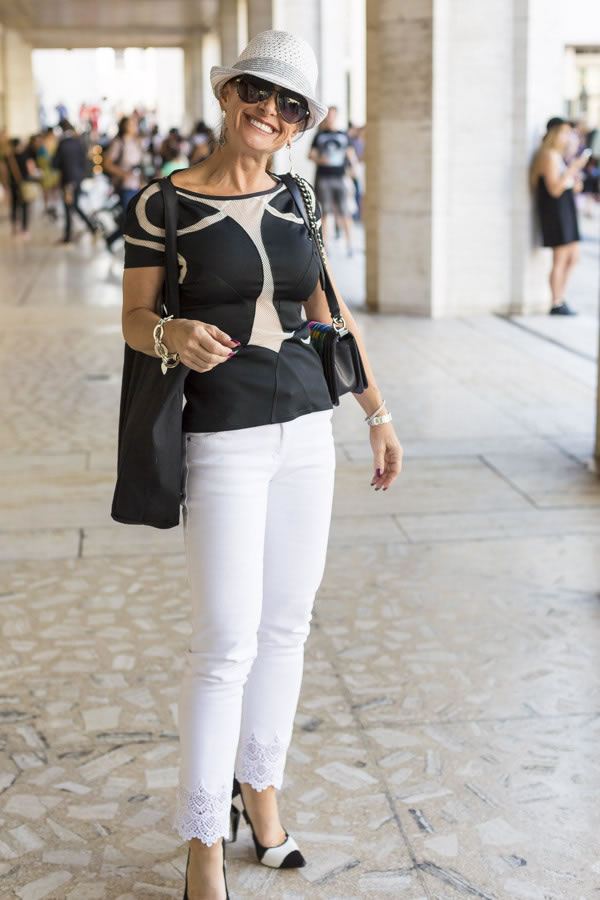 Edgier black outfits featuring leather
If you want to look a bit edgier then black has always been the color of choice. A leather jacket adds a bit of fierceness to your look.
Minimalism was taken to a new standard in this look.
A peplum cut leather jacket layered effortlessly on a sheer white dress.
We love the contrasting green clutch that brings some evening elegance into the day, but is cheerfully appropriate when contrasted with the black and white pairing.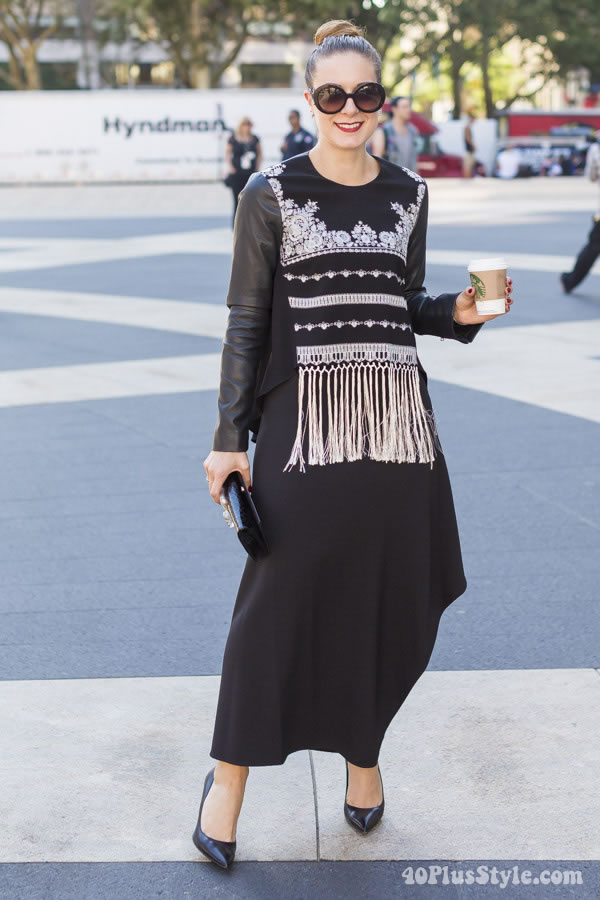 I love the funky & edgy look of this woman who truly makes a statement with this (almost) all black outfit!
Embellish your black outfit with gold
If you want to embellish your black and white outfit and add a bit more pizazz, then you can add a bit of glamour with sequins as in the photo below.
Black and white suits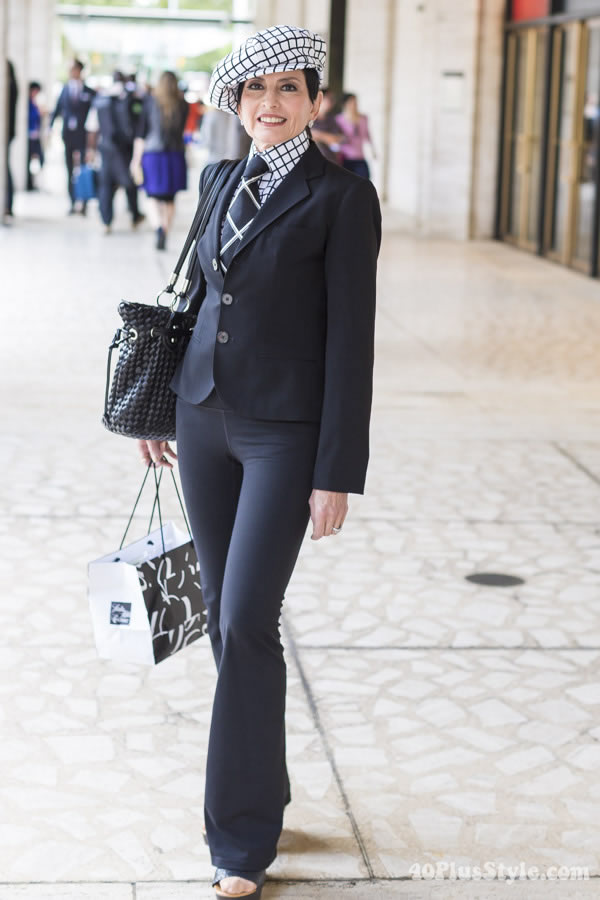 Black and white outfits with coats
Expert tailored pieces that fit and flatter take looks to the next level.
We love how seamlessly the ankle boots integrate with this ensemble.
Here is Linda fargo again in a beautiful black and white outfit.
She has chosen to stay warm in the cold New York winter in what looks like a fur coat and hat. But then, who knows, it may be fake fur too.
Although I like her look, I would personally choose not to wear fur. I would not even wear fake fur when that looks too much like real fur.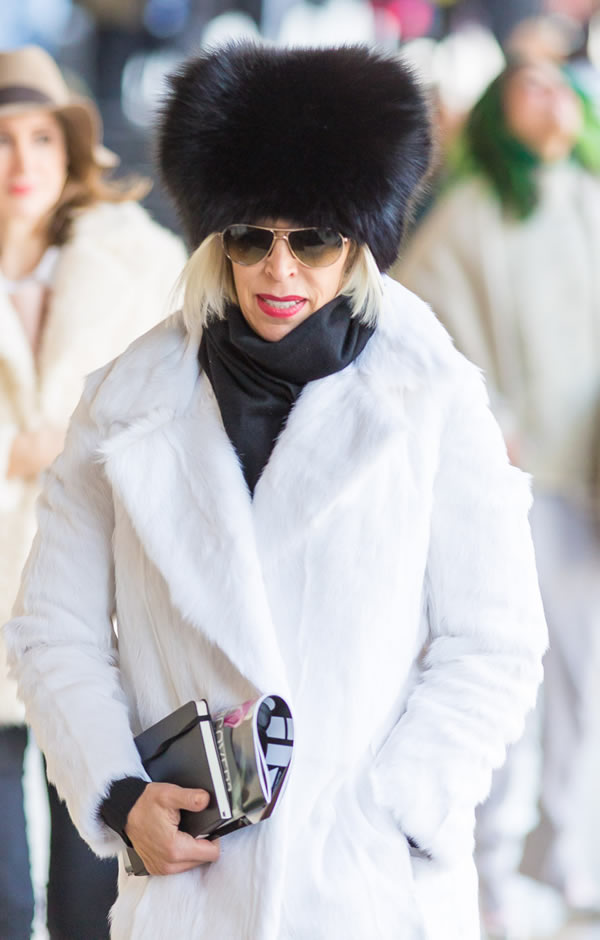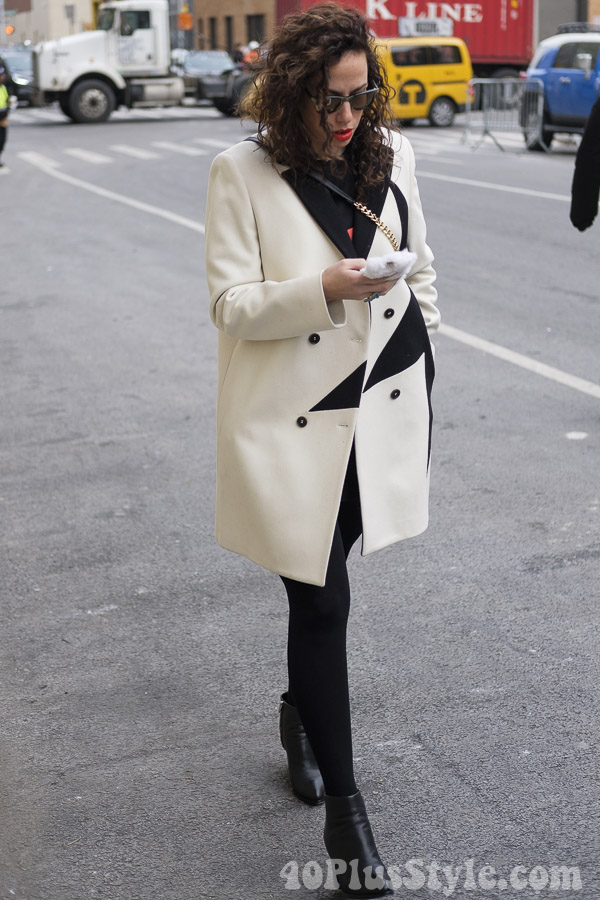 Loving this black and white cape worn over a straight skirt.
This look showcases how to perfectly wear thigh high boots without looking like you stepped off of the set of Pretty Woman (pre-makeover).
The unique cut of the white coat with the contrasting black fringe coordinates perfectly with thigh high suede boots.
Truly, the look is composed of two key pieces (the coat and thigh high boots), which when paired together make it look more complex.
A modern coat meets a rustic (Laura Ingalls Wilder-esque) utilitarian dress to create a very chic sartorial contrast. We love the black accents on the coat and the black peek of her gloves and bag.
The monochromatic bottom with the lighter top makes her look even leaner.
We love how she has three layers, but her play with mixed lengths certainly does not make it look bulky at all. The all-black bottom puts the stripes and textures of her tops on display and shows of the fabulous styling.
Mostly black outfits with a bit of white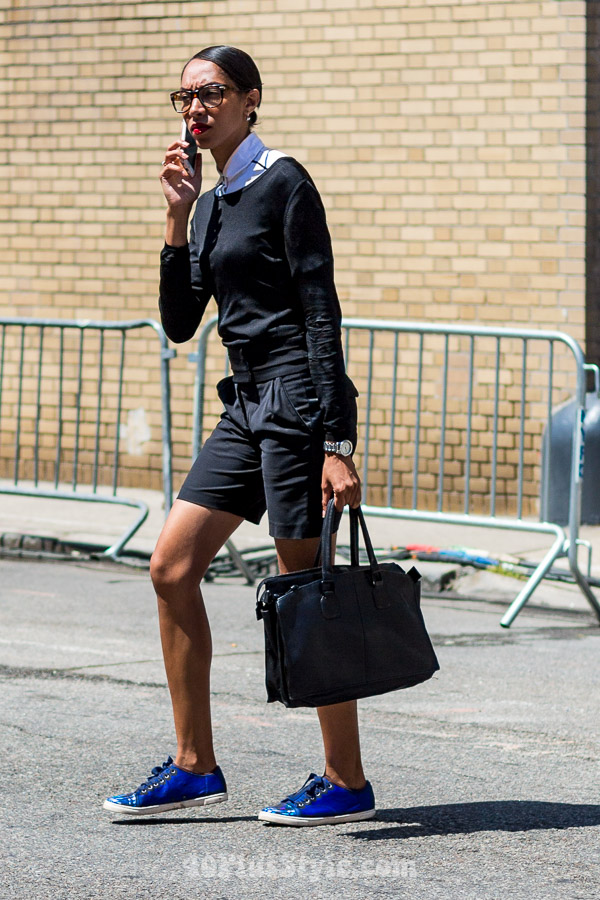 Black and white romper suits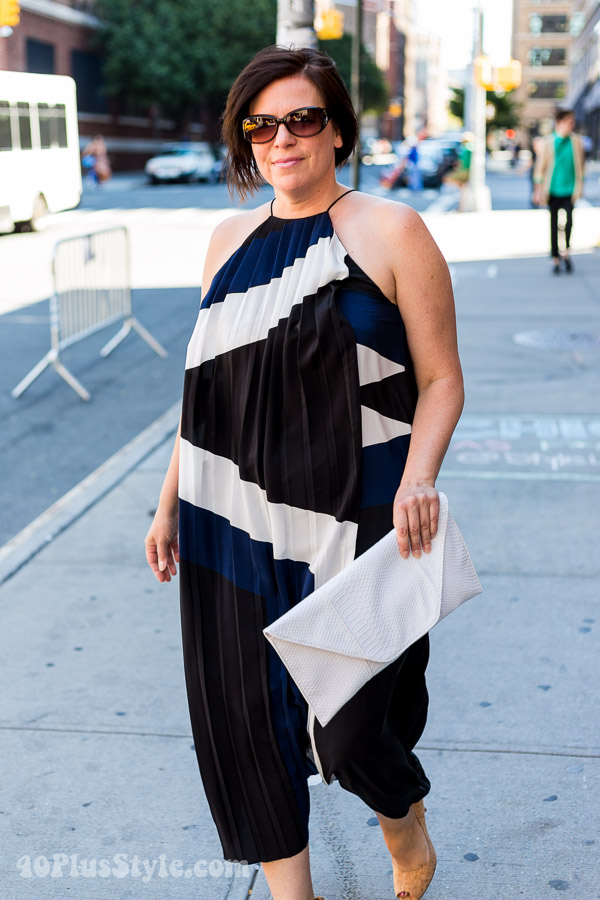 Layering with black and white
Loving the long vest here, which is still very much on trend.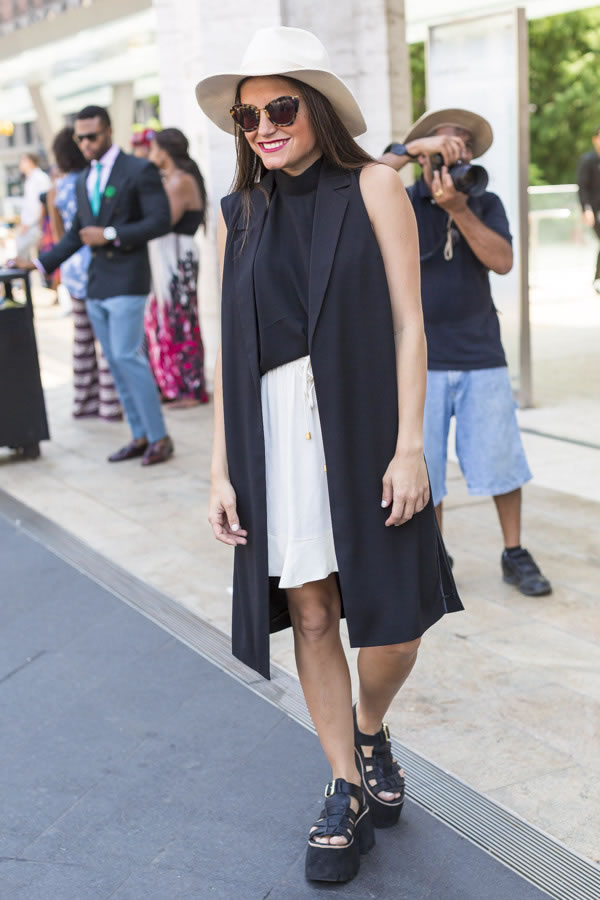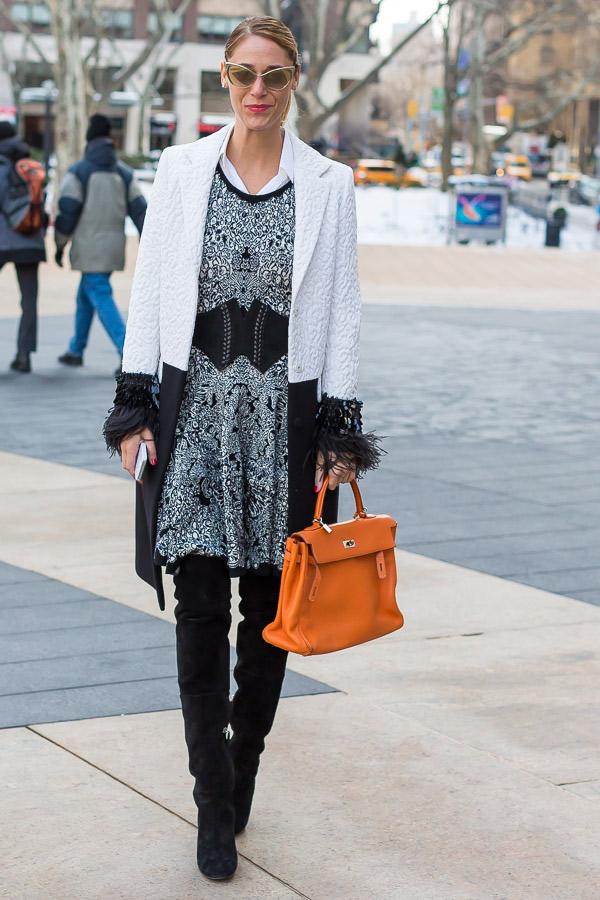 Outfits with black and white stripes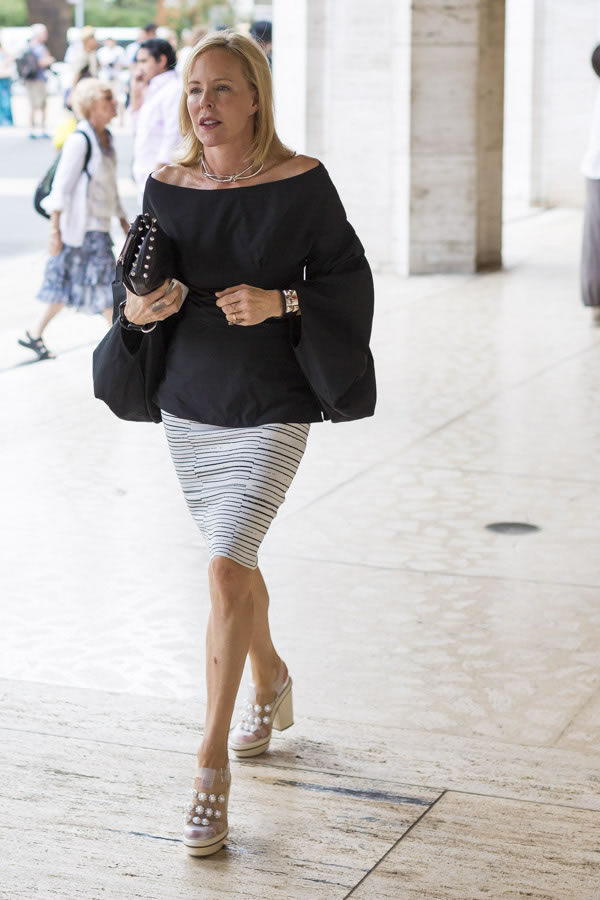 Black and white outfits with shorts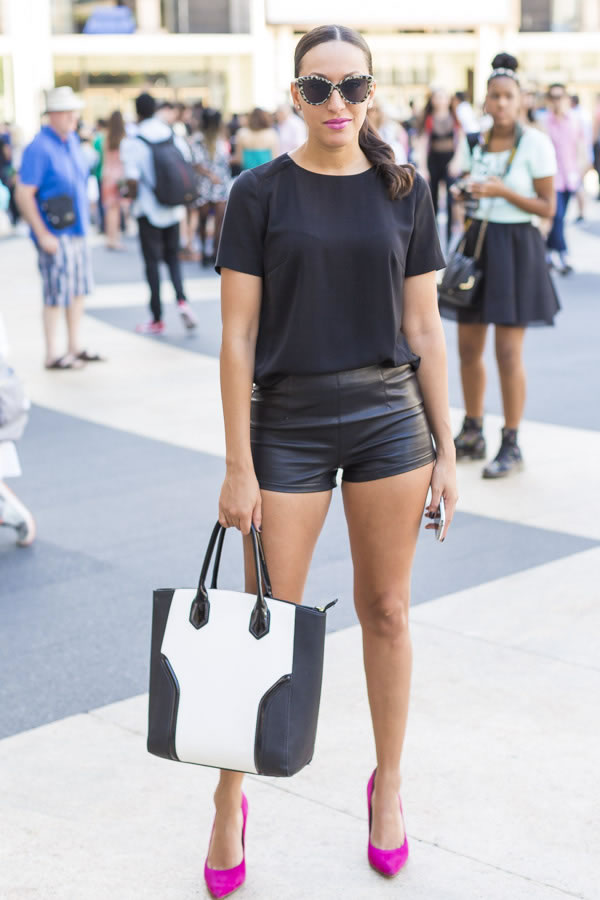 Black and white accessories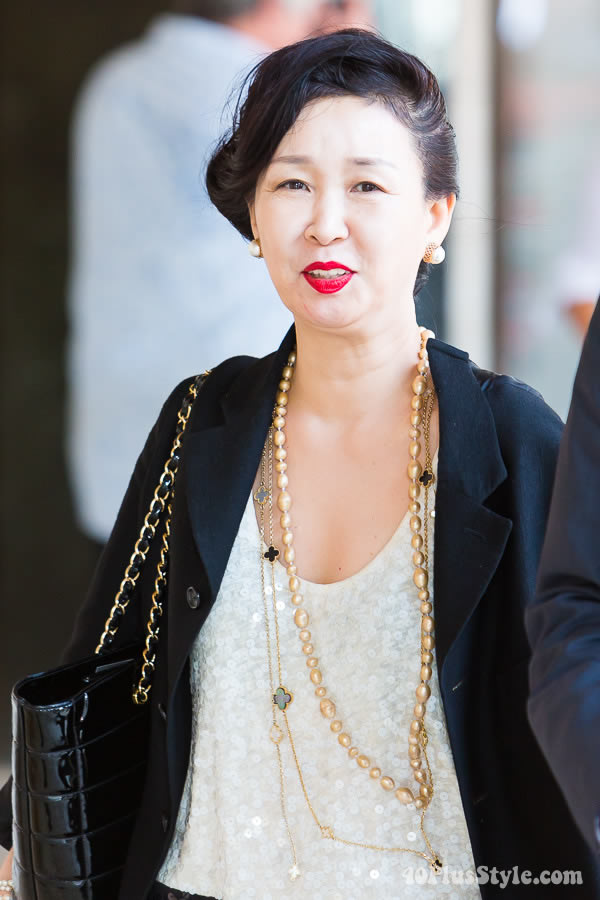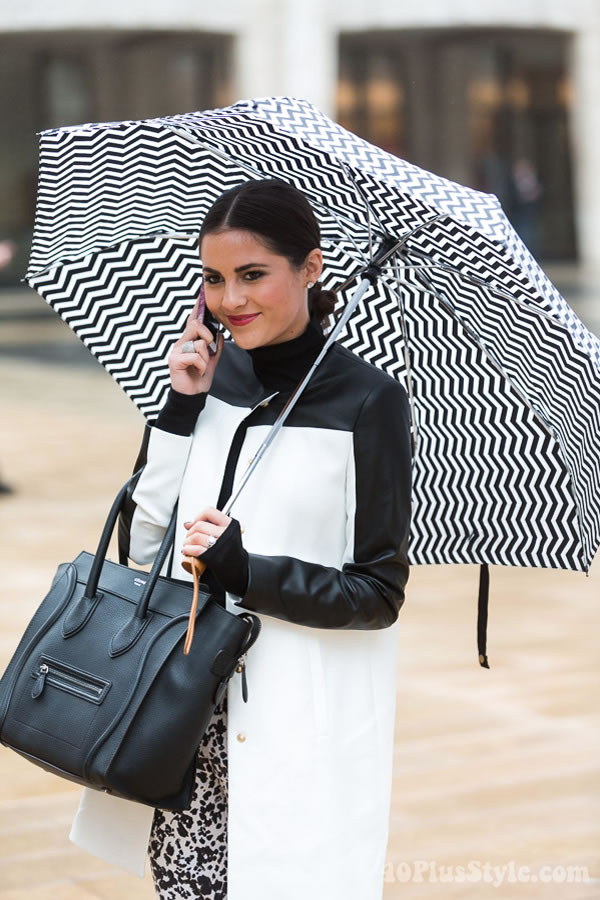 Black and white for a wedding!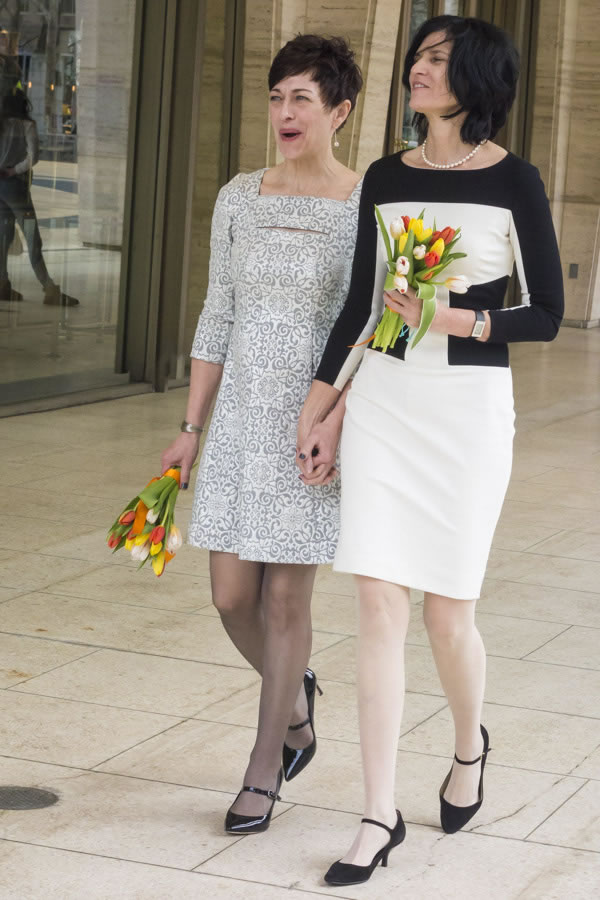 That concludes our overview of black and white outfits, which should have given you a lot of inspiration on how to wear black and white.
If you prefer all black have a look at our article on how to wear all black.
Want to know how to wear other colors? Check one of our color guides
How to wear:
Do like to wear black & white?

Feature image by @stilemeraviglia
Most photographs by Denton Taylor
Want to get more articles from 40+style in your inbox, subscribe here.
You can also connect with 40+style on Facebook, Instagram or Pinterest.
Support 40+style by using the links in our articles to shop. As an associate for Amazon and many other brands, we receive a small commission (at no cost to you) on qualifying purchases which enables us to keep creating amazing free content for you. Thanks!