If you need to carry essentials with you, you may as well carry them stylishly. Perhaps you haven't treated yourself to a new handbag for a while, or you want to add a new accessory to your existing outfits. Choosing an on-trend handbag is the ideal way to add a modern element to your looks day-to-day. Below, you'll find a rundown of all the latest new bag styles to try this spring and summer.
new bag styles & Handbag trends
There are so many different handbag styles that are on-trend for spring this year, that you're sure to find one that catches your eye. Take a look. You'll find everything from bright shades to neutrals, retro style bags to playful shapes, big bags to fit in everything you need for daytime, to smaller party bags for your evening dinners…
brights
Bottega Veneta – Prada – Valentino
Let's start with some of the bright shades seen on the catwalks.
The on-trend handbag shades for spring mirror the colors seen on clothes for the new season. You can see above that many designers chose to keep the rest of their outfits neutral and add a bright pop of interest with a vivid color.
You could choose a very of-the-moment shade like fluorescent green (above, left) or choose a more timeless color that will transcend seasons, such as red.

new bag styles: Crescent moon 
Christian Dior – Loewe – Bottega Veneta
For a slightly retro feel, the half moon bags seen on the catwalks at the likes of Christian Dior, Loewe and Bottega Veneta (above) had a slightly 90s feel to them. Choose a quilted, fabric or patent style. This style of bag should just be big enough to fit your purse and your phone in.

straw and crafts bags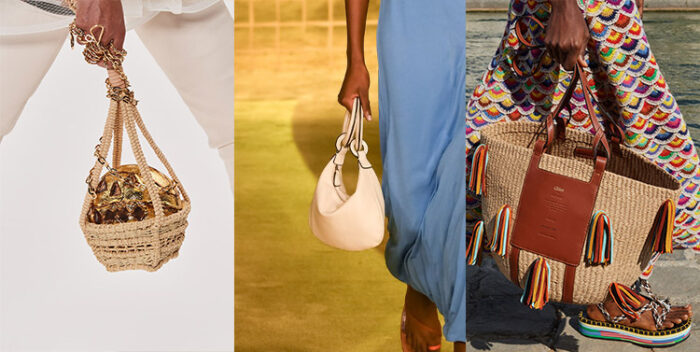 If the weather is warming up where you are, or you are heading off on vacation then a straw, crochet or craft-inspired handbag can be the perfect addition to your outfit. These styles look perfect with your summer dresses and sandals.

Supersize bags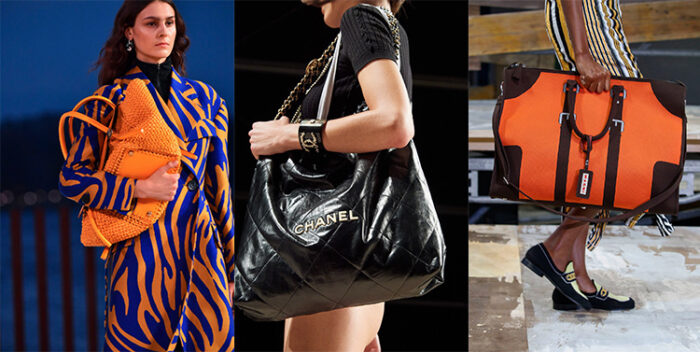 Proenza Schouler – Chanel – Marni
Do you have a lot to fit in your bag day-to-day? Maybe you're working and need to fit in your laptop, or you want to fit a beach towel into your bag. Then choosing an oversized version can ensure you have all the space you need. As you can see above, many designers chose a colorful tote, but you could also opt for a classic neutral.

Hardware
Valentino – Louis Vuitton – Salvatore Ferragamo
Chunky chains are a big trend for jewelry for spring 2022, and the same holds true for bag styles. Look out for bags featuring oversized chains.

new bag styles: Cushioned and slouchy bags
Bottega Veneta – Loewe – Christian Dior
Shoes featuring a little cushioning were big trends on the catwalks during winter and coming into spring. You can also get this look on your handbag by choosing some padding on your bag. Or you could try a bag with a little slouch rather than volume.

Bucket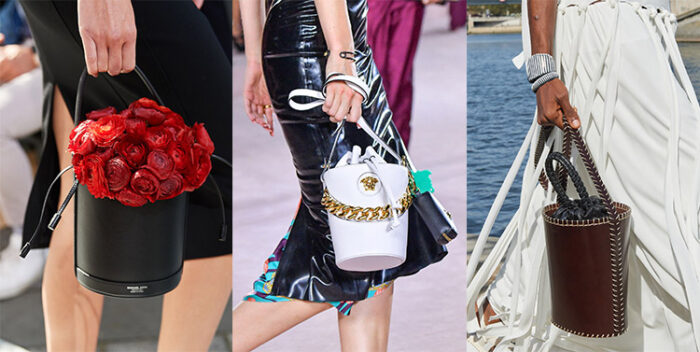 Michael Kors Collection – Versace – Chloé
There are always mini trends that crop up across numerous designer catwalks in any given season, and this time around, one of those is the bucket bag. If you want to instantly add modernity to your outfit, a bucket bag is a great choice.

Party
Valentino – Louis Vuitton – Christian Dior
I know that parties were pretty much cancelled for the best part of two years for much of the world. But now some normality is returning, do you have dinner dates and events you are attending this year? Then, you'll need a clutch. For 2022, choose a clutch bag that is embellished.

Heart shapes
Lanvin – Chanel – Lanvin
I know Valentine's day is over, but that doesn't mean you can't still wear your heart on your sleeve, or at least your arm. Heart shaped handbags featured on the catwalks at Chanel and Lanvin, and would be an ideal alternative to your clutch bag for an evening out.

Over the shoulder bags
There are plenty of ways you can choose to carry your handbag. You could opt for a tote you carry down by your thighs, a crossbody to keep your hands free, or a retro style shoulderbag. Choose a shoulderbag with a strap or a chain.
Bottega Veneta – Valentino – Bottega Veneta

new bag styles: hand held
Bottega Veneta – Proenza Schouler – Peter Do
Not a bag style as such, but a way to hold your bag. While the bags above may feature straps to carry them by, designers opted to send their models down the catwalks clutching them instead. So, even if you aren't choosing a new bag, you could just change the way you carry your existing handbag.

White bags
Bottega Veneta – Valentino – Alaïa
White shoes are also a major trend for spring 2022. But, if a pair of white shoes or boots don't appeal, you could get a similar look by choosing a white handbag instead.

Double bag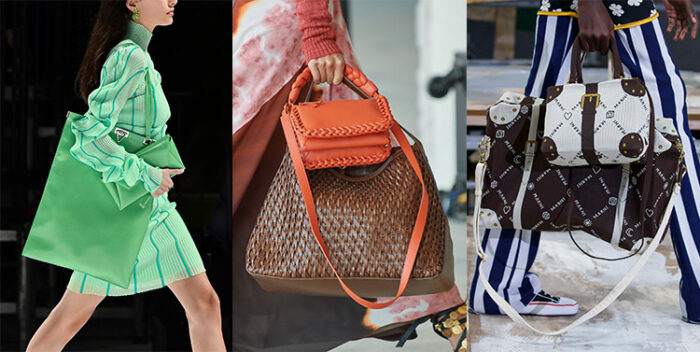 Bottega Veneta – Altuzarra – Marni
Do you have lots to carry, or do you maybe like to separate your personal essentials from your work belongings. Then you could choose to carry two bags with you. Choose complementary colors or exactly matching shades.

Square / box
Lois Vuitton – Chanel – Christian Dior
There are plenty of shapes you can choose for your handbags for spring. You've already seen half moon and heart shapes. Another key option is the square bag. Choose a small square or rectangular shaped bag for an evening out.

new bag styles: Prints
Louis Vuitton – Marni – Schiaparelli
Just as you can add interest with the color or texture of your bag, you can also add another element by choosing a print bag. Either keep the rest of your outfit in block colors or match your pattern to your outfit.

Do you have a favorite trend from the new spring bag styles? Or perhaps you already have some of these styles in your closet. Let me know in the comments below.
Continue reading:
Like this article on new bag styles for spring 2022? Share it on Pinterest
Images by VOGUE Runway
Want to get more articles from 40+style in your inbox, subscribe here.
You can also connect with 40+style on Facebook, Instagram or Pinterest.
Support 40+style by using the links in our articles to shop. As an associate for Amazon and many other brands, we receive a small commission (at no cost to you) on qualifying purchases which enables us to keep creating amazing free content for you. Thanks!