In order to give you some inspiration and motivation, I started mixing and matching some scarves of my own. Of course I got my inspiration from my own how to wear scarves Pinterest board.
And let me tell you, once you get going mixing and matching scarves with your outfits, the sky is the limit. I could have come up with many more combinations if I did not have any time constraints…..
Colorful scarves to combine with black and white
One of my favorite ways to wear scarves is to wear them with a white button down shirt or top. If you have nice colourful scarves, like the ones I'm wearing above, they will combine greatly with black bottoms or any other colour you may have. It's a great way to add your best colours close to your face, if white tends to wash you out a bit.
The simple relaxed way of wearing your scarf on the left is one of the more popular styles lately and it's a nice way to show off the beautiful design and colours of your scarf.
The scarf on the right actually enables me to wear this really low cut top that I would normally have to wear with something underneath. Adding the scarf covers up the chest area and adds some fabulous colours to the white, which makes the outfit more modern and in line with the current trends.
Scarves to add colour to black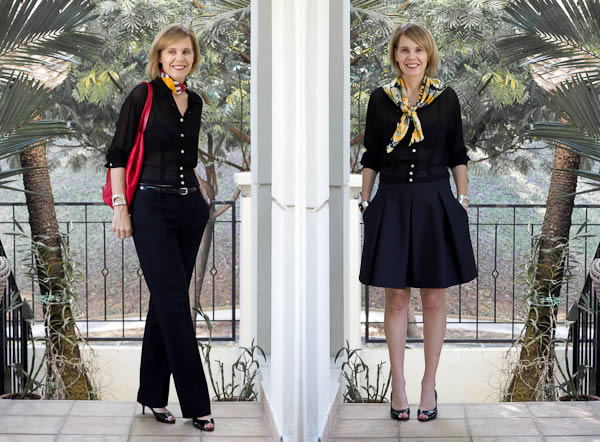 Black is almost never the best hue to wear close to your face, and a scarf is an excellent way to add that much needed colour.
I used to wear scarves a lot as a necklace as shown on the left, in the days I worked for a scarf design company. The picture on the right shows one of the most straight forward ways to wear a square scarf.
Scarves worn as a belt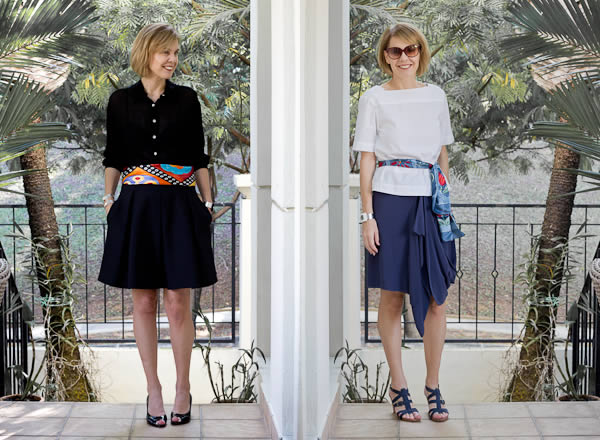 Another easy way to wear a scarf is to tie them around your waist. You can do this with both square and long scarves (sas seen on the right). A nice way to add a bit of extra colour to an otherwise 1 or 2 toned outfit and an easy way to create the currently very hip peplum look.
Scarves worn with white
A scarf is a great way to add colour to an all white outfit, as seen on the right. Great if you want to highlight or bring back the colour of your fabulous shoes!
Or how about wearing your square scarf as a top. Fabulous for a stroll on the beach and very sexy! For those in colder weather, you could also use this method to wear the scarf as a top underneath your blazer or jacket.
Scarves worn as a top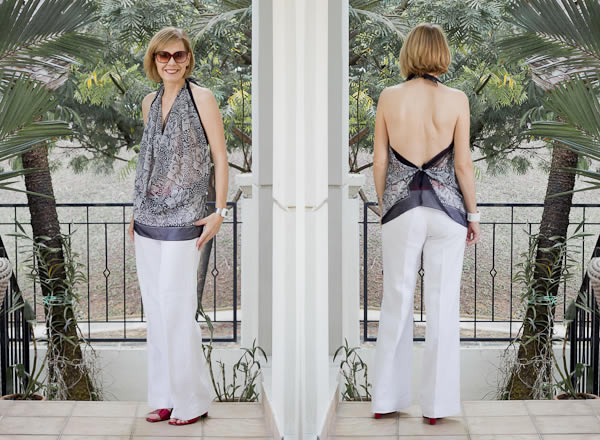 Another, more demure version, of a scarf worn as a top. This scarf was slightly bigger so you can make your top bigger as well and tie it slightly higher at the back. Great look for a summer holiday beach stroll.
As mentioned before, I still had many more combinations to try, but ran out of time. There are so many other ways you can wear your scarves as well. It's a lot of fun to play with them and create some new exciting outfits.
What is your most preferred way to wear a scarf?

Want to get more articles from 40+style in your inbox, subscribe here.
You can also connect with 40+style on Facebook, Instagram or Pinterest.
Support 40+style by using the links in our articles to shop. As an associate for Amazon and many other brands, we receive a small commission (at no cost to you) on qualifying purchases which enables us to keep creating amazing free content for you. Thanks!