As you may have read, I was celebrating my birthday this week as well as catch up with friends. I did both on a recent trip to Amsterdam. It has become a yearly ritual to shop the "9 straatjes" or 9 little streets, which are nine exquisite streets in the heart of Amsterdam, which host the most delightful little shops. It takes us a whole day to cover them all, as well as some other favorite shops which I visit on a yearly basis.
I was told that this was one of the warmest days Holland has experienced the whole year and Amsterdam looked amazing in the sunshine. As for dressing, there are always a few challenges when it comes to days like this. Especially as I was going to meet up with some friends for diner in the evening to celebrate my birthday. The red dress that I had initially planned to wear for the occassion (as my birthday diner was first planned for another day) was too chic for a whole day of shopping. Instead I opted for this alternative, which is a dress I picked up in the Singapore sales. This dress can be dressed up or down. More casual for day time as worn here, and dressed up if you add a fancy clutch and some heels.
Since I would be walking the whole day, heels were not an option, so I opted for these comfortable sandals instead. I actually paired the dress with a casual white jacket, but did not need it in the end as the weather was so good. I also took my comfortable backpack so I would be able to carry my (heavy) camera all day!
My friend Saskia was rocking leggings with ankle booties and a draped top. As you can see she can rock leggings like a pro, highlighting her sky high legs. From what I saw in the Dutch shops ankle boots are going to be really big this coming season as I saw many in all kinds of variations.
Her bag was very nice too! The plastic bag contained a new purchase from Cora Kemperman, a Dutch designer, where I was also successful in buying a printed skirt!
And this is what happens when you are attempting a 'photo shoot' in Amsterdam. All of a sudden the cleaning brigade appears. The whole street got blocked, cars were parked in front of us and street cleaning cars were doing their work. It's a busy road….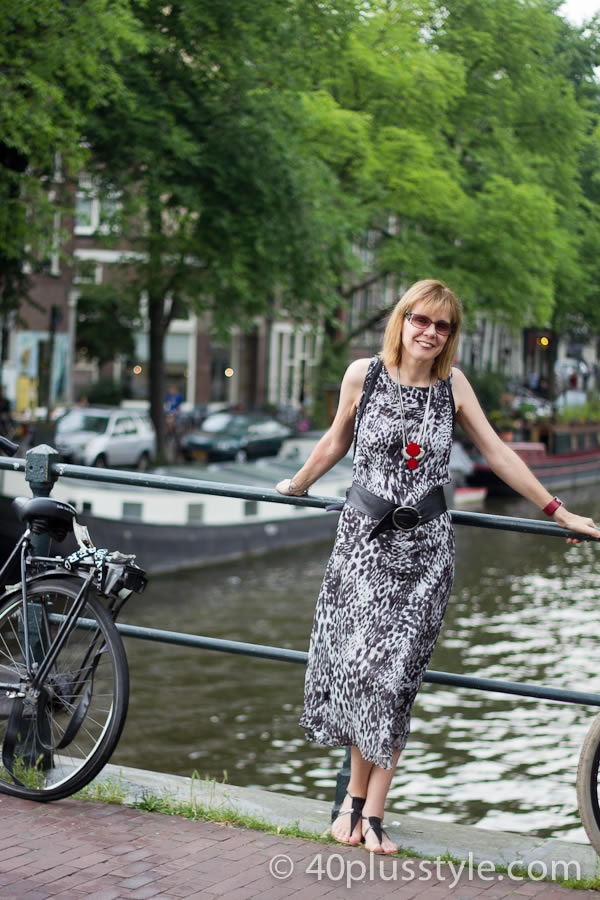 I had an absolute blast this day in Amsterdam. The weather was gorgeous, I was successful with my shopping and bought some fabulous things. My diner party in the evening  was so much fun, that I forgot to take pictures, which is a  real shame…
Linking up to visible Monday.

Related posts: