I'm having rather a busy day tomorrow. I'm going to the hair dresser, will need to do some shopping and will also attend a PR function.
I'm still jet lagged so I will have trouble dragging myself out of the bed in the morning.
In the evenings I feel quite energetic and that's the time I use to get a lot of my work done. This morning (as I write this) I also had to rush away and woke up too late.
Which left me exactly with 40 min to shower, dress, put makeup on, collect my things etc. Not a great feeling!
So this night, I thought it would be best to prepare myself better. Why not choose my outfit for tomorrow this evening? And I'm so glad I did.
I have nothing to wear!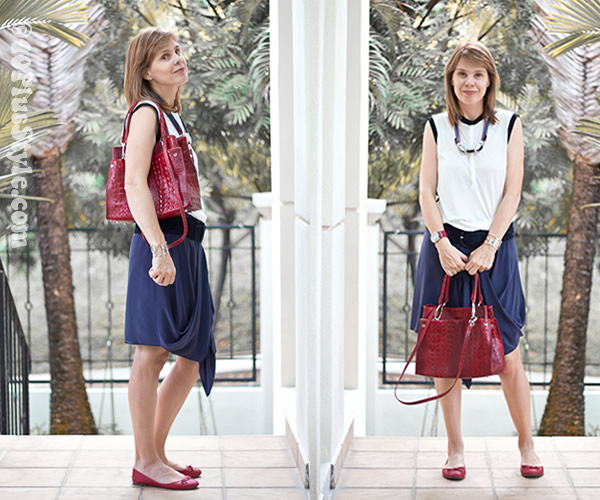 This morning I had the typical dilemma of many a 40+ woman.
What will I wear (I have nothing nice to wear!).
Which, as you all know, is not true. I have a cupboard full of gorgeous clothes, so how can I possibly feel that I have nothing to wear? The issue is that I get easily bored with my outfits. If I have worn combinations before, I am not so attracted to them anymore.
By getting prepared earlier for the day ahead, I had some time to think on how I could possibly create new combinations with the clothes that I already have.
I tried on a recently bought asymmetric striped dress, but could not find anything to pair it with today.
Then I thought about an other 'resolution' I recently made, which is to wear more of my nicer clothes (that hardly ever get worn). So I grabbed my silk skirt and paired it as I usually do with a top in the same fabric and color.
Do something different with your outfits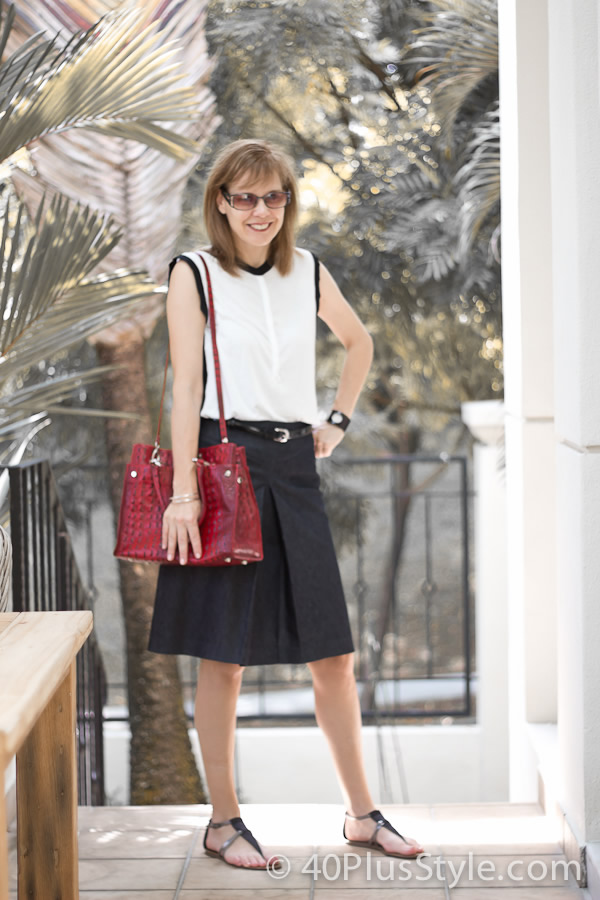 Acceptable, yes. Exciting, no. Creative, no.
So I went back to my closet and started browsing for other tops and finally came up with a, to me, perfect casual top.
This way the outfit would be less formal, more trendy and combined with red, would fit in with the graphical trend that I love so much. Plus I got to 'wear' my new red bag.
Now, this outfit only came to being because I took the time to think about it, think outside the box and 'force' myself to combine my bottom with a different top. I often don't make that time for day to day life, so I usually end up rushing in the morning and step out in something rather boring.
How do you prepare for dressing?
So perhaps all you smart ladies are already doing this, but my tip is to really take some time the day before and think about how you can be creative with clothes.
You already have so much in your cupboard, and new items may very well go perfect with something that has been in your cupboard for ages. Make it a habit, to plan your clothes the evening before!
I was very happy with the outfit I came up with and surely had a lot more fun with this, then I would have had in my matchy matchy outfit.
I actually found that I also really like this top with one of my older denim skirts. A bit more casual and I'm not sure which outfit I like best.
Outfit details: Top photo: skirt: Alldressedup, top: Zara, shoes and bag: bought in Salzburg, Austria, no particular brand.
Bottom photo: Skirt and shoes by Zara.
Tell me ladies, are you already smart enough to plan ahead on what you will wear the next day or are you a last minute dresser?
Want to get more articles from 40+style in your inbox, subscribe here.
You can also connect with 40+style on Facebook, Instagram or Pinterest.
Support 40+style by using the links in our articles to shop. As an associate for Amazon and many other brands, we receive a small commission (at no cost to you) on qualifying purchases which enables us to keep creating amazing free content for you. Thanks!