I'm in red mode at the moment. From past pictures I have seen that this color looks particularly good on me so I'm keen to wear it more often. Red is a really versatile color that you can wear year round. I'm actually already planning my winter capsule at the moment for my ski holidays in December and red will be a big part of it!
Why colors are so good for women over 40
Colors in general look good on many women over 40. As you get older you tend to get paler and grayer and colors can really give you a boost and revitalise your appearance. I have become increasingly aware of that and am consciously aiming to add more color to my wardrobe.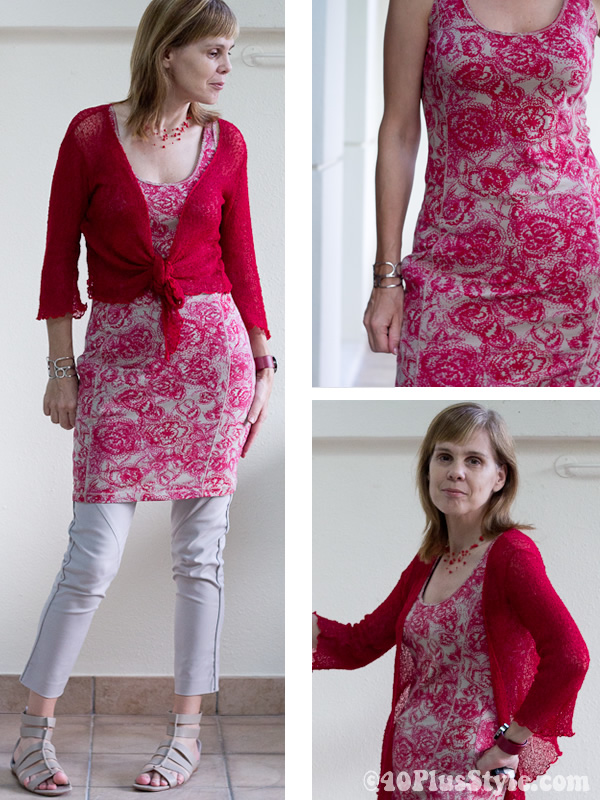 Showing some curves
This particular outfit is also showing some curves. I have always avoided wearing tight dresses due to my slight pear shape and saddle bags, but am lately embracing the look. It highlights some of the curves that I do have and I'm happy to show them off now! I intentionally bought this dress a while ago to wear as a top over pants. Red is a color that I always enjoy and since the paisley print is timeless, I thought that this was an excellent choice to add both more color AND more prints to my wardrobe. I'm sure I will find many ways to wear this dress / tunic top. Now all I need is one of the glamorous red lipsticks that Heather reviewed and I will look totally colorful!
Showing a vertical line
Another interesting point about this outfit is that you can wear it many ways. You can wear just the dress or combine it with a cardigan like this red one. One way to wear this cardigan is to wear it lose. That way you create more of a vertical line which is lengthening. This is important to do when you are not so tall or when you want to distract attention from any access weight.
Wearing the right proportions
You can also tie this particular cardigan in a knot. I've done this quite high. This splits the body in parts more, but here I still created a 1/3 – 2/3 proportion which is good. You always have to be careful that you don't split up your body in 2 halfs which is unflattering.
Dress: unknown, bought at sales in Haarlem, The Netherlands
Pants: Calvin Klein (old, sales)
Cardigan: Bali market
Shoes: Calvin Klein (old, sales)
So there you go. Some more color AND some prints. Go on over to Visible Monday to see some more wonderful ladies showing their style.
Are you rocking the colors and prints lately? What is your favorite current color?
Want to get more articles from 40+style in your inbox, subscribe here.
You can also connect with 40+style on Facebook, Instagram or Pinterest.
Support 40+style by using the links in our articles to shop. As an associate for Amazon and many other brands, we receive a small commission (at no cost to you) on qualifying purchases which enables us to keep creating amazing free content for you. Thanks!