I love colors. And I absolutely love people who can pull off wearing fantastic colors and look great. I find that color can work wonders if you are getting older and give you that extra flair.
So why do I (and perhaps you too) often resort to more safe colors?
I get bored with a new fashion color so quickly that I often wear colored outfits only once or twice.
Colors usually look great in prints. The issue here. Prints have a very short time span in my closet.
It takes so much more time to mix and match and put the outfit together.
Buying bright colors tends to make fashion buying a whole lot more expensive for all the reasons above.
Even though I like daring color combinations on others, it never seems to feel quite right for me.
Still, I am not giving up. I am determined to wear color and get a bit more oomph in my dressing.
So here are a few of my tips for adding more color to your wardrobe
1. Buy more 'classic' dresses in color so you don't tire of them so quickly
Not so easy as one of my other guidelines is to only buy new things that are a little bit different and not standard.
However, a good example of this may be my red dress that I have. Although it still has a classic shape, it still has a few quirky and different things going on to make it interesting.
2. Buy colors and prints during the sale
I'm trying more and more to buy all my clothes at the end of the season now, and I hardly ever buy brightly colored items at full price. I simply cannot trust myself and I can never predict how long I will like a new piece. When clothes are at a 50% discount I can be a bit more adventurous.
3. Add more color witth accessories like hand bags, shawls, belts, glasses, different colors watch bands
This is probably the best thing you can do to add more color. It's cheaper and you can keep bags, watches and belts for years. I have some ingenious watches that I can change according to the color I wear.
4. Buy some colorful shoes
That is exactly what I did on my recent trip. I am now the proud owner of a colorful pair of bright red high heeled shoes!
Together with a red belt, red handbag, red watch band, this will turn my plain colored dresses into a trendy colorful outfit. !
Let's have a look at how women over 40 wore color in stylish ways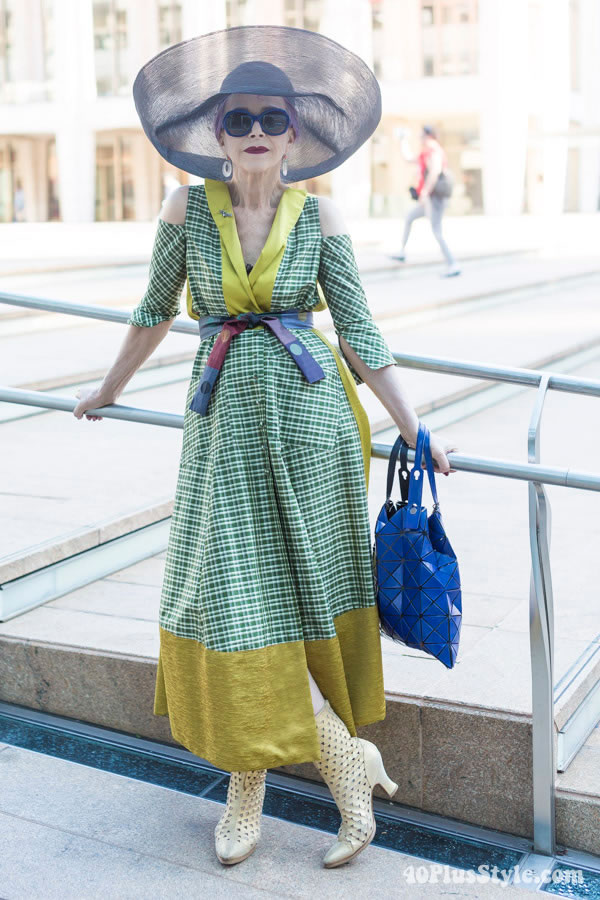 Many women love a good dress with sleeves and this one spotted in New York last year looks gorgeous!
Beautifully matched with fuchsia shoes, lovely accessories, a great haircut and a gorgeous smile, this woman looks stunning in my opinion.
If you like to find the perfect dress with sleeves, I offer some options here.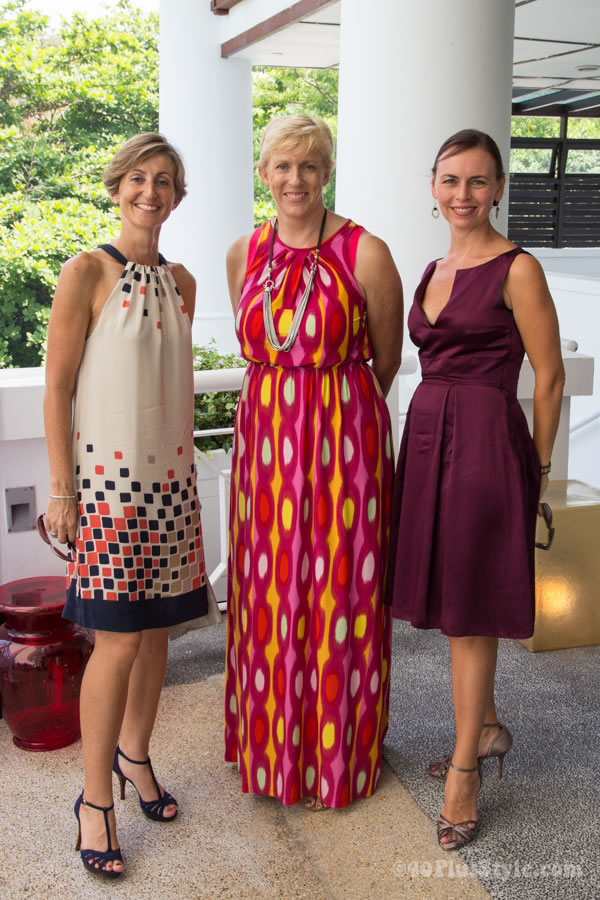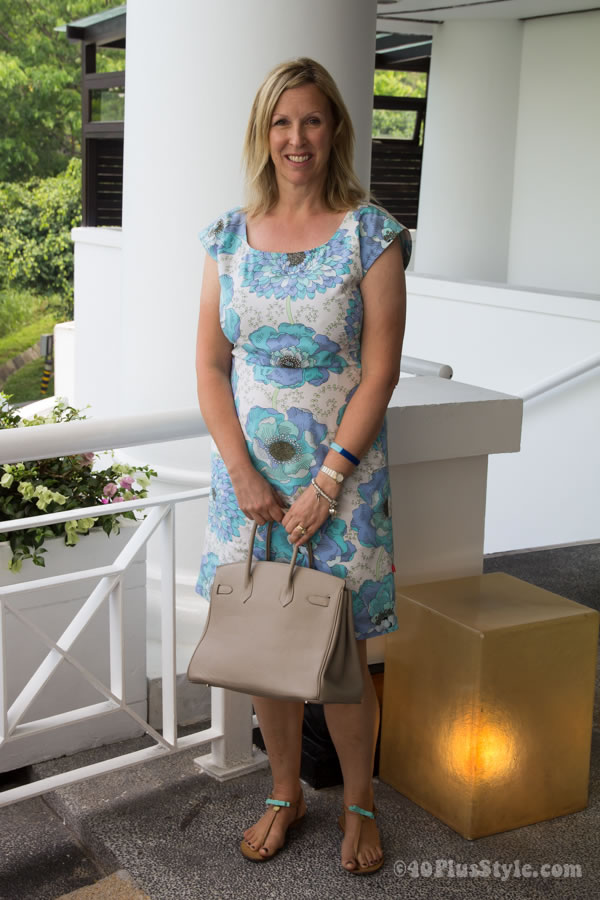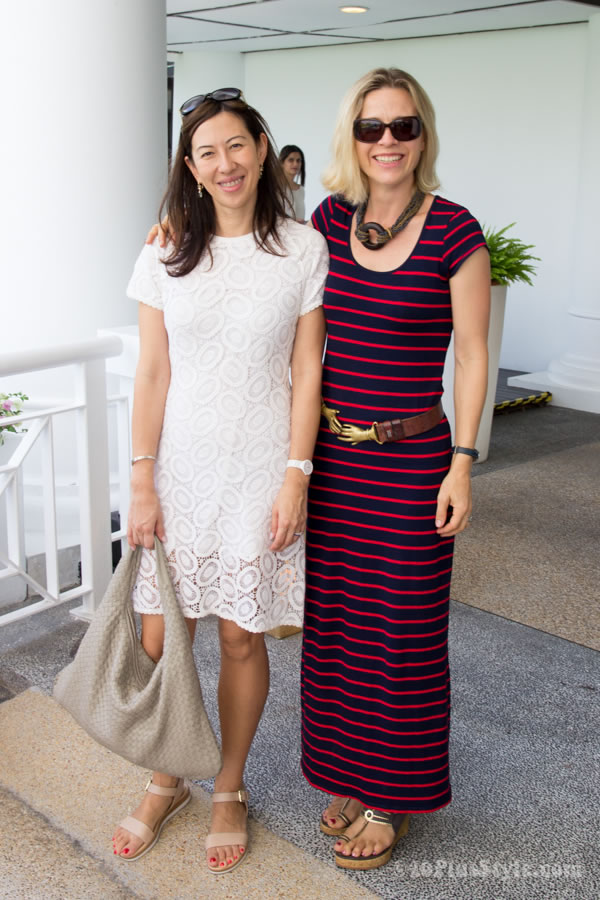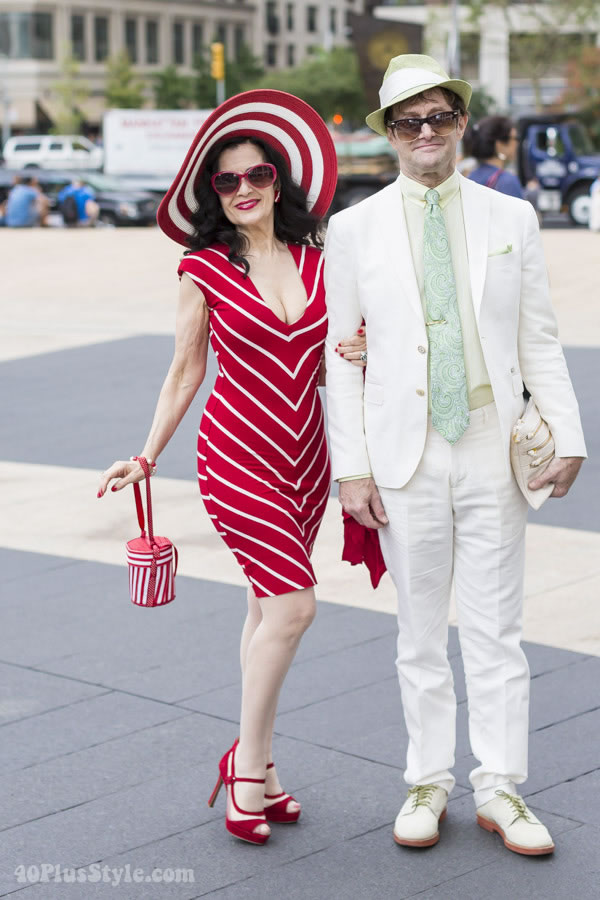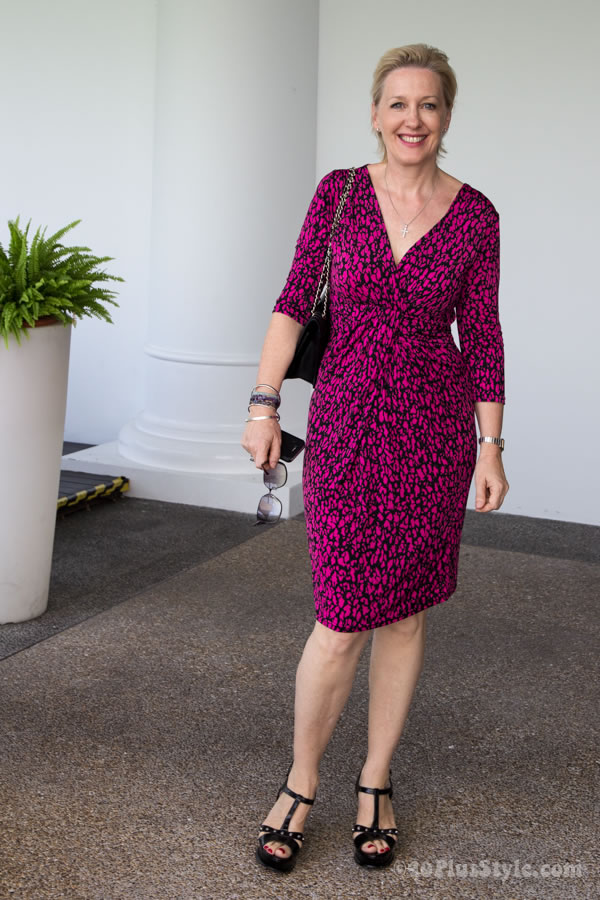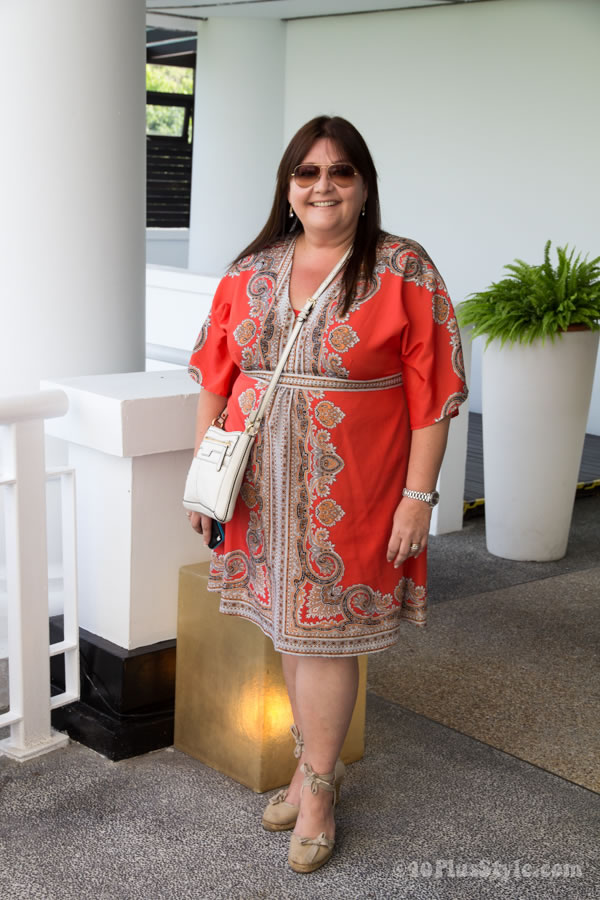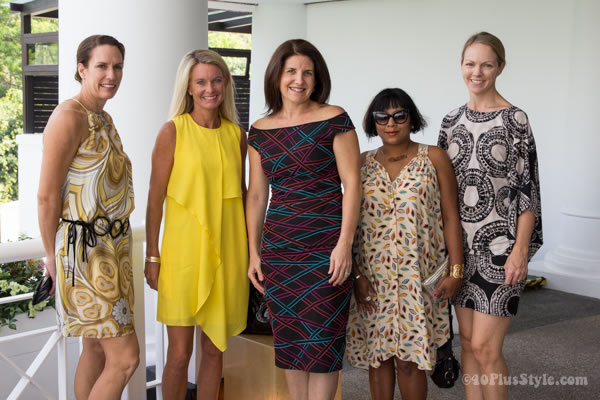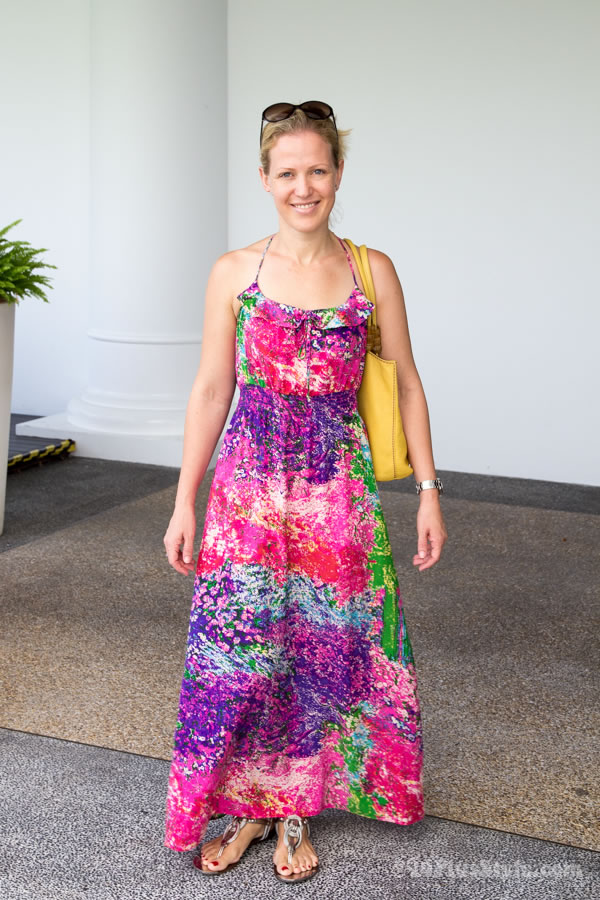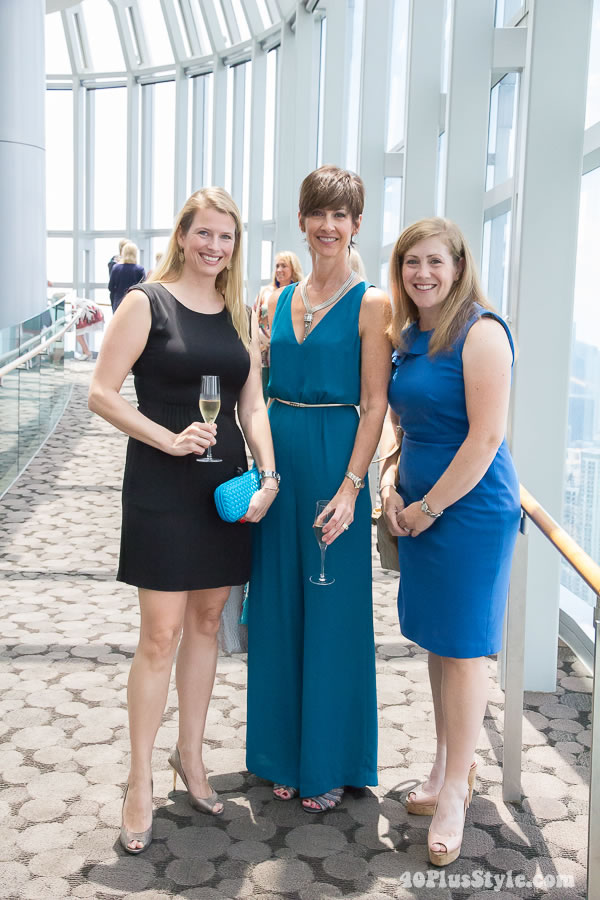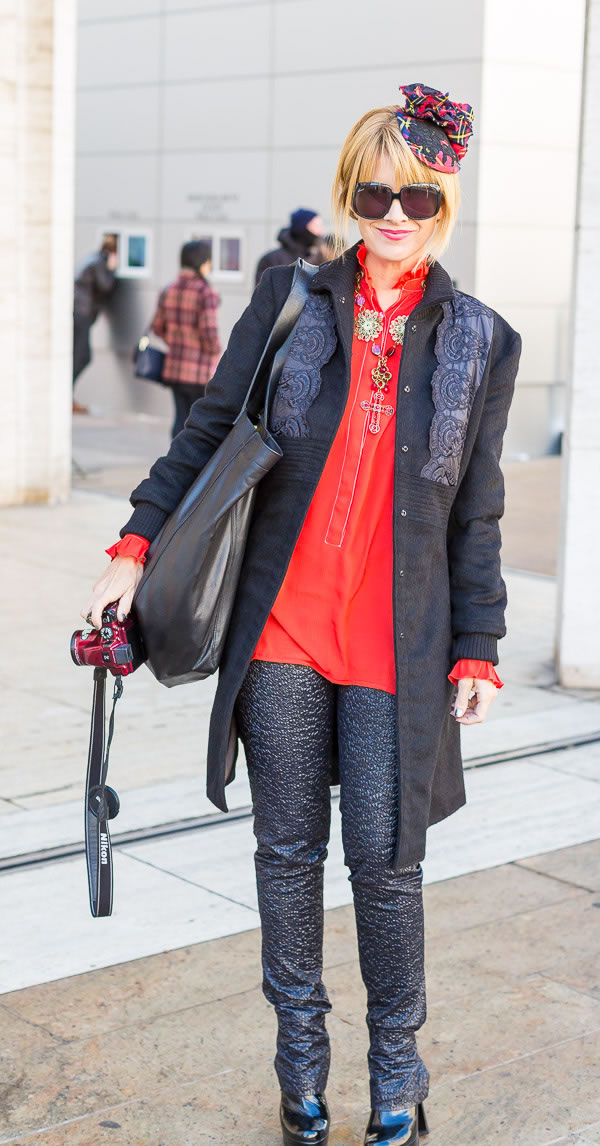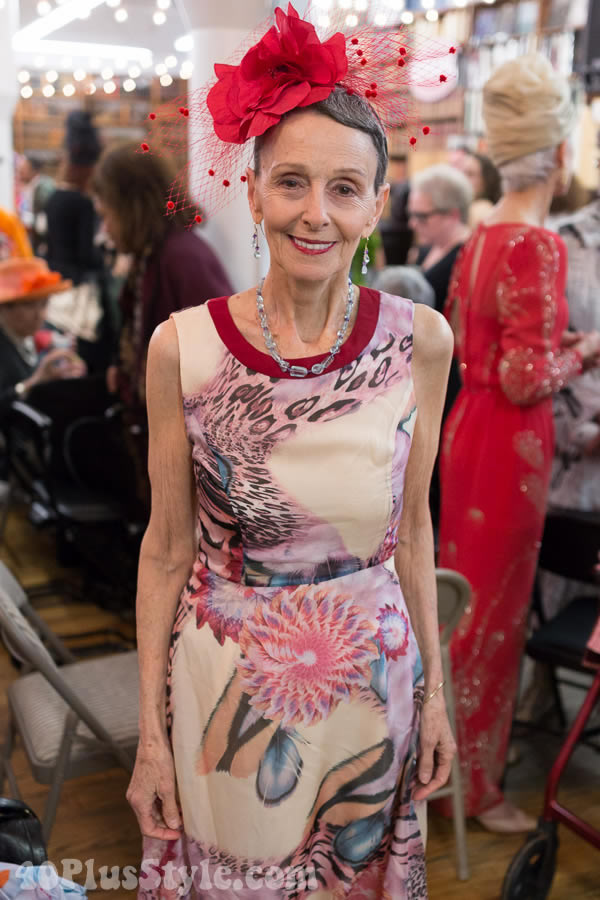 This is the gorgeous and elegant Carola Vecchio who looks absolutely stunning in this flower dress accessorized with a red hat. 
A black background on a floral dress is perfect for summer vacations. Another key look on the Fall 2018 runways, dark floral dresses can be incredibly versatile, and also work well paired with long boots for fall.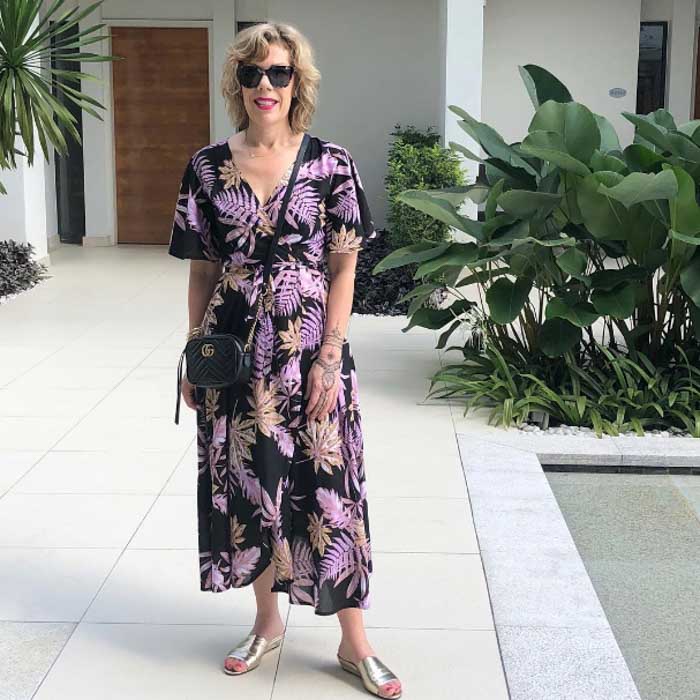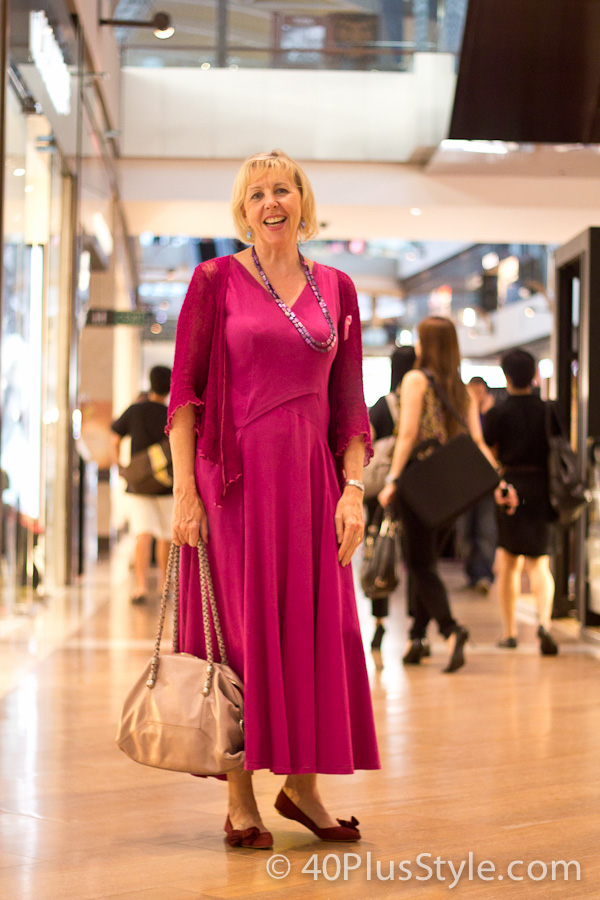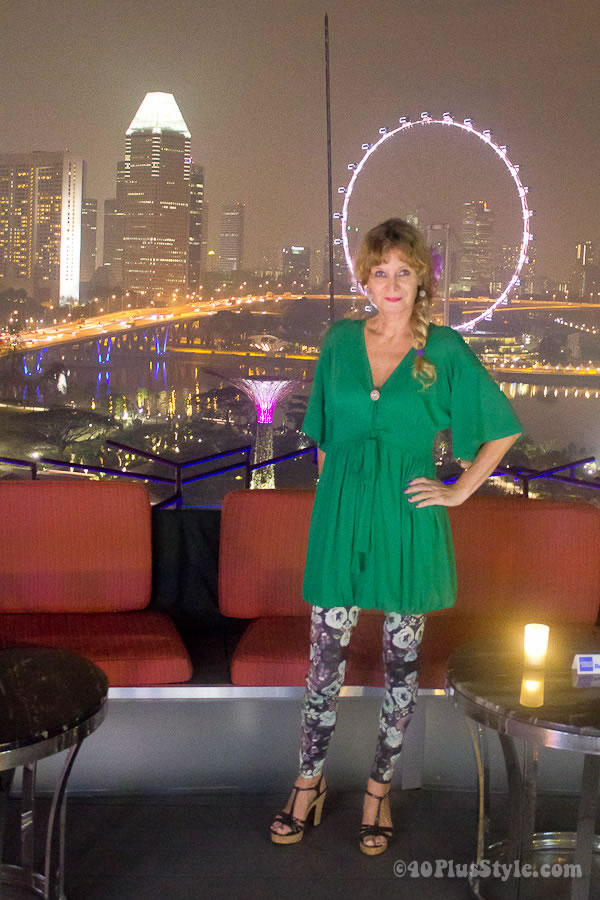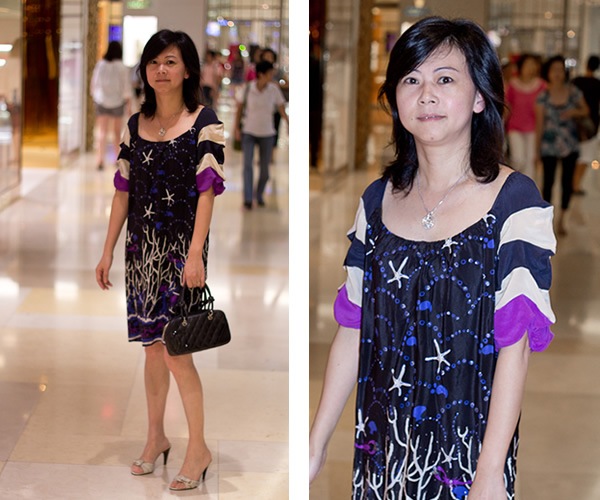 I thought Jackie looked wonderful in this printed dress, which had just the right length for her. The colors suit her really well, and the Chanel bag is so elegant with this outfit. Jackie could not remember where she got the dress, but it was bought in China. The elegant shoes complete the look. Jackie was on holiday in Singapore and lives in China.
Loving this color combination and the glorious mixing of prints.
Accesorized to perfection with the boots, earrings and small bag.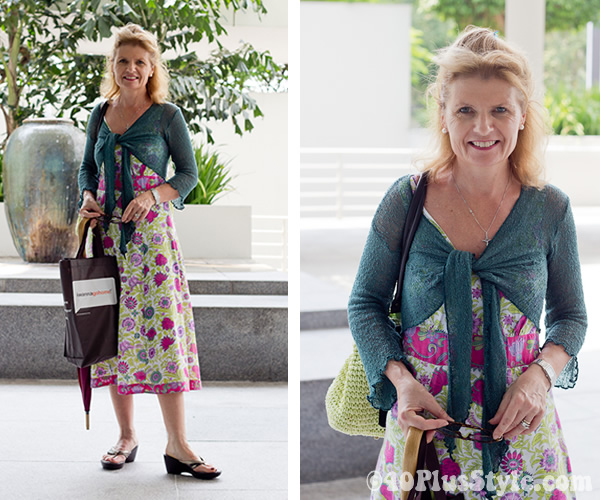 This woman caught my eye, due to her wonderful combination of colors that suit her so well. She created a lovely silhouette as well by featuring this high cardigan.
These light cardigans are very popular here in Singapore (you have seen me wearing a red version as well). And you also know why she is wearing the extra layer if you have read my article on how to dress for Singapore!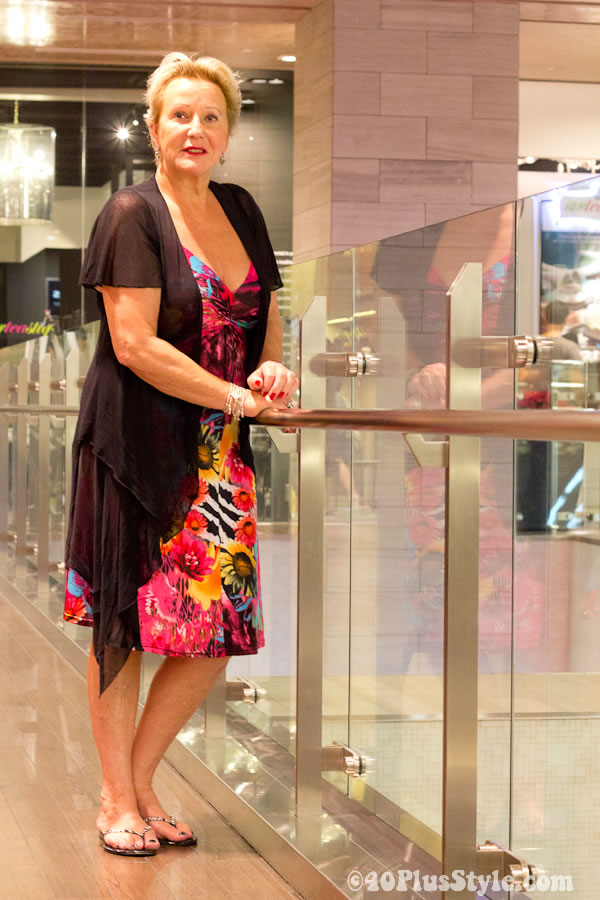 This lady caught my eye while I was in Singapore's Mandarin gallery to attend a shop's birthday party.
The lady turned out to be Mieke, a financial manager from the Netherlands, currently here to accompany her husband for a business trip. Note how this dress is perfect for her body type and how the cardigan creates a nice vertical line, further lengthening her.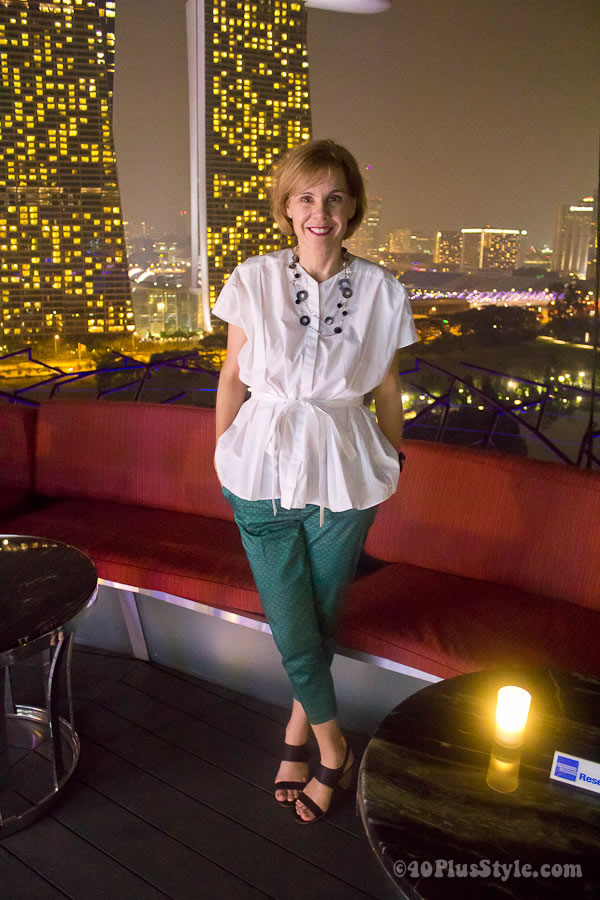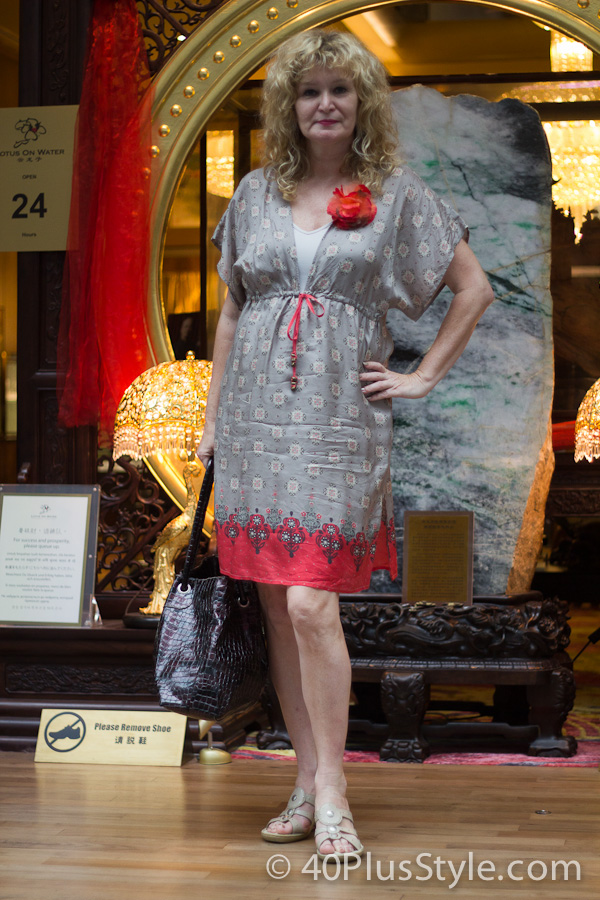 I love the way Anja accessorizes her dress with the beautiful flower corsage on her dress.
Combining your color with a neutral color will make it easier to wear. Black is the queen of neutrals, providing the perfect partner to a statement skirt.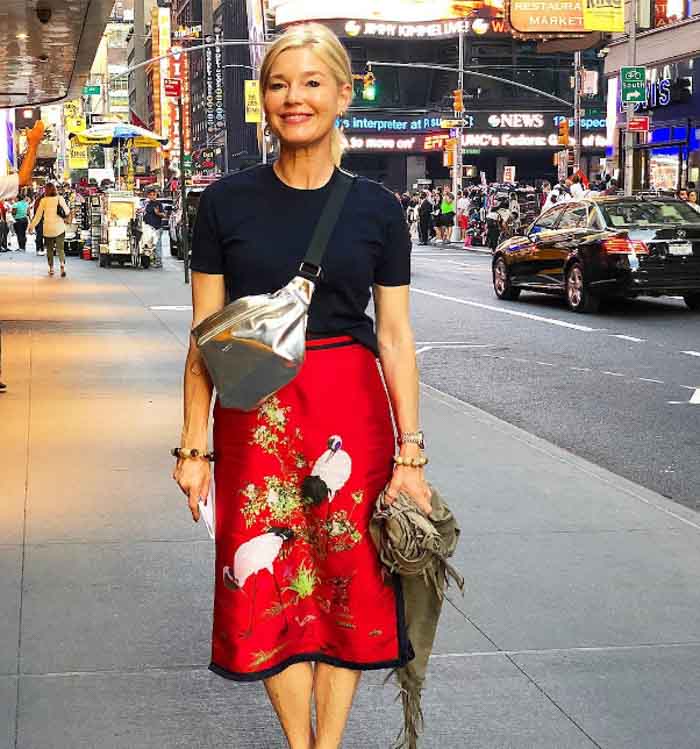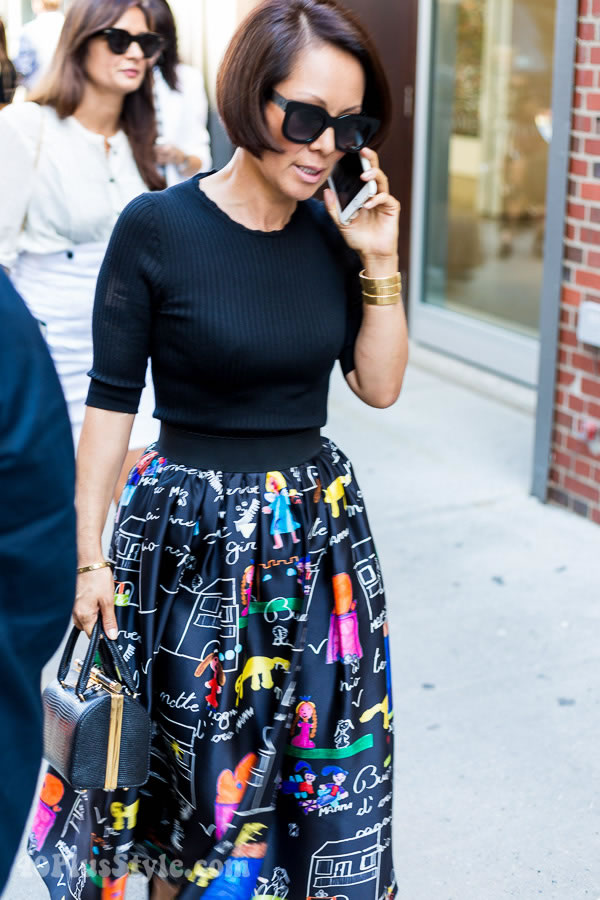 Great style does not need to be complicated. Here is a quick and easy style tip that always works and that allows you to wear color.
Get a beautiful patterned skirt
Add a solid top in a color that complements the top. Black often works but if that color is too harsh for you, try dark blue or brown
Add a gorgeous accessory
This woman looks fabulous doing just that!
How important are colours to you? What do you do to add more color to your wardrobe?

Feature image by @mixedfatchick
Photography by Denton Taylor
Want to get more articles from 40+style in your inbox, subscribe here.
You can also connect with 40+style on Facebook, Instagram or Pinterest.
Support 40+style by using the links in our articles to shop. As an associate for Amazon and many other brands, we receive a small commission (at no cost to you) on qualifying purchases which enables us to keep creating amazing free content for you. Thanks!