We love contemporary jewelry at 40+ Style. Especially those created by independent designers, and jewelry that everyone else is unlikely to be wearing. That's why we're bringing you our picks of the best jewelry stores online to find your next statement necklace, bracelets or earrings.
One of the best places to find all these unique designers is on Etsy. So, you'll see our Etsy favorites first. Read on for other stores and brands to find the best jewelry for women over 40.
Why wear contemporary jewelry
Choosing a modern piece of jewelry is a great way to update your look, to make sure you look hip after 40, add interest to a plain top or dress, and add an edge to your existing outfits.
Great jewelry also changes your outfits from day to night, giving you lots of versatility.
Best contemporary jewelry
First, our list of some of the best shops and designers we found on Etsy for contemporary jewelry.
Zojanka
Zojanka is a great place to look for scarves, brooches, and contemporary necklaces.
We particularly love the knotted rope necklaces in bright shades, like the necklace (below), which would look stylish worn over a white shirt. .
Zojanka Rope Statement Necklace
Floti
I love my clay necklace from Floti, seen here and here and I'm tempted to get more color combinations. The ceramic necklace (below) is perfect to wear over plain tops.
Redpaperhouse
The jewelry in RedPaperHouse is simple, geometric and super effective at adding that pop of color and bit of hipness to any outfit.
RedPaperHouse Honeycomb Geometric Wooden Laser Cut Necklace
naturametallum
Minimalist, industrial and sculptural jewelry, we love the interplay of the different materials at naturametallum.
naturametallum Aluminum Necklace
Pevalekart
PevalekArt creates very arty jewelry using a variety of materials that will add an arty vibe to your looks. The contemporary necklace (below) is ideal to add a pop of color to your favorite little black dress.
PevalekArt Contemporary Statement Necklace
Nada Kalmoni
Nada Kalmoni creates handmade African-inspired jewelry made mostly from African fabrics and West African recycled glass beads. These necklaces are perfect to add a pop of color to your outfit. Ideal if you love a bohemian look.
Nada Kalmoni Chunky Fabric Necklace
More of the best jewelry online
cult gaia
If you want to add an unusual, on trend element to your existing outfits, take a look at Cult Gaia. Wear the hoop earrings (below) with your white outfits, or to match the colors in a print top or dress.
Cult Gaia Sanura Hoop Earrings
karine sultan
Karine Sultan creates sculptural jewelry in gold or silver. The cuff bracelet (below) would look good with your sleeveless tops and dresses. We also like the Alice statement necklace.
PANCONESI
PANCONESI is the ideal place to look for sculptural earrings, like the gold earrings (below), making it the perfect brand for you if you have an architectural style personality.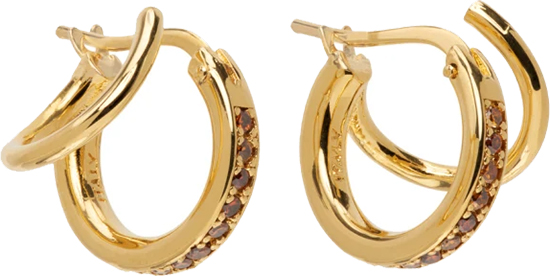 PANCONESI Gold Crystal Stellar Earrings
Jenny Bird
Jenny Bird has caught the eye of plenty of celebrities with her contemporary jewelry, including Michelle Obama. She specializes in creating lightweight, statement jewelry like the mixed metal necklace (below).
Jenny Bird Le Tome Sofia Disc Choker Necklace
COS
We love COS for it's timeless, yet contemporary clothing designs. But don't also forget to check out its accessories if you're looking for the best jewelry websites.
COS Oversized Link Drop Earrings
Massimo dutti
Massimo Dutti creates stylish clothing designs in natural materials. It also features contemporary jewelry, like the statement necklace below, which would be the perfect way to update a block color dress.
Massimo Dutti Gold-Plated Choker Necklace
Anine Bing
ANINE BING is the ideal place to find both timeless clothing and trendy items. Chunk chain link jewelry like the link bracelet (below) is particularly on trend right now.
bocar
When searching for the best jewelry stores online, don't forget to check out Amazon, which has brands like Bocar. The multi-strand necklace (below) comes in a huge choice of colors, so you should find a shade to match your outfit.
Bocar Multi Layer Seed Bead Necklace
AllSaints
AllSaints has an edgy vibe with its clothes and its jewelry. The necklace (below) has an industrial look that would be ideal if you love a minimalist style, or have a rock chick style personality.
AllSaints Enola Two Tone Necklace
Chico's
Chico's has everything you need to put together an outfit, including a good range of jewelry. We love the idea of wearing the bib necklace (below) over white outfits during the summer months.
Chico's Beaded Bib Necklace (matching earrings here)
Anthropologie
Anthropologie has a great selection of jewelry that is quite delicate, but still very contemporary.
Anthropologie The Petra Drop Earrings
Argento Vivo Sterling Silver
Argento Vivo Sterling Silver creates jewelry that manages to be contemporary and timeless. If you have a party or event this summer, it's a great brand to take a look at.
Argento Vivo Sterling Silver Mixed Metallic Linear Drop Earrings
ettika
Ettika creates trendy jewelry, ranging from more delicate necklaces and earrings, to statement pieces, making it one of the best jewelry designers on our list for versatility. The raffia drop earrings (below) are perfect to go with your summer dresses.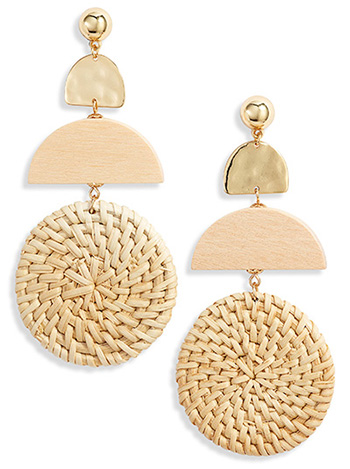 missoma
Missoma prides itself on creating recycled gold and silver jewelry. Each piece is handcrafted, responsibly sourced, and designed at its in-house studios in Notting Hill, London.
Missoma Enamel Haze Paper Clip Chain Necklace
open edit
Open Edit is your go-to if you're looking for an inexpensive piece of jewelry to update your look for a season or two.
Open Edit Double Twist Stretch Bracelet
Poppy finch
Poppy Finch takes a traditional material – pearls – and creates contemporary jewelry that brings them up-to-date.
Poppy Finch Hourglass Cultured Pearl Drop Earrings
Jennifer Zeuner
Growing up in Puerto Rico, Jennifer Zeuner had a first-hand view of her father's clothing factory, which inspired her to create her own brand. Her jewelry is inspired by her own style, which she describes as spiritual, with a twist.
Jennifer Zeuner Julia Bracelet
shop the items above here:

I'm sure that there are many more fantastic designers there that I have not yet discovered, so please let me know your favorites on Etsy, as well as the best jewelry stores online that you've found.
Continue reading:
Like this article on the best jewelry stores online? Share it on Pinterest
Want to get more articles from 40+style in your inbox, subscribe here.
You can also connect with 40+style on Facebook, Instagram or Pinterest.
Support 40+style by using the links in our articles to shop. As an associate for Amazon and many other brands, we receive a small commission (at no cost to you) on qualifying purchases which enables us to keep creating amazing free content for you. Thanks!