Adding a statement necklace or earrings can make a big difference to how modern your outfit looks. Adding a belt can change the shape of a dress or coat to create different styles, or wearing a hat can add impact, while sunglasses always add an air of 'cool' Let's take a look at the most popular jewelry for 2023 as well as the accessory trends to wear this season.
For extra spring 2023 inspiration, also take a look at these spring trends, shoe trends, color trends and handbag trends. Think about what you already have in your closet that you could wear in different ways, or some of the key clothes and accessories you might want to add to your existing looks.
Popular JEWELRY FOR 2023 & the best accessory trends
Let's hone in on the accessory trends and popular jewelry for 2023 from the catwalks this year. We will also look at how shops in the high street has interpreted them and where you can buy the best jewelry online.
Sculptural metal earrings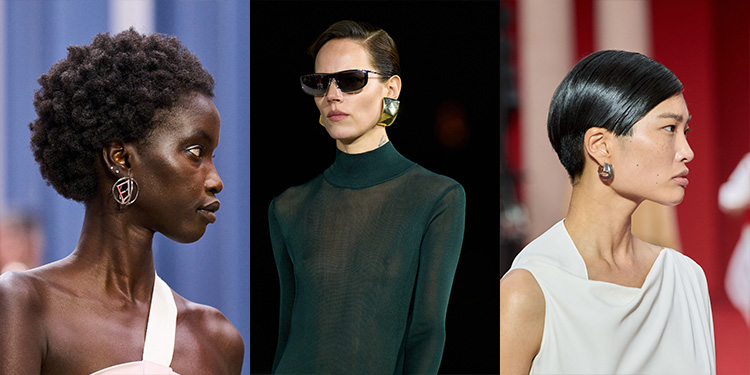 Fendi – Saint Laurent – Ferragamo
Sculptural jewelry will always add a modern edge to your outfits, and is perfect for updating anything from your favorite little black dress to your white shirt.

Long drop earrings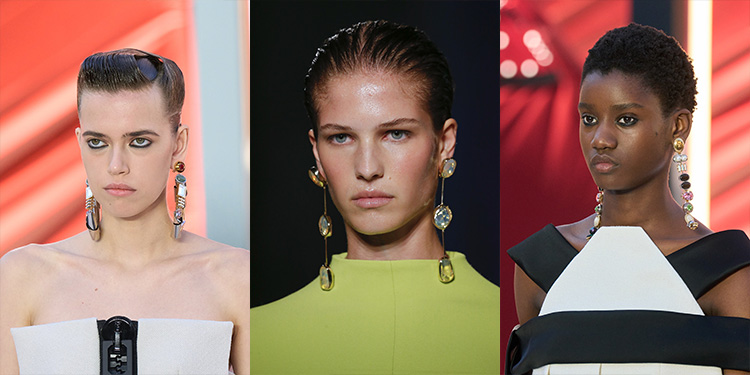 Louis Vuitton – Proenza Schouler – Louis Vuitton
If you want to add drama to your evening looks or the outfits you're wearing for any events or parties this year, opt for a pair of long, drop earrings. Just make sure they aren't too heavy – you don't want your ears to be pulled down, or to feel uncomfortable if you're wearing them for a few hours.

Popular jewelry for 2023 – Odd earrings
You know asymmetry is a favorite style element here at 40+ style. You'll find asymmetrical clothes ideas in this article. But, you could also add some asymmetry to your jewelry with a pair of earrings that have one longer, and one shorter earring.

CUFF BRACELETS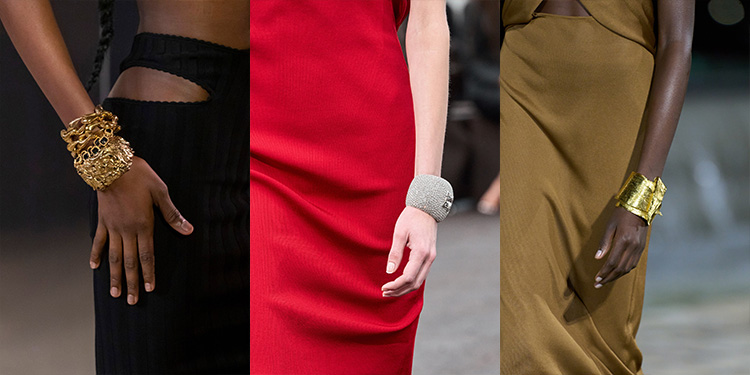 Bally – Givenchy – Saint Laurent
A cuff bracelet looks modern and adds drama to any outfit. As you can see above, cuff bracelets look particularly stylish against a block color maxi dress.

CHAIN BRACELETs
Proenza Schouler – Fendi – Versace
As well as cuffs, chains are particularly on trend this season. You can opt for a subtle chain, or choose a chunky option, depending on your style and where you are wearing it to.

Chain necklaces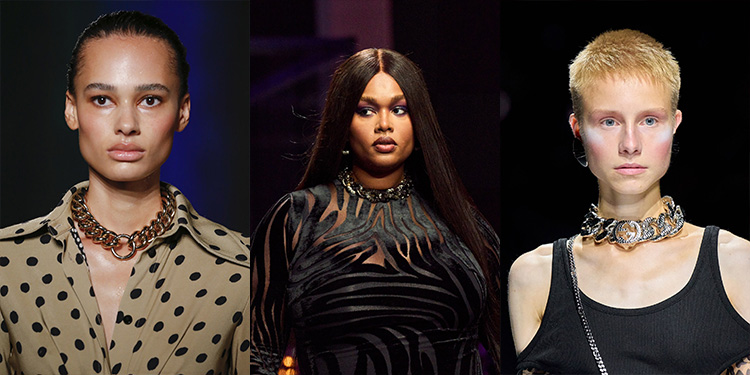 Proenza Schouler – Versace – Gucci
Chunky chain necklaces have been on trend for a few seasons now, and they are still very much on trend for 2023. So, if you already have one, don't put it away in the back of your jewelry box just yet. And, if you don't, you might want to treat yourself to one. You can wear with any of your dresses or tops.

Popular jewelry for 2023 – Layered necklaces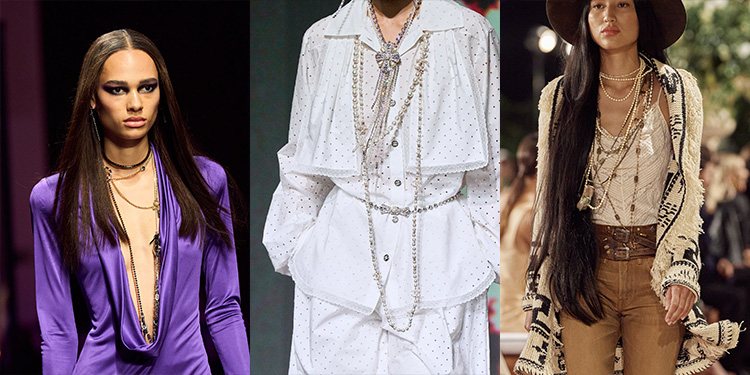 Versace – Chanel – Ralph Lauren
If you love a bohemian look, this will work perfectly for you. Layered necklaces are perfect to add a carefree, stylish element to your outfits.

Statement necklaces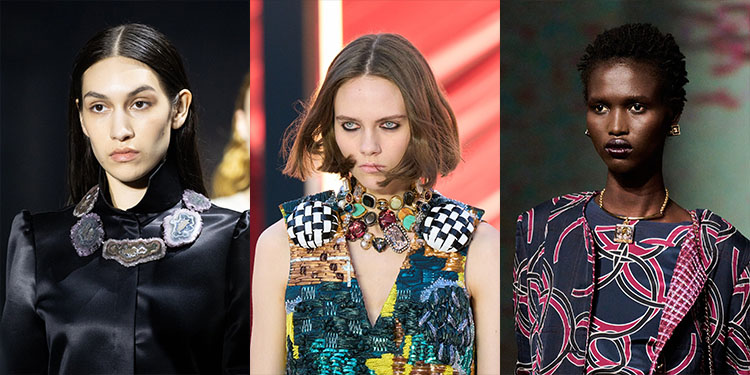 Gabriela Hearst – Louis Vuitton – Chanel
An easy way to transform your existing dresses and tops is to add a statement necklace. Choose a necklace that is big and bold. You can wear over your plain tops or dresses, or combine with a pattern.

Chokers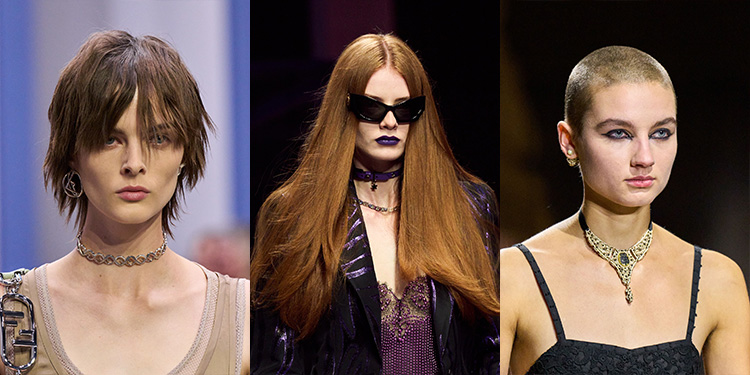 Fendi – Versace – Christian Dior
Chokers can be tricky to wear, but if you have a long, elegant neck, they are perfect for drawing attention to that area. You can wear with your dresses, or leave your shirt buttons open at the top so you can see the choker underneath.

Quicky necklaces
If you want to add an on-trend element of playfulness to your outfit, then you could choose a necklace in the shape of something else. Designers this season sent their models down the catwalks wearing necklaces in the shape of tiny handbags.

pearls
Christian Dior – Chanel – Chanel
They can have a somewhat old fashioned reputation, but pearls can also look very modern. You could team yours with floral prints or polka dots, as shown at Dior and Chanel above.

Contemporary rings
Erdem – Louis Vuitton – Givenchy
Adding a large ring, or a set of rings is a great way to add a hip look to any of your existing outfits.

Hoops
Hoop earrings are always on trend, so if you choose to invest in a pair, you can be sure they will be on trend for years and years to come. Choose a smaller pair if you want to be able to wear them everyday.

corsages
Flowers are a timeless trend for spring and summer. This season, designers chose to add them to their outfits as corsages. You could add a cluster of floral brooches to your jackets to create a different look from an old favorite you already have in your closet.

scarves
Versace – Giambattista Valli – Ralph Lauren
Wear them around your head, or around your neck. Either way, adding a lightweight scarf to your outfit can tie in the colors of your outfit.

hearts
One of the micro trends on the catwalks this season was heart-shaped jewelry. You could choose earrings or a bracelet that feature hearts.

sparkly belts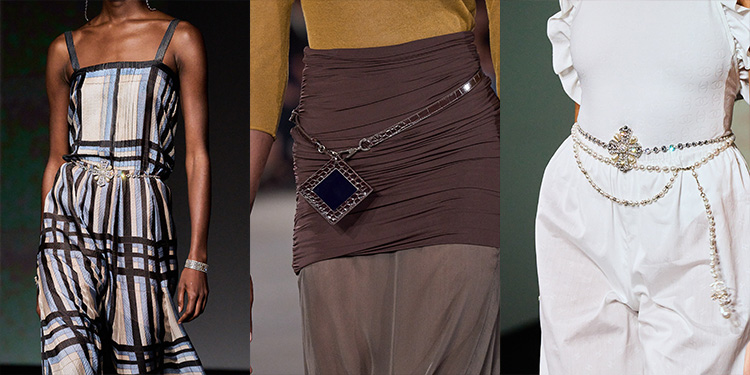 Chanel – Tory Burch – Chanel
If you want to add a focal point to your outfit, or you want to change the shape of your dress, then you could opt for a belt that looks like a piece of jewelry. If you have an hourglass body shape, then a sparkly belt is perfect to draw attention to your waistline.

wide belts
Saint Laurent – Louis Vuitton – Gucci
To really cinch your dress or coat in, you could choose a wide belt. This is ideal if you want to change the shape of your existing looks to add variety to your day-to-day looks.

square sunglasses
Fendi – Prada – Victoria Beckham
A pair of sunglasses is always essential to protect your eyes, but also to add a hip look to any of your outfits. This season, many designers chose a square shape for their sunglass.

cat eye sunglasses
Versace – Valentino – Giambattista Valli
You could also look out for catseye sunglasses. This is a particularly flattering option for women over 40, as the catseye style draws the eye upwards.

Lacey tights
Victoria Beckham – Loewe – Chanel
Tights don't just have to be for winter. If it's still a little chilly where you are, you could opt for a pair of lace tights with your summer outfits. You can check our article for more tips on how to wear tights.

Which of these accessory trends and popular jewelry for 2023 is your favorite? Will you be adding any to your outfits this year?
Continue reading:
Like this article on popular jewelry for 2023 and the best accessory trends? Share it on Pinterest
Images from Vogue
Want to get more articles from 40+style in your inbox, subscribe here.
You can also connect with 40+style on Facebook, Instagram or Pinterest.
Support 40+style by using the links in our articles to shop. As an associate for Amazon and many other brands, we receive a small commission (at no cost to you) on qualifying purchases which enables us to keep creating amazing free content for you. Thanks!