Even if you are usually a firm jeans or pants fan during the cooler months, you may still want to change your outfits up for warmer weather. That's why I've teamed with Nordstrom to bring you ideas for the most flattering summer dresses for women over 40, or any age upwards that you happen to be!
So, how do you choose the best dresses for older women? Well, if you've been following me for a while, you'll already know I never take a one-size-fits-all attitude. But, generally, you may be looking for a longer length and perhaps you prefer to hide a belly or cover your arms. Take a look below and see if there's an option for you…
The best summer dresses for women over 40 – my picks from Nordstrom made brands
All the dresses below are from Nordstrom Made brands, ranging from sporty-style dresses to wear your sneakers with, to those you can wear to a summer event.
I've also included some jackets, shoes and accessories to wear with them and, if you scroll down, you'll find a summer dresses capsule with many of the looks put together for you.
Casual day dresses
Of course, you can style any dress casually or more formally depending on what you wear with it, but let's first take a look at some that lend themselves more to casual dressing.
tank dress
Simple, yet stylish, this tank dress (below) is made from linen so it should keep you cool in warmer months.
The stripes create an elongating effect if you want to look taller and you can always wear a short jacket or a cardigan over the top if you don't want to bare your upper arms.
I also like the versatility of this one as you could belt it at the waist to create a different look.
Nordstrom Linen Tank Maxi Dress
t-shirt dress
I'd wear this one as a long tunic rather than a dress as it's a little shorter than I like to wear. This would look good worn with leggings (try a pair from Zella) and styled with a statement necklace.
Caslon Crewneck T-Shirt Dress (plus size option)
asymmetric drape dress
I love dresses that feature asymmetry. The drapey dress (below) comes in either this rust shade or black and features a handkerchief hem.
This would be good for vacations as you could easily dress it down during the day with sandals and then add a little jacket and heels for evening.
Nordstrom Drapey Sleeveless Midi Dress
silk dress
The silk dress (below) is one for the minimalists among you. This is the ideal blank canvas to add some statement jewelry to. You could also try with and without a belt (like these ones from Halogen) to create different looks. Combine with a short jacket if you don't like to highlight your arms.
Nordstrom Signature Stretch Silk Tank Dress
tiered maxi dress
Tiered dresses are particularly on trend right now, and I like the casual feel of the Caslon scoop neck dress (below). I'd wear with sneakers or sandals for summer.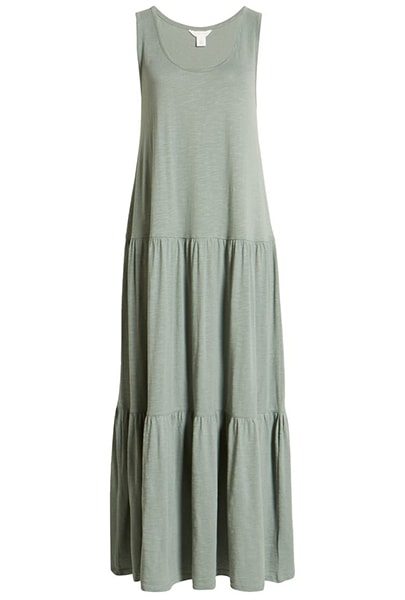 Caslon Scoop Neck Tiered Maxi Dress
shirt dress
I love a simple white or striped shirt as they go with everything, and the same holds true for a shirt dress like the Treasure & Bond dress (below).
You could wear this one open as a swimsuit cover-up, you could wear as a duster jacket over your tank top and jeans, or you can add a belt to create definition at your waist.
Treasure & Bond Stripe Long Sleeve Poplin Midi Shirtdress (plus size option)
halogen shift dress
A simple, yet flattering shift dress that I think would be perfect for wearing over leggings or with pants rather than as a dress. You can cinch with a belt to show off your waistline.
Halogen Pleat Detail Shift Dress
shirttail tank dress
I like the unusual helpline of the shirttail dress by Caslon. Wear with sneakers or sandals for daytime and then you could cinch with a belt and add heels for evening, making this dress a good one to pack for a vacation.
zella dress
Zella is renowned for its stylish sportswear, such as the ever-popular live-in leggings. However, I also love the athleisure-inspired dress (below) which comes in a good choice of colors and has an adjustable waist.
This would be perfect to wear with sneakers or with platform sandals for a sporty look.
Zella Rosie Sleeveless Woven Dress
Evening summer dresses for women over 40
Now let's move on to some dressier dresses! You could easily wear any of these durng the day with sneakers, flats or sandals. But they would also look beautiful for dinner or a more formal occasion. Take a look…
silk dress
The shape of the button-front Nordstrom dress (below) would suit most body shapes.
The v-neck will create flattering lines, while the sleeves are the perfect length if you like to cover your arms. You could, of course, wear during the day, but this would also look lovely with heeled sandals for evening.
Nordstrom Button Front Stretch Silk Dress
asymmetric dress
While the asymmetric style further up in this article featured a handkerchief hem, this Nordstrom sleeveless dress has slightly a different take on asymmetry. The diagonal hemline gives a modern feel to a little black dress.
Nordstrom Asymmetrical Sleeveless Dress
red chelsea28 dress
I don't have many florals in my closet, but I do like the modern oversized floral print on this Chelsea28 dress (below). With a ruched bodice and a side slit, it definitely has subtle sex appeal while still being a flattering length.
plissé midi dresS
I love the graphical print and the twisted middle of this midi dress from Halogen which would help to hide a little bit of a tummy. Style with ether neutral or red shoes and accessories.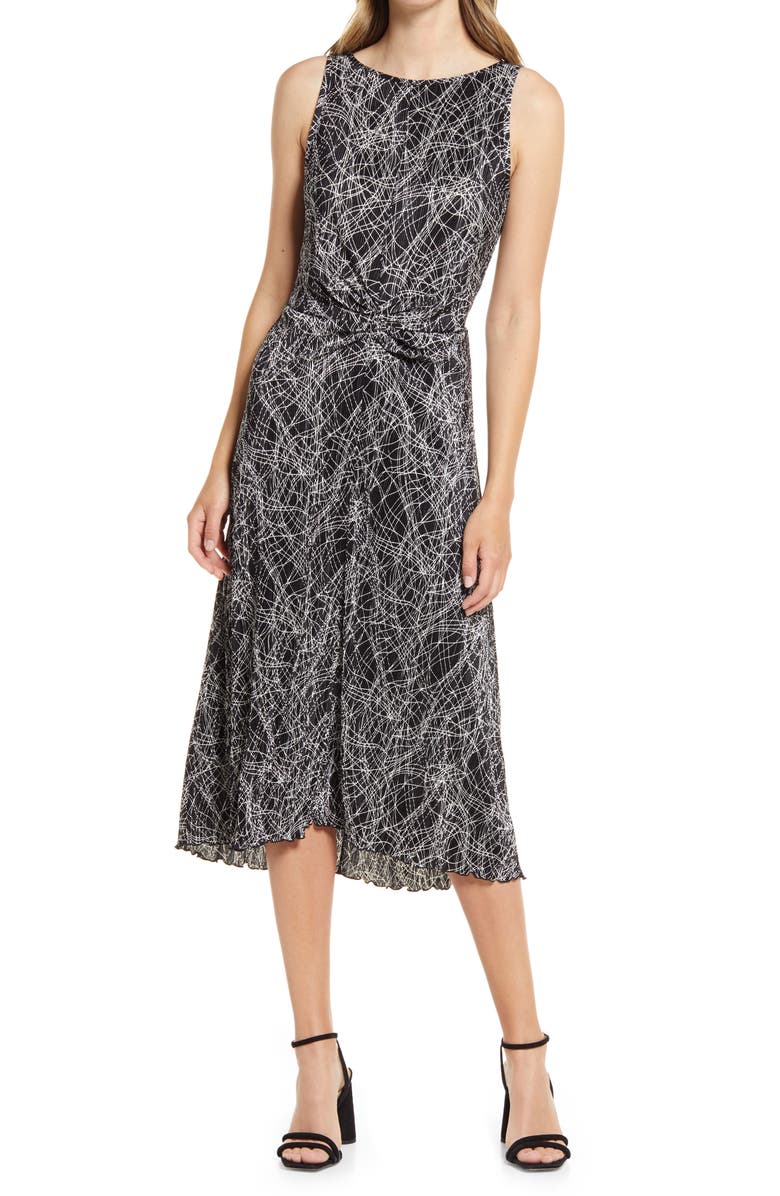 Halogen Sleeveless Plissé Midi Dress
floral midi dress
Flattering, stylish andperfect if you have been invited to any summer events or weddings. The asymmetrical hem dress adds modernity to an oversized floral print and the cap sleeves provide upper arm coverage.
Halogen Asymmetrical Midi Dress
Coats and cover ups to go with your summer dresses
If it gets a little chilly during the evening or you like to cover your arms, you could wear your dress with a jacket, cardigan or wrap.
Look out for blazers, moto styles, denim jackets and wraps. If you choose a shorter jacket, this will help to create a flattering silhouette as your legs will look longer.
Open Edit Blazer – BP. Raw Hem Crop Denim Trucker Jacket – Treasure & Bond Leather Biker Jacket – Nordstrom Shimmer Wrap
shoes to go with your summer dress
Now onto shoes to go with your summer dress. Wearing sneakers with your dress is particularly on trend now. You could choose a pair with a platform sole to add a little height.
Or, of course, heels always look good with your dresses. I've chosen low heels here and those with a block heel rather than a narrow stiletto, as these are much easier to walk in.
BP. Emmie Block Heel Slide Sandal – Treasure & Bond Ziaden Block Heel Slide Sandal – Open Edit Jagger Kitten Heel Sandal – Open Edit Landyn Platform Sneaker
accessories to complete your look
There are so many different ways you can style your dress for daytime or evening. Below are just some accessories you may want to add.
There's everything from a larger tote to a clutch bag depending on the occasion and what you need to take with you, and some contemporary jewelry to finish your look.
Link Ninja Poppy Leather Hobo Bag – Nordstrom Sadie Leather Carryall Bag – Nordstrom Python Print Minaudiére – Open Edit Stone Pendant Paper Clip Necklace – Nordstrom Stone Drop Hoop Earrings – Nordstrom 2ct Trillion Sterling Silver Cubic Zirconia Stud Earrings
Below, you can see how you could put together your summer dresses outfits. You can easily swap around the coats and accessories to create many different looks.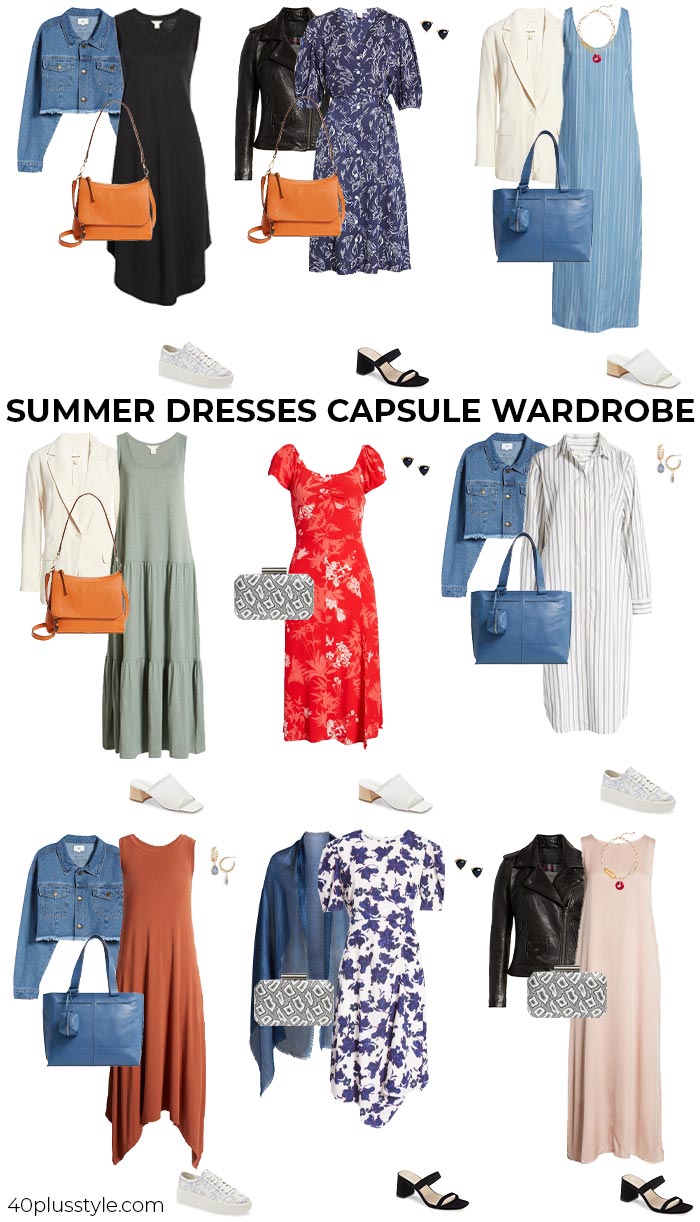 shop all items above here:


What do you think the most flattering summer dresses for women over 40 are? What is your own favorite dress? Let me know by commenting below…
like this post on summer dresses for women over 40? share it on pinterest!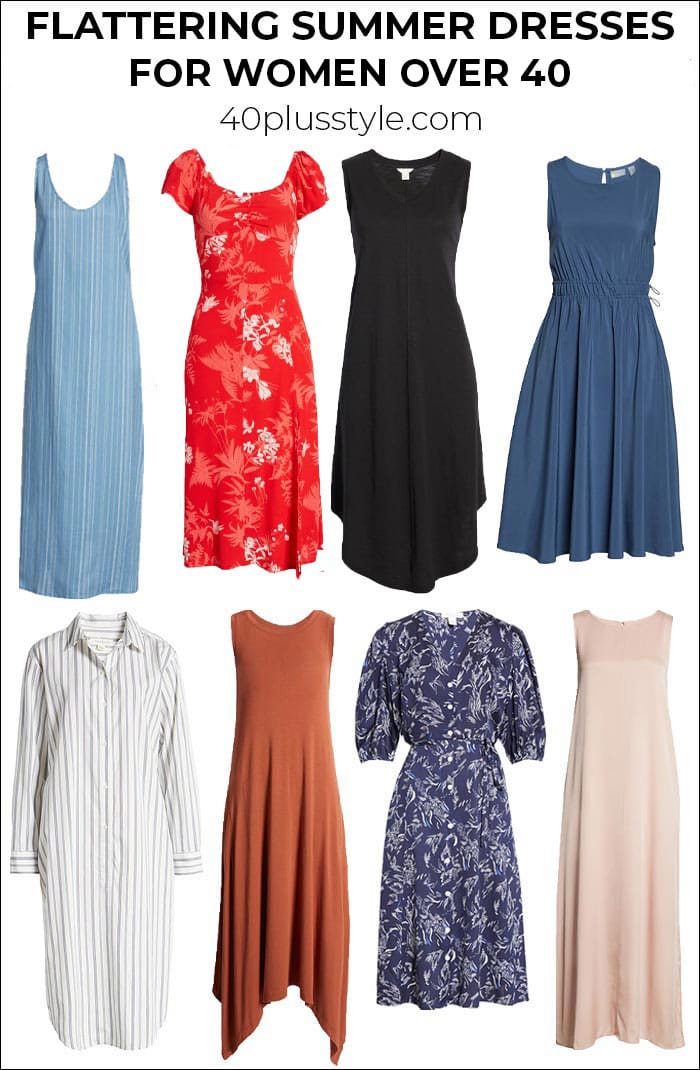 This article was sponsored by Nordstrom
Want to get more articles from 40+style in your inbox, subscribe here.
You can also connect with 40+style on Facebook, Instagram or Pinterest.
Support 40+style by using the links in our articles to shop. As an associate for Amazon and many other brands, we receive a small commission (at no cost to you) on qualifying purchases which enables us to keep creating amazing free content for you. Thanks!