Do you ever think about your wardrobe and what essentials you need to have a versatile wardrobe that covers all your needs?
This may be a good time to have a good, long look at your wardrobe and see if you have all the basics you need to truly mix and match
Find out what some style experts have to say about all the style essentials you need in your wardrobe.
For what it's worth I also give you my list!
Nina Garcia

"The bones of your wardrobe are those essential staples that go with almost everything, never go out of style, and are enduringly chic. They are meant to be a blank canvas that you can layer on to."
The little black dress: the ultimate blank canvas.
A classic men's white shirt: chic and simple.
Cashmere cardigan or turtleneck: for any kind of occasion, throwing on cashmere makes you feel instantly luxe.
A trench coat: makes you instantly mysterious.
Denim jeans: instantly stylish, simple and practical.
A man's classic watch.
Diamonds: perfect for day or night, casual or dressy, winter or summer.
Ballet flats: for the (very few) moments that you need practical footwear.
Classic high heel pump: for the times that you cannot wear your outrageous, impractical and bold high heel shoes.
A great bag: a practical bag when all your fancy ones will not suffice.
As written in the little black book of style.
She also has a more comprehensive list in The One Hundred which also includes such things as an Ipad, cowboy boots, fishnets, leather pants and red lipstick.
Amanda Brooks
Amanda Brooks
"Basics don't have to be classic. If you don't have a classic sensibility, why would you build your outfit on a classic foundation?"
1-shirt: particularly soft and long.
Oversized items: like your boyfriends's button down shirt or sweater.
Jeans: at least 2 pairs, one hemmed for day time and flats and one for evening with heels.
Practical pants: comfortable lose-fitting pants that are not jeans.
Jean jacket: make sure it's the classic cut and that it fits perfectly.
Tank top: wear them with everything from sweat pants to long evening skirts.
t-shirt or sweater dress: basic and easy to wear.
Anything fitted and stretchy: like leggings and leotards.
Black tights.
A well fitted bra.
From I Love your style.
Tim Gunn
"When it comes to a list like this, how tempting it is to rely on some old favorites: the strand of pearls, the little black dress, the crisp white button-down. We must, however, remember the rallying cry of the great Elsie de Wolfe, "Suitability, suitability, suitability".
The trench-ish Coat
The sweat suit alternative: every so often you just need to be comfortable.
A beautiful boot: far more interesting than the 'It' bag.
The shapely jacket and go anywhere top (he is cheating here by combining 2 items in 1 point!)
Signature jewelry: on one hand the 'make a splash' signature piece and on the other the 'personal' signature piece.
The under arsenal: the great basis of any outfit.
The day dress: still around and perfectly hip and contemporary.
The after-five look: like tuxedo pants and a tank.
The new, cheap, terribly trendy item: think of this as the pressure-release valve.
Denim: one for dressing up and one for running around.
Sylvia from 40+Style (that's me)
The little colorful dress: I think the little black dress is much overrated and many women over 40 don't look so good in just black. Opt for a colorful dress in a timeless color that suits you. Or go for a black and white print dress.
White pants: good for both summer and winter, although you may like to opt for winter white in winter. Really don't like white? Opt for denim. (here are some of the best jeans for women over 40). I like my white pants in all kinds of styles but cropped cigarette pants are still my favorite. (ok, I also like my black pants!).
A white asymmetrical top: combine it with almost everything. Very good for hiding tummies too!
A great blazer or jacket: for a stylish way to cover up and stay warm. Find out how to fit a blazer here.
Statement necklaces: forget the expensive diamonds which can be aging. Buy a few timeless statement necklaces in silver or gold and a few colors instead for a young and hip look!
The flats of the season: you need to be able to walk in style! Looking for comfortable shoes, you'll love our list of arch support shoes.
Bulky heels with straps at a height you can walk in: for that extra height. I like to wear my comfortable Fly London shoes. These high heel shoes are solid and comfortable and give you instant style.
A nice big bag: so you can carry flats, your heavy photo camera, ipad and makeup essentials.
Fashionable sport outfit: so you look fabulous during sports as well.
Fabulous and invisible under garments: so you can dress to your strengths and look stylish!
So what do you say? Whose shortlist do you agree with most and what is on yours?
Like this article? Save it on Pinterest!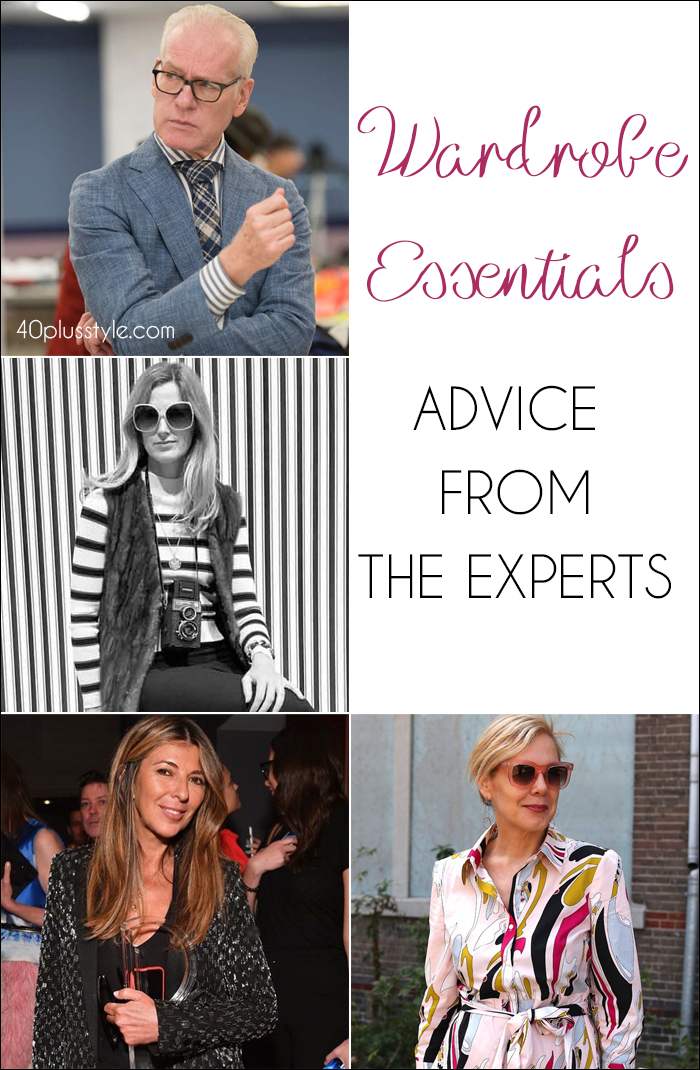 Want to get more articles from 40+style in your inbox, subscribe here.
You can also connect with 40+style on Facebook, Instagram or Pinterest.
Support 40+style by using the links in our articles to shop. As an associate for Amazon and many other brands, we receive a small commission (at no cost to you) on qualifying purchases which enables us to keep creating amazing free content for you. Thanks!