An updated article on the best apps for wardrobe organisation available right now. Do you have a favorite or use one of these apps and want to let me know the pros and cons? Add it to the comments section!
If you like to get a quick overview of your wardrobe or just want to document your outfits, you could benefit from using a wardrobe manager app.
I had a look at some of the wardrobe management apps, how they work and how they can help you.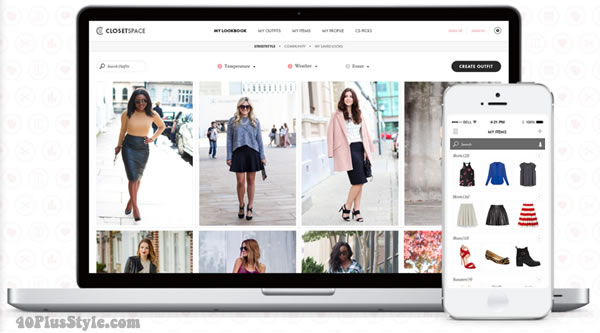 Closet space lets you organize your apparel, create outfits for any occasion, and receive daily fashion tips & inspiration tailored just for you. Free for web, iOS, and Android.
Features include:
Digital Closet: add purchases in seconds and take your closet to go.
Outfit Planner: a fun and useful time-saver. Create and tag outfit ideas for later.
Wishlist: save items you want from product catalogs and community closets.
Packing & Donation Lists: create collections of items and outfits – for trips, storage, or any reason at all.
Style Stats: live analysis of your closet – cost-per-wear, top colors, least worn, and more.
Sync To Google Calendar.

This app lets you Organize your closet and plan your outfits. You can also get inspired by Stylicious stylists with daily updates, and rediscover the fun of shopping.
Features include:
Camera – to Add a new item
My Closet (Closet Organizer)- to View and Edit the items in your closet.
Lookbook (Outfits Planner) – Create and View Looks with items in your closet or the items you wish to have.
Calendar – to View and Manage the looks in your Fashion Calendar
Shopping – Shop online the latest fashion from your favorite brands by kind, price, keywords.
Wish – All your favorited items from the store you wish to have
Sale Bookmarks – Bookmark your favorite items and see whats on sale
Style Inspiration – to Get inspired with stylist looks and tips
Travel – Plan what to wear on your next trip
Pocket closet is another wardrobe organiser for your phone. It can easily add garments to your app. Organise them by type and fill in when you last wore them. A fun feature is that you can shake your phone and the app will give you another outfit suggestion! All features include:
 Create outfits from any combinations of clothes
Sort your outfits in to handy categories
Record outfits you wore on a built-in calendar
Share outfit ideas with friends (sends over standard email)
Get outfit suggestions by shaking your iPhone or iPod touch
Search for all dates when you wore a clothing item
Pocket Closet can be bought at Itunes for $0.99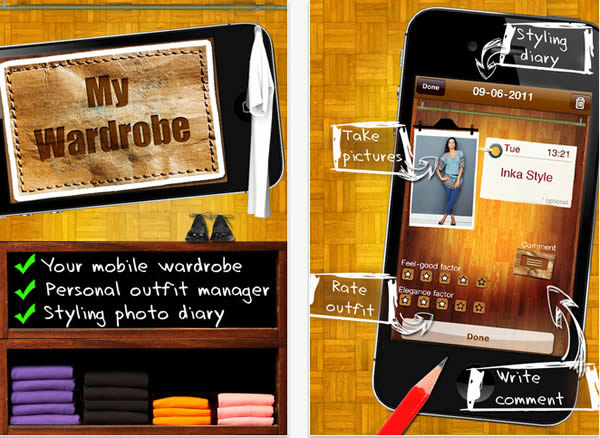 The my wardrobe app lets you carry you wardrobe with you. Manage all your outfits and keep a diary of you how styled them. Note how many compliments you got with this outfit and how you felt wearing it!
Features:
Mobile wardrobe
Personal outfit-manager
Styling diary
Pose is not so much about wardrobe organisation, but more like a social network for your outfits. You can easily upload each outfit online and share with the world and your friends. It is a fun way to browse your own and others' outfits.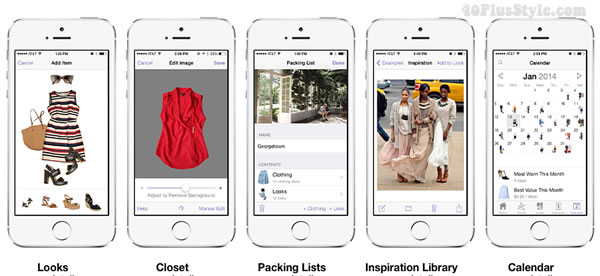 Stylebook is a wardrobe manager with many featured. Designed to help you carefully curate your wardrobe so you can look effortlessly chic everyday and get the most out of your existing wardrobe.
Features:
Looks
Closet
Packing lists
Inspiration library
Size tracker
Shoping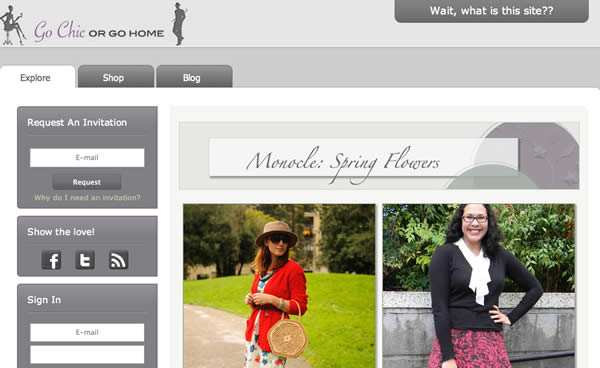 At Go Chic or Go Home you can shop your closet together with your friends. You can share pictures of your outfits and add your whole wardrobe online. You can create ensembles but also put outfit pictures online that your followers can comment on.
This app lets you capture your clothes, organize them and build beautiful outfits.  Easily share straight to Facebook, Twitter, or Pinterest.
HomyFads Wardrobe Manager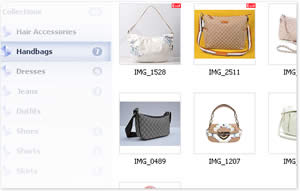 HomyFads is for Windows users and it's a desktop app that is free to download. Features include:
Creation of unlimited number of virtual wardrobes
Grouping of wardrobe items into different collections
Drag and drop photos to create items in a collection
Tag your wardrobe items
Find items as you type into the search box
Will you use a closet organiser?
I have not actively started using one of these wardrobe organisers, apps and online managers, as I feel I have a pretty good overview of my closet. However, I do really like the idea of a calendar, so you know what you wore, when. It can also be very useful to know exactly what's in your closet, so you don't buy another t-shirt in the exact same colour as you already have.
Also some of these app let you easily create capsule wardrobes.
What do you think? Dp you use an online wardrobe organiser to keep track of clothes or when you wore them? Which are your favorites?

Related posts: