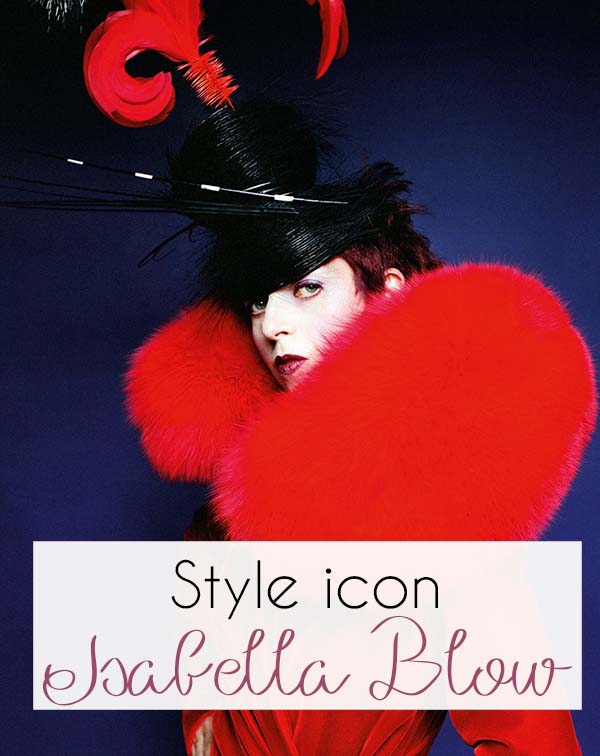 Isabella Blow was a true style icon. I have just finished reading the book Blow by Blow from her husband Detmar Blow and thoroughly enjoyed it. As you know I'm currently very attracted to strong women that dare to dress differently. Isabella did so in spades and also wore the most outrageous hats throughout her life.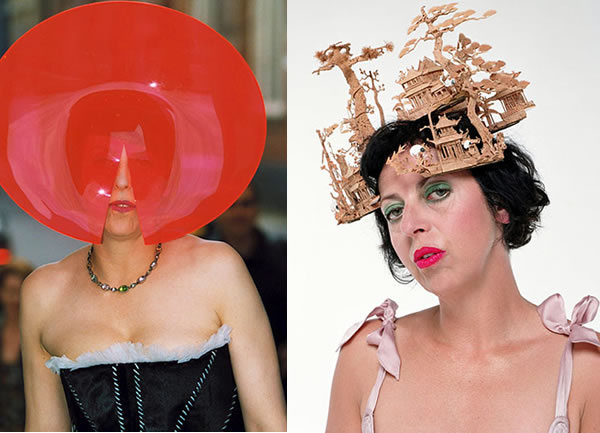 The book was a real page turner for me. You know how (sadly) it ends but you wonder how it happened and how she came to be this super influential person that discovered such great designers as Philip Treacy and Alexander McQueen and made them famous.
For those who don't know who Isabella Blow is, here is a short story of her life.
Born into an aristocratic family, Isabella grew up in luxury. However, her father was very frugal, and gave her a life long anxiety about money. Educated at boarding school, there was not a whole lot of parental love which was not helped by the divorce of her parents. She went to go to a secretarial college and had some wild student years. She ended up in the USA with some money from her father and a husband where she ended up getting a job as Anna Wintour's assistant at Vogue.
Of course this didn't happen just like that. Issie was a social butterfly who loved going to parties and being a bit of wild child. Party organisers loved having her and that is how she got to meet many famous people like Andy Warhol and Brian Ferry. Throughout her life, contacts and her ability to bring people together, were essential to her success.
Isabella with Philip Treacy
She ended up working for Vogue's editor at large but her wild ways and unreliability soon got her fired, after which she returned to England. She divorced her first husband and managed to get a job at Tatler. Later she remarried, worked for the Sunday Times and styled many photoshoots. She was always on the road to discover new talent and when she saw the graduation show of Alexander McQueen, it was love at first sight. She bought his entire collection and introduced him to many influential people. She also discovered the famous hat maker Philip Treacy and was his muse for a long time, wearing many of his gorgeous hats. Later she worked as a consultant for Swarovski, had a lipstick made in her name by Mac and towards the end of her life worked for Tatler again.
Photoshoot with Alexander McQueen by David LaChapelle
Unfortunately, she was also plagued by manic depression, which made her extremely productive during her manic days, but close to the brink doing her lows. In the end she had decided that she no longer wanted to live and after more than 6 suicide attempts, she succeed on 7 May 2007.
Isabella with Alexander McQueen (photo by Richard young) and right with her second husband Detmar Blow
Isabella blow was a true original and I am totally inspired by her gorgeous hats and individuality! I loved reading about her life and seeing her pictures, and if you like to read it too then he book can be bought at Amazon.
Have you in any way been inspired by Isabella Blow?
Like this article? Save it on Pinterest!