A while ago I got contacted by Amanda Frenz, a fashion designer who has just started her own business: Error Guided. She has a unique concept and was keen to make something for me as she liked my style and the message of this blog.
Amanda Designs customized fashion that celebrates the individuality of customers. Customers can tell her exactly what kind of garment they would want and Amanda will then create some designs and send her initial sketches to you.
Eco friendly concept
However, the creation process comes with a twist. Rather than buying new fabrics from a shop Amanda re-purposes fabric and materials that are found in your area. She creates new garments from pieces of fabric that are either going to waste or have been discarded. Designs are agreed online and then made up and sourced in the locality of the buyer, i.e. so that business is added to the local economy where items are sold and the final garments reflect the community where they're created.
It's a very unique concept and I'm all for it, but I think it can be challenging. I think the concept can involve a lot of time and finding the disposed fabrics in the materials and colours that you like may be a challenge. But if you like a unique design created in an ec0-friendly way, then Amanda seems to be the girl to do it for you.
Design sketches
Since I'm time-poor and not in need for a custom designed garment at the moment, I decided not to go ahead with contracting Amanda, but instead invited her to submit some designs for me so I could give her business some exposure on this blog. Amanda was interested to see if she could 'get' my style from all the articles and outfits posts I have on the blog. Sketches of her ideas can be found above and below.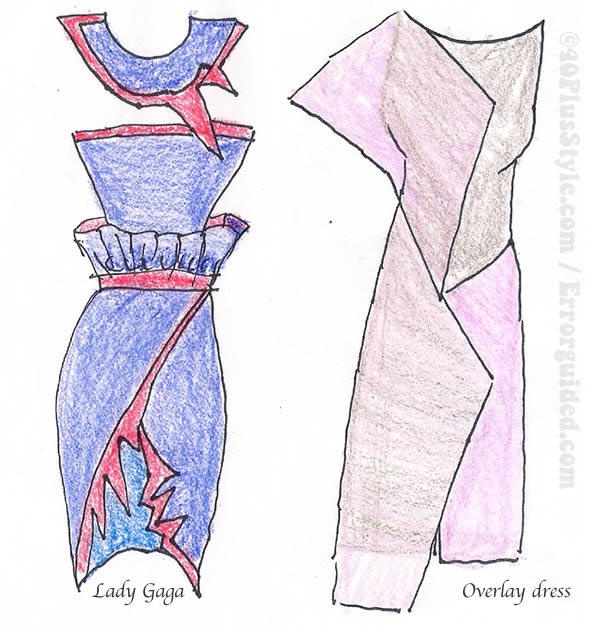 Are you curious or interested to see what Amanda can do for you? She is currently offering a free consultation after which she will send you some sketches of possible designs. It's all about you feeling great with your outfit and yourself.  Amanda can be contacted through her website Errorguided.com.
What do you think? Did Amanda 'get' my style? Which is your favorite? Would you consider getting a custom designed garment made in this way?