One of my birtday presents this year was the book Parisian Chic from Ines de la Fressagne. Advertised and promoted as a personal style guide, it's really about everything that Ines loves about Paris.
You may already know Ines de la Fressange. She is a French style icon, used to be a model for Chanel and is known for her immaculate style. Very French, elegant, chic and minimal. And that is also what you can expect from this guide. Ines encourages a style that is very much based on the basics: "use half you budget on basics and half on impulse buys like accessories".  Other than that she feels that your main asset is your smile.
It therefore comes as no surprise that as essential basics Ines lists familiar items like:
A men's blazer
The trench coat
The navy blue cashmere jumper
The tank top
The litte black dress
The blue jeans
The leather jacket
In additon she gives many practical tips that can make a difference ("wear two scarfs above each other") and provides a few 'golden rules', which most of you will be familiar with. Some of her other important tips include:
Combine cheap with expensive
Don't buy one complete look, but mix and match
Go easy on bling and big logos
Hunt for new designers and unknown brands
Be sure to feel comfortable with your clothes in every way
Create unexpected combinations (but don't overdo it)
Don't be a slave to trends but know what they are!
There is no doubt that Ines looks great in the casual chic style based on basics. But that is partly because she doesn't need much to look stunning. She still looks as amazing as she did in her model days and would look good in a shapeless rag! The advice to stick to basics and keep it simple is solid though. It's a fool-proof way to look chic if you do it right.
The risk is that it can get a bit boring and predictable as well. Ines herself encourages you to take risks sometimes, but on the whole she enourages to 'fit in' and select an outfit that 'blends into' the occasion you are attending. You can then distinguish yourself with accessories. The book certainly doesn't feature any 'risky' outfits.
So if you're looking for a safe, but very elegant and parisian style, then this book will certainly get you on the right track. In addition to fashion tips, you will also learn about Ines' top beauty tips and find inspiration for your home. I loved the photos of Ines that accompanied her pages on basics and accessories, as they clearly highlight her style and showed off her casual elegant chic.
Be aware though that most of the book is dedicated to Paris itself. Ines lists many great places to shop, dine, stay and even take your kids to and after reading this book, you will be dying to go and visit Paris itself and take this book with you. In fact I am so tempted that I may just try and find a day to visit Paris this holiday.
All in all this is a fun and well-presented guide that will give you some good style tips and will guide you to the best that Paris has to offer. If you are a fan of Paris and fashion and plan to visit soon, then this guide  is a must-have!
Parisian chic is available at Amazon. For more style books and reviews view my list of style books!
 Has anyone read this book? What did you think of it?

Like this post? Share it on Pinterest!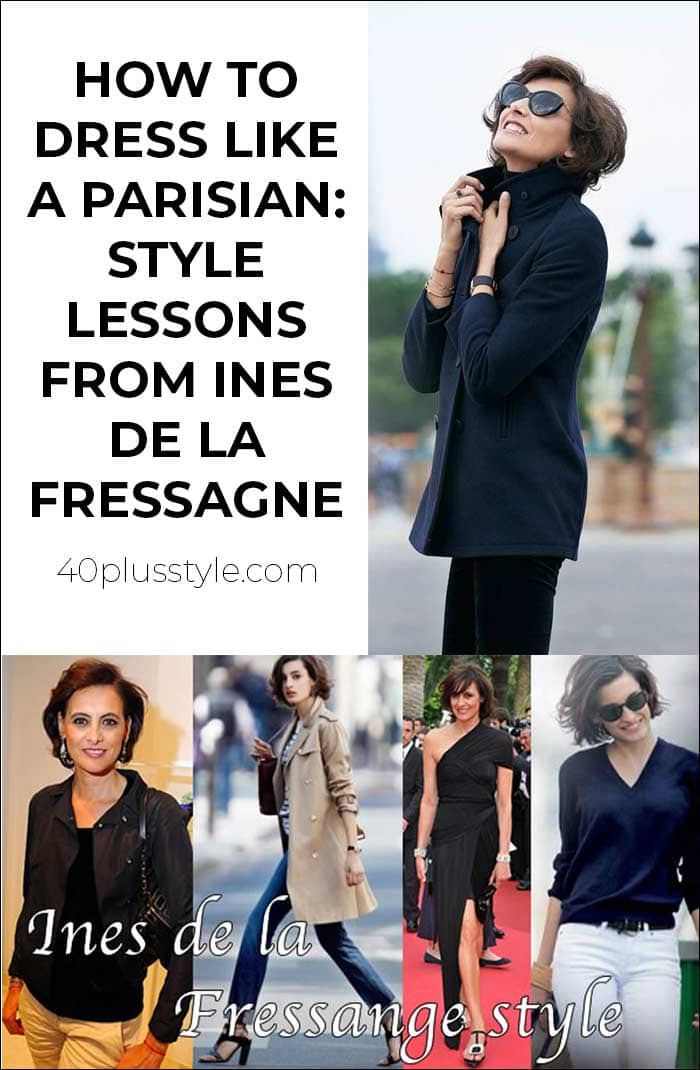 Feature image by Vogue
Want to get more articles from 40+style in your inbox, subscribe here.
You can also connect with 40+style on Facebook, Instagram or Pinterest.
Support 40+style by using the links in our articles to shop. As an associate for Amazon and many other brands, we receive a small commission (at no cost to you) on qualifying purchases which enables us to keep creating amazing free content for you. Thanks!