A fabulous way to make sure you're going to make not only a good impression but a fantastic one, is through accessorizing. I'd like to talk about the role accessories play in enhancing a look or playing up a feature. Their impact can be likened to a punctuation mark, giving a sentence a stronger statement.
Only in the case of building an outfit we want to emphasize our curves, highlight our faces, add colour and generally enhance the level of panache we're projecting.
I'm going to demonstrate 5 looks. I've chosen to wear a basic black turtleneck and black pants and boots for every look, so you can see how easy it is to dress up or go for a more casual look, depending on how you wish to accessorize.
1. The belted wrap
In this outfit, I'm wearing a fun patterned wrap. This stylish look, works particularly well with the lightweight material that wraps are made of. The thick belt works perfectly here, but you can use a thinner one as well. I've chosen a patent leather handbag, which picks up the burgandy in the pattern and black leather gloves to echo the black in my boots, hat, sweater and pants.
A simple gold pendant necklace and gold stud earrings is all I need for jewelry, as I'm wearing my large brimmed wool hat with a gorgeous vintage brooch for some added flair.
Below are links to key pieces to style a similar outfit:
La Fiorentina, reversible wrap – Lodis, high waist belt – Rag & Bone, floppy brim hat – Karine Sultan, statement necklace – Ted Baker, faux leather satchel
2. The scarf and brooch
In this look, I chose a rectangular paisley silk scarf. I paired it with an heirloom crystal brooch also of a paisley design. I wrapped the scarf around my neck and loosely formed it into a semi bow, then slid the brooch into the middle to hold the creation fast.
This was quick and easy and added instant style to my basic outfit. I also chose to wear a gold cuff, watch, rings and belt. I brought along a green mock croc clutch for some added interest and style.
Below are links for key pieces to style a similar outfit:
Ted Baker London, gardenia silk scarf – Nordstrom's, starburst sequin clutch – Judith Jack, two leaves brooch – Jenny Bird, cuff – Kate Spade, gold belt
3. Brooch clusters
Brooches add interest and zest to a basic outfit. Here, I'm wearing them in a cluster on my oversized belted blazer. I also have a lovely colourful butterfly crystal piece on my beret. Whether they're heirloom pieces (like some of these) or new, a brooch will definitely add panache to any outfit you place it on.
Below are links for key pieces to style a similar outfit:
Cara brooch – Haylee pave brooch – Nina, crescent moon cascading star brooch – Erikson, Damsel Fly brooch – Dorfman Pacific, beret – Michale Kors, red leather bag
4. Elongated neckerchief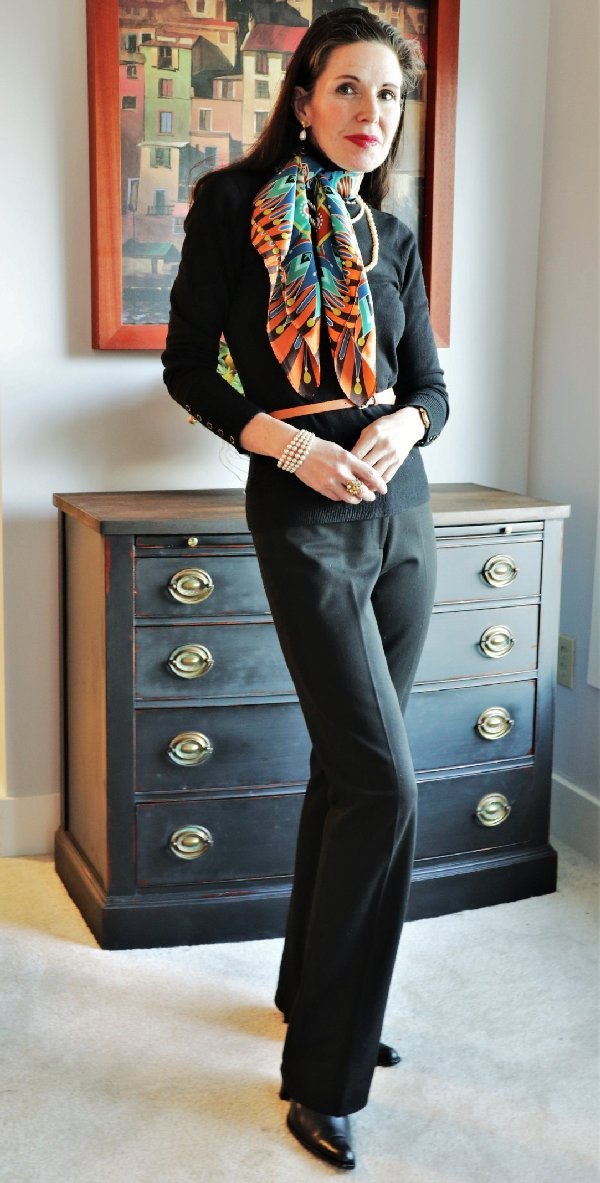 Here, I've taken a square scarf, folded it into a triangle, turned the ends under until it formed 1 long straight piece. Then, I tied it into a simple square knot and let the ends hang elegantly down. I wore pearl drop earrings, a few strands of pearls and an heirloom pearl bracelet.
I've also added a thin coloured belt to compliment my scarf and accentuate my waist.
Below are links for key pieces to style a similar outfit:
John was, anjali silk scarf – Tory Burch, pear drop earrings – Nadri, 16″ glass pearl strand necklace – Nadri, 24″ glass pearl strand necklace, necklace – Elise M., skinny belt – Karine Sulutan, hammered gold and pearl cuff – Givenchy, imatation pear and crystal bracelet
5. The elegant pashmina
The pashmina, gives a luxurious hug of both style and elegance. Similar to the wrap, it can be worn in many ways. Here, I've worn it gently tied with simple grey pearl earrings and a multi strand statement necklace of grey pearls and shiny beads. The necklace, in combination with the pashmina gives this basic look, office to after work appeal.
Below are links for key pieces to style a similar outfit:
Cara multi strand necklace – Cara Linear earrings – Twisted multi strand tri coloured pearl necklace – Pearl stud earrings – Michael Kors bangle watch – Badgley Miscka wrap
In conclusion, don't overlook accessories, they can turn a basic outfit into a fabulous one. A tiny brooch cluster, a simple scarf or wrap, belt, hat or a great necklace makes an exceptional difference to your look.
On average, scientists say that when making a first impression, in a mere 7 seconds you are judged solely on your appearance and that impression will last forever. So, regardless if you're making a first impression or adding a few simple touches, accessorizing truly does wonders for upping your style game and enhancing your overall appearance.
Which is your favorite from these 5 looks?
About the author
Karen Amantea, lives on Vancouver Island, in Canada. She loves the rain forest, enjoys photography and is devoted to her yoga practice. Connect with her in the 40+community or in the 40+StyleClub.
Like this article? Save it on Pinterest!
Want to get more articles from 40+style in your inbox, subscribe here.
You can also connect with 40+style on Facebook, Instagram or Pinterest.
Support 40+style by using the links in our articles to shop. As an associate for Amazon and many other brands, we receive a small commission (at no cost to you) on qualifying purchases which enables us to keep creating amazing free content for you. Thanks!