It's May already which means I'm slowly getting ready for my summer travels and planning my summer capsule capsule.
This year I get to spend time in The Netherlands, Iceland, Cuba, Portugal, on a boat in the Caribbean and a lot of time in various parts of the US. It's an exciting time when I wear my clothes the most as I'm out and about in various locations.
It's also the time when I'm 'on the road' so ironically I can only choose from the clothes that I can manage to fit in a suitcase.
This is tough because I really want to wear all my gorgeous clothes, especially in the varying temperatures of Europe and the US where I get to my wear my sweaters and jackets again. But I also want to travel reasonably light so I don't find myself dragging a heavy suitcase around the globe.
For a while now I have sourced many of my clothes from the Stella Carakasi brand. It's a natural fit as I love their unique designs and luxurious knits which are so great for travel as they pack easily and don't wrinkle. They invited me to create a capsule from their summer collection and with my travels in mind, here is what I picked.
Read our ultimate guide to creating a capsule wardrobe that works best for you.
The tops
As usual you will find lots of asymmetrical tops in this capsule. I firmly believe in the power of asymmetrical tops to add more edginess to your style and a way to effortlessly hide your belly or create flattering vertical lines.
The Act Two sweater
This sweater (similar here) is right up my alley. It has super flattering asymmetrical lines, is made mostly out of natural fabric and is light and breazy. As you will layer this over a camisole, it gives a great layering effect while being very effective in hiding the belly.
I had a hard time picking the right color for this one as I like them all but I settled for truffle.
Works every time sweater or a jean jacket
I'm swooning over this sweater (similar here). Perfect for slightly cooler days when you need a bit more coverage but you still want to show off your unique style. You can create several effects with this one as you layer it over a different color camisole.
I'm getting this in the midnight color to create a textured look when worn with a light color underneath.
You could also swap the sweater for a jacket which is even more versatile in your wardrobe. A jean jacket would be perfect.
Hit Refresh sweater
Of course I want to make sure I add some color to my capsule. And what better way to do this by adding this fabulous top (similar here). Love the asymmetrical lines on this one and the gorgeous texture of this top.
I'm getting this one in midnight.
Arm candy sweater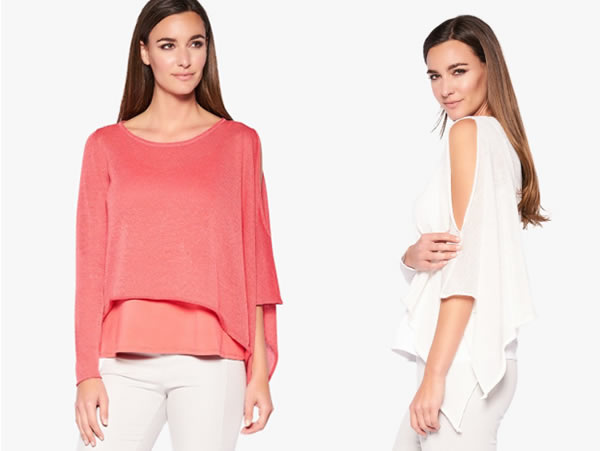 Here is another sweater I love (similar here). A unique design and I love that open arm on one side!
It's worn layered over a camisole in the picture above, but these kind of short sweaters look really good over wide legged pants. I'm adding some color to the capsule with papaya.
Have it all sleeveless tunic
This tunic (similar here) is right up my alley too. Made out of hemp which is natural and breathable and fabulous to wear over skinnies and leggings.
Scale Up Cardigan
I'm not a huge fan of cardigans but when they're so unique as this one (another option here), I'm game. Great to layer over the basic camisoles or the sleeveless tunics when I'm cold (and I get cold quickly).
I'm choosing this one in vellum.
Take me away top
This is a great layering (another option here) top that you can wear on it's own or with one of the cardigans and tunics in your capsule.
Boundless sweater
My favorite pop-up color for this year is this kiwi color. It's a lime green and I have loved wearing this color. This sweater (another option here) is partly made of paper and perfect for summer.
Smooth Operator tunic
I also have this tunic (similar here) in the kiwi color and it has been a favorite in my current wardrobe. (see how I wore it here) It's easy to pack so I will likely take this on my travels as well.
Start to finish cropped sweater
This is another cropped sweater (similar here) that I already own. It's not as white as in the picture (it's off white) and it looks great with my yellow skirt (as shown here).
Basic camisoles
Many of fabulous tops in the SC collection are see-through and perfect for layering so a few camisoles in key colors are essential.
Take flight dress (on sale!)
This is the dress (another option here) for my capsule and one that I already own. It's comfortable and flowy and perfect for a hot summer day.
Outer jacket
Then there is the jacket for outside that I have already showed you before here.
The bottoms
Second nature capris
I spoke about these capri leggings many times before on the site. These are my go-to leggings.
I wear them indoors, around town with my favorite asymmetrical long tunics and I wear them for yoga. They are not flimsy and really smooth out the legs and my tummy, while being super stretchy and comfortable. They come in several colors and the buttons at the knees makes them more fun and hipper for day-to-day outfits.
Can't recommend these enough.
Other bottoms
I have added a few other bottoms to the capsule that I already own. These include: jean jeggings, black pants, blue jeans and white pants.
I also added the yellow asymmetrical skirt I got from Zara.
I focussed solely on clothes for this capsule and haven't thought much about shoes or accessories yet, but these comfortable open booties from Antelope Shoes will be travelling with me as well.
Special bonus: you can get $30 off your purchase with the coupon code STYLE30! Valid until the end of May.
Here is the complete capsule
What about prints and accessories?
I hear you think.. so what about prints and flowers and all the other trends you discussed in your spring trends report?
Well, I know my style and I'm simply not a flower girl. But this capsule would definitely benefit from a few prints and that is what I'm looking to add.
To add a lot of color and texture, I will use accessories. These are key to my style and will make each of these looks unique.
So even though the spring trends may be exuberant and maximalist, I know I have to stick to my style which is minimalist in nature with pops of color brought on through accessorise and the occasional colorful top.
I also know that lighter colors are not the smartest thing when you travel, but they make me happy. I really don't enjoy wearing dark colors too much in summer.
Is this capsule complete?
No. I'll be away from Singapore for 4 months, so I will pack as many clothes to the Netherlands as I can fit in my suitcase. I don't need to travel with this bigger suitcase and I want to have a variety of clothes when I'm there. I will add to this capsule with my existing clothes and will probably add a white cardigan, another jacket and some other pieces.
I also don't want to be tempted by what I see in the shops too much. I have enough clothes already, but when I don't actually have them with me I may be tempted to buy what I'm lacking.
From there on, I will need to be more selective for my trips to some of the other places.
Some of the outfits that you can create with this capsule
Here are just a few of the options for this capsule. Don't forget these looks will be even more fabulous with the right accessories!

Some final tips on creating your capsule
When creating your capsule, don't be tempted to pick similar colors for all the pieces. Remember, you want to wear something DIFFERENT every day. If you have too many of the same colors in the capsule, then all your outfits will look the same to an outsider.
Even though I have not done it here, it's usually best to add a bit of print as well as different tectures.
If you have a mainly solid based capsule like this one, be sure to add print and texture with your accessories!
For many more tips on how to create your capsule wardrobes, check out our article on how to build a wardrobe.
Finally…
If you are tempted by any of the pieces from the Stella Carakasi collection, don't forget to use the coupon code 40PLUS15 for an extra 15% off all orders and receive free shipping in the US! One use per customer.
If you need some great comfortable shoes for your outfits, you may like to check out the collection at Antelope Shoes. Take advantage of a $30 off your purchase with the coupon code STYLE30. Valid until the end of May.
Are you planning your summer wardrobe already? What takes your fancy this summer?


Any purchases from the links in this article may generate a small commission for 40+Style
Want to get more articles from 40+style in your inbox, subscribe here.
You can also connect with 40+style on Facebook, Instagram or Pinterest.
Support 40+style by using the links in our articles to shop. As an associate for Amazon and many other brands, we receive a small commission (at no cost to you) on qualifying purchases which enables us to keep creating amazing free content for you. Thanks!