No matter which other colors are on trend, black is always super stylish. After all, who could forget Audrey Hepburn in her black Givenchy dress and long black gloves, or black cigarette pants and turtle neck. But, if you have a lot of black in your wardrobe, it can be tricky to think of new ways to wear it. Here are 20 ways to wear black to give you plenty of inspiration…
Black is the queen of neutrals, providing the perfect partner to a statement skirt.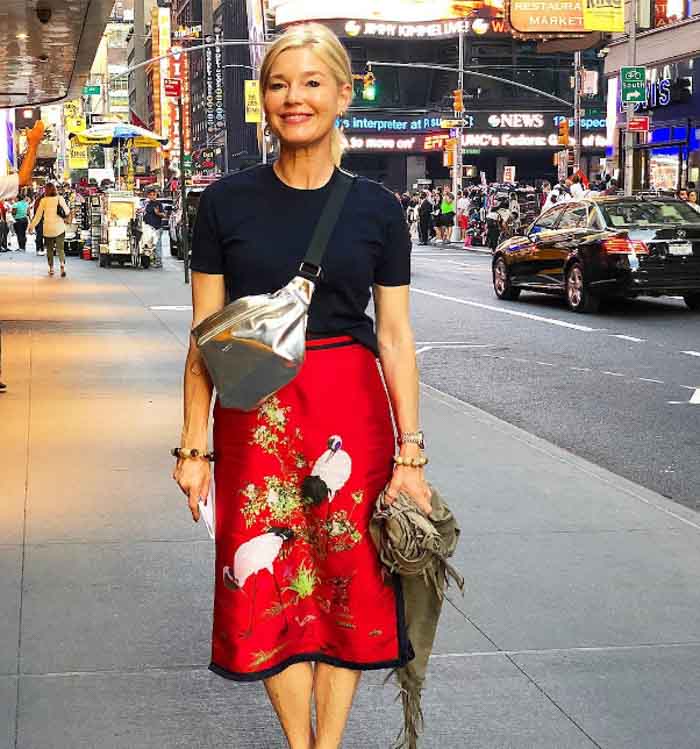 All-black looks featured heavily on the runways for Fall 2018. Here, a top-to-toe black look is given interest with an oversized belt and big hoop earrings.
We also had an interview with Sharryn which you can read here.

Proving that black isn't just for fall and winter, a black background on a floral dress is perfect for summer vacations. Another key look on the Fall 2018 runways, dark floral dresses can be incredibly versatile, and also work well paired with long boots for fall.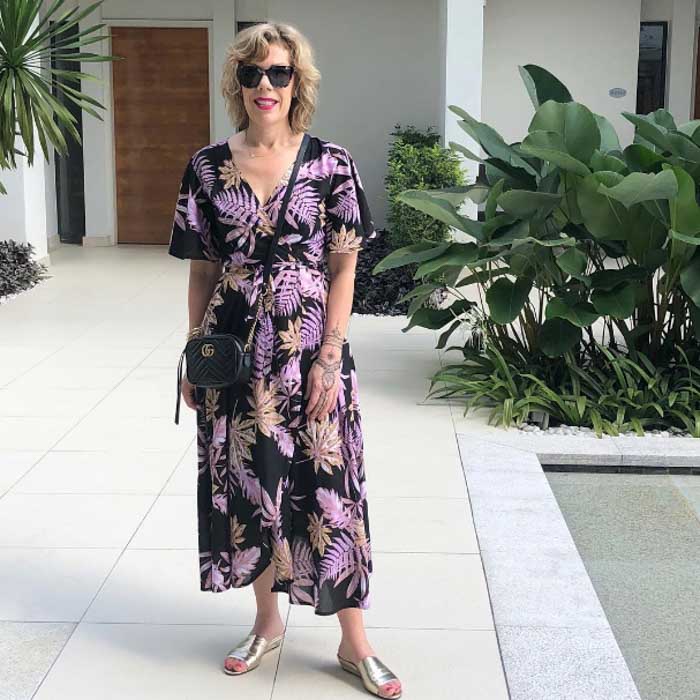 Layering can make all the difference to your overall look! Here, a striped turtleneck is layered under a black sweater.

The Bardot-style neckline on this midi dress provides a stylish look, cinched with a Gucci belt and given a pop of color with a bright bamboo-handle bag.

Layers of black can work really well! Here, a shirt dress is left casually unbuttoned and worn with a chunky chain-link necklace. Chain-link jewelry was another key look for Fall 2018 accessories.

Accessories can give a simple black dress a real wow factor. A matching statement necklace and earrings provide oomph to a summer outfit.

Plaid and layering were two key trends on the fall catwalks, and this look features both, along with a statement pendant necklace.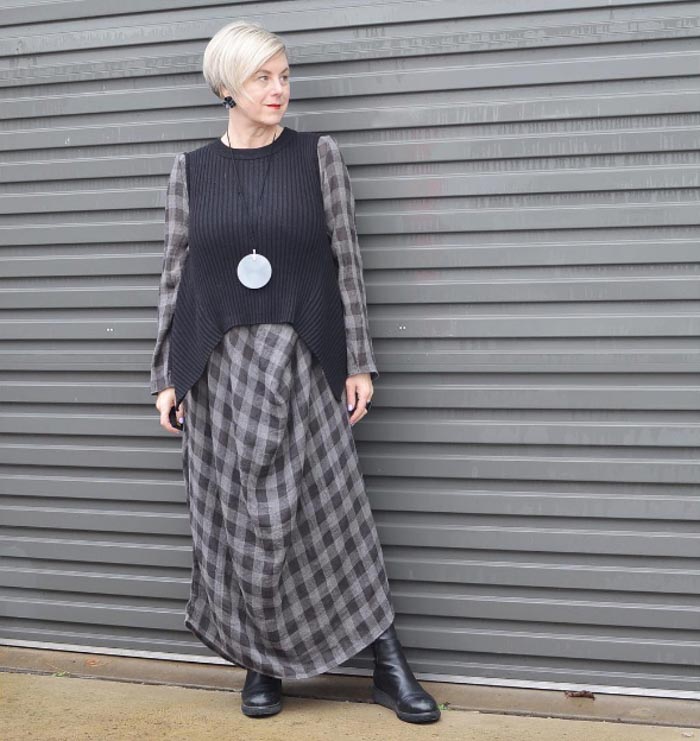 If you'd like to read more about Deborah and her style, you may read her style interview here.

Polka dots are a perennial style staple which are always on-trend, but they've definitely been having a moment this year. Here, they are teamed with bright boots and matching earrings. There's more polka dot inspiration here.

A fabulous transitional piece, a classic black leather moto jacket can take summer outfits through to fall. Here, black booties and a pair of aviators provide the perfect finishing touches!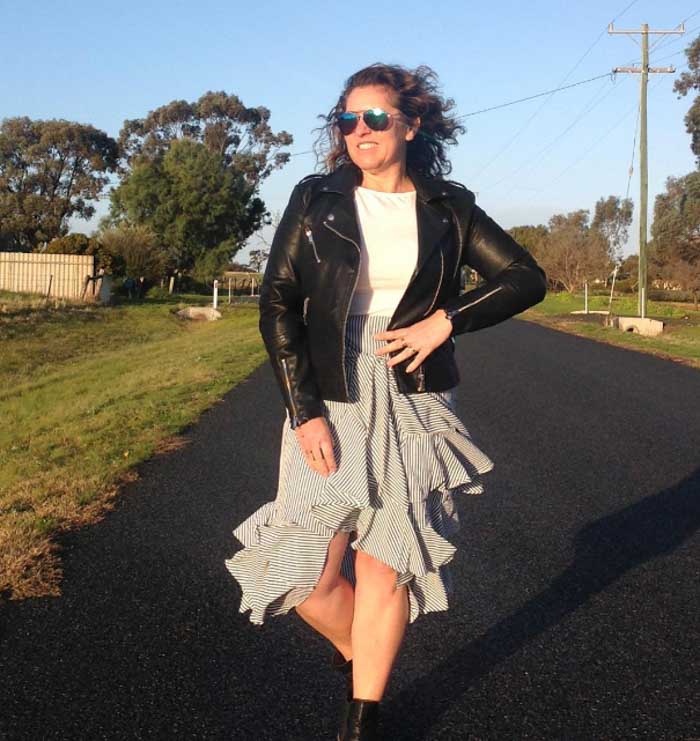 A monochrome topper is worn over a black dress to create a stylish black and white outfit. Chunky rings add extra interest and are one of 40+ stylish Ruth Essex's tips for instantly adding style to any outfit.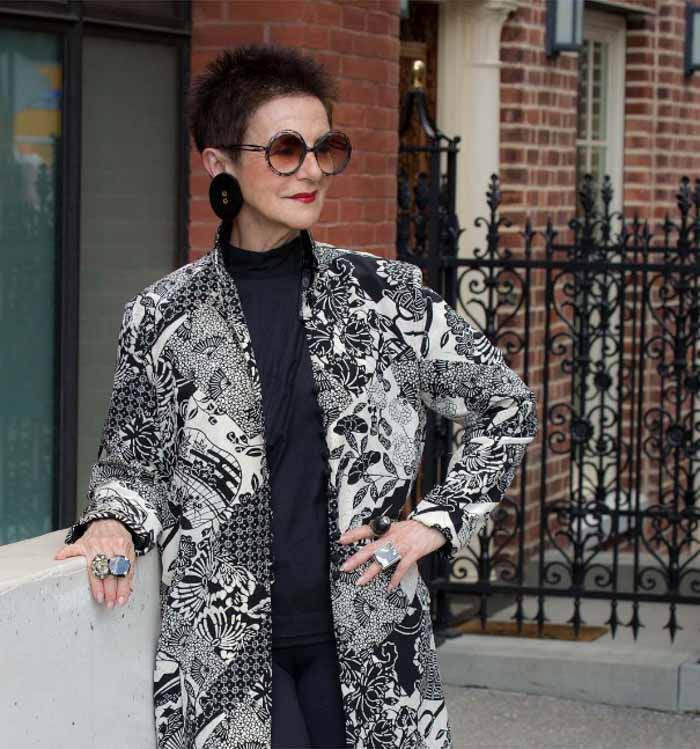 Get Diana's tips on how to make a statement with her style interview here.

Leggings can still be a super stylish option for women over 40. Here, striped leggings are worn with a long handkerchief-hem black top with sheer sleeves. There's more inspiration here on in this extensive guide on how to wear leggings over 40.

All all-black outfit provides the perfect base for some hero accessories. Here, bang-on-trend white boots are teamed with a leopard print scarf, featuring pops of turquoise.

Another monochrome look lifted through the use of colorful accessories. Polka dot pants and a black blazer are teamed with red shoes and a matching bag, along with over-sized sunglasses.

An all-black outfit is given extra style with polka dot detailing and mismatched earrings, along with a pear-print handbag.
You may read Dayle's personal tips on how to make your style more arty here.

Another all-black look for summer, the tassels on this tiered maxi dress add texture. It is styled with mules and a striped handbag.
Learn more about Suzanne's boho chic style in her style interview here.

A classic belted black jumpsuit is a versatile piece that could be dressed up or down, for work or for a night out!

A great monochrome look which shows how your white skirt can still be worn as a transitional piece for fall, teamed with a belted black coat and black ankle booties. Oh, and of course, a matching motorcycle!

Here, this black dress has an asymmetric white panel, which is styled with matching drop earrings.

Another great black maxi dress look for summer. Here, it is worn with a round bag and statement tassel earrings.

Pearls are always a great partner for black. Here, they are worn with wide-legged jeans and catseye sunglasses. And, a very stylish vintage car!

A fabulous way to wear a colorful skirt for fall. Here, this colorful maxi skirt is paired with a black moto jacket and matching scarf. But, it would look equally beautiful paired with a white shirt and silver shoes like Sylvia's skirt here from Cos.

Do you want to be featured next?
All you need to do is follow 40plusstyle on Instagram and add the #40plusstyle hashtag to any Instagrams you post of your outfits. Please use this hashtag for sharing yourself in your outfits only! It's a fun way for everyone to easily browse through all the fabulous looks by women over 40 on Instagram. Please note that there is no theme for these images.
For more ideas on wearing black also see our article on how to wear black..
Which of these black outfits is your favorite?
Like this article? Save it on Pinterest!