The colors showcased by designers for spring and summer 2021 were a mixed bunch. And, it's little wonder when you consider that you may be torn between a pared down look for staying at home, or wanting to add some brightness into your wardrobe. Below you'll find all the best fashion color trends from the 2021 runways.
You'll find everything from brights to pastels to neutrals, so you should find a shade to suit your style, and to go with the other colors in your closet.
Read on and see if you have a favorite…
Fashion color trends 2021 – the best COLORS
First, let's take a look at the color trends before we move onto the neutral shades.
sunny yellow
Versace – Jil Sander – Elie Saab
Whether you are able to go on a sunny vacation or not, you can always bring some sunshine into your closet with one of the illuminating yellow shades shown in the designer shows for spring.
Make your yellow a real statement by wearing a yellow dress, a yellow coat, or a pair of wide yellow pants, as seen above.

Bubblegum pink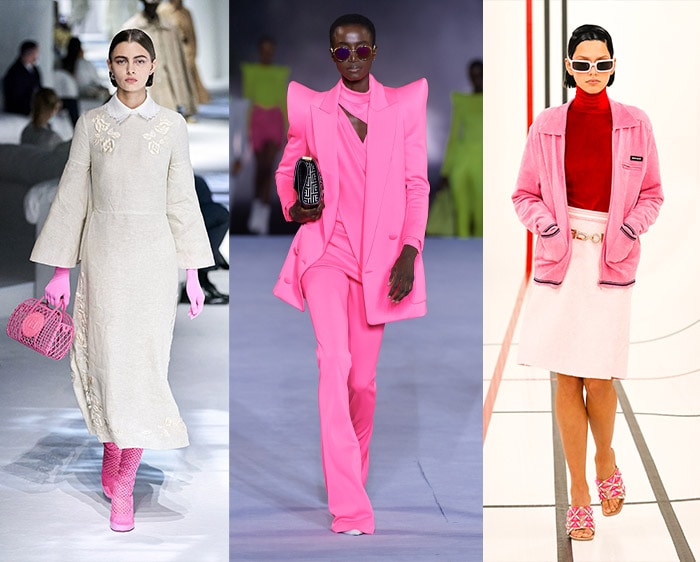 Another very bright shade for you – this one is definitely not one for shrinking violets. You could choose to make an impact with a pair of pink pants or a jacket.
Or, for a slightly more subtle take, you could choose a bubblegum pink blouse with your jeans, or opt to add pink accessories, such as at Fendi (above, left).
No matter whether you prefer a pastel pink or shocking pink, you'll find how to wear pink over 40 in this article.

bold orange
Sportmax – Burberry – Altuzarra
If you love warm colors, then one of the orange shades seen at the likes of Sportmax, Burberry and Altuzarra could be perfect. All shades of orange are on-trend, whether you prefer bright marigold or an earthy ocre shade.
You'll find orange color combinations in this article, including wearing with white for summer.

red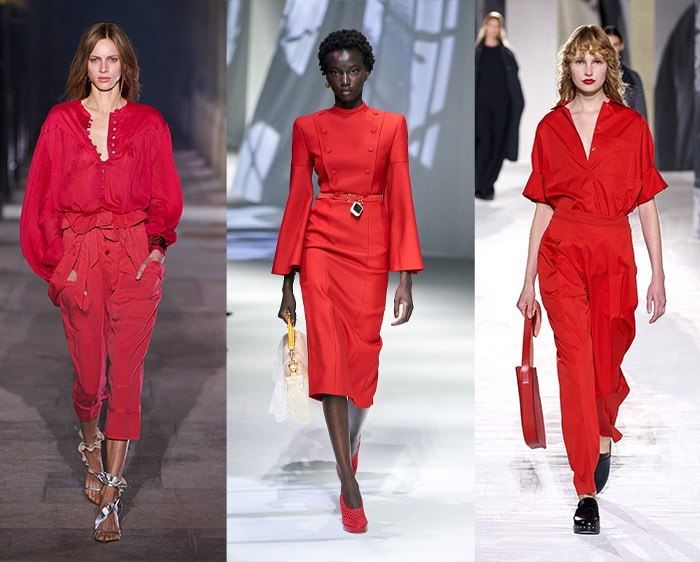 Isabel Marant – Hermès – Fendi
Red is always on trend, no matter what the season. All shades of red were seen on the spring catwalks for 2021, no matter whether you opt for bright cherry red or a deeper shade that leans towards burgundy.
You could choose all-over red like on the catwalks above. Silver shoes (as showcased at Isabel Marant, above left) would look fantastic paired with your red outfit.
Also take a look at this comprehensive guide to wearing red.

minty green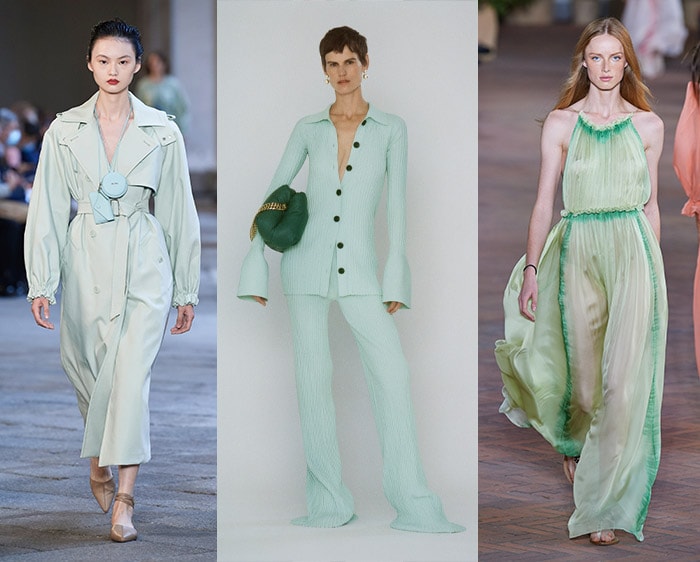 Max Mara – Proenza Schouler – Alberta Ferretti
You'll see below that pale, minty green wasn't the only shade of green on the runways for spring 2021. But it is a lovely, fresh shade that would be perfect with white or metallics for spring and summer.

deeper green
Elie Saab – Michael Kors – Bottega Veneta
If pastels aren't for you, then you could choose a richer emerald green, or kelly green, as seen above.
You'll find plenty of how to wear green inspiration in this article.

sky blue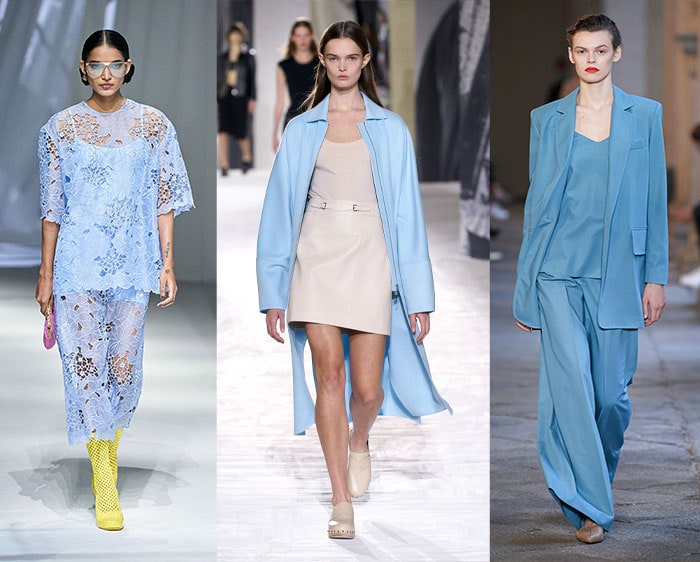 As well as plenty of different shades of green, there was also a choice of blue shades on the catwalks.
If the skies are gray rather than blue at the moment, you could always choose to add some sky blue to your outfit to brighten up your day.
You can see above that this shade goes particularly well with yellow and with neutrals.

cobalt blue
Burberry – Isabel Marant – Sportmax
As well as sky blue, a deeper shade of cobalt blue was the other major blue hue on the runways. This shade looks beautiful teamed with the neutrals you already have in your closet.

purple
No. 21 – Greta Constantine – Isabel Marant
There were plenty of dramatic shades of purple among the color choices for spring. You could go for top-to-toe purple, team with white or wear with other bright shades.
Also check: how to wear every shade of purple from violet to lilac here.

coral
Alberta Ferretti – Stella McCartney – Chloé
Coral is always a beautiful shade for spring and also for summer as it goes so well with traditional summer items like your white jeans and your nude or metallic sandals.

fashion color trends 2021 – neutrals
Now that you have picked out your favorite colors from the catwalks, let's move on to the neutrals you could wear with them.
shiny silvers
Burberry – Paco Rabanne – Isabel Marant
While silver makes a big impact, it's also surprisingly easy to wear as it goes with everything in the same way as any other neutral.
You could choose to wear your silver on your clothing (as seen above) or if you want to add a touch of silver to your existing outfits, how about trying a pair of silver shoes?

White before labor day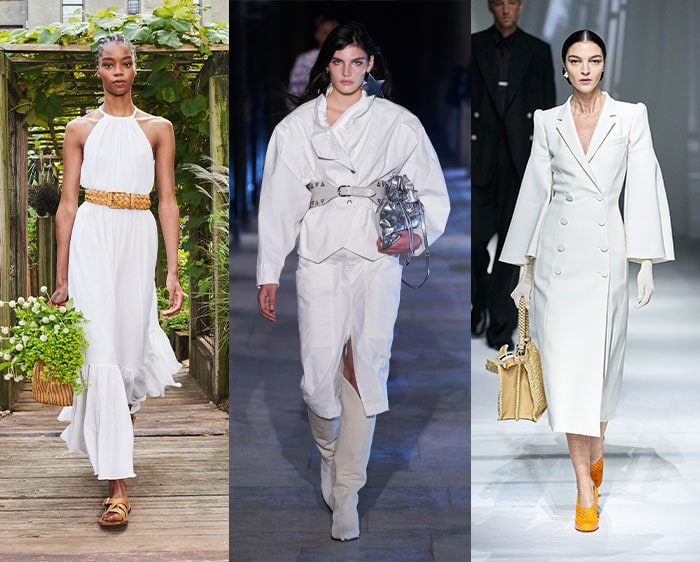 Michael Kors – Isabel Marant – Fendi
The old adage goes that you shouldn't wear white after Labor Day, but rules were meant to be broken. So, wear your white before AND after Labor Day. Wear it whenever you want to wear it.
Of course, white is always a particularly good choice for the spring and summer months when you don't have to worry about inclement weather.

buttercream
Michael Kors – Victoria Beckham – Max Mara
For a pale shade that is a little different from your normal white, you could opt for buttercream, which falls between white and beige on the color spectrum – probably best illustrated in the Victoria Beckham outfit (above, centre).
This would look fabulous with your other neutrals, or with navy blue.

Rich, dark brown
Valentino – Michael Kors – Valentino
Possibly one of the surprises on the catwalks, rich shades of brown are usually associated with autumnal colors.
However, you can definitely wear this shade for spring through summer.
Brown can look great teamed with a bright shade like red, or you could think about adding gold sandals and jewelry for the warmer months.

toffee
Michael Kors – Proenza Schouler – Alberta Ferretti
Another shade on the brown color spectrum for you – this one takes inspiration from toffee fudge and would look good with your white shoes or perhaps with turquoise.

black
Michael Kors – Isabel Marant – Hermès
Of course, black is perhaps the most classic neutral there is. While darker shades are usually associated with cooler months, black can also look very stylish as the weather starts to warm up where you are.
You can team with any color, or wear top-to-toe black. Wearing with sandals will make sure you're summer ready.
Also, take a look at how to wear black over 40.

monochrome
Balmain – Victoria Beckham – Michael Kors
Yes, I know monochrome isn't one color. However, in a way, you can think about it as wearing a solid neutral, as it goes with everything else.
One of my favorite ways to wear monochrome outfits is to add a pop of red, as shown at Victoria Beckham (above, center).

glorious gray
No. 21 – Christian Dior – Salvatore Ferragamo
Gray sometimes has an unfair reputation as being "boring". But, it's a classic, classy shade that is incredibly versatile.
You'll see above that designers added interest to their gray looks by choosing leather textures, asymmetry, belts and cut-out detailing.
Take a look at how to wear gray for plenty of gray ensembles to choose from.

beige
Michael Kors – Proenza Schouler – Max Mara
Beige is always a classic shade. However, it is particularly on trend for the upcoming spring season.
Take a look at why beige doesn't have to be boring and decide if it's a shade you'll be wearing this spring.

Which colors will you be adding to your wardrobe this season?
Continue reading:
Like this post on fashion color trends 2021? Share it on Pinterest!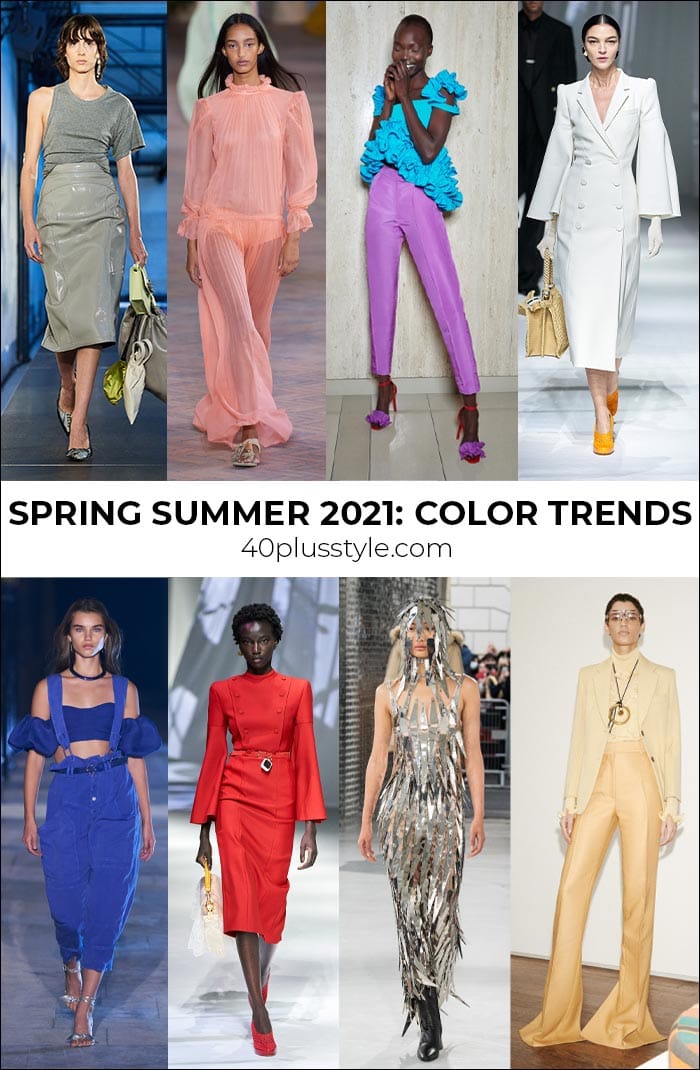 Photos by Vogue
Want to get more articles from 40+style in your inbox, subscribe here.
You can also connect with 40+style on Facebook, Instagram or Pinterest.
Support 40+style by using the links in our articles to shop. As an associate for Amazon and many other brands, we receive a small commission (at no cost to you) on qualifying purchases which enables us to keep creating amazing free content for you. Thanks!