Today we will give you ideas for the rectangle body shape, complete with a complete spring and summer capsule wardrobe.
As a rectangle you will want to create more curves and a pleasing silhouette. Although this is a body shape that can get away with wearing almost anything, you may want to add curves to your more angular features and create a more defined waist.
Here are our picks with some tips along the way to inspire you as you put together the perfect Spring capsule wardrobe.
Tops
The best tops for your shape are those that will:
work to enlarge your bust area,
create the illusion of wider hips,
and develop a more defined waist.
These goals leave you with a number of options. Some to keep in mind are blouses with embellished necklines, tops with ruffles and frills around the bust, peplum tops that add volume, fitted tops that nip in the right places and flare out, and wide open necklines.
Pants
As mentioned above, the rectangle shape can accommodate most any style. Keep in mind that this shape's priority is to create the illusion of a more defined waist. The best approach to take with pants is to balance out your proportions. If you select a looser top, slim or skinny fit jeans are your best bet. If you have a tighter top, wide and flare leg pants will be your best bet. We recommend a flowy pant, as these will soften your body shape.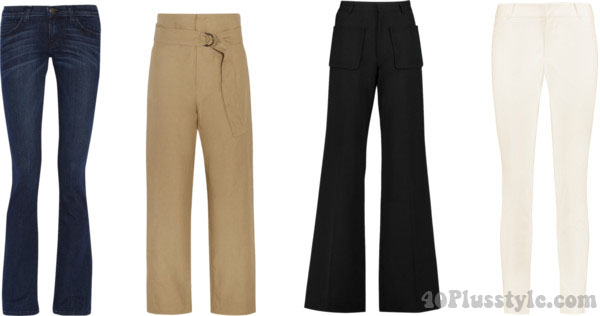 Skirts
You may like to add volume to your lower body when wearing skirts. Tucking in blouses tends to look great on your shape, so selecting tighter tops with more voluminous bottoms will create a more curvaceous body shape. Full skirts, straights skirts with embellished hips (to create a fuller effect), and panel skirts are all great options for your body type.

Dresses
A number of dress styles will complement the rectangle shape. To create an hourglass-like silhouette, we recommend selecting a dress that nips in at the waist or right under your bust area. Dresses that tie will also serve you well, as they will highlight the right areas of your body to create a more defined waist. To add more volume to your waist, a perfectly tailored peplum dress can also be a valuable investment. Bold colors and patterns can also create the illusion of a more filled out bust.
Outerwear
Fitted pieces that nip in and flair out are best. These create the illusion of an hourglass figure and are best for creating a defined waist. Well tailored pieces (such as a fitted jacket) and strategically belted jackets will provide the right fit.
Shoes
As a rectangle shape, most shoes will work perfectly with your body type. Slightly higher heels or round toes also do an excellent job of presenting a longer and leaner look. For the season, elongate your legs with a bold colored pair of heels that stand out on their own (your figure can also be complemented by color blocking).
Accessories
When selecting the best accessories for your shape, you want to go with pieces that bring attention upward and round out your more angular features. Hobo style bugs and oversized round edge clutches are best for adding a curvaceous dimension to your body type. Statement earrings and larger or multi-strand necklaces also bring attention to your bust and face, which creates the illusion of a more pronounced upper body.
Here are nine looks we put together from the pieces above that best flatter a rectangle body shape.
You can shop the capsule pieces featured above below.
Read our ultimate guide to creating a capsule wardrobe that works best for you.

Are you a rectangle shape? If so, what are some of your biggest style challenges?

Want to get more articles from 40+style in your inbox, subscribe here.
You can also connect with 40+style on Facebook, Instagram or Pinterest.
Support 40+style by using the links in our articles to shop. As an associate for Amazon and many other brands, we receive a small commission (at no cost to you) on qualifying purchases which enables us to keep creating amazing free content for you. Thanks!