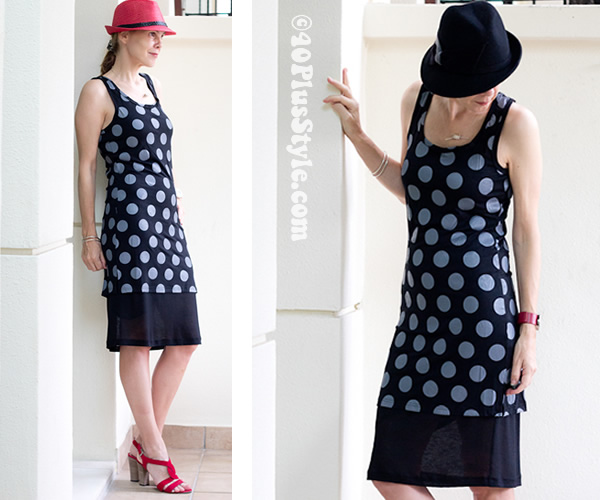 December is officially red, white and black month this year at 40+Style. So I really hope that you're not sick yet of this color combination, because you are going to get a lot more of it this December!
Black and white has always been a favorite of mine and this year it's absolutely everywhere. Since I feel the need to add color to my wardrobe, I like to splash in some red or blue. As I told you recently in my post on effective sale shopping, I came away with quite a few prints. Most of these can be mixed and matched with one another, so over the coming week(s) you will be seeing some nice combinations in mainly these 3 colors: red, white and black.
Pattern mixing, yay!
Above you will see this simple polkadot dress I bought. I combined it with an old (and neglected) pencil skirt I have, which actually has an assymetric undercover (not really visible here). I thought that outfit looked quite decent, but I wanted to add some more pizazz…
Red hat versus black hat
Also note, that I tried this outfit with both my red hat that you have seen before and my new black hat that looks a bit like a hat from the twenties. The red hat is a little bit more photogenic while the black is a bit more chic.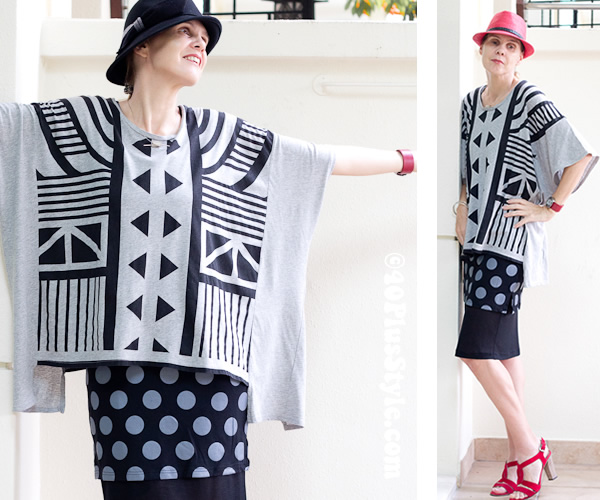 Adding the second graphic top, makes for some nice pattern mixing, a trend I have admired in others and was keen to try out myself. The top is also very versatile and you can really have fun with it for photographs! In the end I decided to go with the black hat, as I felt that the outfit itself was playful enough. Of course, I kept the red shoes and watch.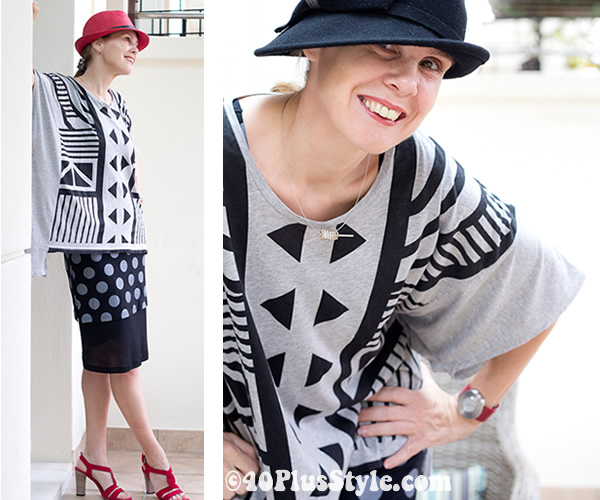 Skirt: Paablo Nevada (old)
Dress: Mixsense (bought in Haji Lane Singapore)
Top: Mistio (bought in Haji Lane Singapore)
Shoes: Players
Hat: Zara
Watch: Claudia Schaeffer
Show me your Sunday Style!
I will also be going on a winter holiday and due to limited suitcase space, my clothes capsule will be in those colors as well. Fear not my friends, I'm sure I will be tired of it by January and i can show you some new color combis. Or better still, why don't you show me how you wore your Sunday style this week? Just upload your image below, by clicking on the "add link button". For more detailed instructions just visit the Sunday Style category page.  I would love to see you all in your great outfits!
What do  you think of this outfit and which hat do you prefer?