While I'd never suggest slavishly following trends, it's fun to take a look at the designer runway shows and think about how you might like to incorporate some of the looks into your own wardrobe. Below you'll find plenty of fall fashion for women ideas and inspiration to make your own outfits more current.
Fall 2020 fashion trends
Some shows went ahead and some were cancelled. However, despite the onset of a global pandemic, there was still plenty to inspire on the fall 2020 runways.
Whether you love crisp, clean tailoring, or a less structured look, you'll find the best fall trends below. Let me know which of these you would be most likely to wear.
1. Shearling
The best fall fashion should be practical and stylish. As the weather turns cooler, shearling is a great option to make sure you stay warm and cozy.
You could either go for a full shearling coat, as shown at Stella McCartney or add a shearling collar as at Dries van Noten or Marc Jacobs.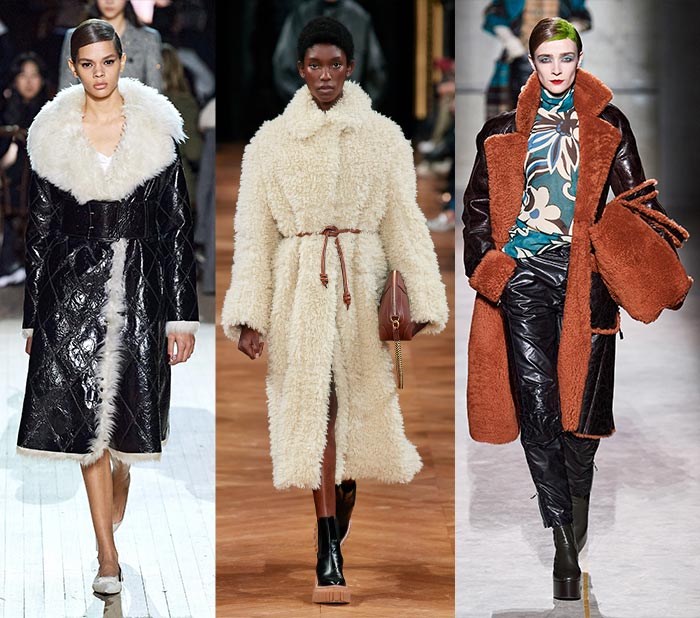 Marc Jacobs – Stella McCartney – Dries Van Noten

2. Monochrome
Black and white always looks beautiful together, and I loved the beautiful, tailored coats on show at Alexander McQueen, Tory Burch and Chanel. These were definitely some of my favorite fall fashion for women trends this year.
Chanel – Alexander McQueen – Tory Burch

3. Fall fashion for women: Asymmetry
If you've been reading me for a while, you'll know how much I love adding asymmetry into my own outfits. And, this season, there was plenty of asymmetry on the fall 2020 catwalks.
Opt for a high-low skirt or dress as shown at Alexander McQueen or a one-armed style such as at Hellessey or Proenza Schouler.
Alexander McQueen – Hellessy – Proenza Schouler

You'll find more inspiration in this article on the best asymmetrical top and dresses.
4. Glitzy & metallics
As head through the year, into the party season, designers always tend to add a little extra glitz and glamor, and this year was no exception.
You could opt for a sparkly dress, or choose to wear a sequin top with wide leg black pants, as shown at Valentino (below, right).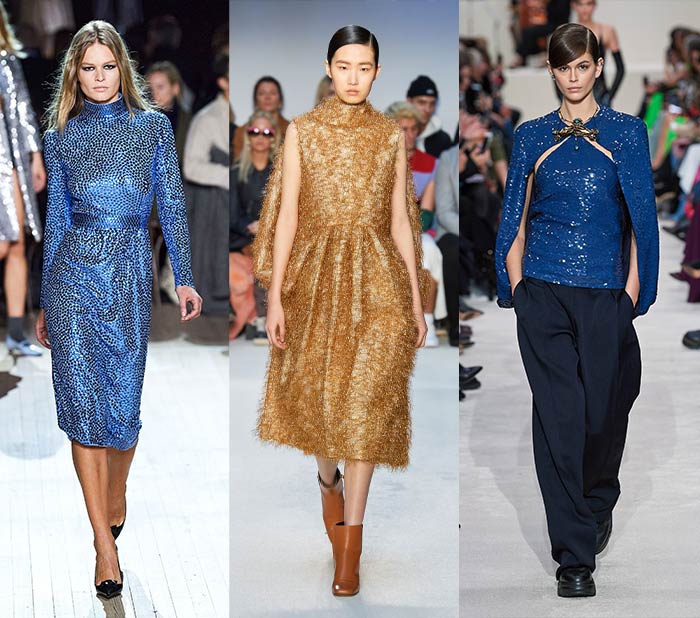 Marc Jacobs – JW Anderson – Valentino

5. Fringe
Wearing fringe can be a tricky look to pull off, and is usually particularly associated with a bohemian style. However, designers for fall 2020 opted for a more tailored approach to fringing such as at Prada (below, left) or chose a subtle approach with just a little fringing on the hemlines of their coats (Christian Dior, below right).
Prada – Bottega Veneta – Christian Dior

6. Arm volume
Puffed sleeves and voluminous arm detailing has been a trend during the summer season, and this is a look that's definitely here to stay for winter and fall.
You could choose to add volume to your coat sleeves, to your dresses or your top. If you're a pear shape, this will be particularly flattering for you as the extra width on the arms will balance out the lower half of your figure. However, if you have an inverted triangle figure, this may be one to avoid as it will emphasize your wide shoulders.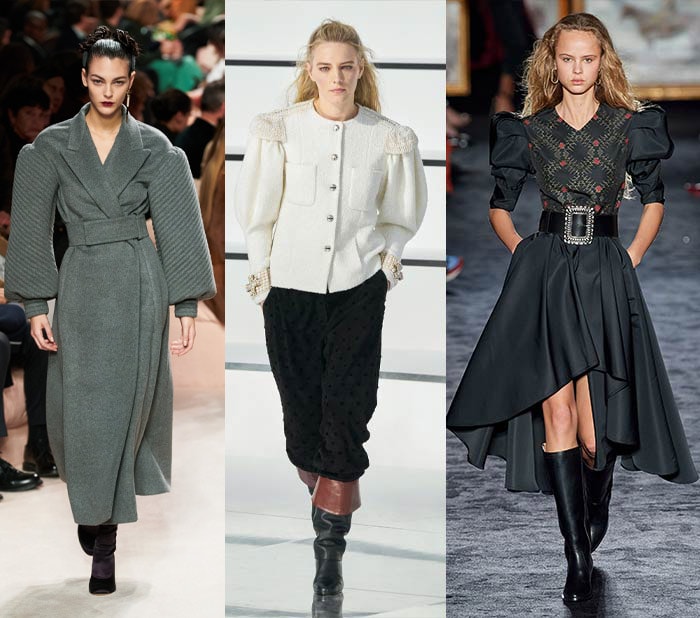 7. Perpetual plaid
Plaid is one of those patterns (along with animal print and polka dots) that are perpetually in style. You'll find plaid really comes into its own for winter and fall.
So, if you already have checks or plaid in your closet, it could be time to dig it out. And, if you don't, maybe you might like to think about a plaid coat, such as those shown on the catwalks of Alexander McQueen or Stella McCartney, or a pair of plaid pants, such as at Marc Jacobs.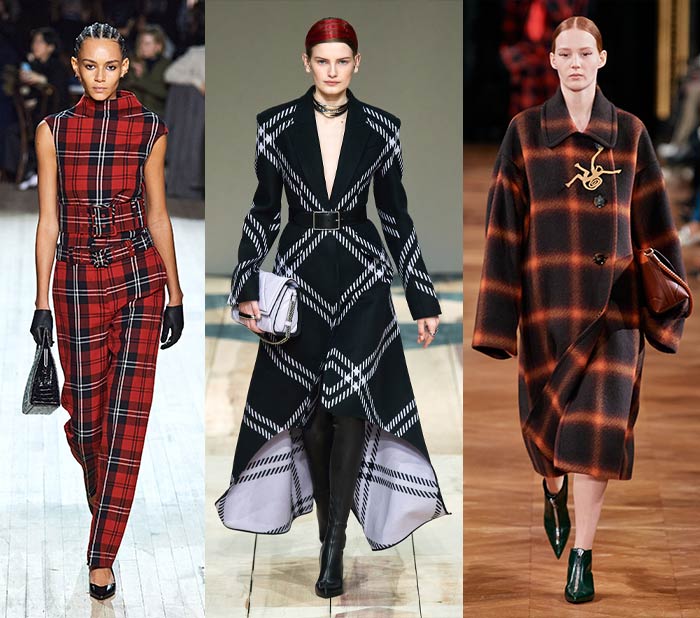 Marc Jacobs – Alexander McQueen – Stella McCartney

8. Preppy
If you love a preppy style, then fall 2020 could definitely be your season. You could think about a-line skirt styles, wide-legged jeans and argyle sweaters.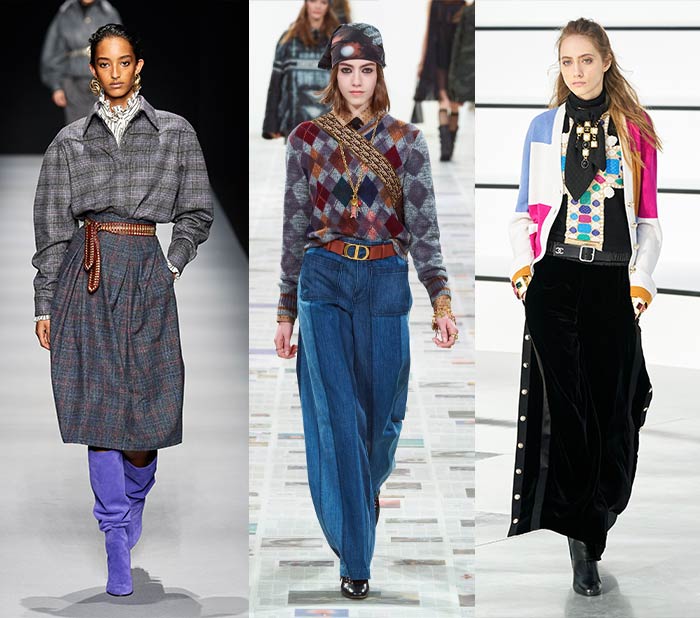 Alberta Ferretti – Christian Dior – Chanel

9. Patchwork
Just like fringing, patchwork is often associated with a bohemian style. You could opt for multi-colored leather, patchwork denim, or choose a long-line cardigan.
Richard Malone – Tom Ford – Missoni

10. Caped crusader
Modern, yet classic, a cape is a great way to add a little warmth, and a lot of style, during transitional weather. You could either wear as daywear, as shown at Burberry, or you could add drama to your evening looks, such as at Givenchy.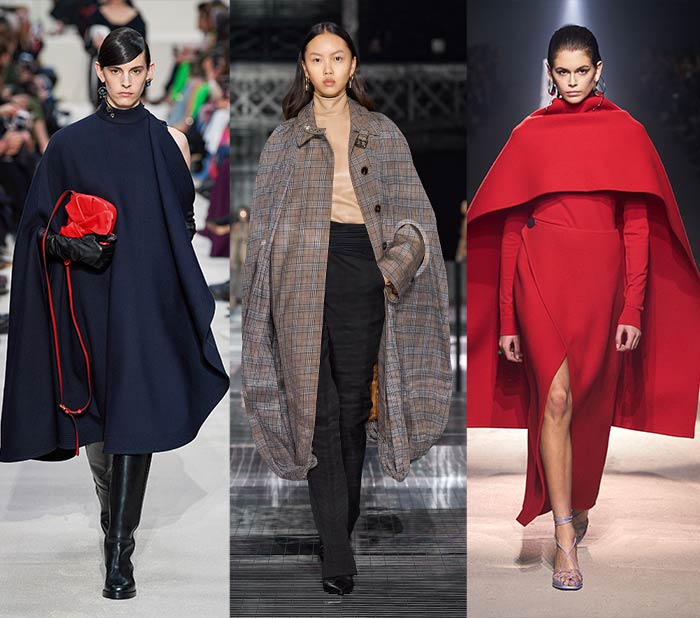 Valentino – Burberry – Givenchy

11. Geo prints
There were plenty of exciting, modern prints on display for fall 2020. Alexander McQueen prevented colorful geometric prints from looking too busy and overwhelming by teaming them with a very tailored cut, while Chanel opted for a paired down look and Louis Vuitton's dresses had a distinctly futuristic flair.
Alexander McQueen – Louis Vuitton – Chanel

12. Embellished necklines
Another key trend from fall 2020 was to let your clothing do all of the talking, without any need for extra jewelry or further embellishments. Stella McCartney added brooch-style embellishments onto sweater dresses, while Miu Miu and Monse chose to adorn their evening dresses with more than a touch of bling.
Drawing the attention up to your face can be flattering for so many reasons, including to hide a belly or to flatter the pear shape.
Stella McCartney – Miu Miu – Monse

13. Colored leather
While we tend to associate leather with neutrals such as black, tan or taupe, there were plenty of more colorful looks on the catwalks for fall.
You could choose deep, rich tones, or brighter, primary colors.
Ulla Johnson – Mugler – Richard Malone

14. Equestrian inspired
Whether you ride or not, you could add a touch of equestrian-inspired style to your closet. Look out for knee-high leather boots in black or tan, leather-detail coats or jodphur-style pants (horse optional).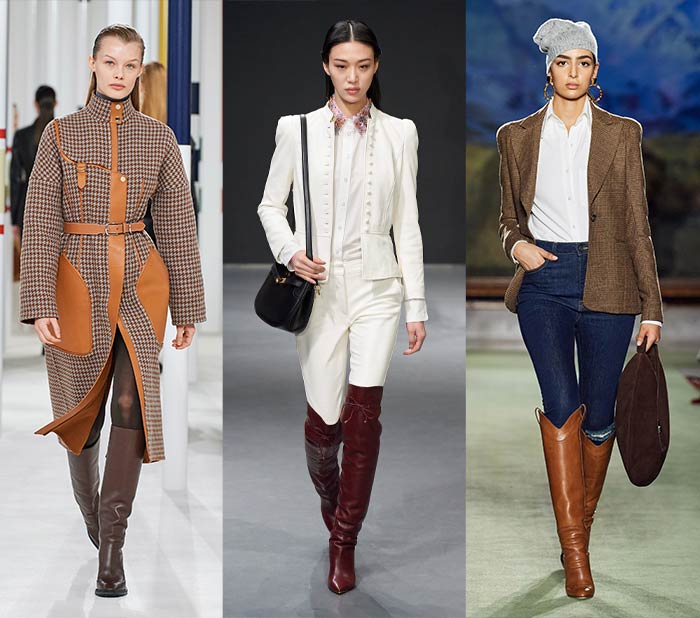 Hermès – Tory Burch – Brandon Maxwell

What would you consider the best fall fashion for women trend for fall 2020? Which trend is your personal favorite? Let us know in a comment below.
Continue reading:
Like this post on fall fashion for women? Share it on Pinterest!
Runway mages by Vogue
Want to get more articles from 40+style in your inbox, subscribe here.
You can also connect with 40+style on Facebook, Instagram or Pinterest.
Support 40+style by using the links in our articles to shop. As an associate for Amazon and many other brands, we receive a small commission (at no cost to you) on qualifying purchases which enables us to keep creating amazing free content for you. Thanks!