We have come to our last mini challenge in the 40+ Casual Style Challenge. It's been a fun ride where we have seen lots of great outfits using each of the casual outfit formulas I described here. You will find links to all the outfits there as well.
This week we showcase outfits that highlight formula 7: knee-high pants with a top and/or jacket. Knee-high or 3/4 pants can be a great casual chic option. They are best and easiest to wear when they follow your leg line, which means that they should be tightly fitted around your calves. Although wide cropped pants can look good to, they are trickier to wear and may give a frumpy look. For more guidance on how to wear cropped pants also see this article.
At the moment I find knee-high and 3/4 pants look especially good with shorter jackets and tops as I like the silhouette that creates. Today I'm wearing my pants with a colorblocked top (shown earlier in challenge 1) and a silky bomber jacket by the same brand.
My 3/4 pants have already proven to be a huge success. I have worn them on various occasions (more photos coming soon) and I find they work in both very casual as well as casual chic events.
What you wore
Lorraine is showing how versatile her white three quarter pants are. She combines them with a series of colorful tops. My favorite is the outfit with the cardigan.
The wardrobe mistress (home where story begins) wears a trip worthy reversible plush jacket worn with white Briggs New York capri pants, Lily no-wrinkle spandex-blend short sun dress and lace tank tee, Dex-Flex and Sam and Libby shoes, purse and misc. jewelry. Looking very stylish indeed.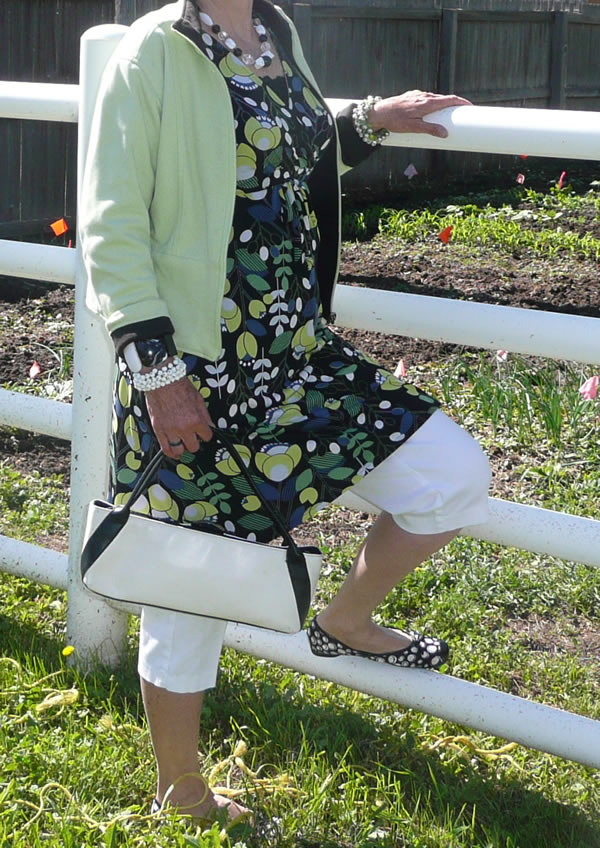 Linda is wearing J Crew Anchor Shorts, worn with a blazer and heels for work, or a cardi and flats for a casual yet dressed up feel on the weekend (or a casual day at the office). She says that the length allows her to remain cool in the hot summer sun yet long enough to feel a little conservative. Fabulous!
Greetje (No Fear of Fashion) is a master with knee-high pants and prefers wearing them with longer tops. I love how colorful all 4 looks are, the kimono look being my favorite.
Well that's it ladies. The end of the casual style challenge!
Of course I realise there are many more formulas for wearing casual chic outfits with success but it was fun exploring these specific 7 formulas. I hope you had as much fun with it as I had.
I have yet to pick the winners of the casual style challenge contest so I will give all the pinners another 3 days to get their boards looking top notch and I will announce the winners later this week.
A big thanks to everyone who participated in the challenge. You are all style stars. Keep rocking those casual chic outfits this summer ladies!
After seeing all the different casual outfits over the last 7 weeks, what is your favorite way to look casual chic?

Want to get more articles from 40+style in your inbox, subscribe here.
You can also connect with 40+style on Facebook, Instagram or Pinterest.
Support 40+style by using the links in our articles to shop. As an associate for Amazon and many other brands, we receive a small commission (at no cost to you) on qualifying purchases which enables us to keep creating amazing free content for you. Thanks!